Get inspiring and simple ideas for animation. Learn tips & tricks that can make your learning and animating experience exciting.
If you are looking for inspiration and a simple idea for your first animation project, then this is the blog you have been looking for.
Where to start?
Let's travel a few years back into the 90s. Animation is the new name of art and drawing in this digitalized era. We have seen numerous animated cartoon series like Rugrats, Ducktales, Doug, and Animaniacs; they are the best animation examples we can get.
Now, not just kids' television cartoon series but almost everything is wrapped in animation. You'll find animated logos, designs, ads, commercials, and even educational videos if you look around.
In this digital age, people have more opportunities to learn and create animation.
But the question still stands: where to start?
Animation is not hard to create or design, but sometimes it is really tricky to make. This blog shares some of the creative ways that you can use for your first project.
Begin with a story: first, select a story that you want to showcase in your animation. You can pick a scene or chapter from a book to animate it to life.
An old drawing or piece of art: if you have a drawing or figurine on which you can build a story, use it to animate.
A moment from life: try to sketch down any memorable moment or day from your life, or shoot a video for animation reference.
Get inspired by nature: go to a park or garden, observe greenery and try to draw plants, trees, or nature scenes.
A time travel: you can create art from history or imagine a scene from the future and draw it. Let your imagination flow, make something different and unique.
P.S: don't draw a scene or character with a lot of features or details because it will be a lot critical for you to replicate it in the digital 2D or 3D environment.
Exercises for Beginners
Practice makes the man perfect! It is an old but practical quote. If you want to excel in animation and make your mark as Walt Disney, William Hanna, and John Lasseter, then you should start practicing.
Check out a blog for the history and facts about animation, and this blog will inspire you more to adopt animation as a hobby or profession.
After sketching and building a story, the next step is animation, but for beginners, it's challenging at first, so follow the list below exercises to master the animation skill.
There are 45 excellent exercises that can help you create your own animated series and improve your work as an animator.
Beginners Level 1
Following are the tricks that have helped famous animators to become who they are now. These exercises are simple but extremely effective.
1) Bouncing Balls (vertically): start with the simplest exercise, draw a ball on the paper first and then move the art to the screen. Practice for bouncing vertically.
2) Bounce the Ball (Across the screen): now spread your work to the whole canvas, bounce the ball across the screen.
3) Object falling: after practicing the bouncing ball, go for an object: a brick, a feather, or a plane. It could be anything.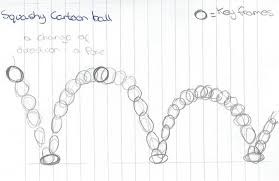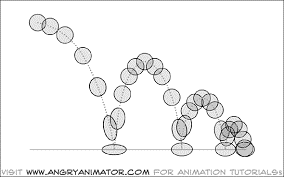 Sketch image: Source
Animated image: Source
4) Draw a character's head: the head is usually shaped like a ball, and shifting from ball to head will be easy.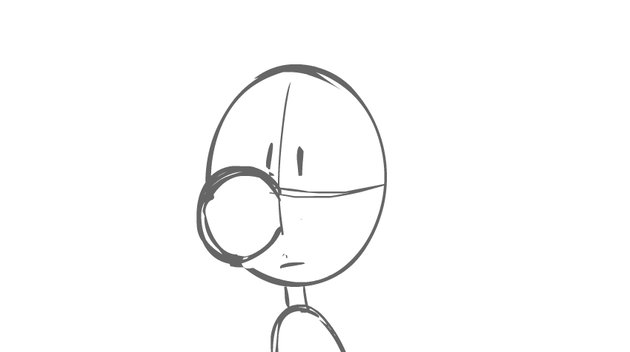 5) Make the character's head turn: once you have the grip over the facial features, you can now make the character's head move left and right.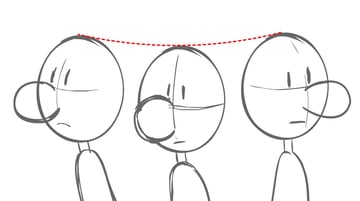 6) Make eyes blink: most crucial facial feature is eye blinking. Perfect blinking makes it similar to reality.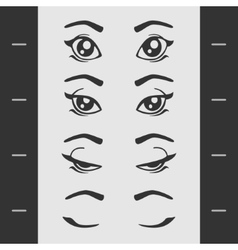 7) Make the character think: add expression to the character, sketch the character, and give a thinking expression.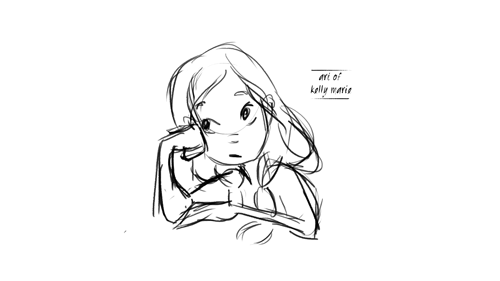 8) The Flour Sack: if you are an animator and want to define the weight of the animated object, you can follow the famous flour sack example. Draw the pose of the sack and add a bouncing ball effect to it.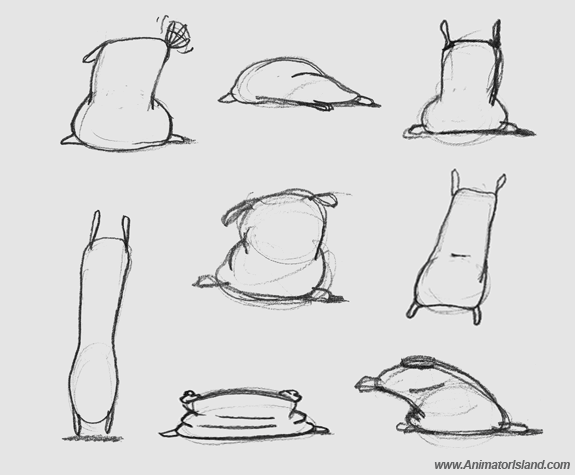 Image source: animatorisland.com
9) Make Flour Sack jump: Add the expression of flour sacks are jumping, it will create an atmosphere of movement to the scene.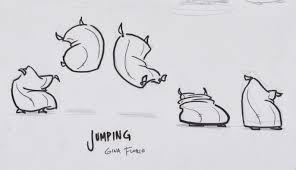 10) Make Flour Sack fall
11) Flour Sack kicking the ball
Beginners Level 2
12) Add or Change the character's emotions: add emotion to your character, make it happy, sad, crying, or angry.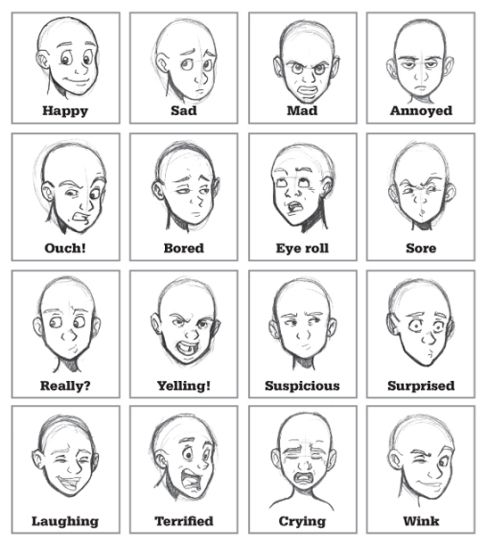 13) Make the character jump.
14) Stand the character over a table or chair.
15) Make the character walk.
16) Character jumping on a pogo stick.
17) Character Laughing.
18) Character sneezing.
19) A character is reaching out to any object over the shelf.
20) A quick movement of the object.
21) A character is taking a deep breath [sigh].
22) Make a tree or plant fall.
23) Hit the character with an object.
24) Making the character run in cycles.
Beginners Level 3
25) Open hand to the fist.
26) Hand movement to pick an object.
27) Hand lifting the heavy object.
28) Character overlapping action.
29) Character is drawing or painting.
30) The character is hammering the nail into the wall.
31) Stirring or cooking.
32) Blowing the balloon.
33) Juggling.
34) Zipping the jacket or wearing clothes.
35) Characters are standing up.
Beginners Level 4
36) Eating food.
37) Falling or diving into the water.
38) Playing tug-of-war.
39) Dealt the deck of cards.
40) Teeth brushing.
41) Feather or paper falling.
42) Character running in a different direction.
43) Character opening/closing the door.
44) Character changing clothes.
45) Character opening a box and giving a reaction.
But if you want some detailed tips & tricks for animation, you can learn more about the animation process.
Keep Some Things in Your Mind
Only reading will not bring any good to you. Try to practice the above exercises and move them to the animated phase.
P.S: go for motion animation.
One of the famous animation quotes is: "You are not supposed to animate the drawing. You are supposed to animate the feelings – Ollie Johnston". Keep this quote in mind and try to focus more on animating the expressions, feelings, and emotions.
Don't complicate your animation with your drawing, try to keep it simple at the start, and once you have a firm grip over the animation – animate the world.
Don't give up on your practice. Keep practicing the exercise. It will take time to become a master of it, and animation won't turn out the way you want the very first time. It's ok. Keep trying.
Animation is all about fun.
Happy learning and happy animation!
Related Articles: