When selecting a 3D modeling company for your project, consider the company's background, proficiency, specialized knowledge, pricing plan, and customer service.
When searching for a 3D modeling company to work on your project, you have a wide range of options to choose from. It's important to consider the specific requirements and goals of your product when making your decision.
A good way to get a sense of a company's capabilities is to review their website and case studies, but it's also important to schedule an introductory call to discuss their service offerings in more detail.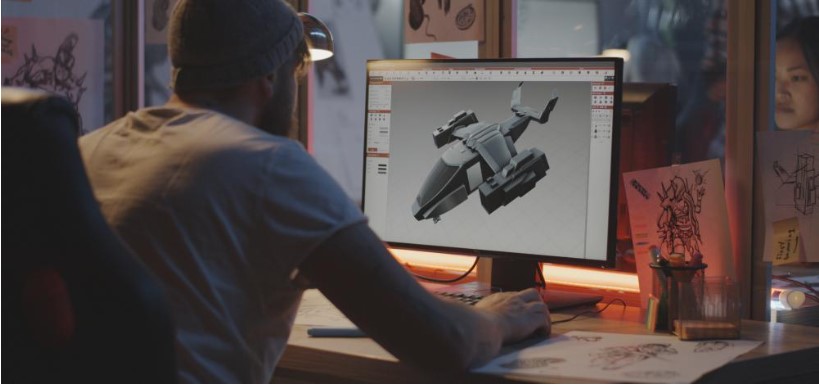 This will help you get a better understanding of how they can meet your specific needs and whether they're a good fit for your project.
To make the selection process a little easier, we've put together a list of the top modeling companies on the market today, so you can quickly compare your options and find the best one for your needs.
Key Factors to Consider When Choosing a 3D Modeling Partner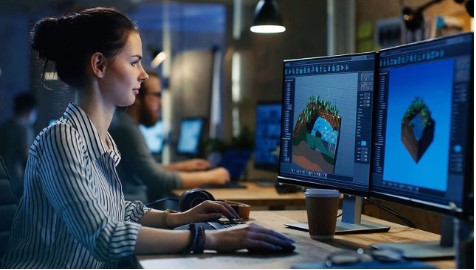 When hiring a 3D modeling company, prospects should consider the following factors:
Experience: The company should have a proven track record of delivering high-quality 3D modeling services and have experience working with similar projects or industries as the prospect.
Specialization: The company should have a clear focus on specific industries or types of 3D modeling services, as they are more likely to have the expertise and experience needed for the project.
Portfolio: The company should have a strong portfolio of case studies and examples of their previous work to evaluate their skills and experience.
Communication and language: The company should have the ability to effectively communicate with the prospect, especially if there is a language barrier.
Flexibility and scalability: The company should be able to adapt to the prospect's specific needs, and should have the resources to handle projects of varying sizes and scopes.
Price: The company should offer competitive pricing and should be transparent about their costs and billing practices.
Reviews and testimonials: The company should have positive reviews and testimonials from other clients, which can provide insight into the quality of their work and customer service.
Turnaround time: The company should be able to meet deadlines and deliver the project on time.
Technical capabilities: The company should have the technical capabilities to deliver the project, such as software and hardware.
After-sales service: The company should provide ongoing support and maintenance, which will be important for the longevity of the product.
List of the Top 3D Modeling Companies of 2023
Now it's time to take a look at some of the top-rated 3D modeling and design companies across the globe.
BuzzFlick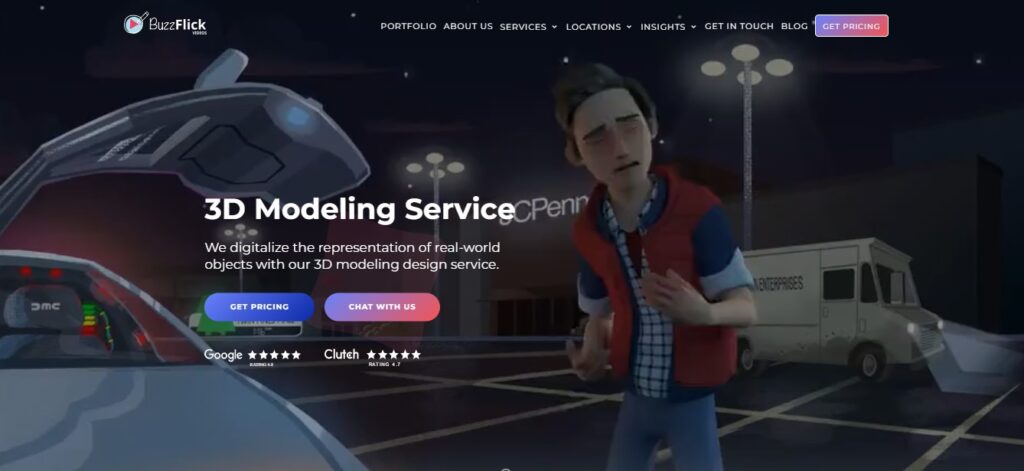 Years of Experience: 6 years
Core Services: 3D Product Modeling, 3D Visualization, Architectural Design
Ratings on Clutch: 4.7
BuzzFlick is a 3D animation studio that specializes in creating realistic 3D models for a variety of industries.
We have a team of expert animators who can turn your concept into a visually striking 3D representation, making your product come to life.
Our services can be used for product demonstration in fields such as construction, engineering, medicine, and academia. We offer customized solutions for each client and have a track record of successfully delivering over 100 projects, with high customer satisfaction.
They serve a wide range of industries, with a particular focus on construction, e-commerce, sports, automobiles, movies, animation, video games, textiles, and real estate.
Skywell Software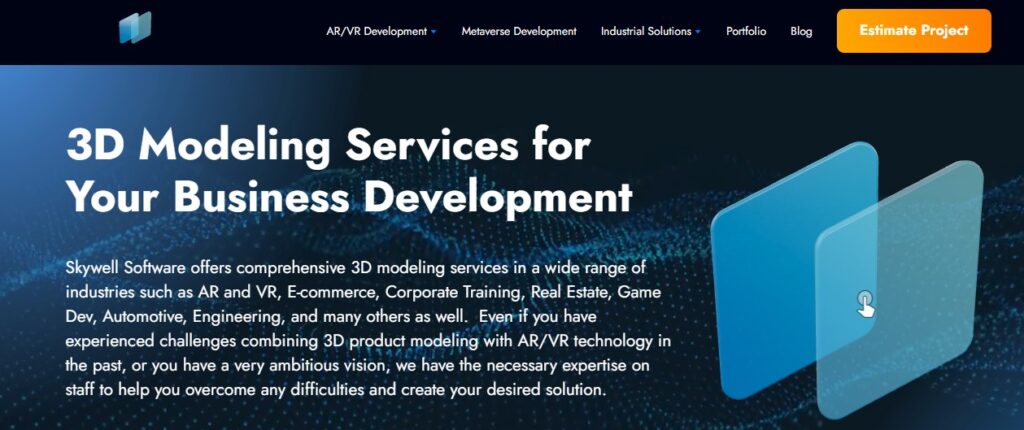 Years of Experience: 14 years
Core Services: 3D Modeling & 3D Scanning
Ratings: 4.9
Skywell Software is a top 3D modeling and design company due to its extensive experience and diverse service offerings.
They provide a wide range of 3D modeling services to various industries such as e-commerce, corporate training, real estate, game development, automotive, engineering, and more. Their portfolio is also noteworthy with clients like Mondelēz International and Wizzzi.
It is rare to find a company with such a broad range of industry experience and expertise in the various technologies required for high-quality 3D modeling services.
The combination of their diverse industry experience, service offerings, and impressive client list makes Skywell Software a leading company in the field.
The company has a team of highly skilled and experienced professionals who are well-versed in the latest technologies and techniques used in 3D modeling.
They have the ability to cater to the needs of different industries and deliver high-quality 3D modeling solutions that meet the specific requirements of their clients.
KDE

Years of Experience: 11
Core Services: Industrial Designing
Ratings on Clutch: 5.0
KDE is a creative studio that focuses on product design and manufacturing. They are a reputable company in the field of product design and industrial design services.
They have been in business since 2013, and over the years they have established a strong reputation for themselves. They are currently expanding their reach, focusing mainly on the manufacturing industry.
From the information available on their website, it appears that they have a lot of experience in this field and if you're in this industry, KDE is definitely a company you should consider.
However, it's worth noting that they don't list any of their clients or case studies on their website, which makes it difficult to evaluate the quality of their work.
Design 1st

Years of Experience: 26
Core Services: Product Designing
Ratings on Clutch: 4.7
Design 1st is a full-service industrial design and engineering firm that specializes in creating simple and effective products that take into account human behavior and support a company's business and marketing goals.
They have been in operation for over 25 years, providing services to entrepreneurs, start-ups, and large organizations across Canada and the United States, working in various industries such as mining, telecommunications, healthcare, and robotics among others.
The firm's portfolio of clients is extensive, with case studies showcasing their work in professional equipment, smart offices, and other areas. They have a proven track record of success in transforming ideas into winning products across diverse industries.
Design 1st is a well-established company with a wealth of experience in industrial design and engineering and a strong portfolio of clients, making them a great choice for any organization looking to develop a new product.
4Design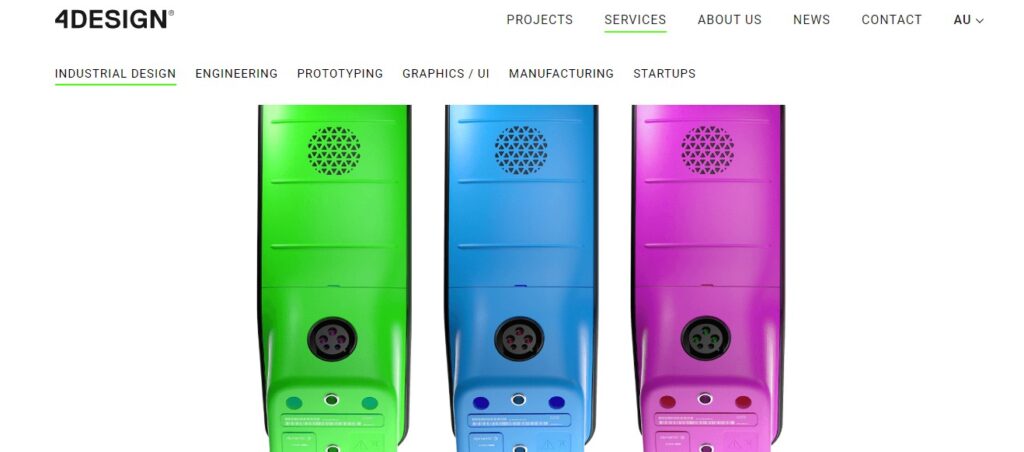 Years of Experience: 20
Core Services: Product Designing
Ratings on Clutch: 5.0
4Design is a company with a long history of design and production expertise, boasting over 20 years of experience. However, their small team size of 2-9 individuals may raise concerns about their ability to handle large projects.
Additionally, their physical location in Australia and New Zealand may lead to potential challenges with communication due to time zone differences.
Despite these potential drawbacks, their portfolio of case studies is noteworthy, featuring a diverse range of industries such as business, medical, infrastructure, and mining, which is not commonly seen.
Overall, while there may be some challenges to consider, 4Design's extensive experience and diverse portfolio of successful projects make them a noteworthy company in the industry.
3D Tech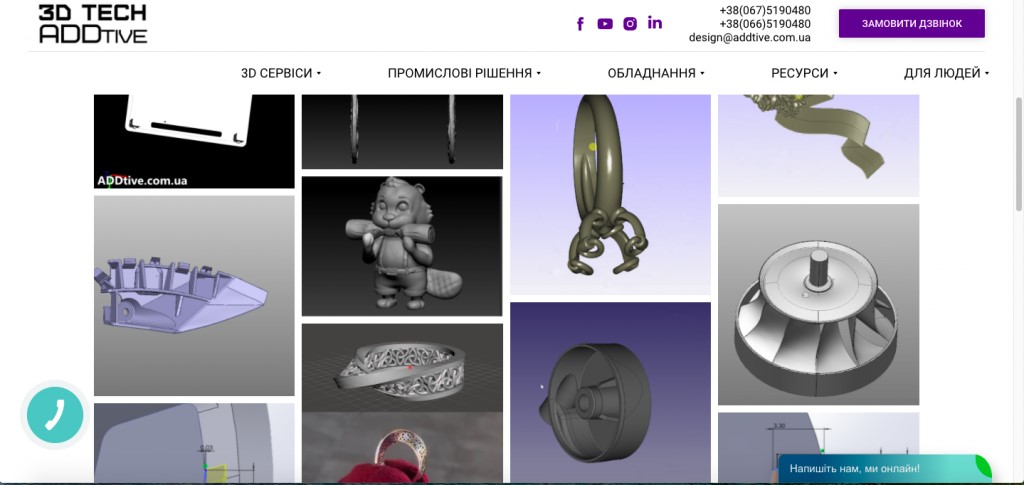 Years of Experience: 6
Core Services: Product Designing
Ratings on Clutch: 5.0
3D Tech is a company that has extensive experience in providing a wide range of 3D production services. However, their website only appears to be available in Ukrainian which makes it difficult to evaluate their service offerings and understand their company.
This may also raise concerns about the ability for effective communication between their management and developers with clients. It's important to ask them directly about this if 3D Tech is considered a potential candidate.
On a positive note, their client portfolio is impressive, featuring well-known companies such as Huawei Ukraine, Evixscan, Blackbelt, PGP Glass, Conreality, Modern Expo, Kness Energy, Flarm, and more.
Additionally, their rates seem to be reasonable according to the prices on their Clutch profile.
Overall, while the language barrier and communication concerns are important factors to consider, 3D Tech's extensive experience and impressive clientele may make them a strong candidate for 3D services.
WeSoftYou

Years of Experience: 6
Core Services: Product Designing
Ratings on Clutch: 5.0
WeSoftYou is a large and well-established company that has been recognized by Clutch as the top-growing company in the world. They have a robust portfolio of clients, including notable companies such as Audi and Baker Stewart.
They offer a wide range of services, including 3D modeling and website development, and they have a lot of case studies to demonstrate their expertise.
Overall, WeSoftYou appears to be a reputable and reliable company that can assist with a variety of projects at competitive prices. Their reputation and client list are strong indicators of their ability to deliver high-quality services.
Idea Reality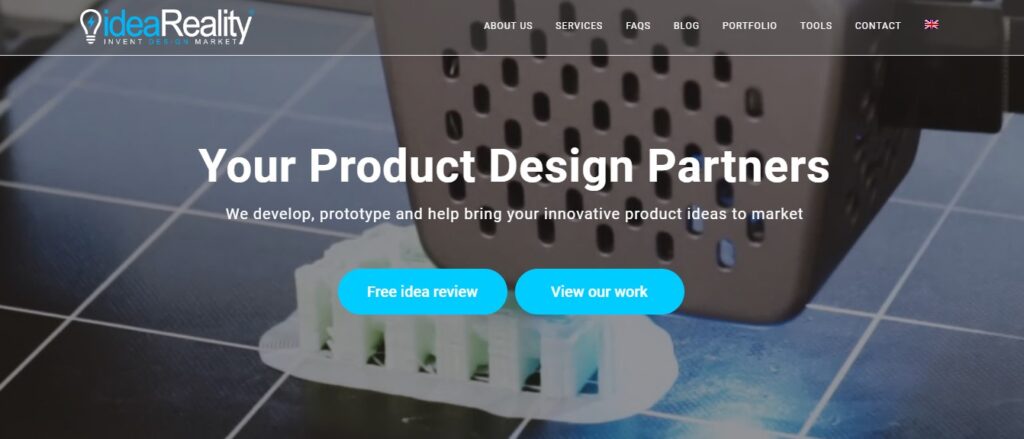 Years of Experience: 10
Core Services: Product Designing
Ratings on Clutch: 4.8
Idea Reality is a small 3D design studio located in Hampshire, UK. They provide a variety of 3D design services, with a focus on hardware products as demonstrated by their case studies.
They have an impressive portfolio of products they have helped create, covering a wide range of industries. Their services include developing innovative ideas, engineering, and prototyping designs, and working with manufacturers to mass-produce and launch new products.
They have received positive reviews on Clutch, which can give potential customers an insight into the quality of their work.
Overall, Idea Reality is a small but specialized 3D design studio that can help bring hardware products to life through their innovative ideas, engineering and prototyping services, and collaborations with manufacturers.
Concepter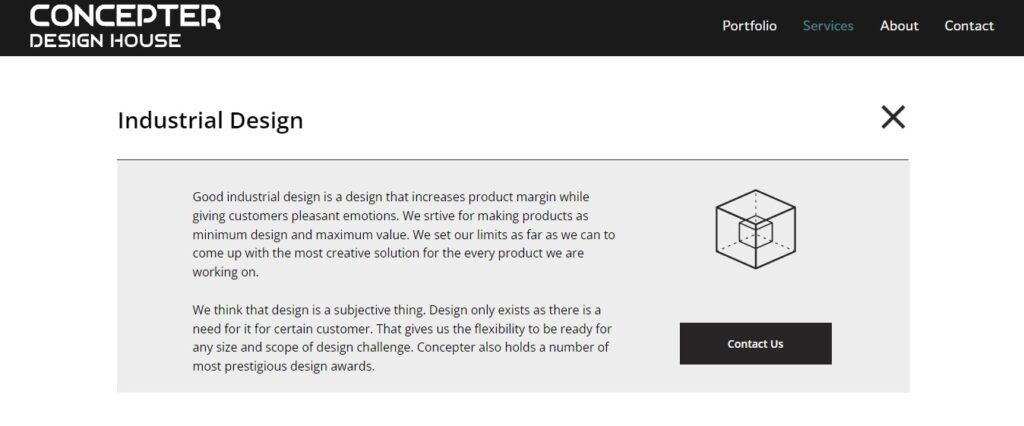 Years of Experience: 10
Core Services: Product Designing and Mechanical Designing,
Ratings on Clutch: 4.5
Concepter is a product design and engineering studio that has received awards for their work. They specialize in designing sophisticated tech products that are both user-friendly and environmental friendly.
According to their website, their products are used by 1 million people. However, it's worth noting that their case studies are mainly focused on the IoT and Medical industries.
This means that if you are in a different industry, it's important to thoroughly research whether Concepter would be the right fit for your project.
Overall, Concepter is a reputable and award-winning design and engineering studio that is committed to creating products that are both user-friendly and sustainable, particularly in the IoT and Medical industries.
Peschkedesign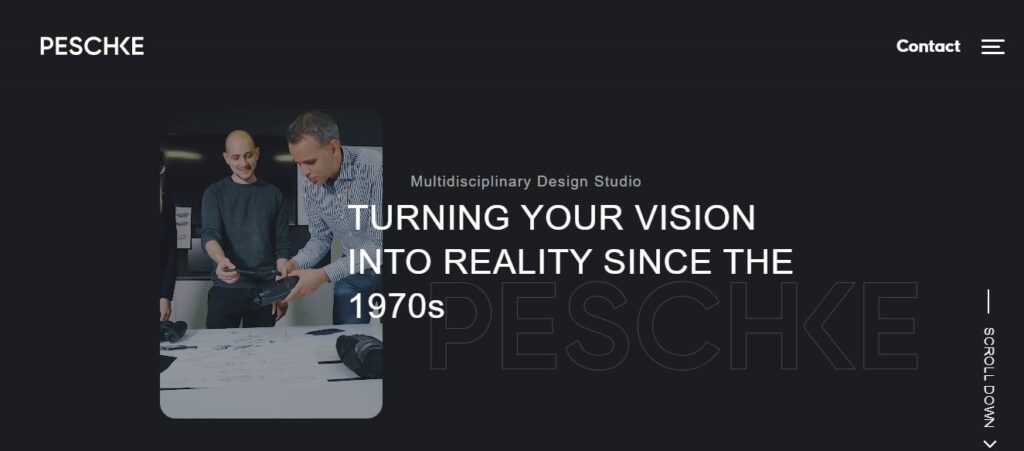 Years of Experience: 40+
Core Services: Product Designing
Ratings on Clutch: 4.8
Peschkedesign is a company that specializes in creating user-oriented physical and digital products for progressive companies of all sizes, from start-ups to large corporations.
They focus on implementing forward-thinking ideas that lead to measurable economic success, by tailoring their designs to the specific needs of their clients and focusing on the end-user experience of their target groups.
However, one potential drawback of this company is that its website is only available in German and not in English, which may make it difficult for non-German speakers to fully evaluate their services and product portfolio.
Despite this, they seem to have created some impressive products and have a good reputation in their field but it might be hard to know about them in detail if you don't speak German.
Why Marketers Should Invest in 3D Modeling Services for Maximum Impact?
Here are some of the common reasons why marketers should invest in 3D modeling:
Enhanced visual communication: 3D modeling allows marketers to create highly detailed and realistic images, animations, and interactive content that can effectively communicate complex ideas and products to audiences.
Improved customer engagement: 3D modeling can be used to create immersive and interactive experiences that engage customers and increase brand loyalty.
Increased conversions: 3D modeling can help improve product visualization, making it easier for customers to understand and connect with a product, which can lead to increased conversions and sales.
Cost-effective: 3D modeling can be more cost-effective than traditional marketing methods such as photography and physical product prototyping.
Stand out in a crowded market: 3D modeling can help a brand stand out in a crowded market by creating unique and visually appealing experiences that capture the attention of potential customers.
Better product development: 3D modeling can be used to create detailed prototypes and mock-ups that can be used in the product development process to identify and address potential issues before mass production.
Increased accessibility: 3D modeling can be used to create accessible versions of products that can be viewed by people with visual impairments or disabilities, which can help to increase brand inclusivity.
Better for e-commerce: 3D modeling can be used to create virtual product experiences that can improve the online shopping experience, allowing customers to explore and interact with products in a realistic way.
Elevate Your Marketing Game: Trust Only the Best 3D Modeling Companies for All of Your 3D Needs
There are a plethora of excellent video animation studios providing an extensive range of 3D animation and design services. However, many of these companies tend to specialize in a select group of industries and focus on developing specific types of products.
BuzzFlick, on the other hand, has a wealth of experience across a diverse range of industries and has successfully developed a wide range of products for some of the most reputable brands in the world.
If you are seeking a comprehensive and versatile 3D design service provider, then look no further.
Our team of experts is ready to assist you in bringing your ideas to life, and we would be more than happy to discuss your project with you.
Contact us today to learn more about how we can help you achieve your goals.
3D Modeling Studios – FAQs
Are 3D modelers in demand?
3D modeling is a highly sought-after skill and there is a high demand for 3D modelers. This is because becoming a professional 3D modeler requires a lot of dedication and hard work.
Additionally, the growth in demand for 3D modeling is driven by the increasing popularity of various industries such as entertainment.
How much does 3D Modelling cost?
The pay for 3D modeling and rendering with a mechanical design focus is comparable to that of product design. On average, 3D modeling can pay around $50 per hour or more. For 3D rendering specific to mechanical design projects, the hourly rate is typically at least $100, but it can reach up to $200 per hour.
What does 3D Modeling do?
3D modeling is the creation of virtual, three-dimensional objects or surfaces using specialized software. The process of 3D modeling allows for the manipulation of an object's size, shape, and texture. The software used for 3D modeling is computer-based.
What are the 3 types of 3D modeling?
In Computer-Aided Design (CAD), there are three main types of 3D modeling techniques: solid, wireframe, and surface modeling. Each type has its own unique set of advantages and disadvantages.
Solid modeling is used for creating precise and accurate models, wireframe modeling is used for creating basic models and is faster than solid modeling, and surface modeling is used for creating smooth and organic shapes.
Additionally, there are other types of 3D modeling such as Sculpting and Subdivision Surface modeling, but they are mostly used as a subset of the above three or are highly specialized for particular purposes.
Other Useful Similar Blogs: