Want to create a promotional video for your startup? Here is us listing the 10 best startup videos ever made from which you can draw major inspiration.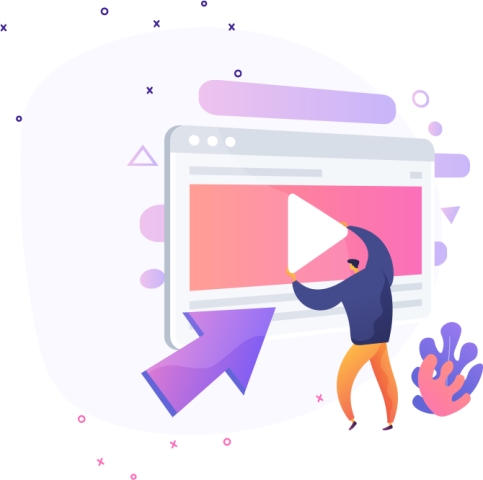 These days, with the pandemic and the global recession going on, everything seems unstable. But that's not an excuse when it comes to starting a company, is it? Fortunately, there is no "right" time to when you should consider investing in a startup. Startups are supposed to be spontaneous.
Having said that, once you have acquired a startup and know what its purpose is – informing the public should be your next goal, and it's the most important step.
So, what is the best way to promote your startup? Remember, a company can only succeed if it has an efficient marketing strategy.
With the advent of social media and fast-paced content – you can kick off your marketing efforts through leveraging startup videos.
Once you get a creative outlook on what your company represents, producing high-quality startup videos won't be an issue. Producing cool corporate videos should be a prerequisite for any brand looking to make a name for itself right away.
In fact, the best youtube videos of all time consist of multiple startup commercials. Consumers watch videos on-the-go, and basically everywhere. Whether they're on a subway, bus, or just walking around town – they never stop scrolling on social media. So, plug in your startup animation video into this to ensure that you are right where the conversations are happening.
And promoting your brand with such videos is honestly worth it. Good startup companies started off with commercials, delivering their message in a concise and engaging way. A startup video can help your business skyrocket! Also, the long-term effect is that consumers will remember that "one" video of your company. It can be a benchmark, a representation of your brand for ages to come.
Why Use a Startup Video?
Why are videos an important aspect of marketing? Well, the best videos of all time have had millions of views and thousands have engaged with them. Commercials are remembered as classics. People might forget the brand but a thought-provoking video will hold a special place in their hearts for eternity.
The best startup videos have "sentimental" morals – leaving viewers shocked and intrigued. So, apply the following points during production. It'll help your company succeed in the foreseeable future.
Keep the video as short as possible. Consumers have a short time span and it's not easy to grab one's attention.
Show a demo of your startup's main product. Give viewers a glimpse of what they can expect and why it's the best option.
Address common everyday problems, and how your startup can help solve them.
Lastly, end the video with a "CTA" (call to action). Inform viewers on how they can further engage with your brand or the products.
Also, if your startup lacks funding during the initial stage, you can always pitch a proposal at a competition. For that, again, you need a startup video.
Top 10 Startup Video Examples
So, let's take a look at the top 10 best videos of all time. Hopefully, these will give you an insight into how startups emerge and eventually become top-notch brands. (not in any particular order)
#1) Dollar Shave Club
Dollar Shave Club
promos instantly became viral. And this one "edgy" video got a lot of views. Perhaps because of its hilarious setting. The video had quite a casual aura and didn't even seem like a typical commercial. That's the beauty of it, though. It garnered 27 million views over a period of 8 years and it is still being promoted by Dollar Shave Club.
And, surprisingly, the ROI was more than anything the brand ever expected. According to Micheal Dublin, the mastermind behind the video – the production cost was just $4,500. That's a lot for a small-scale startup, considering the views and the cost.
#2) Panorama9
Here, this brand used "nostalgia" to attract consumers. Since everyone feels nostalgic when an 8-bit game is mentioned.
Panorama9
used an IT-man in an animated video that shows him fixing mundane IT problems.
Barq Video, an animation startup used creative elements for its commercial. Showcasing a dragon, a mesmerizing soundtrack, and an appealing voiceover. The video was released over 8 years ago and has more than 100,000 views on YouTube. At the end of the short video, there was a "CTA" as well. Engaging viewers in an instant!
#3) Airbnb
Airbnb
is one of the most popular apps known today, but this wasn't always the case. Even Airbnb started off as a mere startup. Startup videos played a key role in shaping the brand's image. This "breaking down walls" video in particular used emotional elements in the right way. It currently has 5.9 million on YouTube, having been loved by everyone.
In the animated video, we see an Airbnb guest named Catherine who takes a trip in Berlin during a historical period. From there, viewers get to see her experience and what role Airbnb played in it.
#4) Spotify
Spotify
is a renowned Swedish music-streaming brand that started off like a, well, startup! From 2006 to today, Spotify emphasized on their commercials. Making sure that they stand out and deliver the brand's message. When Spotify first started off, the commercials were vibrant yet minimalistic – to the point.
Spotify released a lot of animated videos over the years, and each stood out from the rest! The company was consistent with making short videos that ended with a "CTA."
#5) Yova
Yova
used demo videos to an advantage. Efficiently delivering their message across many platforms in a subtle, simple way. The vector-based animated format helped as well – colorful background, appealing graphics, and an enlightening script made Yova's video stand out from the rest.
Another thing, Yova's startup explainer video didn't just rely on fancy visuals – the voiceover explained every explicit detail of the brand. Combining visuals with a lot of information, Yova used CTAs in the way as well. Making sure that the viewer is not only entertained but engages with the product too.
#6) Be My Eyes
Be My Eyes
is a modern-day startup that was founded for an honorable cause. Basically, the startup helps blind people as evident from its name. Volunteers can sign-up and help disabled people through a video call.
The startup video showed exactly this. How volunteers collaborate with visually impaired people, helping them out. The ad was heart-touching and certainly left an emotional impact. In 1 minute and 30 seconds – Be My Eyes showed sympathetic scenes, CTAs, and the company's overall message. The app's ad secured over 600,000 views on Vimeo alone.
#7) Slack
Slack
used humor while addressing the startup's message and realized what problems everyday office-going consumers face. In their ad, Slack showed how collaboration can help employees relax, be steady, and more energetic and how Slack, which itself is collaborative business software, can make this happen.
You can learn how Slack used such casual remarks in their video and made it look like an entertaining skit rather than a corporate video. For a company that was launched just 6 years ago, in 2014, Slack has surely made a name for itself. And it would not have been possible without a strategic marketing plan.
#8) Mobcrush
Mobcrush
is one of those few companies that realized the importance of art and animation in their videos. Since Mobcrush has a Gen-Z gaming audience, it goes without saying that their commercials should be as exciting as possible. In a 30-second video, Mobcrush creativity delivered their message and subtly added CTAs as well.
If your startup has a younger, causal audience – make your videos as creative as you can. No one wants to see "plain" old clichéd ads. It's 2020, and fast-paced videos are the norm.
#9) Acrons
Acrons
is a financial app and obviously, there are a lot of technical aspects to it. So, how did they promote themselves such that a "normal" being understands what the company does? Well, Acrons set a "calming" aesthetic as their brand's image. Acrons' introductory video had a soothing voiceover, gentle music in the background, and overall – a relaxing aura throughout it.
Acrons realized that talking about finances can be difficult for most people since it's such a personal thing. So, they kept their videos "calm."
#10) MedUX
MedUX has a very subtle way of showcasing their values. Without wasting any time, the startup video figuratively conveyed the message, "flying with data" in a subtle way. Since MedUX is a telecommunications startup, there are a lot of technical details they could've covered.
But MedUX realized that having breathtaking visuals and easy-to-understand facts in their video would be far more convenient from a marketing perspective. And it worked! MedUX is one of the leading telecom services known today!
Conclusion
Overall, all the mentioned examples marketed their startup after considering various factors; target audience, budget, and goal. There's not a fixed template for every company, since each has a different purpose.
So, thoroughly research and be sure to use videos as a part of your startup's marketing campaign.
Related Articles: