Looking for new ideas for your next video marketing campaign? Read out our blog to explore the best video marketing examples.
Videos are becoming increasingly popular whether we like them or not.
The average daily time spent by Internet users consuming video content is 84 minutes. Experts anticipate that by next year, the typical internet user will spend more than 100 minutes per day viewing videos online, and that number is only expected to rise.
With 86% of consumers expressing interest in watching more videos from the companies they patronize, it's evident that video marketing is here to stay.
That's why 95% of marketers say they feel like they have a better grasp of their product because of video marketing.
Without a bit of imagination, it would have been impossible to achieve these outcomes. All the different kinds of marketing videos your company may make are described in detail, with over 30 examples provided.
Video Marketing Examples You Must Check Out
Video marketing can be quite beneficial for businesses. It can facilitate you in explaining complex ideas through amazing visuals.
Let's check out some of the best video marketing examples to date.
Explainer Video Examples
To put it simply, examples of explainer videos are precisely what they sound like. You have a video in which you demonstrate the process of using a product rather than the product itself.
Take into account the fact that, as the number of available information increases, so does the rate at which we can process it.
The success of explainer videos lies in their emphasis on brevity and effectiveness over length.
Most effectively, explainer videos promote product-centered enterprises. Picture a better (and more up-to-date) version of an instructional or commercial. Let's have a look at a few exemplary cases.
P.S: Animated explainer can also facilitate in great ways. If you're in search of reputable animation studios then check out the list of the top-rated video animation production companies.
Flyp Home
Flyp Home is a home staging company that helps you get the most money when selling your house. Instead of just telling you this, the company made a little video demonstrating the "how" of their expertise.
Add captions to each frame to describe what's happening and earn bonus points.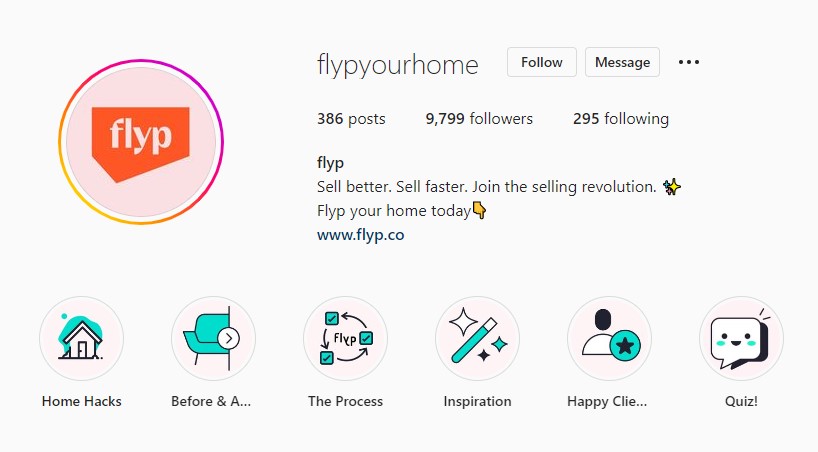 Smyths Toys Superstores
You can get the most money out of the sale of your home with the help of Flyp Home, a home staging company. The company didn't just tell you this; they made a short video showing you exactly how they do what they do.
Product Marketing Examples
When it comes to advertising products, "lights, camera, action" is taken fairly literally through the medium of video. Customers can witness the product in action while it takes center stage. After all, if you have a great product, why not show it off?
Nuts Pick
As humans, we want our nuts to be crisp, fresh, and tasty. This marketing video for a product highlights the crisp texture of the nuts sold by Nuts Pick. You can appreciate them completely 360 degrees around (and get hungry for some in the process). Video advertisements for food products make perfect sense.
Kodiak Cakes
This Kodiak Cakes commercial is a typical example of the type of video used to promote products. If you have a sweet tooth, you may find yourself wishing you could reach through the screen and sample the syrup that is steadily dripping down the sides. You're probably more inclined to buy the syrup after watching the video because of how you feel.
Social Media Video Examples
The combination of social media and video can provide effective results. This is why 88% of marketers expect to use video marketing on sites like YouTube.
Here are some well-known companies that have successfully employed this strategy in their video marketing campaigns.
Charlotte Tilbury
Charlotte Tilbury uses the allure of repetition, attractiveness, and aspirational images in its online video content, whether on Facebook or its YouTube channel.
Also, most of the content shared on social media is already visually engaging. This fusion can be an effective advertising tactic.
Behind the Scenes Examples
A behind-the-scenes look at something makes it more approachable. Behind-the-scenes videos are a great way for most firms to connect with their current customers and attract new ones. Okay, so let's check out how it works.
Nike
The company has found great success in using celebrity endorsements to market its products. This article provides an inside look at how Serena Williams selected the design team for her upcoming Nike line. The store shared an exclusive video with its online audience to shed light on the creative process that led to the new partnership.
Pretty Little Thing
Behind-the-scenes videos like this are one way Pretty Little Thing uses influencer marketing to get to know its fans better. The collaboration with Molly Mae is an effective technique to promote the company's apparel lines as practical and approachable.
Black Milk Clothing
Customers today want brands to be more open and honest with them.
Black Milk Clothing makes the most of this by providing access to a behind-the-scenes video of the design, printing, and assembly processes that go into making its products.
It's a great example of how video marketing can help eCommerce brands earn their customers' trust.
P.S: These video examples look very professional. There are many video production companies in NYC, especially who can produce similar videos for your brand. Ensure to check out their profile on reputable platforms to get better insights.
Viral Video Examples
Videos that become viral usually do so after the fact. It's true that you can strive to make the finest viral video possible, but in the end, it's the market that determines whether or not your video deserves to become viral.
If you do a fast search for "viral videos," you'll find a lot of music videos and pranks. Finally, what should we remember? The most effective advertising is often disguised as something else.
GoPro
The video technology firm GoPro has produced a very moving viral video. What happens when you combine two of the things that everyone loves (kittens and firefighters) and put them in a dangerous scenario where you can show off the capabilities of your equipment? You get a viral sensation.
Dollar Shave Club
If we were to compile a list of successful video marketing campaigns, Dollar Shave Club would have to be included. It's often brought up, and rightly so.
Despite being an overt advertisement, the video has been seen over 27 million times due to its compelling narrative. Bonus points if its utility is instantly apparent (more quality blades for less money, monthly).
Dove
Dove skillfully demonstrates how perception impacts beauty standards, touching on human vulnerability. Over 69 million people have seen it on YouTube, and it has been viewed in over 110 different countries.
Interesting fact: the sketcher was a forensic artist with the FBI. And while you probably don't need an FBI agent to help your video go viral, it's still important to go outside the box when looking for methods to get people to relate to your message.
Video Email Marketing Examples
When considering where to position your video ad for maximum return on investment, the email probably isn't the first place that springs to mind.
While it's not possible to actually view a video in an email inbox just yet, you can still drive traffic to your video with a targeted newsletter.
Combining email marketing with video should provide fascinating results, as email marketing already yields high returns (about $42 for every $1 invested). You can see three instances of companies implementing this form of video marketing below.
Jot
It's important to remember two things when sending emails with videos: a play button and a clear call to action (call-to-action). Readers won't realize the picture you've included is a movie without these. Just a regular picture, really.
However, if a "play" symbol and a call to action are included, the number of viewers will increase. It's a big part of why communication using Jot email is so efficient.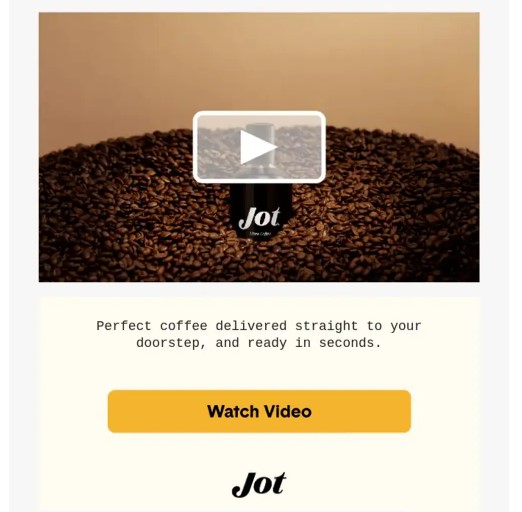 Tracksmith
Tracksmith ensures that you can't miss the video they want you to view in the email. The store uses a visually attractive graphic and the "play" button to encourage you to continue watching. Further, it has a prominent call to action (CTA) that instructs readers to "watch the video."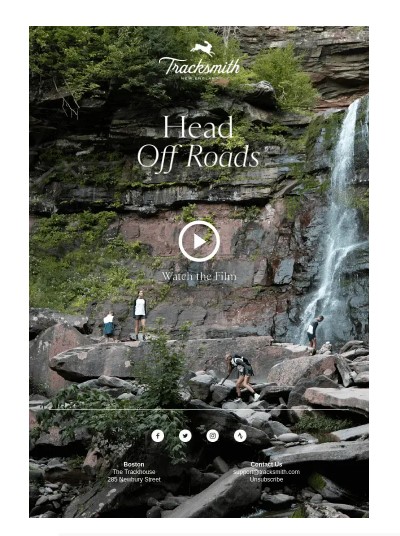 P.S: We follow this practice religiously at BuzzFlick. As we are a Texas animation studio, we embed animated videos in our email marketing campaigns.
Guerrilla Marketing Video Examples
Guerrilla marketing is the utilization of irregular or out-of-the-box encounters captured on video by businesses. Brands that wish to make an impact on a tighter financial envelope may find success with this tactic. A well-executed marketing campaign has the potential to be remembered for years to come.
However, depending on how you employ it, this method of advertising your business might lead to confusion. Some successful instances of "guerilla video marketing" are presented below.
Always
Always addresses a subject that affects all women, such as sanitary napkins and gender stereotypes. This is accomplished by establishing a video campaign that asks actual women, "What does it mean to behave 'like a girl?"
Always addresses a universal topic from a nuanced point of view. It is among the most memorable video marketing initiatives of the previous decade.
Coca-Cola
Big companies like Coca-Cola understand the value of honest guerrilla marketing. This video advertisement is a typical illustration of the company's branding approach, which features individuals enjoying "happy" at one of its vending machines.
It's a brilliant marketing ploy to feature it in the video using guerrilla footage. The adage "show, don't tell" rings true.
Volkswagen
Volkswagen uses a guerrilla video as an example of marketing that aims to connect with viewers on a fundamental level by appealing to their sense of play.
How? By installing a slide in the most unusual of places: the stairwell of a train station. If you're trying to favorably influence consumer opinion about your brand, this is a strategy you should consider.
Interactive Video Examples
No one likes to be alone, right? It's essential to human survival. Adding it to your video ads for a more interactive experience creates a stronger bond between your business and the viewer.
Even though creating an interactive video takes extra work, it might be well worth it for the appropriate company.
Indeed, 89% of businesses reported an uptick in sales after including interactive features in their promotional videos.
The capacity of a video to solicit responses from its viewers (through polls, links, or otherwise) is what makes it interactive. Follow these steps to achieve the same results.
Netflix
Are you trying to find a creative method to play around with interactive video? Make them available to your viewers with the YouTube embed function.
The "Call of the Wild" video on Netflix is 25 seconds long and does a fantastic job at this. The video begins with a Google search that most viewers will be performing while watching it: information on an upcoming TV show.
But Bear Grylls interrupts the screen recording with a FaceTime call. The audience chooses whether or not to answer the summons.
Royal Caribbean International
This is a fantastic illustration of the power of branded video marketing across several channels. Royal Caribbean International compels its viewers to take action with stunning visuals and a "click OK to explore more" call to action.
To say this experience was remarkable would be an understatement.
Earth 2045
It's hardly surprising that commercial videos evoke strong feelings in viewers, much like feature videos. That's just what Planet Earth 2045 achieved with their slider video.
This interactive video is effective because it demonstrates the before and after effects of pollution, raising awareness of the issue.
Video Advertising Examples
Traditional commercials on videos will continue to be used. Until the advent of social media, it didn't seem much different.
With the development of new social platforms like Tik Tok, it's no surprise that 87% of video marketers have seen a good return on investment (ROI) from their video content.
Let's check out how some well-known online merchants are employing this approach to attract new clients.
Squarespace
Squarespace is savvy enough to use this to its advantage by making its advertising into mini-movies. Squarespace's USP is aesthetic excellence, and that's what each frame aims to convey. What should we take away from this? Putting forward your best foot need not necessarily be in a literal sense.
Facebook Video Marketing Examples
Do you know that Facebook is the preferred platform for video content distribution by 75% of marketers? The combination of Facebook and video is effective because it increases exposure.
The engagement rate of Facebook video ads is 6.04%. This may not seem like much, but consider that engagement rates for both images and status updates average between 1.66% and 4.36%.
We've compiled a few examples of popular brands that have leveraged Facebook video advertising.
UGC Video Marketing Examples
Videos created by users are a terrific example of user-generated content (UGC), which can be used to build trust in your business and get the word out about your product or service in a more personable way.
We no longer blindly trust what salespeople say about a product, as was common in the past. The consumer is now the focus of attention in promotional videos.
According to the report, 79% of consumers feel user-generated content has a significant influence on how they respond to advertisements.
The same survey found that 67% of customers think it's critical for companies to provide unique, tailored experiences for each individual.
Consider the value of messaging as we examine many real-world examples of user-generated video content.
Onda
It's true that a famous person started the sparkling tequila company Onda. However, this does not diminish the trustworthiness of user-generated content.
A UGC video is more likely to go viral and connect with its audience if it appears less "produced." To this day, Onda Tik Tok has gathered millions of views.

Levi's
In a strong marketing move, Levi's teamed up with TIk Tokers to promote the versatility of the brand's jeans.
In contrast to other forms of media, Tik Tok is not overproduced and is created by an ordinary person rather than a famous one. As a result, your brand will appear more approachable and practical.
Sephora
To reach its target audience, Sephora promotes its products on social media with a before-and-after video featuring a model influencer.
Brands can learn a lot from Sephora's approach to demonstrating the value of their products to consumers.
Use These Successful Video Marketing Examples in Your Next Campaign
Increasing sales may be accomplished through several video marketing strategies, such as search engine optimization, social media marketing, content marketing, and product demonstration videos.
If you've read this far, you probably have a pretty good idea of how effective video marketing can be at expanding your company's customer base.
This is especially true if you run a small business without access to a dedicated digital marketing team; as mentioned before, keeping up with shifting consumer tastes through the use of static media like photos and text alone can be counterproductive.
However, it may be difficult to use videos to achieve sales targets. Why? In order to keep your intended audience from dozing off throughout your videos, you'll need to be inventive. The alternative is that you create another video that will be swiped right past.
We're here to help, thankfully. As a video production company in Los Angeles, we've witnessed the staggering profits that can be made via video advertising. However, this will only be the case if a good video strategy is put into place.
Prepared to launch? Make an appointment for a free strategy session with one of our marketing experts to learn how to utilize video to increase brand recognition, customer engagement, and product sales.