Looking for the best video marketing software? Read our blog to learn about the features and benefits of top video marketing software to enhance your videos.
In this digital era, digital video marketing has become one of the most effective mediums for brand promotion. Videos help businesses increase their audience engagement and help in providing valuable information to potential customers.
Marketers use video marketing through their social media and influence the audience to visit their website. It improves website traffic and increases conversions.
Social media networks have become the first preference of marketers. Around 4 billion users watch videos on Facebook and YouTube.
According to a recent study conducted by BuzzFlick, video content is 1200% more effective than any other content. Modern customers search online for videos to learn about a brand before purchasing its product or services.
Here in this blog, we will reveal the list of best video marketing software that will help you enhance your brand's communication with the audience.
1. Vidgeos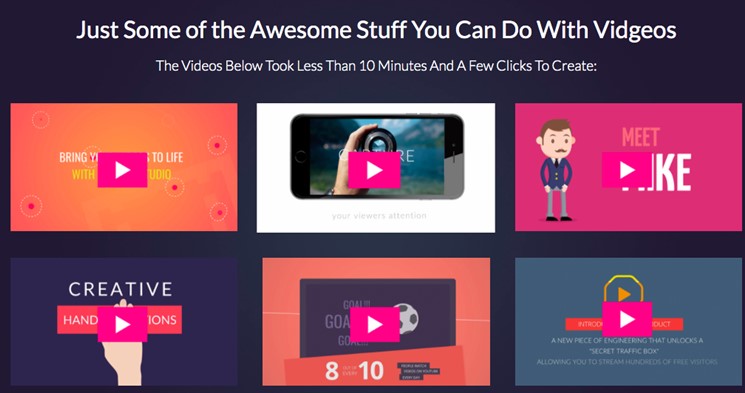 Vidgeos is an app that helps users create videos for marketing purposes. You can use this app to create animation and videos with its tools.
It is compatible with Mac and Windows platforms. It is one of the best apps that assist users in email marketing, up-sell video marketing, global marketing, selling videos, affiliate marketing, video publishing, live and interactive videos.
Features
Vidgeos offers live countdown timers, email op-tin forms, and live interactive C.T.A buttons.
It has a feature of auto-translate that help you in marketing worldwide in your desired language. Moreover, users can easily use it because it is simple.
Another unique feature of this app is the text language translation.
You can edit your videos in real time.
Other great features are audio editing, voice-over recording, slides option, 24*7 customer support, smart elements, etc.
Verdict: It is a hosting, animation, and video creation tool with modern technology. It helps users create engaging videos to customize and deliver the message according to the audience's language, location, etc.
2. Video Marketing Blaster

Video Marketing Blaster has gained immense popularity. It is a platform that helps users improve their ranking and appear on Google's first page without implementing SEO strategies and building backlinks.
You can use it to boost your website's traffic. It is easy to use and optimize your search engine rankings. The best thing about this software is that it allows users to find keywords, and it has a feature of video details.
Features:
You can easily create rightly optimized descriptions, tags, and titles.
It helps users to find the keywords having excellent traffic.
It will increase your organic traffic from YouTube and Google
This software's SEO optimization tool researches your competitors, finds their videos' weaknesses and competes with them automatically.
It analyzes and generates the perfect tags, descriptions, and titles.
Verdict: The best thing about this software is that it is simple, compatible with Windows, and provides effective results.
3. Biteable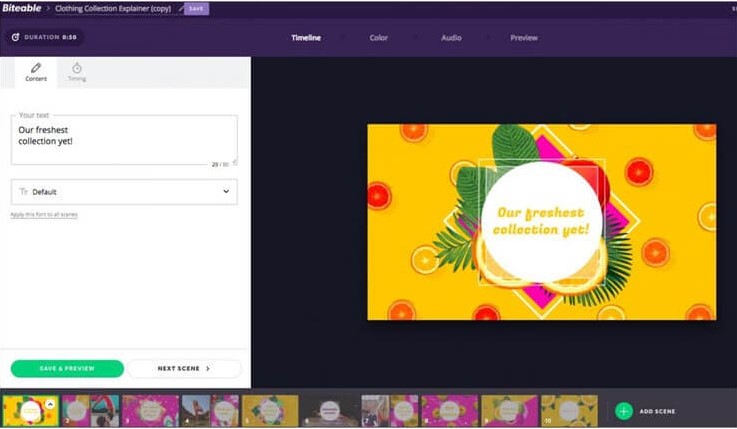 Biteable software helps users in video creation, editing, and marketing. It has a library of built-in templates that help users to create videos and sell content quicker. You can create high-quality videos quickly by using them. Businesses can purchase this software to boost their marketing and selling.
Recommended Readings:
Features:
You can choose your desired style, a track, upload your content, convey your message and promote it to your audience.
It allows users to create high-quality videos in quickly within minutes.
Users can access its library, which has over 85000 Shutterstock animations and clips.
People can customize their photos and clips and easily modify them.
Biteable made video creation easy by providing a collection of eye-catching templates to users. People can enrich their social media videos through its features.
Verdict: Biteable is one of the best marketing video software that is ideal for people looking for creative templates to create visually appealing designs.
4. Vimeo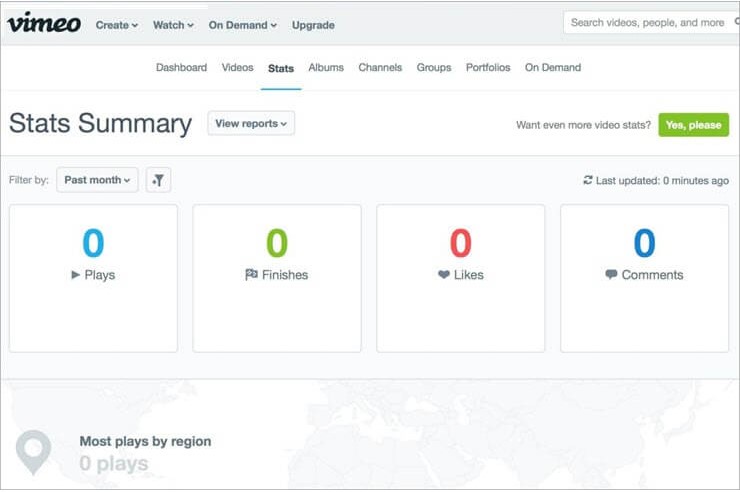 Vimeo is a tool that helps people in video distribution and video collaboration. It allows users to use the fastest, easily embeddable, highly customizable, ad-free player. The best thing about Vimeo is you can track who is watching your video from where and at which time with its advanced features.
Moreover, it helps increase collaboration with team members by sharing the work and quick coordination with the team.
Features:
It assists users with review tools, collaboration, post-production with password protection, team collaboration, and pro-integration.
Version history, excellent video quality, sufficient storage, video management, speed adjustments, privacy settings, etc.
Other prominent features are worldwide distribution, email marketing, call to action, advanced stats, google analytics, social sharing, and engagement graphs.
Vimeo allows users to enhance their marketing and monetization through its tools, customized players, lead generation, custom end screens, domain, and geo-restrictions.
The tool provides customer support, cloud transcoding, cloud transcoding, simultaneous events, auto archiving, etc.
Verdict: Vimeo is ideal for management, distribution, and video collaboration.
5. Hippo Video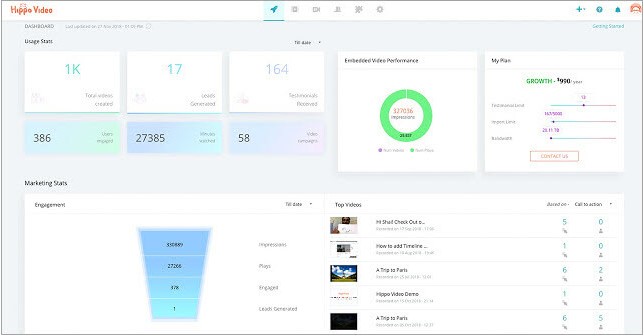 Hippo Video is a video marketing platform that assists users with its distribution and personalization. It offers services like ABM & video selling, video email campaigns, video hosting, video support, and success.
Hippo Video helps businesses in their video projects, and you can use it to enhance your email campaigns, sales, and marketing. Moreover, they have the best customer support, so Hippo Video is an ideal marketing platform for businesses.
Features:
You can embed or export videos to the website, Vimeo, YouTube, Google Drive, and social media networks.
Edit and create videos with its editing features like (add, crop, cut, trim) and professional features (narrate over, background music, and unlimited tracks)
It shows the analytics of user views and real-time engagement graphs. Users can host their videos through its cloud services which are secured with the best privacy.
You can use it for smart integrations, marketplace integrations, organizing videos under categories, and guest recording.
Users can use its feature for strong privacy by sharing and securing their content with passwords and setting the expiry for their video link.
Verdict: Hippo Video is one of the best tools that help know the analytics and assist in video distribution with excellent customer support.
6. Animaker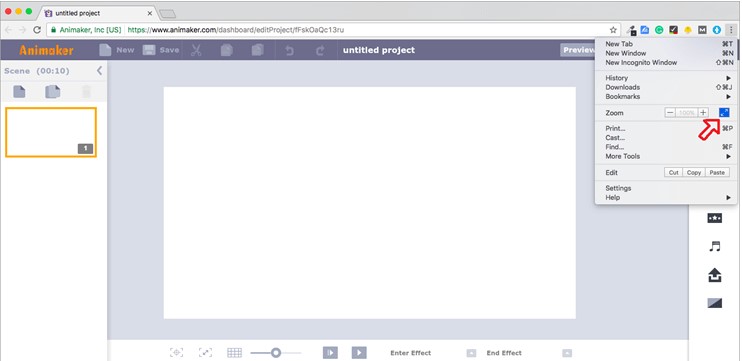 Animaker is a famous video marketing software that helps users to utilize its 6 video styles. You can create various animated videos by using its video styles. People can use this software easily because of its simple features like drag-drop, click-choose, edit, and play.
Many multinational companies are the clients of Animaker, like Pepsi, Walmart, Uber, CISCO, Dell, FedEx, Verizon, Google, etc.
Features:
Animaker allows users to enhance their videos with video styles, i.e., typography, 2.5D, whiteboard, handcraft, infographics, and 2D.
It has the most extensive animated collection of icons, BGs, properties, animated characters, etc.
Assist users with RTL language fonts, custom fonts, and Text support for over 50 languages.
Its popular features, like an end-to-end visual solution, in-app messenger, file management, task management, and multi-user collaboration, help users perform multiple tasks efficiently.
For creative animations, other prominent features are curve, multi-move, recording, transition effects, camera out, and camera in.
Verdict: Undoubtedly, Animaker is one of the best video marketing software that helps large-sized businesses to enhance their video marketing.
7. Powtoon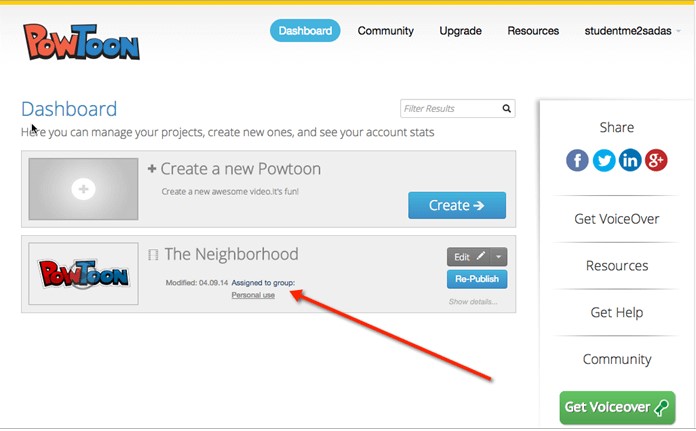 Powtoon is one of the best video marketing softwarethat helps people easily produce top-notch presentations and videos. It is ideal for educational purposes, personal work, or office work. You can use Powtoon to create videos and engage, captivate and explain your ideas to achieve your objectives.
Features
It allows users to use the features of hierarchical view, screen sharing, offline presentation, image library, collaboration tools, WYSIWYG editor, hierarchical view, search functionality, customizable branding, data import, and export.
You can use Powtoon to explain, engage and influence your viewers.
Other useful features are project templates, content management, video management, editing, communication management, project planning, drag-drop intuitively, and two-factor authentication, etc.
Verdict: Excellent video marketing software that helps users in creating presentations instantly.
8. Filmora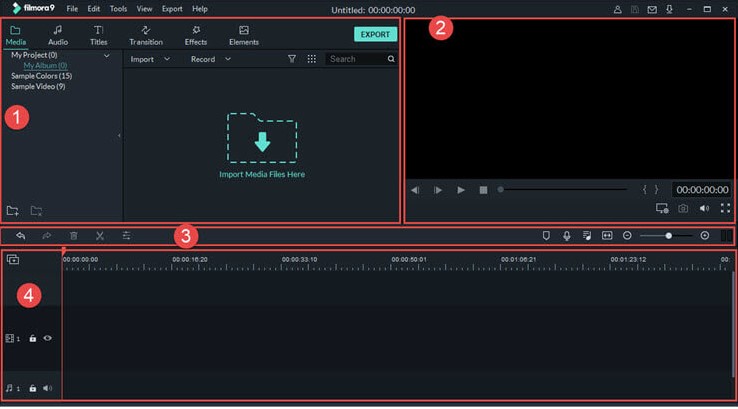 Filmora is one of the top video marketing softwarefor fresher. It allows users to use various effects, customization, and video styles. Filmora is preferred for people who don't have enough time to understand the basics of video editing. People who are more focused on the end result can use it for editing and creating their videos.
Features:
Its prominent features are video stabilization, advanced text editing, scene detection, split-screen, 4K resolution editing support, audio equalizer, mosaic (blurriness), color grading presets, tilt-shift, etc.
Users can make their backgrounds through its features of social import, frame-by-frame preview, speed control, Chroma key, etc.
Edit videos with an audio mixer, noise removal, audio separation, screen recording, and GIF support.
Verdict: Filmora is an excellent video marketing software for people who don't have prior experience in video editing.
9. Wideo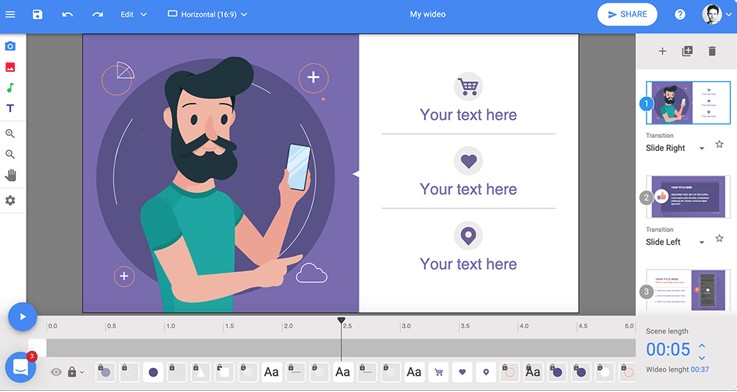 Wideo is a video marketing software that helps marketers easily create promo and marketing videos. It saves users time as they can use built-in templates to create professional and engaging animated videos. Moreover, the platform is ideal for producing videos with its excellent functionality and features.
Features:
It has a library of more than 80 built-in templates, animation speed control, a drag-drop interface, etc.
Other beneficial features are video embedding, scene templates, folder management, spell check, keyframe removal, object searching, upload button, YouTube sharing, etc.
Verdict: Wideo is an ideal software for brands. It assists them in creating promo and marketing videos.
10. Vidyard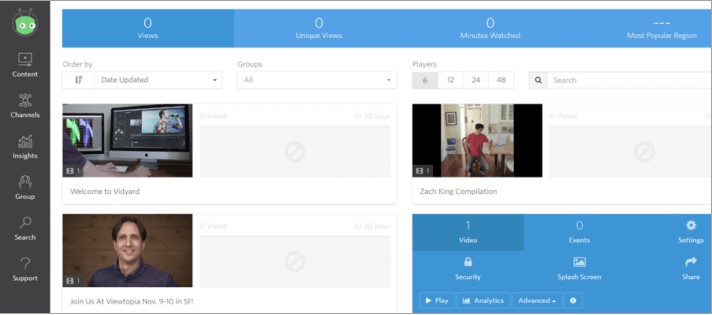 Vidyard has become immensely popular in recent days. It is an online business platform that turns your viewers into customers. The best thing about this software is that it provides CRM tools that help users in creating their videos according to trends, and they can store information and data in it.
It is an effective video marketing tool that assists users, and they can download and upload videos, compatible with browsers, customization of own player, and track the video results.
Features:
You can manage and create events, set playback speed as you wish, and make your video more engaging.
Vidyard users can create top-notch quality videos, and engaging CTAs, and it provides incredible 4K support.
It allows users to check the analytics data with its excellent insights and reporting.
Popup call to action, syndication, video collaboration, secure hosting.
Multiple encoding rates, multiple players, multiple users, multiple accounts
Verdict: It offers excellent CRM tools, video collaboration, multiple accounts, and 4K support,
11. Viewbix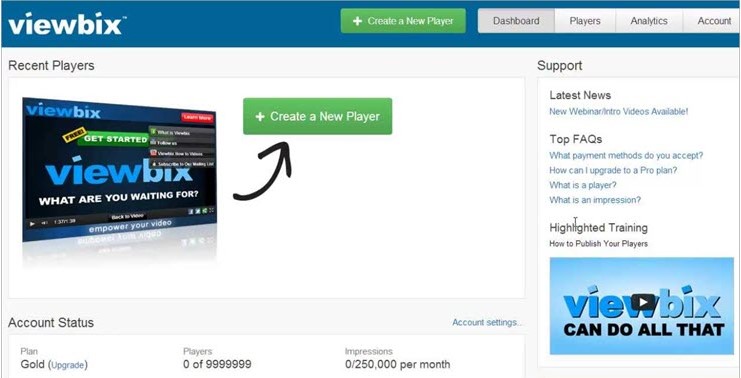 It is a video interaction and analytics platform that enhances your results. The best thing about this platform is that it gives an overview of content and data, attracting video viewers to improve the audience experience. It helps businesses to communicate effectively with the audience and increase traffic.
Features:
It provides coupons and assists you in improving your mailing list.
Users can work on mobile devices, share photos, engage with the audience, directly link to the video player, and add apps to their videos.
Moreover, it provides analytics, integrated calls to action, and cross-platform distribution.
Verdict: Viewbix is the best platform for viewing analytics and reaching broader audiences.
12. Wistia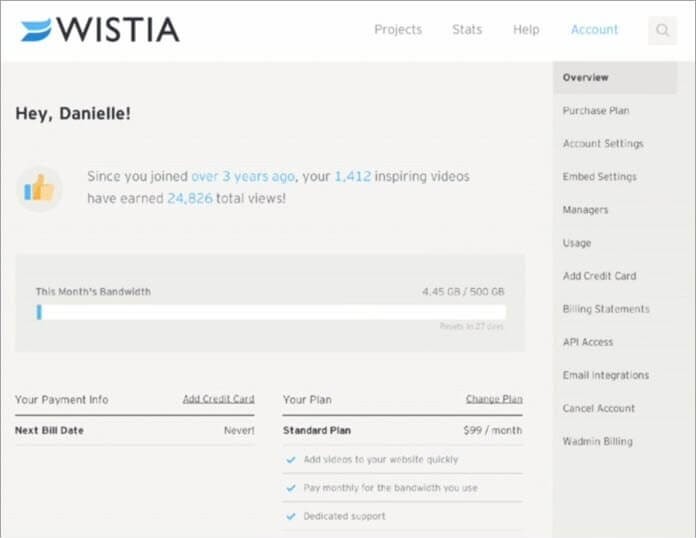 It is video software that offers users video hosting services. Wistia is a video marketing tool that allows users to boost their video SEO, customize videos to improve their traffic, and generate potential leads. This platform is perfect for businesses as it helps them increase brand awareness, check analytics, and track marketing performance.
Features:
Users can easily share, embed videos, view video analytics, and generate leads.
Wistia is a customizable player that supports basic integrations and allows access to unlimited users.
Other prominent features assist users in cross-device compatibility, HD bandwidth detection, collaboration, A/B testing, SEO, viewing trends, and creating CTA; they can also utilize video heat-maps.
Verdict: Wistia is a platform that helps businesses to improve their brand awareness.
13. Videoshop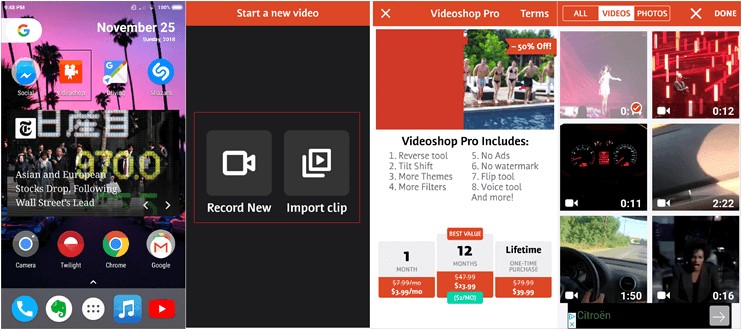 Videoshop is a video editing app that offers tools for video customization. This app is easily accessible on Android devices, iPad, and iPhones. The app provides various tools that help users use effects to enhance their videos. Moreover, users can download it for free.
Features:
Users can apply filters, slow-motion, merge multiple clips, add voice-overs, add animated titles, adjust the display, add stickers, select transition, tilt-shift videos, create slideshows, etc.
Add subtitles, add sound effects, trim unwanted moments, integrate music, etc.
Verdict: It is an excellent video editing app for mobile users who want to customize their videos.
14. Shakr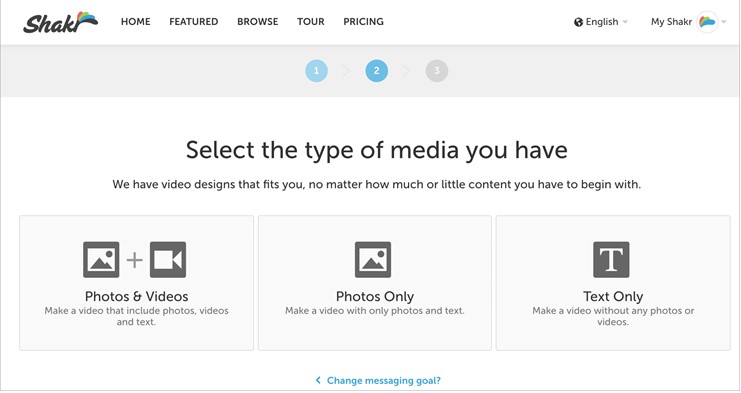 Shakr is a famous tool that helps in video creation and video editing. Businesses can use it to enrich their branding and marketing activities. It offers several features that help companies create excellent videos that increase their audience engagement and improve traffic.
Features:
Shakr provides rights to the reseller, account managing, custom video designs, access to Shakr market, help in video marketing, and creating digital signage videos with creativity.
Its prominent features are video duplication, brand overlay, privacy options, social media sharing, and account management.
Verdict: Shakr is ideal for medium- and large-sized businesses and assists users with overlay branding and social media marketing.
In a Nutshell
When deciding the video marketing software, you need to know about its features of the software. Choose your video marketing software according to your requirements. You have learned the features and benefits of the best video software that have become the preference of many businesses.
Many video marketing tools offer similar types of features and applications. On the contrary, these software are designed for specific purposes.
Vidyard, Shakr, Animaker, etc., are ideal for businesses as they boost sales.
Video tools such as Wideo, Videoshop, and Filmora, are perfect for beginners or small projects.
Related Article: