The secret to skyrocketing your brand in 2023 is creator marketing. Find out how to leverage the power of online influencers and their loyal fans to boost your sales and reputation.
Marketing is not what it used to be 10 years back. We're not just selling to our customers, but are more into educating them throughout the buyer's journey. Back then, marketing funnel was something that was very much exclusive to agencies.
But thanks to social media, we've content creators and influencers executing the tasks of the marketing funnel in a very natural and fun way. And, impressively it's far more effective than the conventional way of marketing.
Not only we have people buzzing about brands, but these creators have got entire armies of raving fans. Fans that can make a campaign a massive success overnight.
Creator collaborations not just drives engagement on branded ads, but also guarantees that conversions will swoop in, making all collabs seriously profitable.
Such collaborations fall under the umbrella of creator marketing. It is hot and has got every marketer talking. And in today's blog, creator marketing will have the spotlight.
Reading on you'll discover;
What is creator marketing?
How partnering up with content creators can help you hack growth?
What is the current potential of growth with creator partnerships?
Why creator marketing is gold for marketers in 2023?
What are the most successful and popular types of creators?
What each social platform has to offer for your creator collaborations?
How you can make your creator marketer strategy standout from the rest?
How to set up your influencer campaign for success (Step-by-step guide)?
And a lot more.
So, with further ado, let's dive right in!
What is Creator Marketing?
Creator marketing can be defined as the partnership between brands and creators to leverage brand growth. Creators may join hands with a brand to help it gain astounding level of traction with millions of loyal followers who seek inspiration from creators.
Below we've shared three best formats for creator partnership;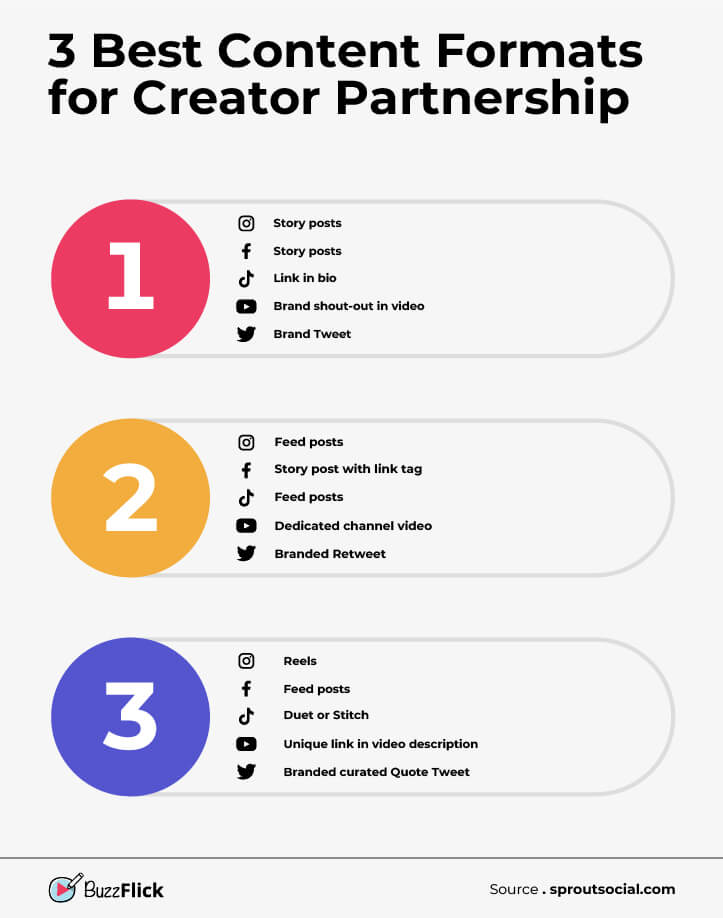 It is important to know that creator marketing never calls for a one-post collaboration. It's a long-term strategic partnership. One that seeks to understand how the personality of the creator and the aspirations of their audience sync with the brand's marketing goals.
Creator marketing is the mainstay of social media growth. Whether you're in the B2B or D2C space, it seems that creators can have profound impact on your social media strategy.
From boosting awareness to driving engagement, creators can provide you all. By relying on them, you gain access to several untapped communities of followers.
As a result, introducing your brand or offers not only becomes a lot easier, but precisely impactful. Creator marketing may also be sought when you're eager to see your campaign go viral.
Case in point: Dunkin and Charli D' Amelio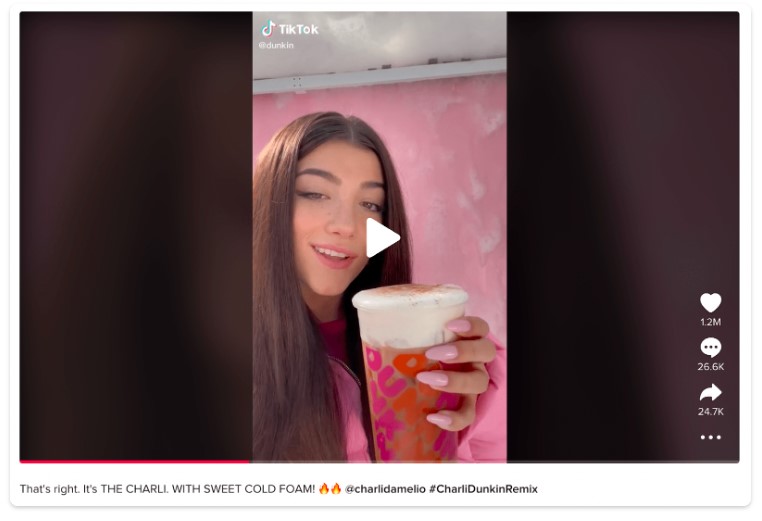 Dunkin Donuts did a celebrity collaboration with Charli D' Amelio.
Platform: TikTok
Campaign Type: Celebrity Collaboration
Campaign performance: 57% increase in app downloads
Dunkin Donuts already has a massive following on TikTok (3.1 million followers). They collaborated with TikTok mega star, Charli D' Amelio. It turned out to be one of the most successful influencer partnerships.
They launched a new beverage name, 'The Charli'. And, in no time, the beverage was a new sensation for Dunkin fans. The brand realized the potential of this collaboration and capitalized on it with a long-term influencer relationship.
The #CharlieDunkinRemix got 240 million views on TikTok. That's a massive reach for an influencer collab! It seems that the set goals for creator marketing can perfectly impact key campaign metrics.
Why we have so much hype going around content creators?
It's because creators have harnessed the power of their personality and expertise. They're not just keeping audiences poised and hungry for more content, but have also built an emotional bond with their followers.
As a result, they are capable of shaping customer's attitudes and buying behavior toward a brand.
Case in point: Mayuko Inoue and NordVPN
Platform: YouTube
Campaign: Sponsored Posts
Campaign performance: 5.7 million likes, and 91 million views
NordVPN relies heavily on YouTube influencers. More than 85% of its social traffic comes from influencer-powered content on YouTube.
In 2021, the brand partnered with Mayuko Inoue, a technology expert, and a big inspiration for anyone aspiring to work in Silicon Valley.
She has done a series of videos where she discusses her daily life, and integrates NordVPN to show how helpful it can be for her tech audience.
What's really cool about the campaign is that it sells on a technology solution with the aid of a technology expert. One who has great level of authenticity in her niche to drive action among her followers.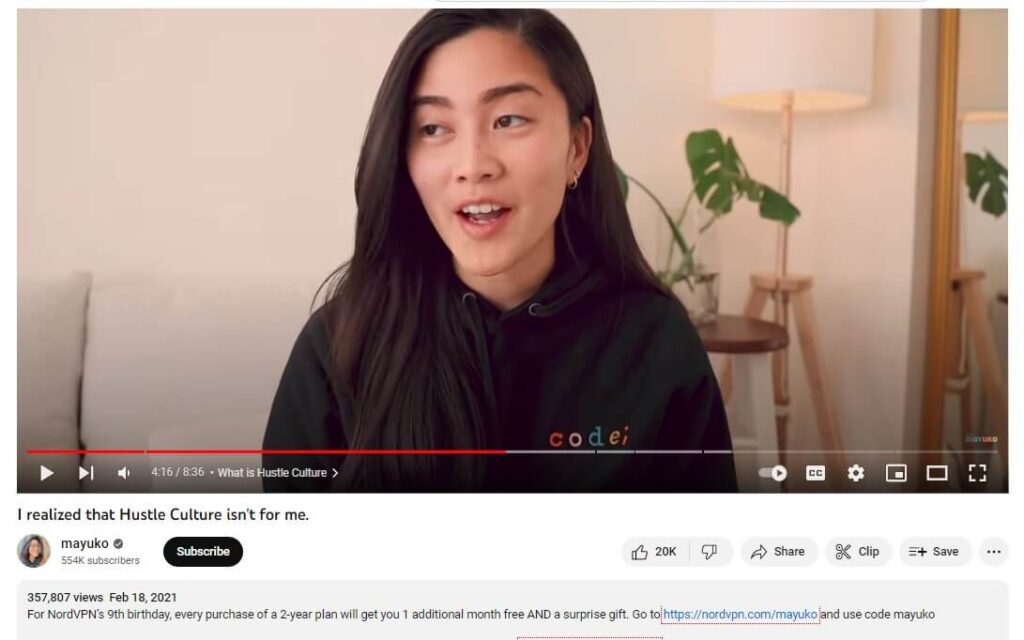 Potential of creator marketing
As per Mintel, customers are twice as likely to buy through influencer advertising than watching traditional ads. Moreover, in the past six months, 58% consumers made a purchase after interacting with an influencer.
That shows the amazing potential of creator marketing. You can join hands with creators to leverage brand growth on socials as people want to interact with real people than with brands.
And, there is no better way to get the word across than teaming up with authentic creators, who are capable of inspiring people and building close connections with them.
Why creator marketing is the way to go in 2023?
In a survey conducted by Social Sprout, more than 50% marketing creators reported that they collaborate with creators on a monthly basis. And to them, it has proven to be a profitable strategy.
A big reason to invest in influencer partnerships is the fact that creators bring authenticity and personality to the table. People on social as well as raving fans of your brands want to interact with real people.
Naturally, they all want to share their aspirations and connect with those who align with them perfectly. Creators have the power to build communities of raving fans behind them.
They're well capable of driving dramatic cultural change. Partnering with them can be gold for you, especially if you plan on to introduce a new trend, and want to create a new market for an innovative product. In short, they're market creators.
In the Creator Economy Report published by Sprout, they found out that 60% of marketers want to leverage creator partnerships to boost awareness and drive engagement in their campaigns.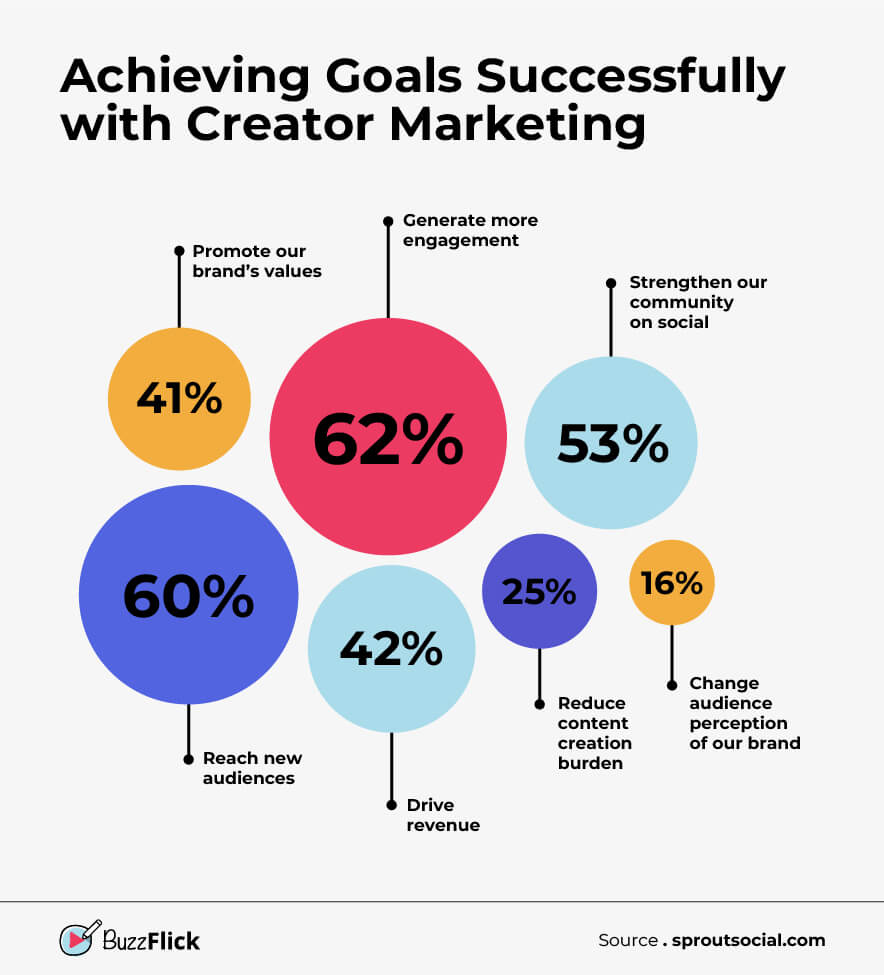 Types of Content Creators
There are multiple types of creators. Each one is strikingly different from the other. Knowing each separately will help you understand which one will work best for you. So, let's dive right in!
Content creators
Content creators are those who mostly produce educational content. Their prime aim is to capture an audience and build a long-term relationship with them. You may see content creators do the following;
Write blog posts, social posts and ad copies
Record podcasts and audiobooks
Share memes and graphics
Create YouTube or TikTok videos
We can further classify content creators into three special groups. These may be;
Hybrid
Hybrid creators are those who have mastered a skill and they showcase their talent through creative content. These maybe videos or blogs. A fine example would be fitness coaches, who have mastered the art of maintaining a fitness lifestyle. Like Dan Go.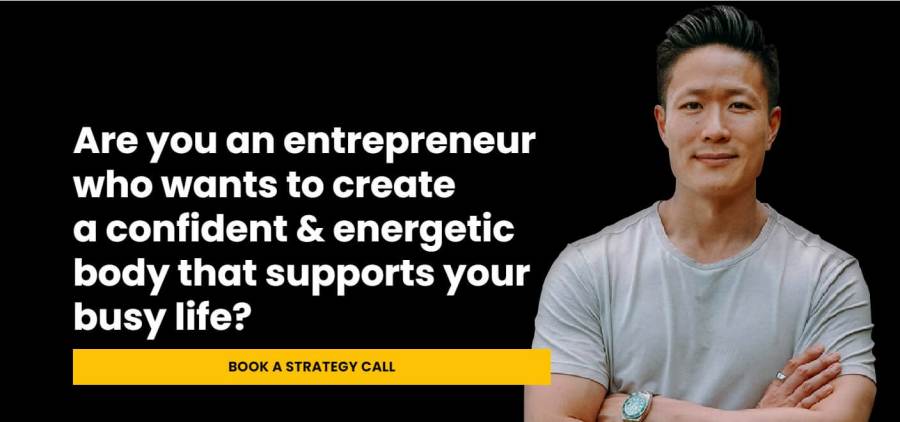 Dan Go is one of the best fitness coaches on the internet. He is the author of the High-Performance Journal and also promotes a healthy eating and exercise regimen via his newsletter.
Personality-first
Apart from hybrid, there are personality-first creators who are having an impact with their unique personality and style.
People are flocking on their feeds just to watch them tell stories and share insights with their unique perspective. Business entrepreneurs and social responsibility coaches fall under this category.
And, they've leveraged video marketing like no other. You'll learn some of the finest Video Marketing Examples executed with personality-first campaigns.
Craft
Craft category of creators includes everyone who's working with AR/VR technology to curate content and drive the latest trend of interacting with friends, family and fans in the virtual world.
These may include video gamers, TikTok and Snapchat creators who have made their own custom filters and stitches that have gone viral.
Social media creators
A social media creator is a type of content creator who specializes in promoting content for brands across social channels. Their greatest strength is the presence across multiple socials.
That reach compounds into an astronomical number for brands looking to promote content on social.
Social creators not only engage and educate their audiences, but also have the power to join hands with other creators or influencers and make a trend pick up steam in no time. Social creators may be perfect for your brand especially, if you want to curate content across multiple channels.
If you're bothered about adjusting your tone and voice to meet the diverse needs of your audience across these platforms, you're still better off collaborating with creators.
For one, they're inexpensive. Two, there are agencies out there that can help you partner up with a pool of diverse creators and get a massive reach. With such agencies on your side, you can get around influencer networks with a lot of ease and ask them to do sponsored post for you.
Know that social creator partnerships are not for a one-off post or video. But these should be thought as long-term strategic collabs as they can even take from several weeks to months to bear fruit.
And one prime reason for such collabs is people will associate a personality to your brand. So the longer the partnership, the easier it would be for your prospects to associate an authentic influencer with your brand.
Influencers
Influencers are probably the most valuable of content creators. These are highly paid as their word of mouth, opinion and decision matter to your audience as much as your product.
Most people use the terms influencers and content creators interchangeably. That's wrong. You shouldn't mistake one for another. It is so since all influencers may fulfill the purpose of content creators.
But not all content creators can drive action among their followers. So, not all creators are influencers.
In contrast, influencers are known for their authenticity. They may have a profession that appeals to their audience.
And, in turn their opinions and advices may work in tandem with their reputation to inspire a community and make people purchase a product.
Perhaps that's why we see so many cosmetic brands taking the support of influencers to have an impactful launch of their product range. Specifically in the beauty niche, people heavily trust the opinion of influencers.
Creator marketing across socials
In addition to knowing the various types of creators, it would pay us more if we can figure out how creators can benefit us in terms of different social media networks.
So, to help you understand what works for which platform, we've included this interesting section in this blog.
As a marketer you would want to wrap your head around the purpose of each platform for your campaigns and what kind of content are you able to publish with a creator partnership.
TikTok creator marketing
TikTok is another big platform for influencer impact. The hashtag #TikTokMadeMeBuyIt has been wildly popular.
It is so since the app has tons of influencer content that has inspired millions of users to buy products and services by realizing the authenticity of content creators.
And, with 1 billion active users on the app, there's no reason why you shouldn't invest in influencer partnerships on TikTok.
Facebook & Instagram creator marketing
If you wish to work on Facebook with influencers, here are three of the most important findings from Facebook's creator marketing data for you,
71% consumers made a purchase after seeing their favorite creators endorse a product.
78% consumers agree that creators helped them discover better brands
87% consumers follow an influencer on Meta platforms in comparison to 48% consumers on TikTok
In addition to this, Instagram is another exciting platform for the job. Instagram video marketing has been the real deal for marketers. Consumers tend to buy more after watching branded ads that have creator handles to them.
They're not only getting an army of raving fans of these lifestyle creators behind them, but more importantly, they can have an impressive boost in their conversions.
If you too want to leverage video marketing for your next creator partnership campaign, check out these Best Video Marketing Tools in 2023. Take your creator campaigns to the next level.
Pinterest creator marketing
Specifically perfect for beauty, interior design and fashion industries, Pinterest is another amazing platform for creator marketing. Yes, it's not as big as the other ones on this list, but it is certainly not one to be overlooked.
I mean to say there is lots of potential not just for entrepreneurs in the D2C space, but Pinterest may also work out just fine for you, if you're in the B2B sphere.
YouTube creator marketing
YouTube is the prime platform for creators. It's been there since the start. In fact, it won't be wrong to say that YouTube has been the stepping stone in the foundation of the creator economy.
You'll see lots of creators promoting a whole plethora of new products. Similar to other platforms, a series of posts are sponsored by brands to maximize reach and boost engagement.
And, specifically when it comes to YouTube creator campaigns, product marketing videos are ones that are often sought after by marketers.
You can find a unique variety of Product Marketing Videos that rely heavily on influencer partnership. Perhaps YouTube creators are also a major driving force behind the growth of affiliate marketing in the past few years.
How to stand out with your creator strategy?
Now that you know how important creator collaboration is, you're all set to learn how to devise your first very own creator strategy. This strategy in particular has been suggested keeping in view common marketing goals for all brands.
Partner up with creators to build a community
The first thing you want to do is partner up with creators who have the potential to inspire your audience. It's always best to go after creators who have already built a solid community.
One that is growing and responsive to the creator's actions and call outs.
As a marketer you want to eye for creators who have built high level of authenticity and trust among their followers. Because the more your creator is trusted for their opinion, the greater chance your campaign will hold for success.
Besides, it's always best to look for creators in your own brand community. These may be small, but they're proud advocates of your brand's services. So, it's always a good idea to invest in user-generated content. Also, your customers will always be your brand's best advocate. So, consider serving them. If you find it hard to partner up with influencers, consider bringing your customers together as a community.
Keep a close eye on what's hot
Needless to say, if you want to go viral with your next campaign, just keep an eye on what's going around you. You want to be sure about your next move, before your competitor shows up their cards.
So, it's best to keep an eye on what's hot. Don't wait and wail over creating something perfect. Just dive in when the trend is hot.
As a marketer, you can work your way around by listening to podcast, reading publications and networking with agencies. Find out who are the top creators and see if there's a possibility for a collab.
If you're in the B2B space, consider listening to top podcasts of B2B marketers. Find out how you can collaborate with small or big businesses to drive your brand growth.
To help you keep your creative juices flowing, here are the Types of B2B Marketing Videos that seem to have worked perfectly for brands that are hungry for growth.
Be transparent with your partnerships
A recent study by Kantar found out that consumers value transparency. Your customers don't want to be sold under the shadow. It means that they don't like buying from a brand that does not announce paid partnership.
Previously announcing paid sponsorship was seen as an act to manipulate buyers or trick them to buy a product that would bring them no gain. Surprisingly enough, today, it's quite the opposite.
Your customers will appreciate you and your influencer for announcing paid collaboration openly. They don't want to be misled.
Customers of today enjoy their freedom to choose and judge a brand on their own, especially when there's a paid collab. So, announcing paid partnership puts you in a safer spot. Luckily, it won't damage your reputation as a brand.
Partner up with a video marketing agency
The best thing you can do to stand out from your arch competitors is partner up with a video agency.
They won't just help you bring your vision to life, but also work tirelessly to ensure that your campaign bears the fruit you so desperately want to see.
Plus, video marketing agencies can be real gold when you've no clue how to work your way around influencers. In that case, these agencies can be the gateway to a pool of the right influencers for your brand.
They can even get you a separate creator relations manager onboard to work alongside with you, making your job a lot easier. You won't just connect with the ideal influencer, but also be able to launch your campaign with a bang!
Here's a list of the Top Marketing Video Production Companies who absolutely hone their game in creator marketing.
Focus on bringing together a diverse audience
Standing out in stringent competition is perhaps easier said than done. But, is there a hack that can help you get through the race quickly.
Well, yes. You need to have an influencer plan for a diverse audience. It not only means to include multiple segments of target audience, but also figuring out their needs and aspirations on a deeper level. This one's really important, if you wish to capture the market in no time.
Partnering up with diverse creators not only shows you as a more confident and inclusive brand, but more importantly, one that is not afraid of losing business by valuing diversity and inclusivity.
Include big as well as small creators
The last thing you want to do as a marketer is create your own pool of creators. You don't need apex celebrities from the get go.
But, you're better off working with micro influencers, especially if you're just starting out. Or perhaps, you've a tight budget to create an impact with your campaign in less time.
Below we share benchmark creator metrics for each platform to qualify a creator for your campaign.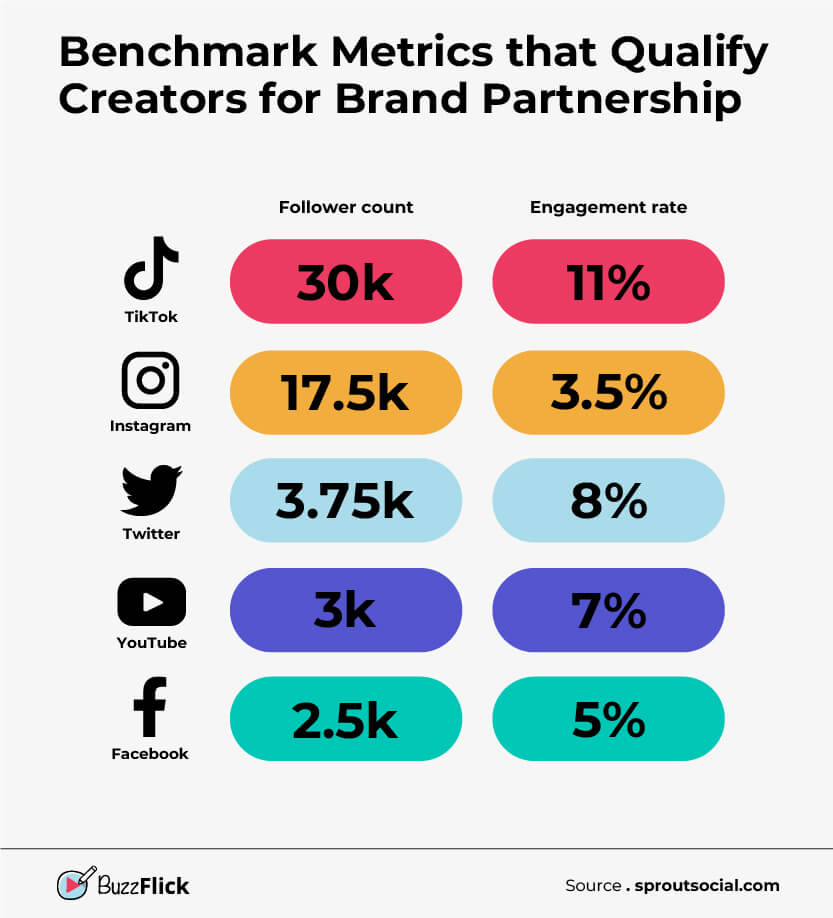 You can go from macro influencers who have millions of followers to micro creators who may have a few thousand followers. While the comparison seems vague and distasteful, there are few reasons why should never overlook small creators.
For one, number of followers may be exceptional for growing your reach. But it does not necessarily guarantee engagement on your content.
Two, micro influencers are energetic and will happily say yes to any opportunity to grow mutually. Three, you can even pick small creators from your own community. These can be your satisfied customers. Not only will your prospects value their opinion, but also find it easier to trust in your brand name.
How to set up a creator marketing campaign?
Now that you know the ins and outs of a fail-proof creator marketing strategy, it's time to find out how exactly are you going to do that. So, here's a comprehensive guide on how to set your own creator campaign.
This one is especially designed by Meta to aid marketers power up their influencer collabs and make the most out of them. So, let's look at the guide for a step-by-step tutorial.
Bottomline
Let's wrap this one up. Above we covered a great level of detail on what is creator marketing. We introduced you to the concept of creator economy, why is it so important in 2023 and why you should as a brand look forward to creator partnerships.
We touched on the authenticity of creators and how it plays a major role in communicating customer value for products and how brands can capitalize on creator collabs.
Next, we covered on types of content creators and how knowing each separately will help you decide which one best suit your needs.
To help you understand how creator marketing works for all social media networks, we gave you an overview for each social platform with some unique insights to hack your growth with your next campaign.
Next, we covered extensively on how you can have a standout creative marketer strategy. One that will not only drive action, but also make you more accountable for your partnerships.
Last, but not least, we also gave you a step-by-step guide to plan and execute your next creator campaign or branded ads for social. It's comprehensive and takes you slowly through each step so you don't miss out even on the most minute of details.
If you think there's anything that's left to cover, let us know.
Hope you got a nugget or two from this one.
FAQs – Creator Marketing
What is creator marketing?
Creator marketing refers to the collaboration between brands and content creators with a long-term aim to gain traction and build a more qualified audience for the brand. Creator marketing is the mainstay for a brand's social strategy.
What is the difference between content creator and digital creator?
Simply put, digital creators are more popular across social channels of TikTok, YouTube, Instagram, and Facebook. In contrast, content creators may be more involved in writing for both online and offline media. From newspapers to magazines.
Is influencer marketing and creator marketing the same?
Digital creators and influencers are not necessarily the same. Digital creators make content for online communication.
They may need help of influencers to magnify the impact they want to have on their audience. So, influencer marketing is more about building an emotional bond with an audience to grow your personal brand and presence.
What is meant by the creator economy?
Creator economy is an umbrella term that includes independent business owners, content creators, and social influencers who have built a loyal audience over the digital.
Videographers and bloggers also fall under the umbrella. All these creators are able to monetize their content through facilitation of software. Another name for creator economy is 'passion economy'.
What are some creator brands?
YouTube, Sony, Pinterest, and Crayola are some notable creator brands.
What is the worth of the creator economy?
As per Insider Intelligence, the creator economy was estimated to be 104 billion USD in mid-2022. No wonder that it will continue to grow even more quickly in the coming years.