Product marketing videos are beneficial for businesses. Read our blog to explore the different types of product videos you can create for marketing.
Create excitement for product releases and new features, use the video for proactive customer service and onboarding, and increase customer interaction with a professionally produced product marketing video.
One of the best ways to increase sales is to use video marketing, which allows you to reach a large audience with less effort. To take advantage of this remarkable chance, your company will need to know how to make a video that will do the talking for you.
Product marketing videos are an audiovisual medium for showcasing your software as a service (SaaS) solution or digital product and can include anything from how-to demonstrations to customer praise. Discover the ins and outs of using video to sell your products and increase conversions right here.
An effective product marketing video can be used for a variety of business goals, including attracting and retaining more customers, generating excitement for product launches and new features, and providing proactive customer service and independent onboarding.
These videos can be used as touch points along the customer journey to increase client retention. The various stages of the sales funnel will respond favorably to various sorts of videos.
A product announcement video can highlight updates to the product, while a product introduction video can demonstrate to the audience the main features and how they can utilize them to solve their problems.
If you want to keep up with the competition and maintain your company's relevance in an ever-changing market, consider investing in the production of high-quality product marketing videos.
What is a Product Marketing Video?
The term "product marketing" is used to describe the entire procedure that begins with the conception of an idea and ends with the product's introduction to consumers.
However, it goes beyond just making something and releasing it to the public. In order to help customers, product marketing creates a network between new developments and consumer needs.
The four Ps of marketing—price, place, product, and promotion—are all a part of it, and so is after-sale service.
To put it simply, a product marketing video is a form of promotion, one of the four Ps of marketing. Create excitement for product releases and new features with a product marketing video, and utilize it for proactive customer assistance and onboarding.
P.S: Looking for video animation studios that offer 3D product videos? Check out our list of the best 3D animation agencies in the industry.
Product Videos vs. Product Marketing Videos
Simple demonstrations of the product in action are what make up a product video. On the flip side, a product marketing video presents the product from a promotional perspective, emphasizing how it can solve a customer's problem.
Social proof from satisfied customers is one tactic used in product videos, while another is showcasing unique features that solve common user problems. The goal is to strike an emotional chord with them.
So, what do you think are the three most crucial elements of a successful product marketing video?
As a first step, they provide a story that piques people's interests. Second, the video shouldn't go on for too long and should be straightforward and easy to understand. Finally, a top-notch promotional video for a product will find the sweet spot between professional and conversational.
Note: Creating a product video isn't enough. You need to have a solid marketing plan in your hand. Here's a list of top-rated marketing video production companies that not only create outstanding videos for businesses but help in marketing them as well.
The 5 Different Types of Product Marketing Videos
The flexibility to provide a wide range of content is a major plus (and a big part of the fun!) of developing a video strategy for B2B product marketing. In addition, you can keep tabs on video playback stats to optimize your efforts.
Some of the most typical forms that product videos might take are outlined below, along with some excellent examples from established SaaS businesses.
1. Product introduction videos
A well-produced introduction video will highlight your product's value and how it may be put to work for your audience's problems.
Marketing videos for software products should do more than just showcase the product's features; they should also anticipate and address any potential customer's concerns before making a purchase.
Dropbox's product marketing videos are among the best in the industry. They stress the product's dual-use value for both business and leisure. They make it clear to users that they can send files to anyone, regardless of whether or not they have a Dropbox account.
The example video below employs branded animations and constant motion to capture the viewer's interest while drawing their attention to key features like security.
2. The unveiling of brand-new features videos
Producing effective product marketing videos is a major obstacle for any business. Thankfully, digital products are always developing new features and fixing old bugs to better serve their users.
Here come the videos announcing the new features. This promotional content will emphasize product updates and how they improve the product or service on offer.
An outline of each new feature announcement may be found in a product marketing video script template, which can help increase the return on investment of your product marketing videos.
This format removes improvisation from the process of making a video and guarantees its high quality and uniformity every time.
Here is an example of a product marketing video included with the Mixpanel product that highlights some of the latest and greatest features. Quickly navigate recent changes with these modal pop-ups.
3. How-to guides/Tutorials
How-to videos are a viable option to further increase the return on investment of product marketing videos. As well as being a useful tool for customers to utilize on their own, these videos are used to enhance the onboarding process.
In the latter half of the sales funnel, efficiency is achieved by giving clients more agency to discover the product's intricacies.
Take a look at how Hootsuite explains basic functions to brand-new users. There are tutorials on using the platform and data to inform business decisions. This video is included in a collection of tutorials for their service.
4. Company culture videos
Videos produced by a business are a great way to connect with an audience and spread the word about the company's existence. To make your own, try using Canva.
Remember that videos like this are crucial in the digital world, where trust among clients is still being established. It is essential to give a face to the brand, especially in items where technology plays a central role.
Business videos are a fantastic addition to your schedule of top-of-the-funnel content creation. Everything from the making of a new product to charitable work can be shown in these videos.
Company videos can be used to demonstrate customer focus by sharing the company's vision and the values of the individuals who make it all possible.
5. Customer Testimonials
The future of product marketing videos is testimonial videos. Create social proof for your product with the use of technologies like VideoAsk or Zoom recordings to collect these potent assets quickly.
It's noteworthy that customers are growing increasingly skeptical of testimonials posted online. The possibility that some reviews are fabricated or otherwise skewed is no longer a closely guarded secret.
Making a video that puts a name and a face with those glowing reviews can increase sales by convincing potential buyers, and it can also generate contact information for more satisfied customers who might be willing to provide more video testimonials.
Things you should know about: Creating a live-action product video is a great idea, but if you want to give it an oomph, then do give the animation technique a try. As a video animation agency, we believe showcasing products through animated videos helps in drawing in customer attention more easily.
How to Make Quality Product Marketing
The greatest method for learning how to create a product marketing video is to follow a predetermined, repeatable process. Consistent work products and a streamlined process are the results of a standardized procedure.
When making a marketing video for a business-to-business product, it's important to first decide the aspects of the product you want to promote. Developing a video's structure on a set of clear objectives will ensure the best possible results.
The success of any product marketing video depends on your ability to keep your message brief yet crystal clear, which is the first and most important step in achieving that goal.
Shape your ideas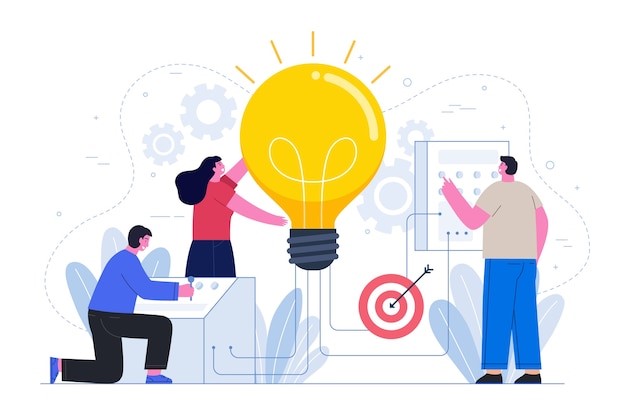 As soon as you've settled on the message you want to send, you can start thinking about the best way to deliver it.
Dedicate some time to a brainstorming session to come up with concepts for your product's marketing video. Get the creative juices flowing first before worrying about whether or not your ideas are a good fit for your brand.
If you're having trouble coming up with ideas, viewing some examples of product demo videos from other industries can be helpful.
After the brainstorming, go back over the ideas to determine which could work for your video advertising.
Choose the suitable video style
Branding considerations should be taken into account while deciding on a video's aesthetic. Your video's aesthetic should be indicative of the brand as a whole and the product specifications.
The aesthetic choices made in the production of marketing videos for the web usually depend on the nature of the material being advertised.
Both viable options are an animated explainer video or a live training session broadcast through social media. Though animated videos are great for introducing products and features, instructional videos benefit more from an immersive video recording.
Branding, goals, and available resources should all be considered when settling on a visual style for your product marketing video.
Create a compelling video script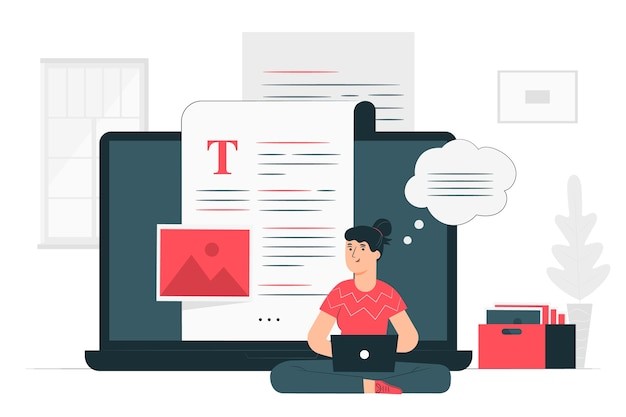 Creating the script is a crucial step in making any kind of video. This process ensures that you don't forget anything important and gives you a sense of how long your video should be.
Using a product marketing video script template throughout the production phase is a great way to build SOPs and increase your marketing videos' return on investment (ROI).
Write your video script with the expectation that it will go through multiple revisions. It requires effort to write something that is clear and succinct at the same time.
Stop procrastinating and start producing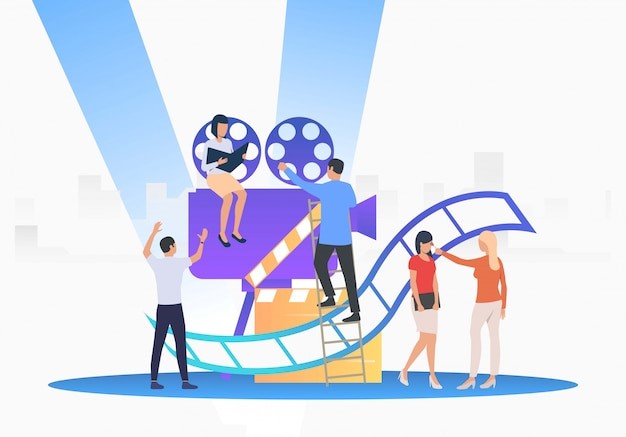 The production process for your video will differ based on the style you've chosen. Setting up the equipment, videoing (or animation), recording voiceovers, and editing are all part of the video production process.
When making videos to advertise their products, many businesses choose to do so in bulk. It is more cost-effective and efficient to produce several videos all at once.
When working with a professional studio like Rocketwheel can cut costs by as much as 20-50%. Using a free online video creator like Visme is another alternative if you want to save production costs and have greater freedom.
With this method, you'll be free to generate videos quickly and flexibly, allowing you to scale your video production process with ease.
It's promotion time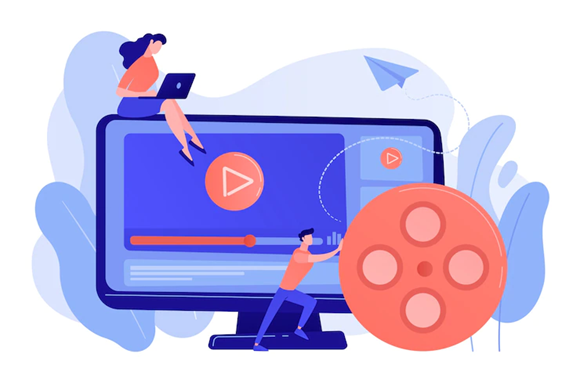 Once the videos are finished, it's time to start thinking about how to get them in front of the intended audience through promotion.
A digital marketing firm or in-house team can accomplish this goal with the support of organic and sponsored social media videos, a paid ad plan, and other distribution channels.
Likewise, your promotional videos will feel most at home alongside the product itself, so be sure to include them.
Suppose you want to provide further support and simplify the onboarding process. In that case, you can incorporate a slide-out that promotes your most recent video or add new "how-to" videos to an introductory Launcher.
The Role of Product Marketing Videos Play in Making the Journey of Customers Successful
Although the specifics of creating a product marketing video are vital, it is equally important to consider your video's role in your target audience's larger journey.
Various points in the sales funnel will be interested in various styles of product marketing videos.
Videos like these may be utilized as touchpoints with customers all through the buying process to increase their familiarity with your brand, encourage them to make a purchase, and strengthen their loyalty to and trust in your company, all of which contribute to higher customer retention rates.
An effective video content marketing plan should incorporate customer journey mapping. This activity can help you anticipate how customers will engage with your brand, from initial exposure to post-purchase follow-up.
The next step is to consider how adding video content can enhance each touchpoint or lead the customer from one location to another.
Examine each interaction in great detail as you go along. Explain in detail the steps a customer must take to proceed, along with their motives and any obstacles they may encounter. Take advantage of this data to figure out how videos can improve the consumer experience.
What Does the Future Hold for Product Video Marketing?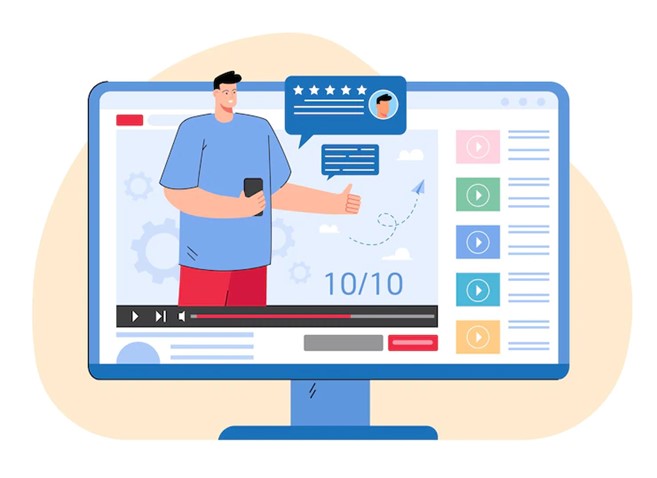 The future of product marketing videos is connecting with customers across many platforms, regardless of where they are in the sales funnel or what they're doing at any time.
The exponential growth of internet use and media consumption can be traced in part to the rise of remote work and cloud computing. It's imperative that video content be made in a way that allows everyone to view it.
The projected inclusion of closed captioning or subtitles is a perfect example of how product marketing videos of the future will look. This is a must-have for mobile viewing and has become standard in online video marketing. Thanks to this feature, viewers may watch videos even when they are in awkward public settings.
Using influencer partnerships and user-created content is another major movement in the world of video advertising (UGC).
Marketers can use this type of social proof to their advantage to broaden their customer base, increase product exposure, and earn consumers' trust.
A growing trend that will have an impact on the future of product marketing videos is the production of testimonials and "how-to" videos using credible and brand-aligned influencers.
As consumer habits evolve and technology improves, so too must the techniques used to promote products. Constant innovation and the production of high-quality product marketing videos can help your company maintain its relevance and competitive edge.
Useful Resource: