Discover the best video marketing tools to improve your video content and increase engagement. From editing to hosting, our blog covers everything.
We all know well that video marketing is the hottest trend in the industry. It's quite transparent that video marketing will slowly and gradually take over all social media networks due to its overwhelming increase in its popularity.
If we go back in time, it was nearly impossible to produce a video. Only big enterprises used to invest in video marketing, but not anymore.
As we are stepping into the era of digitalization, video marketing has become one of the most cost and time-effective marketing strategies for most of the brands. If you have not jumped on this bandwagon yet, then you have landed in the right place.
Whether you have just entered the video marketing landscape or are in search of tools, then this blog will be a great help to you.
Today we have listed down some of the most useful video marketing tools which you should defiantly try out in 2023.
Useful Video Marketing Software for Marketers
Have an amazing idea in your mind? Good job but here's a main question how will you bring it to life?
Ideally, there should be plenty of ways to upload, leverage stock video, digitally record, and edit to create a video that truly belongs to you.
You can use a video marketing platform from the list below to create a personalized and engaging video:
Animoto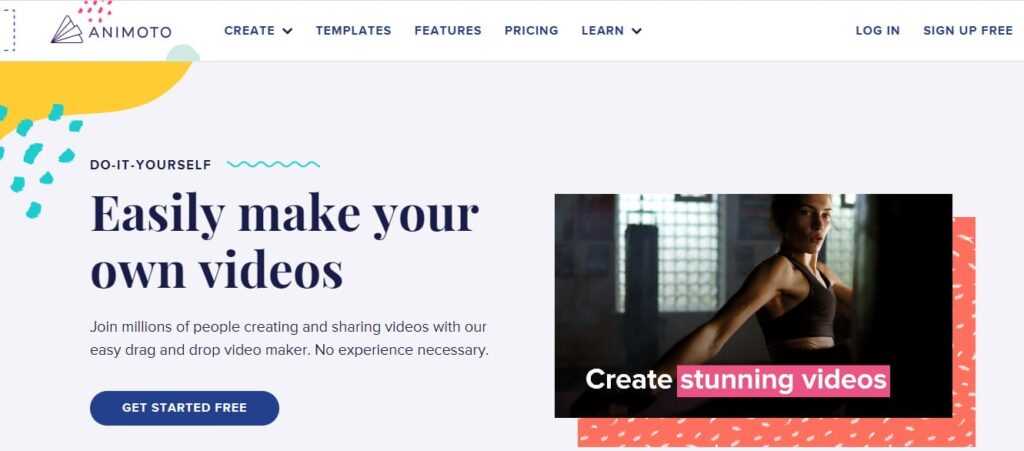 Animoto is the greatest option if you're searching for a one-size-fits-all solution for developing video marketing campaigns. It provides a simple and accessible method for creating long-form videos and video snippets for use in marketing campaigns.
Animoto provides a wealth of clips, graphics, fonts, music options, and more to produce high-quality winning videos at a fraction of the cost. It is a marketing tool that allows you to use a free online video editor to produce different styles of animated videos, although there are paid tiers with more functionality.
The free edition of Animoto offers videos with a watermark, but the two subscription tiers are better able to deliver quality videos without watermarks.
Pricing: The first price tier gives limitless videos without a watermark for $15 per month, but the second pricing tier costs $39 per month and includes platforms for many users, the opportunity to sell made videos, access to additional photos and videos, and free video consultations.
Biteable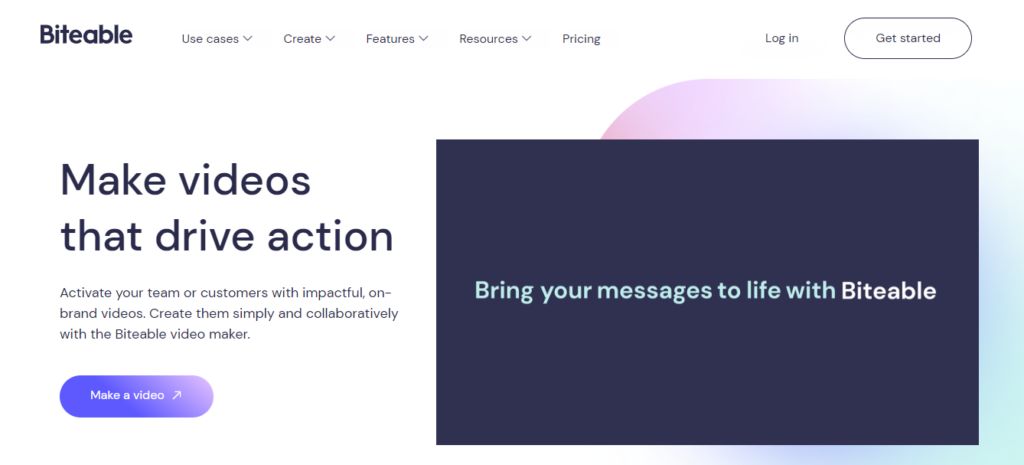 Whether you're communicating with consumers about the effects of a crisis on your organization or attempting to onboard new staff, you should check out Biteable.
What is so remarkable about its video marketing strategy? It's designed to be a simple and quick tool for creating any form of video.
The business promises that you can use the software to build something very cool over your lunch break. It would not be incorrect to say that it is the world's easiest video editor. Additionally, you can pick from a range of video themes and add the desired audio/text.
Pricing: This app has a drag-and-drop interface and boasts impressive functionality. In contrast, the premium plan begins at $15 per month.
Magisto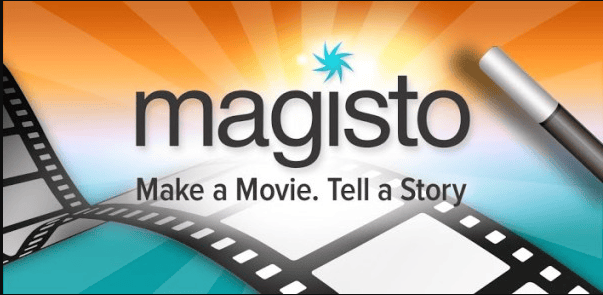 Magisto makes it simple to display your talents in video form. As with some of these most effective video marketing techniques, you use actual footage captured by your cameras.
Magisto is special, though, due to its AI-powered editing assistant that assists with everything from uploading video to editing and distribution.
The AI assistant inquires about the desired "mood" and is able to discern emotions with ease. Your video contains every element necessary to convey your intended message across social media platforms.
Do you lack music? No worries! The software Magisto offers licensed music to professional and corporate clients. Additionally, business clients get access to Getty Images' stock pictures.
Magisto's built-in video analytics provide insight into what is working and what may be improved in the future. The program is accessible as an iPhone or Android app as well as a web client for desktop computers.
Pricing: The personal plan starts at $4.99 per month, while the professional plan costs $9.99 per month. If you want business-level functionality, the price is around $34.99.
PlayPlay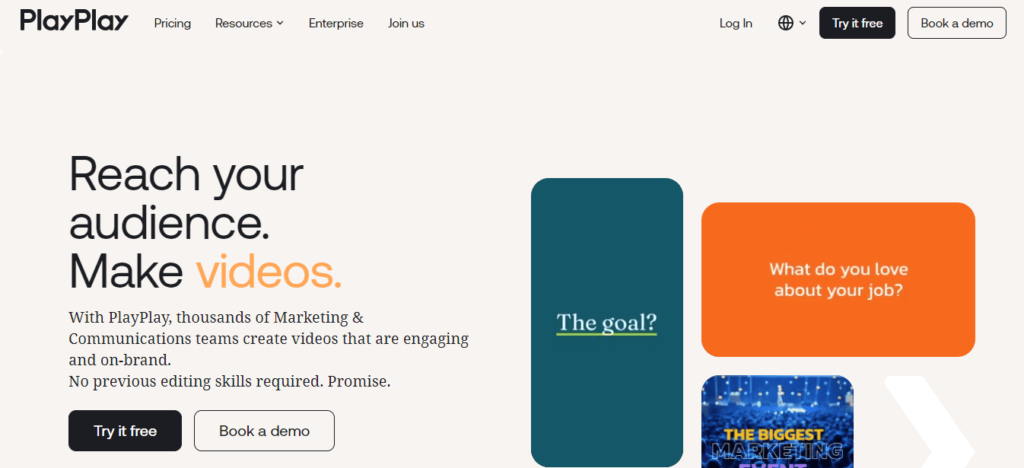 With its premium video features and user-friendly interface, PlayPlay enables in-house communications and marketing teams at major corporations to effortlessly produce a significant volume of high-quality video material.
PlayPlay can handle a variety of video demands for various teams and social channels, including employee and customer interviews, podcast teasers, corporate news, and Buzzfeed-style videos.
Whether your organization wants to generate material for internal and corporate communication, marketing, or employer branding, a web-based video creator may save time and resources.
PlayPlay's value-added enterprise features, such as powerful motion graphics, access to a premium Getty Images Stock Media Library, and the ability to completely incorporate branding components, set it apart from the competition.
In addition, their subscription programs provide free and dependable assistance from a staff of video specialists.
Pricing: It provides a seven-day free trial. Paid subscriptions begin at $160 per month per user, while business plans begin at $500 per person. Big animation outsourcing companies can use this solution as it's optimal for large teams.
Powtoon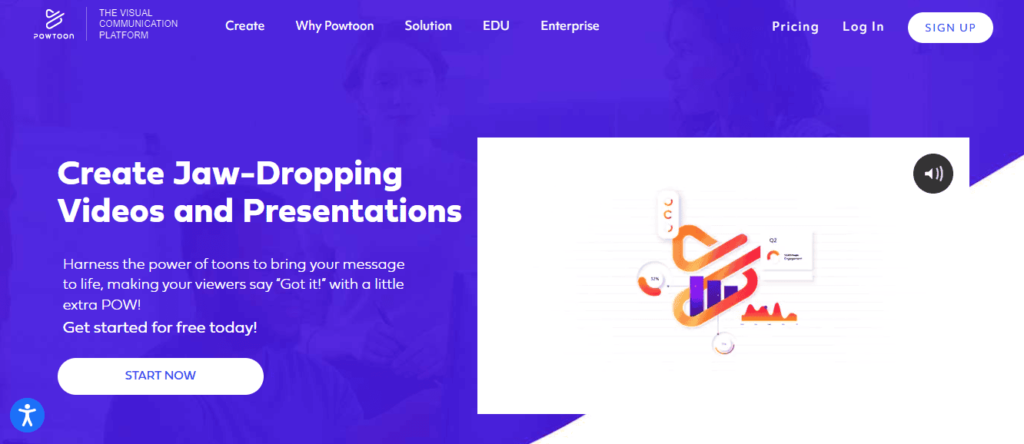 Powtoon blends animation and video footage to produce high-quality video marketing for several social media platforms. Providing video services for more than 96% of Fortune 500 organizations, if Powtoon's claims are to be accepted, is an incredible feat.
Powtoon asserts that it does this by providing a video service that solves communication challenges related to video marketing material and offers professional-grade templates to consumers seeking a quick and straightforward method for creating high-quality and engaging video content.
It offers an online editing solution for businesses of all sorts and sizes, enabling them to create everything from videos to be delivered straight to existing clients to animations announcing new projects.
Pricing: Powtoon provides three categories of pricing: $19 per month, $59 per month, and $99 per month. The initial plan includes storage, five monthly exports, and access to templates.
The second plan provides five times more storage space, unlimited exports, and unrestricted access to Powtoon's available templates.
The ultimate tier provides the same features as the previous levels, plus 10 times the storage space, unique typefaces, and the option to resell videos generated using the online video editor.
Promo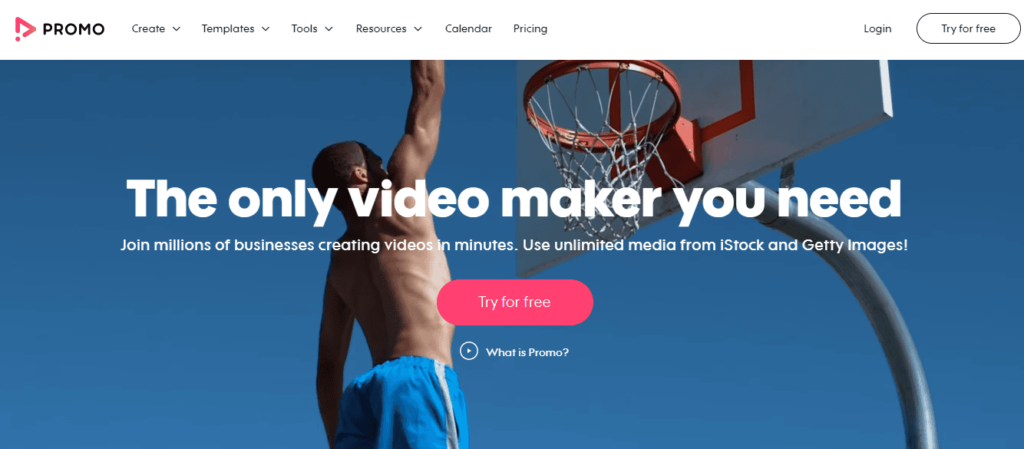 Promo video derives its name from its principal function: assisting companies in the production of marketing videos.
In reality, the business is a partner in marketing for Facebook, Instagram, and YouTube. Using this online video editor, you may apply typical editing effects to the moving elements of your video.
Add clip art, stock pictures, and even music with proper licensing. You can crop the video to fit whatever social network you choose to upload it to. In addition, "swipe up to shop" and embedded links may be incorporated in a jiffy.
This is a feature that not all video editors offer, due in part to its purpose-built nature. However, this does not imply that Promo may just be used to create marketing videos.
Showcase your abilities or produce engaging videos. Still on the fence? Explore their free video collage maker.
Pricing: Plans range from $39 to $249 per month in price.
Videoshop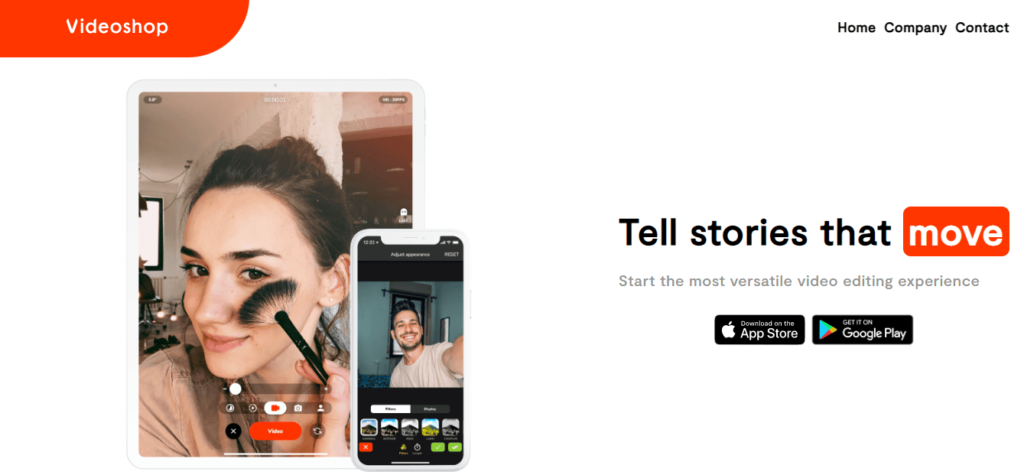 Videoshop is an application designed for on-the-go, simple social media content creation.
Although this video marketing tool is somewhat less sophisticated, it nevertheless captures the power of social video messages and enables businesses, organizations, and people to develop effective video marketing strategies.
Videoshop is great for beginners or those who want to produce short video clips quickly. Videoshop is just a basic video editor with enhanced capability and user-friendliness.
Free videos have a Videoshop watermark to indicate to viewers where the video was created. However, a "pro" membership or premium subscription eliminates these watermarks.
Pricing: Videoshop is originally free. The "pro" edition of the software is available for an extra $4 per month.
Wave Video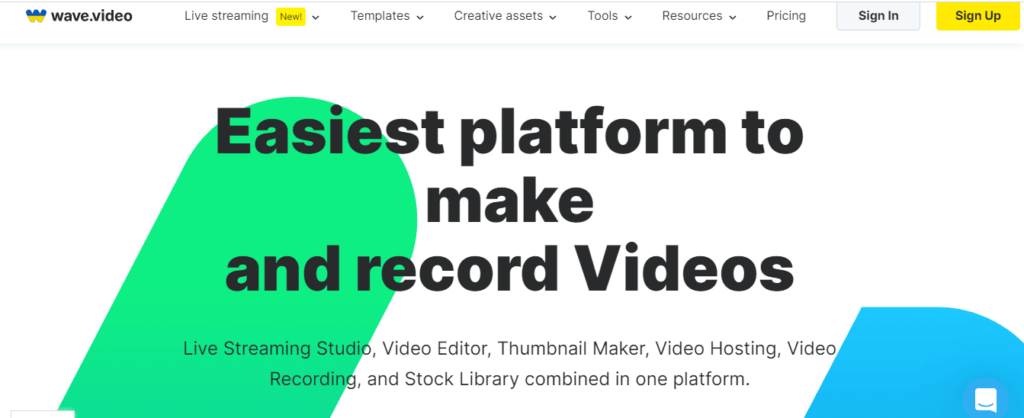 We appreciate Wave Video's combination of pre-made templates and the option to start from scratch. It is also an excellent tool for utilizing the same basic material in many video formats.
For instance, you can create a video for YouTube that can subsequently be repurposed as a Facebook banner video or Instagram-friendly content. Better yet, you don't have to start over.
In contrast to many of its competitors, Wave Video is designed to facilitate high-volume video content production, as emphasized by the creators. You can quickly submit branding elements like logos to the site for future usage in videos, which is a fantastic tool.
Wave also integrates with YouTube, Google Drive, Hubspot, Facebook, Twitter, DropBox, and other services. In other words, Wave Video can bring the power of video to a marketing team in a variety of ways inside a team setting.
Wave provides video hosting, a content calendar, a video button, and landing pages, which is the best feature.
Pricing: Limited free plan followed by $20 or $40 monthly premium subscriptions.
WeVideo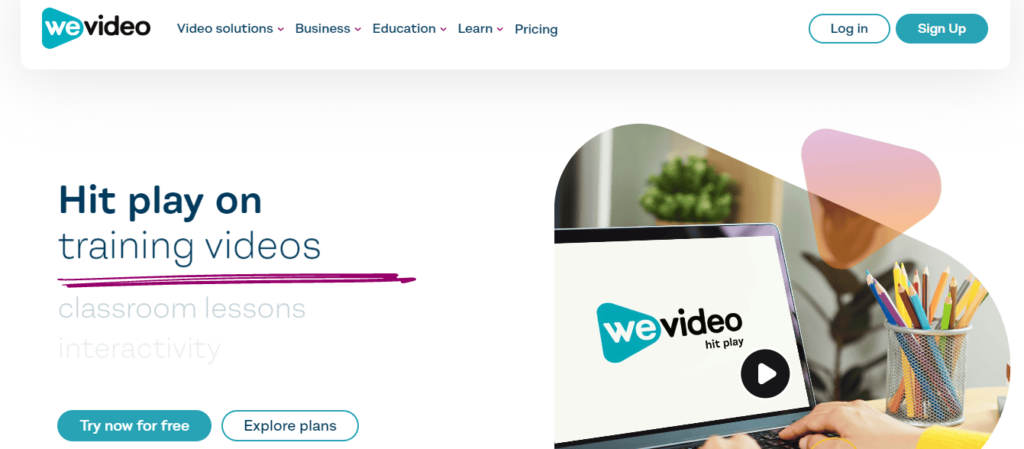 This is a terrific alternative if you want something that can accommodate the demands of businesses, educational institutions, and individual clients.
WeVideo is the only application in this area with a strategy for educational usage. They are really pleased with the student-oriented elements, such as the video scientific reports.
In addition, corporate customers would appreciate capabilities like screen recording. Individuals can take use of a YouTube-specific video editor and amateur HD video creation capabilities.
Perhaps this is why their advertising calls them "the greatest ever." Perhaps or perhaps not, but this is a flexible program that can be used to generate material for a number of purposes, including video SEO efforts and instructional endeavors.
Pricing: Non-profit organizations receive educational prices. Other individuals pay between $4 and $29.99 every month. This is why educational video production studios use this marketing tool for creating videos.
Powerful Video Editing Software for Marketers
Now that you have the raw material, it is time to edit the video and make it seem good. Sure, the resources listed under "creation" allow video editing, but occasionally a more specialized tool is required.
Here are a few possibilities for video marketers looking for a thorough editing solution:
Videoora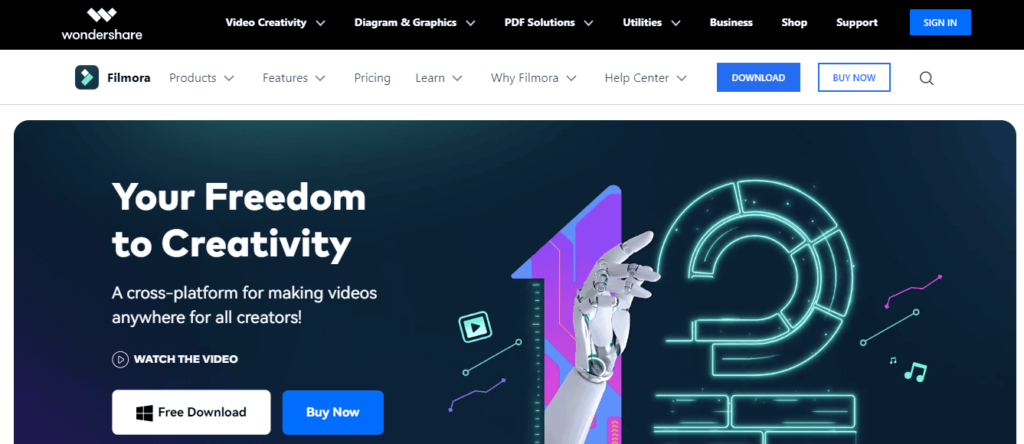 Videoora, unlike many of these finest video marketing tools, is a computer application that must be downloaded and installed. It is also one of those conventional video editors from the past.
What does this entail? First of all, it's a fantastic tool for putting together video basics using a webcam, GoPro, smartphone, or digital camera.
Voiceovers and the enhancement of video quality are the main reasons to purchase this application.
In addition, other versions of the application are available, based on your requirements. It is compatible with Mac and Windows.
Pricing: The most basic version, costs $39.99 per year or $69.99 for a lifetime subscription. This makes it an optimal choice video editing companies who are looking for a cost-effective solution.
iMovie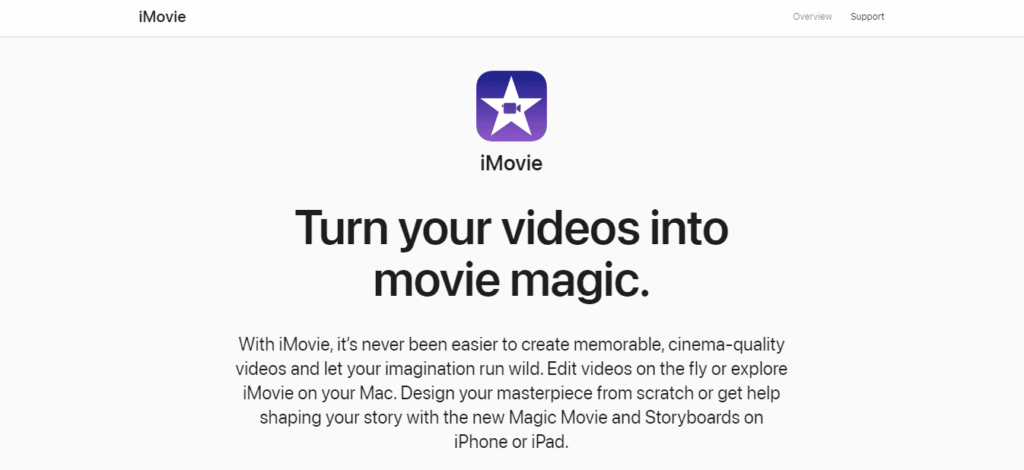 If you own an Apple device capable of running applications, this section is for you. In reality, iMovie is one of the older Apple applications that is designed specifically for their products.
However, like GarageBand, it is free and fully functional. Recent versions allow you to edit not just on your Mac, but also on other devices. And it need not be restricted to a single device.
You can instead upload the raw video to the cloud and edit it from any iMovie-enabled device. Simply log in to your Apple account.
Pricing: It is free for Apple customers. Unavailable for anybody else.
Proficient Video Animation Tools for Marketers
Not all marketing videos require live-action footage. Numerous companies use animated videos to attract potential clients. Creating this type of video used to be a laborious process, but with animation tools, it's a breeze.
Here are many of the most effective animation options for video marketers:
VideoScribe

Check out VideoScribe for a basic yet effective video. Unlike other apps, this one just produces whiteboard animation videos. This kind has hands sketching objects alongside a running dialogue.
There are a number of excellent applications for this tool: First, explainer videos can assist buyers to comprehend how to utilize your product.
Or, utilize the whiteboard format to make an interesting business video for corporate training. VideoScribe is also effective in higher education due to the ease with which whiteboard content can be generated.
Pricing: $14 per month per user is the cost.
Vyond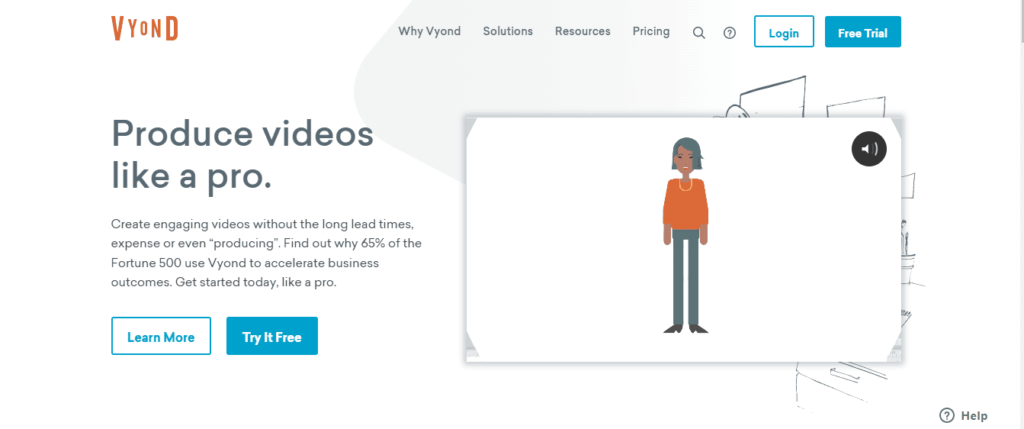 Vyond is a video animation application that can be used to build a full instructional or training video.
Although Vyond can be utilized in different ways and can include background music, sound effects, and other animated video characteristics, its actual value resides in its emphasis on training, teaching, and direct information delivery.
Vyond does not need sophisticated degrees or a deep understanding of animation processes; rather, it enables businesses and organizations to generate dynamic and compelling content with the assistance of Vyond artists.
Even without prior expertise, training videos, whiteboard videos, instructional videos, and more may be generated using Vyond.
Due to the fact that Vyond is meant for high-quality, professional use, its pricing levels are significantly more than those of many of the alternatives listed below.
You might not know this but most the training video production companies prefer to use Vynod because of the extensive range of features it offers.
Pricing: The lowest price point on the pricing platform is $49, and plans increase from there. The subsequent tier is $89 per month, followed by $159 per month. If more features are required, Vyond can be directly contacted for price information.
Wideo

Wideo is another animation-only video maker with pre-made templates. However, it offers more animation capabilities than simple line drawings on a whiteboard with sound effects.
Create a video introduction, explain a subject, or create a slideshow using drag-and-drop capabilities. In other words, no video abilities beyond inventiveness are necessary.
After creating a video, download the mp4, submit it to YouTube, and embed it into websites. Web only. This application is as straightforward as it gets.
Pricing: The limited free version is followed by premium subscriptions beginning at $19 per month.
Essential Video Hosting & Analytics Tools
It is virtually axiomatic that every video worth watching needs a host in order to be shared with others. And, as with any endeavor, you want to ensure that your videos are working optimally.
Here are the most effective video marketing methods for achieving both objectives:
Cincopa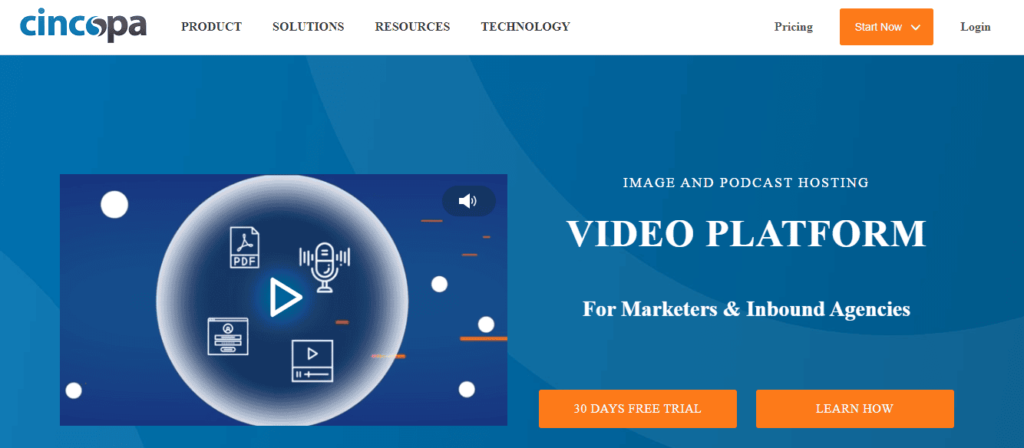 Cincopa provides video hosting services as part of a full suite of digital asset management services.
Cincopa's unique video features, such as Cincopa Channels, can be used by marketers, educators, training specialists, and salespeople.
Channels provide website users with an immersive, Netflix-like video environment, making them ideal for prospects and workers to binge-watch your corporate videos.
Pricing: Only paid subscriptions are available, beginning at $9 per month.
Vidyard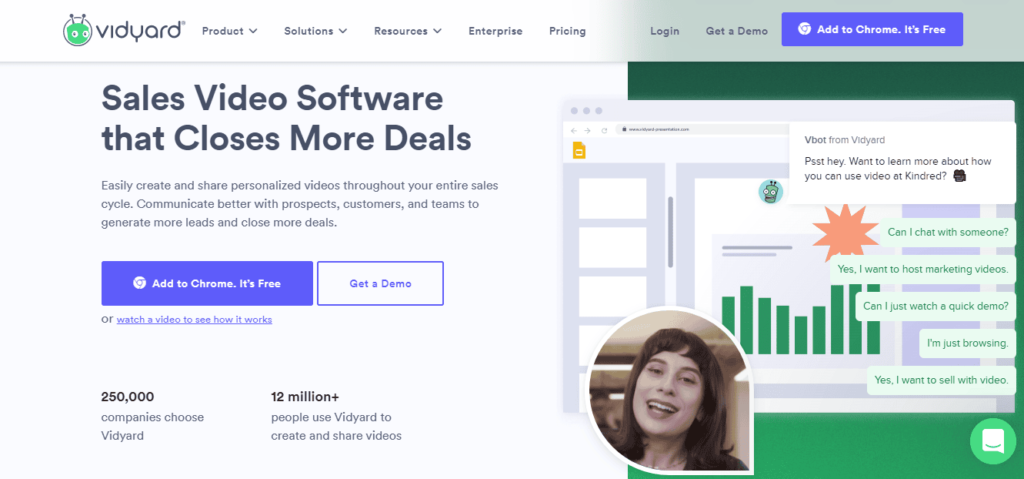 Vidyard is a hosting and analytics solution for businesses. It is designed for both educational and corporate usage and contains video creation capabilities. These include screen capture, rudimentary editing, and platform optimization.
This service is given to individuals who wish to stream videos via their web platform. A range of integrations is available for businesses and educational organizations.
Lastly, Vidyard provides analytics services for measuring outcomes.
Pricing: Free version is available, with a premium subscription starting from $15 per month. Due to this reason, many 2D animation service providers opt for Vidyard due to its cost-efficiency.
Vimeo

Vimeo is one of the oldest and most reputable simple hosting providers. Originally only a hosting platform, their top-tier subscription plan now includes streaming.
Videos posted on Vimeo can be embedded on virtually every website outside YouTube. Set privacy settings or let anybody with a link view the video. There are also analytics features.
Vimeo can be used for a wide variety of content kinds, and being one of the oldest social video platforms now in use, it is one of the most dependable and effective tools a business can employ.
Pricing: The plan starts from $7 per month.
Wistia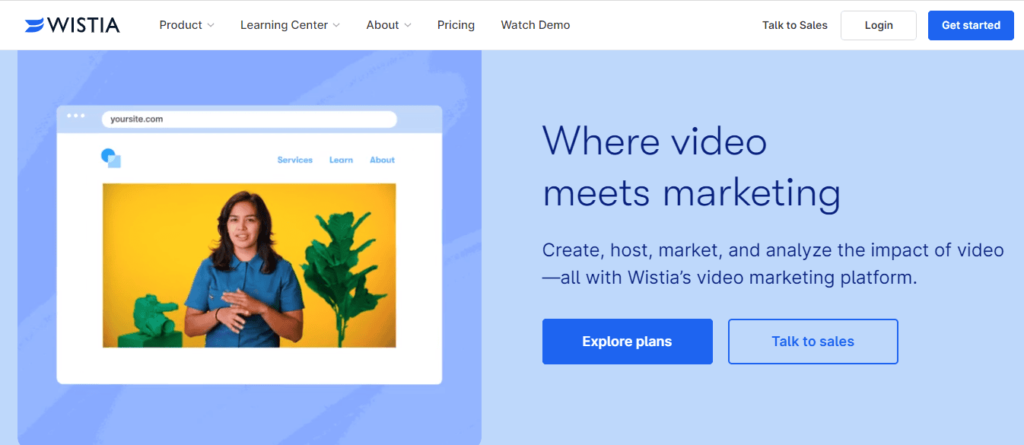 Wistia's online tool has production capabilities, unlike the other offerings in this area. For instance, you can personalize the video player and include interactive elements such as web page navigation.
The system then does marketing-oriented duties, such as gathering information about viewers and retargeting. There are several integrations available.
Pricing: Free plan with monthly plans beginning at $99.
Screenshare Creation
It is convenient to be able to share your screen, given that so many of us work from home. With so many of us working from home, it is convenient to be able to share your screen while working.
Creating recorded screen sharing is a bit more complicated, despite the fact that doing so live on video conferencing tools is trivial.
Fortunately, this form of video has become prevalent enough for the following video marketing techniques to be useful:
Camtasia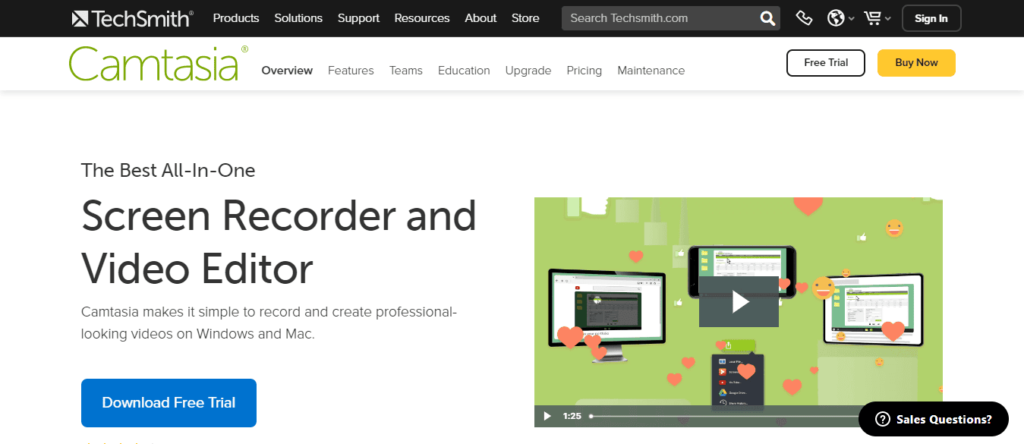 Camtasia is an easy-to-use application for recording tutorials and presentations. First, the program is downloaded onto your Mac or PC machine.
Then, you activate the device and record your screen capture video from the computer's display. Add some special effects, then ensure the audio is satisfactory.
When you're satisfied, just upload it to your video-sharing services or share it as you see fit. Simple.
Pricing: $249 for a one-time purchase.
Loom
In an age of social isolation and working from home, it can be challenging to maintain relationships with coworkers.
Loom is a tool that enables you to record brief screen sharing, which you can then distribute to others as a link or download for free.
It is a Chrome plugin that provides one of the simplest methods for fast recording a screen sharing with or without your face. Loom may thus be used to generate any form of video content.
Pricing: There is a free version, with premium options beginning at $5 per month.
Livestream
Live video might be the finest method to interact with others on occasion. While certain video sites, such as Facebook Live, permit streaming, there can be instances when you wish to broadcast on many social networks simultaneously.
The platforms listed below will enable you to concurrently create and distribute professional video clips across several channels:
Streamyard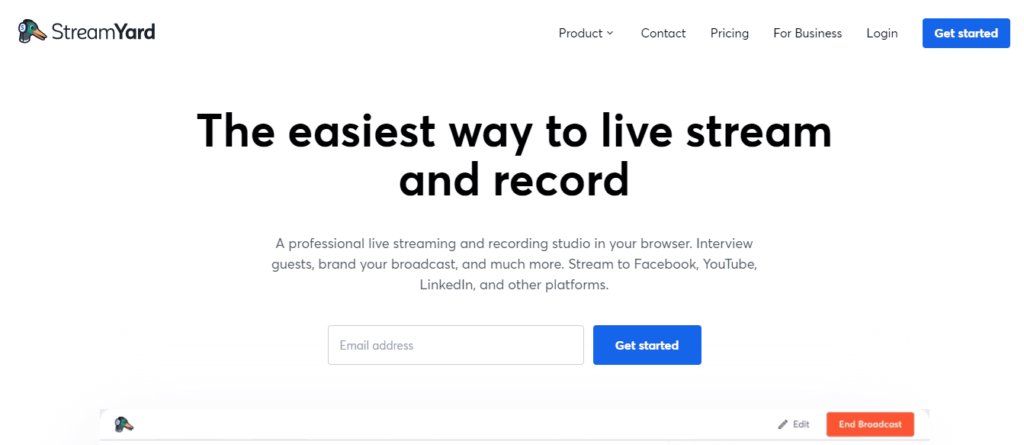 Consider using StreamYard if you wish to simultaneously stream across many platforms. This function allows you to post your professional-looking live stream to Facebook, LinkedIn, and YouTube from a single location.
However, that is not StreamYard's only cool feature. You can invite many individuals to your live stream, in which case their webcam will capture their image.
Using their outstanding capabilities, you can also show social media comments immediately on your live-stream broadcast to boost audience participation. Brilliant!
Pricing: The pricing consists of a freemium option with upgrades beginning at $20 per month.
YouTube SEO
Most individuals do not consider YouTube to be a search engine. YouTube is, in fact, one of the most significant locations where people search for information.
In order for your videos to get discovered on the platform, it is necessary to employ effective SEO techniques.
TubeBuddy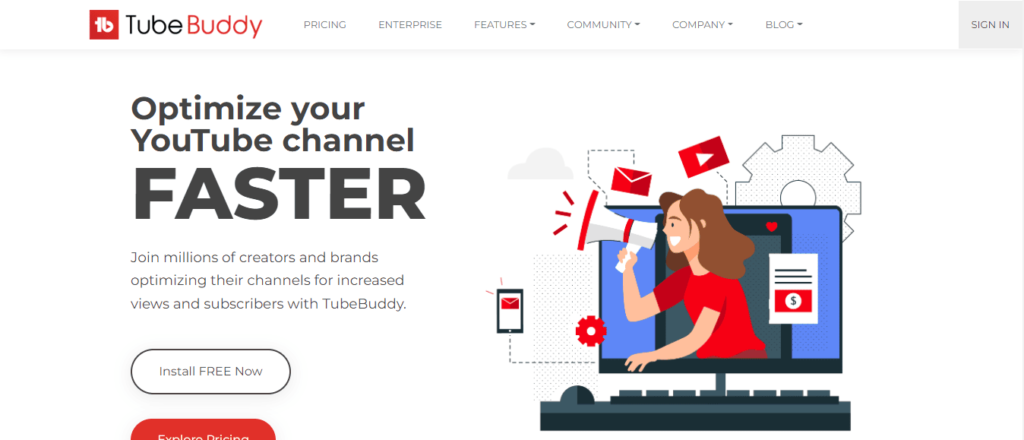 Whether you have a personal YouTube channel or a complex business account, TubeBuddy can assist you in managing it.
You will receive assistance with embedding, processing, marketing, and analytics. However, TubeBuddy is distinguished by its SEO features.
Specifically, the application assists you in optimizing your title and description, as well as assisting YouTube in classifying your content for relevant content recommendations.
Finally, they will assist you with adding subtitles in another language, so expanding your audience.
Pricing: Freemium pricing with additional features starts from $9 per month.
VidIQ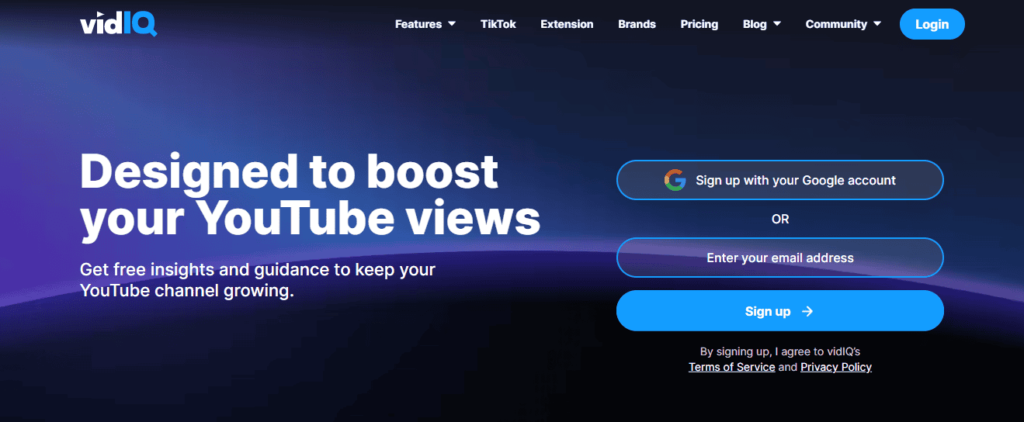 VidIQ is a sophisticated tool that allows you to take advantage of YouTube's amazing features.
YouTube's first entry into the world as a simple video platform has long since gone, and the site has blossomed into a hub for professional-quality video lessons and animations, so it pays to optimize your videos for your specific niche or market.
VidIQ helps you optimize your videos to the greatest extent possible by collecting data from all corners of YouTube, including rival content, to ensure that not only are your videos uploaded to YouTube but that they also reach your desired audience and function as planned.
Pricing: There are four pricing categories available at VidIQ. The first is free but rather restricted in scope, offering only three-monthly insights and rudimentary email assistance. Plans then go up to $7.50 per month, $39 per month, and $415 per month, respectively.
What's Next?
In conclusion, video marketing is a powerful tool for businesses of all sizes, and the right tools can make all the difference in creating effective and engaging video content. There are a variety of video marketing tools available, each with its own unique features and benefits.
In 2023, It's important to choose the tools that best suit your business needs and budget. If you're based in USA you can consider working with video production companies based in NYC, California or Texas that can help you create professional and high-quality videos that will captivate your audience and drive results.
Whether you're looking to improve your video editing, animation, or analytics, there's a tool out there that can help you achieve your goals.
By staying up-to-date on the latest video marketing trends and tools, businesses can stay competitive and achieve success in today's digital landscape.
Video Marketing Tools – FAQs
What is the best video marketing software?
Following are some of the best video marketing software:
Animoto
Biteable
Magisto
PlayPlay
Promo
Powtoon
WeVideo
Which marketing tool is most effective?
Following are some of the most effective and useful marketing tools:
Email Marketing
Lead Generation
Media Monitoring Tools
Search Engine Optimization
Social Media Management Tools
Video Marketing
How do I make the best video marketing?
To make the best video marketing, you should:
Clearly define your target audience and tailor your content to them.
Create a strong, attention-grabbing headline and opening that hooks viewers in.
Use high-quality visuals, including images and footage, to make your video visually appealing.
Use storytelling techniques to create an emotional connection with viewers.
Keep your videos short, ideally under two minutes.
Optimize your videos for search engines by including relevant keywords and a clear call to action.
Use analytics to track the performance of your videos and make improvements as needed.
Promote your video on your website, social media, and other relevant platforms.
Overall, the key to successful video marketing is to create content that is interesting, informative, and valuable to your target audience, and to promote it effectively.
How do you use video marketing?
Following are some ways you can use video marketing:
Brand storytelling
Tutorial videos
Educational video content
Advertising your products and services
Other Useful Resources You Should Read: