A tailor-made video for company, or organization is called a custom-made video. These videos are personalized according to the need of an individual or company.
The world has been changing and bringing change to our lives too. Let's travel the time back, the only visualization of everything was photographs, newspapers, billboards, or television, but today we have something more than just a photograph – videos.
With time, the trends change. In the current time, video is the new communicational medium. Facebook, Youtube, Instagram, Twitter, Tik Tok, and more social media platforms are popular due to their video content.
Visual representation of ideas is the most effective way to commute concepts, knowledge, perception, and thoughts to the people. The video brings light to the crucial ideas and understandably presents them.
According to HubSpot, if a website has visual and textual content, 72% of the audience will prefer the video content over the written content.
This blog will highlight everything about the custom videos and discuss 5 Ws in detail.
What is a Custom-Made Video?
A tailor-made video for someone, company, or organization is called a custom-made video. These videos are personalized according to the need of an individual or company. Inserting personal elements like logo, company name, profile, etc., can help you create customized videos.
Who Can Create Custom-Made Videos?
Anyone can create their own customized videos; all you need is equipment. Today, we live in a time where even a smartphone can help you shoot a video for you, but will it be as good as a professionally customized video? Of course not!
Let's frame the thoughts: you are targeting some audience and want to pitch your content to them, but you are not an expert in video making – there: you need professional video assistance with expertise in videography, editing, and motion images. Following will be the point you should keep in mind before making a customized video: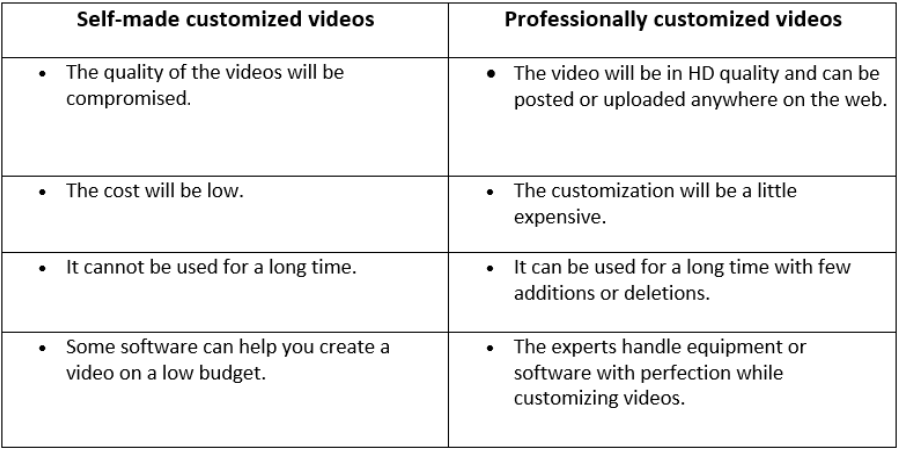 When Do You Need to Create a Custom-Made Video?
Companies and organizations create videos for their business or idea goals. The video content has the capability to engage more audience than dry plain text. Different video marketing trends are bringing change in the style of marketing people used to follow years ago.
Not only for marketing but there are a lot more reasons to create a customized video:
It can be for special occasions.
Awareness
To revive the memories.
Product promotion.
Traffic engagement on the website or social media platforms.
For the circulation of thoughts and knowledge.
#1) Occasion
People record videos to capture the moments like weddings, birthday parties, convocations, or business collaboration meetings. You can seek services from the videographer to shoot a video for your occasion, and you can sit, relax, and enjoy your event. Customized videos can give you a choice to edit, add, delete, and enhance.
#2) Awareness
You can create videos for educational purposes or for awareness. The professional videographer can customize the video according to the context of the video. Medical organizations use custom videos to bring healthcare awareness or campaign of diseases. They use their name and logo in the personalized video that promotes awareness and brand name.
#3) Revival of Memories
Memories are the most important part of someone's life, and people preserve them to show it to the next generation. But as soon as the time is changing, the orthodox means of video is also changing. The videocassettes were used back then to record memories, and now you can convert those memories into today's format of video through customization.
You can convert it into digital form from videocassettes to prevent it from vanishing and keep it alive for the rest of your life.
#4) Product Promotion
Companies always focus on the success of their business, and to achieve success; they need to build an image in the industry. They create marketing strategies for the promotion of the brand, product, service, or company's name.
For better branding, the marketing community has shifted to digital marketing and adopted visual content for promotion.
Video production studios all around the world are helping companies to solidify their appearance on the internet. Companies hire studios for their video project and customize it to fulfill their marketing needs.
Big names like Google, Amazon, HP, CISCO, Walmart, and more create customized videos for their branding and campaign.
#5) Traffic engagement
Video helps you to bring traffic to your website. You can post your custom-made promotional video on the social media platform, and after watching it, the audience will divert to your website (if you have the perfect, attractive, and creative video content).
Custom-made videos let you use unique ideas to convert sales pitches to sales numbers. You can use 2D animation services to make it more fun and fascinating to watch.
#6) Circulation of Ideas
Videos get viral instantly as compared to written text. Influencers use different marketing videos to communicate with their viewers and deliver their thoughts through it.
They use professional video editing services or studios to make it exclusive to watch in high-definition quality. It will help you to get your idea viral through superb editing and professional videography.
Why to Customize a Video?
Customization gives you the freedom to choose styling according to your wish. Instead of using a template or following other's video styles, you can actually portray your subject in a creative and different way.
Video production companies use animation to illustrate the concept in the form of art that is actually the center of attraction for all ages. Animation engages the targeted audience and distinguishes your work from your competitors.
So, you can use different styling for your brand and marketing video to increase your conversion rate and decrease the bounce-back ratio.
Where to Contact For Customization?
Many video production companies claim to create the best video for your requirement, but not everyone can land on your demands. You need to keenly observe the work of different video production companies and see the best services they offer to your business.
There are various video types like animation videos, explainer videos, whiteboard animation videos, storytelling videos, corporate videos, brand videos, and more used by companies to generate interactive video content.
For animation video production, you can take a look at the Best Video Animation Companies. BuzzFlick is one of the best video animation companies to help you create a stunning masterpiece to boost your marketing goals. Please take a look at their portfolio for more ideas and designs.
Advantages of using Custom-Made Videos
If you are a company, then a custom-made video is best for your business. With the creativity of the video maker and your mind-blowing ideas, you can have a revenue-generating video clip that can be fruitful to your business goal. Some facts can be achieved using custom-made videos.
Boost your webpage traffic.
Build your company image.
Perfect marketing video according to your requirement.
Brand representation in style.