Create engaging and captivating training videos for your company. Learn some easy and handy techniques to make videos more beneficial for your business.
Do you want to know the secret recipe for a perfect training video? If yes, then my friend, you have landed on the right article.
Since the evolution in marketing, video has become the most popular medium to deliver and obtain content effectively. And training videos are the most potent way to share information and knowledge with the audience.
Nowadays, people seek help from videos to solve their problems. Users look for instructional videos on YouTube, Twitter, Facebook, and Vimeo to get answers to their questions.
Before buying a product or subscribing service, 50% of the customers prefer watching related videos to prevent mistakes and confusion.
According to a study by Pew Research, 87% of users believe that YouTube has helped them figure out how to do things in a particular manner that they have not tried.
In 2013 & 2016, the percentage of people watching videos was 28% and 45%. Since 2018, 55% of people have turned towards instructional videos more than text. They prefer videos for education, awareness, knowledge, training, and entertainment.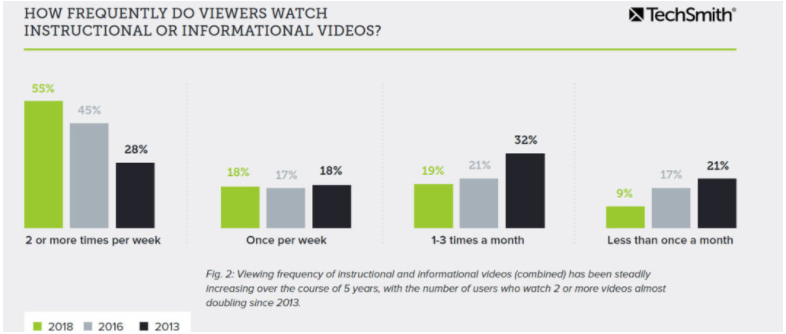 Source: Techsmith
The statistic above state that customers are interested in instructional and tutorial videos to learn more about the product or service. This eventually opens portals of opportunity for the trainers, educators, and companies by creating customer instructional videos or employee training videos – it's a win-win game.
So, let's learn how to create training videos that provide effective outcomes to your training goal.
What are Training Videos?
Training videos are a type of video that is made to show the audience how to do something correctly. Whether it is an app demo, service tutorial, software instruction, or employee training, training videos are best for educating, instructing, or sharing knowledge.
Why Create Training Videos?
Besides text, videos are the best medium for training and tutorial purposes. Both videos aim to deliver quality information and tell the audience what they need to know.
Let's suppose you have brought a device and don't know how to operate that device. What will you do?
You have an instructional leaflet of 100 pages (lengthy and boring to read) with instructions on operating that device.
You have a video of 10 minutes (short and easy to understand) with the same instruction.
Which option do you choose? Obviously videos!
And if you are still speculating why should one bother to create videos, check out the following benefits that you can get by making videos:
Website Traffic
Videos help you drag traffic to your website. It engages more eyes and attracts more customers to your business.
Improve SEO
A study has stated that Google is 53 times more likely to discover your website if your landing pages contain video content. It helps you improve your SEO ranking and increase the chances of getting ranked high in the Google Search Results.
Grow Your Business
Now you know that videos can engage and attract an audience to your website. It will eventually help you increase the conversion rate and turn leads into potential customers.
Teach Your Customers/Users
If you are a production company and have customers, it is your obligation to provide enough instructions and knowledge about your product. The training videos or playlists help you teach your customer about your product better.
Release the Customer Support Burden
We all have called customer support like million times to seek the answers to our queries, but only some of us are fortunate enough to get information, and others just waste their time hearing, "we'll connect you to our customer care representative shortly."
We are not saying that customer support doesn't respond to the issues or delay the matter, but due to insufficient instruction from the production cause trouble for the customer care unit and tangles them into hundreds of calls, which unfortunately get missed by them.
To ease their pain and lower their burden, you can create instructional videos or playlist that answers all the questions that might arise related to the product.
How to Create Beneficial Training Videos
Just creating a video or a number of videos doesn't help you achieve the goal of "effectivity." There are two things that you must have while creating a training video(s):
An appropriate software.
Comprehensive guidance.
To make your training videos effective and fruitful for your targeted audience must keep the following points in your mind:
1. Choose a Topic
The first step to begin with training video production is to choose a relevant and helpful topic. People look for videos that give relevant knowledge to them, and if the video fails to provide quality information, the audience will quit watching it.
First, evaluate your targeted audience, learn what they want to see in your videos and how you can help them learn about a particular topic. Once you have all the information about your audience, it will become a lot easier for you to choose a topic.
If you are a company, you can release a survey form for your audience or customer to collect information. With the collected information, you can create a playlist and provide information to your audience in the form of chunks.
P.S: this trick will help you hold the audience longer on your webpage or social media platform.
2. Choose the Type of Training Video
Done with the topic? The next step is to choose a format for your videos. There are various types of training videos, and all of them require different time and effort.
Similarly, different types of training videos will deliver different information, so it's vital to know what type of training videos suits your business goal or brand ideology.
For instance, a screencast video might not be suitable for the product demo video, or typography might not provide sufficient time to cover a giant topic.
P.S: While choosing a video style for your training video, you must evaluate the strengths and weaknesses. It will help you create a perfect training video with minimum damage.
If you are about to start the production, make sure that:
The required resources are available.
You have calculated the estimated timeline for the video production.
You must know the expectations of the stakeholders.
And must calculate the expense and the budget.
We have listed some useful video formats that might work for your training video. Take a look:
a) Screencast
A screencast allows you to record your computer screen. Most YouTubers and instructors use this format to teach how to use certain software, systems, or interfaces. Take a look at this motion graphics screencast explainer video by BenchPrep.
b) Typography
One of the shortest video formats is Typography, which is usually 5 to 45 seconds long. It is used to provide quick information about an idea or a process.
Mostly, typography has graphics, visuals, text, or typography. This video format might be a good choice if you want to deliver some quick inspirational information to your audience. Take a look at this kinetic typography by Nike.
c) Presenter Videos
If you are opting live training video, a presenter video is a suitable choice for you. All you need is a host and script to explain the topic.
You can use presenter videos to demonstrate a product, services, or the working of a system. Ben Bowlin is explaining how to use a fire extinguisher properly in a present video by BrainStuff.
In the future, if you are planning to make a presenter video, this example is an inspiration for you.
d) Role Play
A scenario is built around the topic and acted out to help the audience understand the core objectives of the video. Roleplay videos are best for the audience who want to learn how to handle sales calls, technical support, and other interactive communication.
Here is a role play video on how to communicate with the customer on the call. Take a look.
e) Animation
Animation videos are very compelling and captivating for the audience. You can create animated explainer videos to train your employees or educate your students.
Animated videos are quite challenging, but they are a great source of viewer engagement. There is an example of an animated explainer video by Slack, which can inspire you to create one.
f) Interactive Videos
In the training video, interactive video is the most preferred format. It let your viewers get involved and ask questions on the run time.
Interactive videos can be live streaming videos, where you can teach your audience live and reply to their queries instantly.
3. The Script and Storyboard
While creating a video, a storyboard helps you decide the sequence of the visuals you want to showcase in the video, and the script tells you what you are going to speak and directs you on how to visualize your video.
The first and important step in video production is scriptwriting. Scriptwriting is best for the voice-over and narration videos. It let you keep track of the words you will say in the videos.
If you are making a video with a silent format or just music, you might not need a script.
If you are making a screencast video, the script helps you remember what you are going to explain and where. This practice makes the recording easy for the voice-over artist (to explain everything in one go) as well as the audience (to understand everything thoroughly).
Once you have completed the script, the next step is storyboarding. The storyboard is a sketched sequence of the visuals that will be part of the video.
For example, if a company wants to create an app demo video for their new app, the storyboard artist will take screenshots of the interfaces and put them on the storyboard to define the sequence.
4. The Recording and Editing of Training Video
It's time to record!
Once all your pre-production tasks are done, it is time to start recording. You don't need to be a professional videographer to create a masterpiece. With sufficient practice and good editing software, anyone can make an excellent training video.
You don't need heavy videography equipment; even a smartphone can record a great video if you are making a role play video or demo video. And once you have done recording, you can edit your video in numerous ways to make it engaging and appealing to watch.
a) Annotation
Annotations are a fantastic method to call attention to certain things in screencasts and other video types. If you want to keep viewers' attention where it needs to be, use arrows and graphical shapes with animations and text. This will help you enhance the overall appearance of the video.
b) The Text Overlay
By including text in your videos, you can keep things visually interesting while still emphasizing the crucial topics. You can use graphics to introduce the speakers or highlight a point or idea in lower thirds graphics.
c) Animation
With animation, you can make the text and shapes slide across the screen or into your video. Animations are a great way to keep your instructional videos visually interesting and unique.
Custom animations are one possibility, but motion graphics are a simple approach to making the text, shapes, and other graphics do movement in your training videos.
d) Present the Speaker
The speaker of your video is the backbone of the video, so don't be hesitant to present the narrator in your video.
You can achieve this with screencasts, where you can record some clips from the camera and then switch to other footage at appropriate times, usually at the start and finish or anytime you need.
e) Interaction
In employee training videos, interaction is becoming increasingly popular. You can raise a point and ask your audience to share their input or guide them to other videos of the series.
The interactive training videos help the audience talk to their instructor and clear their doubts on the time, making the learning process more effective and quick.
5. View, Edit, Review, and Repeat
One of the best things you can do when you've finished an early draught video is to have stakeholders or coworkers review the done work.
Before you get to the final dispatching step, a video review will let you know if you're on the right track and allow you to make any necessary corrections and fill the gaps. In the early stage of the project, it is always easier to modify repeatedly.
P.S: Don't over-modify the project. Sometimes overcorrection can ruin all the genuine work, and the liveness dies from the project.
Basically, having a second set of eyes check over the finished output is the most-trusted method to verify typos or design errors.
6. Create, Host, and Distribute
At last, the final stage of the training videos is here: production, hosting, and distribution. The first thing you do is to put together the video clips.
After the video production, your video is rendered. There are various video formats, including the most popular and extensively used MP4. Unless there is a need, we recommend you to create the video in an MP4 format with the same resolution you have edited it in.
Note: You can take help from BuzzFlick – an award-winning animation agency in NYC – for video editing as they are experts in it.
Once you have done production and editing, it's time to host the video. There are numerous video-streaming websites that you can use as the hosting site for your videos, like YouTube, Dailymotion, Vimeo, Hulu, and more.
There are many best video websites like YouTube on which you can post and host your video(s). Just check which website suits your content best.
In the Nutshell
Now you know how to make compelling training videos for your employees or students. We have covered all the necessary information, but if you have queries, feel free to contact BuzzFlick to share ideas and requirement discussions.
FAQs
What is a training video?
A training or instructional video aims to deliver instructions and vital information about doing specific tasks correctly. Whether for employee training or customer training, a training video is dedicated to teaching the audience a particular topic, a skill, or sharing the knowledge.
How can you make compelling training videos?
To make your training video effective, first, you need to ensure that the content is relatable, informative, and relevant to the audience. Second, make sure that visual effects, editing, music, subtitles (if any), narration, and video quality is on point.
Where to host a training video?
For hosting a training video, many video hosting and streaming websites are available, but the following are famous for streaming instructional videos:
YouTube
Vimeo
Dailymotion
Wistia
Brightcove
Which company is the best training video production?
There are so many companies and studios in the market who claim to be the experts, but the following are the leading animation and video production houses that have worked with renowned companies:
BuzzFlick
Demo Duck
Epipheo
Switch Video
Wyzol
ThinkMojo
Sandwich
Skeleton Production
Explainify
Kasra Design
If you want to learn about these companies, check out our article about the best training video production companies.