Discover how to become an animator in 2023 and land your dream job in the animation industry. This guide will teach you everything you need to know.
If you're an avid storyteller who has the talent to delight your audience, then a career in animation might be your calling.
If you're still reading this, know that a career in animation is not just for anyone.
People who become great animators and make a name for themselves have fantastic talent in arts, and are truly marvelous in creating mental movies and transforming them into art on screen.
The most famous animators have worked in tandem with the best writers in the industry to bless our childhoods with films like 'Avengers', 'Toy Story', 'Frozen' and a lot of memorable tales from Disney's animation studios.
As perfect and magically crafted their work may appear on screen, we need to appreciate the fact that there are years of practice, long hours of work, and a life-time of dedication that goes behind that error-free production.
This blog is being written to help you discover how you can follow suit and become a successful animator in 2023.
Don't take it as a silver bullet that can make you land all kinds of amazing opportunities in the industry. It's not that.
But I've crafted this blog specially for anyone who wants to navigate through their pathway for a career in animation.
After working with a bunch of fine animators in the industry, I've decided to give my audience a guide on how to get into animation. So, if you're a budding animator reading it, I hope you like it. Without further ado, let's jump right in!
Why choose to become an animator?
The question that would come to any person's mind who just finished school is 'why should I become an animator?'. Well, let's just start with what's there in the market for you.
As per the Bureau of Labor Statistics (BLS), the job market for multimedia artists and animators is likely to grow by 4% between 2018 and 2028 (that's an impressive growth).
Plus, if you've a passion for movies and love to tell stories in a compelling way, then a career in animation can be promising for you.
Again, if you're motivated with the idea of telling stories and are really charged to the core to give your audience something fascinating audience to marvel at, then a career in animation can be a truly rewarding choice.
Besides, the job landscape is growing and there is no wonder that the opportunities we've currently in the industry are highly lucrative. For instance, art directors can make up to $90000 per year.
Apart from that animation offers us the freedom to paint our dreams and bring our vision to life through story told with colors and characters one can only wonder of.
Characters that can't exist in our world, but we can capture them and paint their lives with our artistic talents.
Career paths for animators
Animators are in high demand. With multiple areas of work to start with, you as an animator don't need to tie yourself to one area of work only.
If you're not comfortable working in game animation, you can switch to character animation or even join an ad agency and spark their creatives with some animation.
In this section, we'll cover four most common animation careers. So, let's get started.
Advertising
As an animator, you won't be just doing your job sitting in front of a graphic design PC.
But, as a part of a creative team, you'll be exposed to lots of technical learning related to digital branding and storytelling on TV, and socials.
You'll also get to learn a great deal about social media campaigns and how your work can delight customer experience across socials (I mean to say Facebook, Instagram, Twitter, TikTok etc).
Character art
Another popular niche for animator is character art and animation. This is where you'll see them showing off their creativity. Characters are means for animators to connect and build a relationship with their audiences.
Animators working specifically in character animation work closely with concept artists and build on the technical knowledge to set stories and add sophisticated details using stop motion animation. The stop-motion puppet animation technique is one that's really popular.
3D character animation is another popular area of work. You may want to explore it if the word '3D' excites you.
You may also like:
What is stop motion animation?
Game Development
Animators in the gaming niche use tools like Adobe Animate.
Video games are meant for entertainment and there's nothing that would help producers more than the artistic talents of animators to paint scenes and design characters that are not just engaging, but truly inspirational.
Animators work tirelessly with story writers and designers to paint vivid details and sketch characters to develop prototypes. Games may be made for mobile or web and more typically for consoles.
Needless to say, for any project to be successful, it would require the artistic talent of animators. You'll also learn to work with various types of animation.
Visual Effects
It's another successful area of animation. As a student, if you delve into visual effects, you'll learn to set illusions on screen and simulate events with the use of tools like After Effects.
As you start to hone your game, you'll spend your time turning digital images into live-action sequences. Ones that are so captivating and immersive that you can't tell them apart from the real stuff.
In addition, you'll also learn about 3D layers, compositing and the particle system.
Skills You'll Gain as an Animator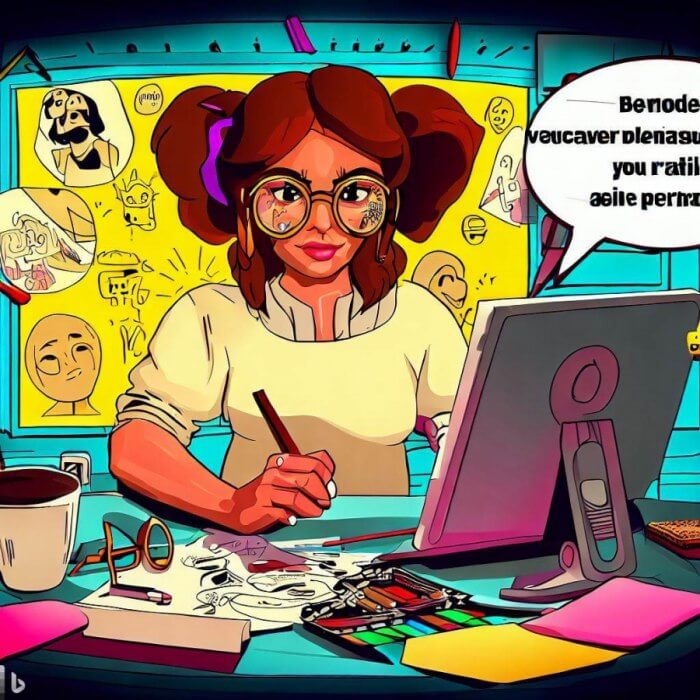 Created using Bing AI
Do you want to become a successful animator?
If yes, then know that there are certain must-have skills and expertise you require to become and animator. It will help you make the leap and grab the best opportunities in the market.
Along with your education and portfolio, there is a combination of soft and technical skills that will take you a long way in becoming a successful animator.
One that is not only hard working, but also one who's smart, updated, dependable, and an impactful designer and artist. All in all, a creative asset to the industry.
So, let's look at some of the finest skills which you'll gain in your pursuit to become an animator;
Software Mastery
The first and probably the most important of all technical skills is software mastery. As an animator, you'll learn to work on a range of dedicated animation tools including Maya, Autodesk, After Effects, and Adobe Animate.
For your guide, here's a table of the best tools for animators in 2023;
| | |
| --- | --- |
| Animation Software | Application |
| Adobe After Effects | Creates 2.5 animation effects and performs motion picture compositing. |
| Motion | Specialized tool for Mac OS to create animated imagery and videos. |
| Vyond | Creating animated media such as explainer videos and presentations |
| Unity | Used by game developers to create 2D and 3D games |
| RenderForest | Online video maker for presentations and decent videos |
| Maya | Specifically for creating heavy 3D models for video games, films, animated series and much more |
| Blender | High-end 3D modeling, visual effects and much more |
| Powtoon | Helps you create animated videos and pictures for training purposes |
| Adobe Animate | Particularly useful for creating vector animations |
| Adobe Character Animator | Useful for creating artwork and puppet characters |
With the help of these feature-rich tools, animators are able to add visual effects of transitions and animations to flat backgrounds, and characters. They are able to bring elements in motion and animate them, making it a delightful viewing experience.
Plus, you'll also spend a great amount of time learning the differences between 2D and 3D animation.
Recommended Readings:
3D Animation History: The Humble Beginnings and The Future
Artistic talent
Animators are artists when it comes to painting scenes and telling stories with animated characters and objects. Most of your time at grad school will be spent in making storyboards and static drawings that come to life using software tools.
With dedicated art classes, you'll learn a variety of skills such as creating color schemes, design, illustrations and drawings.
Applied Math
You may be new to this one as you may not hear most people talk about.
But, if you really want to master animation as an art, applied math is the real deal. Top animators in the industry they use trigonometry to move characters around.
Plus, they also make use of calculus to create special effects. In your grad school, most likely you'll have this option of picking an applied math course as your elective. Make sure to make good use of it.
Leadership and teamwork
In your graduate school, you'll be asked to pair up with your colleagues and work in groups. The purpose of such collaboration is to help you build teamwork skills.
It is so because the studios in the industry want animators who are great team players and also has the potential to step into leadership roles when required.
What's important to know here is that some of the top leaders in the media industry are not the perfect animators and artists.
But these are people who actually built great relationships in the animation community. So, invest in building your interpersonal skills.
That's why you'll see that as you work your way forward in your degree program, you'll work on multiple projects that will focus on building you as a team player and a dedicated group leader.
Communication
A skill that is undeniably a necessity for any professional in any field is communication. If you're not good at communication, no matter how much of a master you're at using the software and tools, you won't get there.
Or you may have the talent, but because of your communication, you may be neglected by the team.
Similarly, animators need to master communication, if they want to have better career prospects.
So, if you're at graduate school or looking to join one, make sure to engage with colleagues, teachers and even clients and communities.
Best animation studios look for people who can take meetings with clients and help them through their needs with ease. Plus, you want to be team player so that everyone enjoys working in your company.
For that, we would suggest you to take any internship opportunity you get. It will provide you the client exposure. One that would help you gain more confidence when interacting
Roles in Animation after a Bachelor's Degree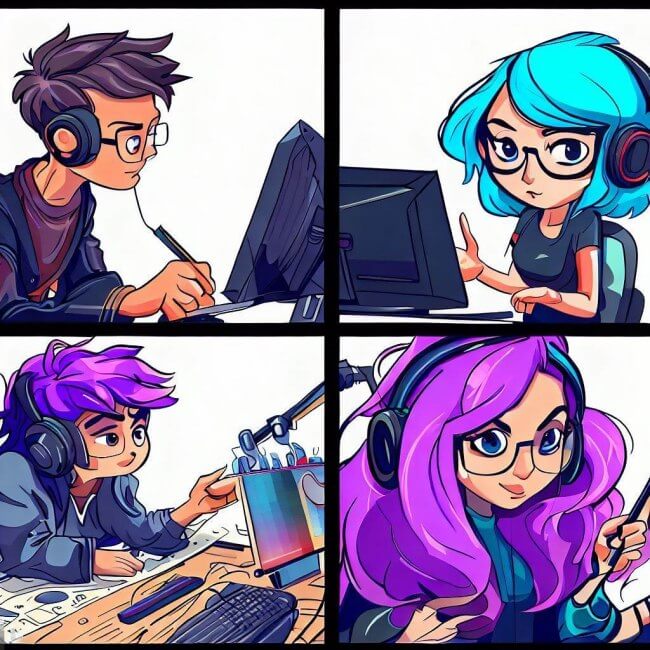 Created using Bing AI
Though it's not mandatory to have a Bachelor's degree to land a job in the animation space, most animators and artists who seemed to have grown throughout their careers typically hold a Bachelor's degree.
Now suiting to your needs, you can have a degree in arts and media with an animation specialization. You can complete it either via online or physical programs or even through part-time studies by taking admission at a university.
After completion, you can expect yourself to work with game studios, film companies, video and animation studios. And, interestingly, there are four prominent roles which you can apply for after having a degree in animation.
Again, it's not necessary to have a graduate degree. But, since the market seems to be saturated with graduates in film and media having concentrations in animation and design, you'll stand a better chance among others, if you not only hone your game, but also have a specialized education to qualify for managerial level positions.
Animator or Multimedia artist
The first role you can find yourself after pursuing a Bachelor's degree in animation is of an animator. You can even start here if you've done few good animation courses.
Assuming that you can hone your game from the get go and learn to juggle around more diverse jobs of production, you can even transform yourself into a full-fledged multimedia artist.
As an animator, primarily you'll be working on images, creating effects for television, films, video games and even for mobile, web apps and even experiment with some techniques of website animation.
Pursuing a Bachelor's degree will expose you to a plethora of learning opportunities across painting, drawing and scripting.
On top of that, you'll learn extensively about latest animation tools including After Effects, Animaker, Maya, Powtoon, Unity and a lot more.
Salary
As per the Bureau of Labor Statistics, the median pay for an animator in 2021 was $78,790 with a per hour wage of $38.
Video Editor
The next category is of video editors. After graduating from art school, you can land a job that pays handsome amount money for your work.
You may find yourself working at an advertising agency where you'll work with scriptwriters and creatives who tell stories to sell products through witty and emotional ads.
Or you may even work for broadcasting companies or animation studios for in-house production of content.
On your job, you'll be asked to use specialized video editing tools like After Effects and Final Cut Pro or Premier Pro edit digital footage. You'll build a set of diverse skills by working on story pacing, sound effects, visuals and much more.
You may even work on a range of text animation apps and advance your animation experience.
Know that some schools also offer a specialized degree program in Film and TV. So, if you're into movie animation, then along with learning film and video, you can always get a concentration course in animation.
You may also like:
How to make free animated videos for YouTube
Salary
As per the Bureau of Labor Statistics, the median salary for a video editor in 2021 was found to be $63,780.
Art Director
This role is a prominent one in an animation company. An art director may be a senior manager who oversees the work of artists, animators and designers. All in all, he's not just a creative, but someone who can look at the bigger picture. Someone who's an expert in animation business.
Most companies will require you to have a Bachelor's degree plus some fine experience in the industry before they sign you up for the job.
Besides know that a degree in animation is not mandatory. The industry is crowded with directors and artists who hold a degree in arts with a concentration in design and animation.
Salary
According to the Bureau of Labor Statistics, the median pay for an art director in 2021 was $100,890 with the per hour wage of $ 48.50.
Game Designer
Game designers have the job of developing games for PCs and gaming consoles. In the past decades, developers would create games for consoles and PCs only. That was the where they would spend most of their time on the job.
But now, we've a growing market for mobile games and animation jobs for game developers in this niche will only continue to grow to an astoundingly big number.
So, if you would like to pursue a degree in computer design, lots of institutes offer a concentration course in gaming animation.
If you opt for such specialized courses, know that you would be taught about the important game mechanics and concepts.
Continuing to pick up further courses in the same stream, would also expose you to learn a great deal about character setting, development and artwork. You'll learn a set of innovative animations to enhance visual effects in games.
Plus, you'll also have the flavors of sound effects, narrative and animation. You may enjoy working in gaming labs or join a gaming studio for an internship to hone your animation skills and business acumen for the gaming stream.
Salary
As per PayScale, the average compensation for a video game designer is $68,175 in 2023.
Bottom Line
Let's wrap this one up. Above, we gave you a comprehensive guide on how you can become an animator in 2023.
We started off sharing what it's like to become an animator and what roles in particular, you'll have as you pursue a career path in animation.
Moreover, we also covered in great detail the average pay scale for multiple roles in the animation industry.
Plus, there's also a table of the best tools for animators which will help you to know what tools are currently popular among professional animators.
That's pretty much everything. However, do not take this blog as a silver bullet. For one we all know animators don't become great with reading blogs.
You need to start practicing and nurture your artistic talents and find the right environment for yourself. That's it from our side.
Hope you a nugget or two from this one.
Frequently Asked Questions (FAQs)
How much money do animators make?
As per Zippia, on an average, an animator's salary in the US is $76000. Salaries may range between $52000 and $112000 as we move upwards searching for people with more quality experience. And, the hourly wage depends upon the experience and skill of the animator. On average, animators may charge up to 36 USD per hour.
How long will it take for me to become an animator?
If you wish to pursue a career in animation, then know that the usual pathway is a four-year degree in animation, visual arts or even graphic design. Some animators pursue further studies to level up their animation game. So, it can take 4-5 years for you to turn yourself into animator.
What level of education do I need to be an animator at Disney Studios?
As per Zippia, you need a Bachelor's degree in Computer animation or relevant stream. Plus, you'll need two years of work experience of working on Maya or other in-demand animation software. However, some studios may not have the same education requirement to be an animator.
Is there high competition among animators?
The animation industry is not any different from others when we talk about competitiveness. And, if you're just starting out, you should begin strengthening your portfolio. That too in the early stages of your career, which is of course before you graduate.
Can I become an animator?
If you've artistic talents, are exceptional with time management and have good computer literacy, then a career in animation can be seriously rewarding for you. You can start with formal education in design and animation.