Text animated videos are fun to watch. Read our blog to explore the extensive range of best text animated apps for Android and iOS.
No marketer has ever claimed that videos and interactive content are uninteresting and result in decreased engagement.
If you are a passionate digital marketer, you are aware that interactive content has progressed significantly and is on the increase.
Animated texts and videos have altered the notion of storytelling, making it more fascinating and cost-effective! This is one of the primary reasons for its appeal.
While our fast-paced society was already accustomed to seeing video material on many platforms, the majority failed to engage customers.
As a viable method for overcoming the conversion gap, many businesses have identified text-animated videos.
These humorous animated videos, affectionately known as "memes," have become an online sensation. Given the enthusiasm around these types of material, it's obvious that everyone wants to excel and join the bandwagon!
However, the animation is frequently associated with sophisticated technologies, which most of us are novices at.
Interestingly, no animators nor subject matter experts are required to generate such captivating animated texts and videos. Downloading an animation app is all that is required to produce such captivating entertainment.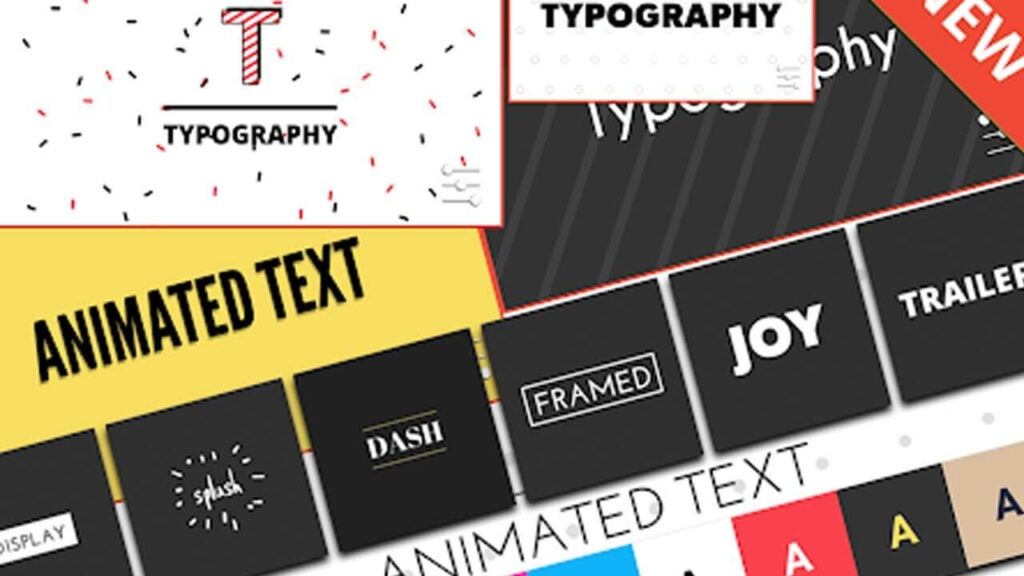 Why Create Animated Videos on Your Phone?
The advancements in technology have changed the way we work. With smartphones preceding and effectively balancing our work-life load practically anywhere, then why should you rely on desktops/laptops to meet your demands for animation?
Creating videos on your smartphone has become twice as hassle-free, and you can create them in a jiffy using great video applications. Most of these apps come in-built with templates, ensuring your video creation is a breeze!
Still not convinced? Let's examine some of the most important reasons for creating entertaining content on your smartphone:
The era of smartphones
The survey from the tech jury says that smartphones consume 70% of all media time! This statistic indicates that our generation spends the majority of its time in front of smartphone displays.
Creating animated texts or videos on smartphones provides access to several levels of capability, making it simple to use.
Personalized videos
Time management is another motivation to generate animated content on your smartphone. Creating animated content on a mobile device saves time compared to exporting and editing in separate locations.
With all files and folders in a single location, making animated texts on a mobile device becomes a simple process.
Videos are shared instantaneously
A further benefit of generating text-animated videos on your smartphone is that you can simply distribute them to your intended audiences.
The new text animation apps are renowned for their simple interaction with a variety of social media networks, allowing you to publish your creations on a variety of media channels.
Text Animated Videos: How do they work?
Text-animated videos can facilitate the spread of brand recognition and the acquisition of new audiences if used effectively. How, then? See the following two important points:
Keeps the audience focused
As a business or brand, you now have the opportunity to combine dynamic storytelling with text animations to keep your audience interested.
Compared to other video forms, animated material is more effective at creating a lasting impact on present and prospective clients. In addition, it is more cost-effective than the standard advertisement format.
Captivates audiences even without sound
Remember how much we enjoyed silently watching Tom & Jerry? This is because the animation and visuals captivated the audience!
Animated texts function in a manner comparable to that of engaging customers through the art of successful interaction. By being entertaining, original, and creative, animated text and content can immediately enhance your audience's engagement.
Powerful Text Animation App for iOS and Android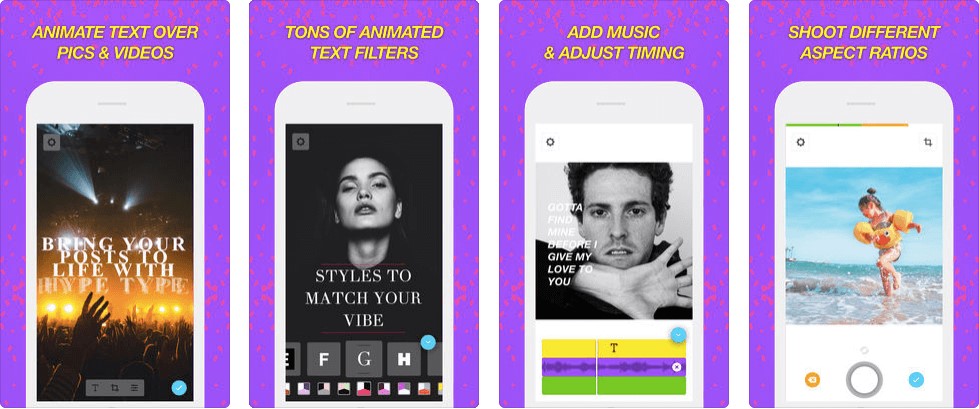 Now that we are aware of all the benefits of text animation, the following step is to choose the finest program and begin generating them!
We recognize that "one size does not fit all" and that it is not simple to choose the right program to assist you with text animation, as there are several applications giving a full list of accessibility features.
To help you select the finest text animation app for your needs, we've compiled a list of the top 10 Android and iOS text animation applications.
Let's check out the available options in detail.
#1) Animated Text
Animated Text is among the most popular apps. Animated Text has several editing possibilities for users of all skill levels. The software offers endless customization opportunities with several backdrop selections and animated GIF text alternatives.
Interestingly, this application also includes templates for novices.
The following are the app's key features:
20 astonishing text animation styles
Option to incorporate background images
Save your content as a video or GIF animation
Share your animated GIFs in your conversations on Messenger
The animated text messages for Android are simply downloadable from the Play Store and the App Store, respectively.
#2) Text To Video
Text To Video is another text animation application. It gives a multitude of editing choices to the user. The app allows users to add background music at various editing levels.
If you are a beginner who wants to take animated text apps or animated content to the next level, then this is the tool for you, owing to the intuitive user interface.
Among its finest characteristics are the following:
Options for selecting background and text color
Supports multiple languages
Variety of font colors, font sizes, and text styles
Option for multiple text slides
#3) Textro

Textro is another excellent text animation tool on this list, allowing users to experiment with different editing levels. The software includes amazing, user-friendly features and facilitates rapid sharing choices across many digital channels. In addition to being suitable for both expert and beginning users.
Below are some of the app's top features:
Innumerable combinations of colors
An extensive library of fonts
Options to upload one's own music or sound effects from the library
Options for including bespoke images as animation backgrounds
#4) Legend: Text Animation in Video and GIF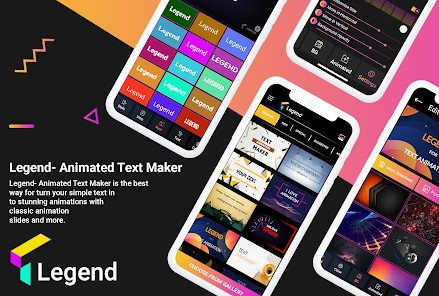 Source: STE Primo
The app 'Legend: Animated Text in Video & GIF' is an excellent choice for text animation and features such as intro videos for social networking applications and short videos.
This animated text app is a good option for marketers who wish to promote their businesses on social media platforms such as Facebook and Instagram due to its assortment of features that aid in the production of high-quality content.
The application has features such as:
50+ text animation styles
Personalization of short clips
Offers video format saving
Compatibility with social media networks
#5) Hype Type Animated Text Videos
Hype Type allows users to create visually stunning text-animated tales. The app is a wonderful choice for creating intro and outro animation since it offers over 300 text animation design possibilities. Interestingly, the program also offers motion typography to its customers.
Listed below are some of the app's most notable features:
Numerous text formats, making it excellent for beginners
Editing options for text layout mojo
Frequent updates
#6) Steller

Steller, one of the most popular animated messaging apps on the Apple store in 2019, is another notable program that enables users to create magnificent works of art. This word animation application has a user-friendly interface that enables multi-level editing.
Steller, an ideal software for advanced users, has the following features:
Save your creations from the feed
Limitless layout possibilities
Background music/sound effects options
P.S: If you're interested in learning more about animation apps, do give read our blog, Top-rated Animation Apps for iPad Users in 2022.
#7) Vimo
Vimo is a professional-grade text animation tool that offers the most advanced text animation and video editing features. With its cut-editing and clip-adjustment functions, the moving text app allows for multi-level customization.
Some of the app's most prominent features are:
Ratios for social networking sites
Royalty-free music
Reflection and rotational effects
Sound fade in and out
#8) Tomo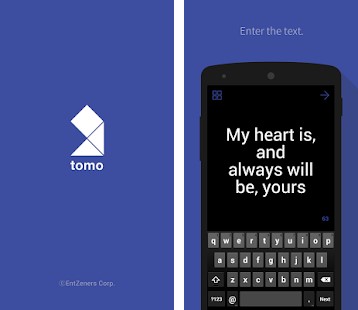 Source: APKMonk
Tomo is the most useful cartoon text app. The application gives its customers several text animation possibilities. The extensive variety of text animation possibilities coupled with backdrop options facilitates the creation of quality content.
Below are some of the features offered by the application are:
Options for adding background music
Simple sharing functions
Integration with social networking sites
Add animated text
#9) Adobe Spark Post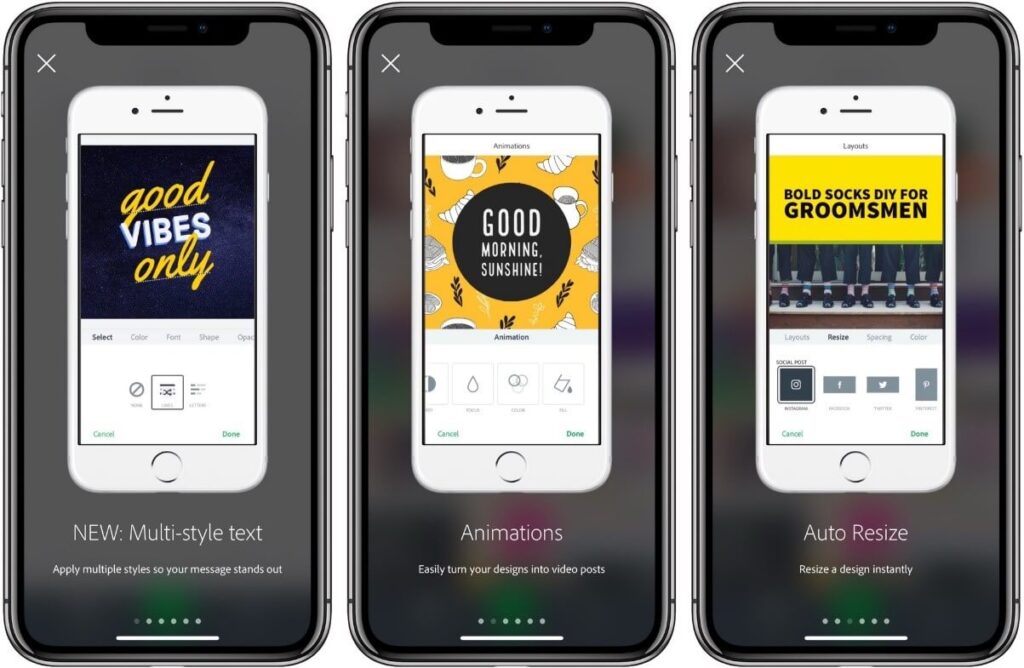 Adobe Spark Post is another animated text app that can be used for various purposes. In addition to functioning as an animated message app, the tool gives its users robust editing options at every level. The application features, among others, designing, editing, and many degrees of editing.
Here are some of the most notable features of the application:
Auto resize and recolor
Multiple layout choices
Integrating seamlessly with social media platforms
Options for eliminating the backdrop
#10) Quik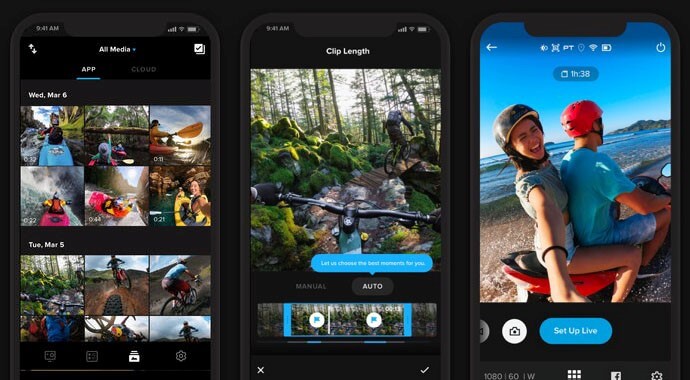 Quik, a unique tool for animated messaging, is a great editing app for GoPro users. Its simple connectivity with a variety of programs guarantees a superior creation experience.
In addition, the program provides over 23 themes and HD 1080 or 720p editing options. Therefore, it is an ideal application for professionals.
Some of the app's top features are the following:
Wide range of supported formats, from MOV to WAV.
A variety of customization choices for slow-motion cinematography
Flashback function
User-friendly U.I.
Useful Readings:
How Can Animated Text Videos Make a Difference?
If you look at the endless possibilities animation brings to the table, you'll have a clear idea of why it has become a prominent tool in the video marketing space.
Apart from facilitating to keep your content engaging, fresh, and within budget, it plays a significant role in establishing a unique identity for your brand.
Besides using text animation for branding, you can incorporate it into your email marketing campaigns. As you know, the human attention span is decreasing day by day, so it's necessary to use a form of content that can keep them engaged and focused.
To increase engagement rates, drive more conversion, and stand out from the crowd, you can also make use of short animated videos.
Apart from emails, you can place them on your website's homepage, landing pages, pricing pages, and even on form pages.
How Can Beginners Create Animated Videos?
Apart from text animation videos, if you're willing to explore the animation world and give your brand a new look, then you should try other animation styles such as 2D, 3D, whiteboard, motion graphics, etc.
You can watch a few tutorials available online and use software to make any type of animated video yourself. However, if you have the budget, then you can also hire any video animation agency.
Of course, this option is for those brands who have newly stepped into the animation world and have no clue how it functions. Instead of hiring a full-fledged team, you can simply outsource your animation project and get it done without any hassle.
Bottom Line
Text animation, also known as typography, is another technique beginners can use to give a new look to their brand. Unlike other animations, it's easier to make if you are using the right tools.
To help you in this hunt, we have created this great list of the best text animation apps we hope you find very useful. You can also visit their websites to learn more about them.
We'll be back with more insights on animation; till then, explore our animation hive!
Text Animation Apps – FAQs
How do you animate texts?
Animating text is quite easy. All you need is to first determine which objects or text you want to animate. Next, press the Ctrl button and choose the object you wish to animate. Then select Format>Group> to group all the chosen objects/text together. Now click on Animations and choose your favorite style.
No, animations are not expensive. A simple animated explainer video price ranges from $2,500 to $5,000. If you wish to add more characters and increase the complexity of it, then the price can vary.
Which apps can you use to animate text?
There is a huge array of apps available online that you can use to animate text. Some of the popular ones are:
Adobe Spark Post
Stellar
Textro
Text to Video
Quik
How can you animate text for free?
You can use the following animation apps to create animated text without paying a single penny:
Animaker
SnackThis
Motionden
Cool Text
Textanim
Related Resources: