Are you looking for the best guide to create your own animated video? Then look no further, and read our guide on how to create animated videos.
If someone is creating an animated video so you need to follow a complete process. Not to worry even it is a long process still it will be fun doing it. But before you start making an animated video here you need to learn how you can make one easily.
What if you are a newbie, it might be difficult for you to create your first animation but not difficult.
With the above statement, we don't mean to scare you we are here to make your problem easy.
So, let's jump into the overview of it.
Step By Step Guide To Create An Animation
Step 1: Create A Unique Script
Step 2: Design Your Storyboard For The Animation Video
Step 3: Pick Your Favorite Animation Style
Step 4: Start The Animating The Video
Step 5: Add The Right Background Music
Step 6: Narrate The Animated Video
Step #1: Create A Unique Script
You know how it's important to write down a new recipe before you attempt it? That's the same as creating your script before you decide anything else about your animated video.
Your animated video needs a script that will give you a clear idea of what should be in your video. Here are a few tips to help you get started if this is your first-ever script and you're not sure how to write a video script.
Write A Short Story
You need a line-by-line script for your animated video, but it's better to start small before that. Start by writing a summary of what your video will be about to get a clear idea of what the animation will look like. Define your goals, choose your target audience, and the message of your video.
Create A Story Out Of The Message
Rarely, some animations have more than one agenda. Hence, by creating such marketing videos, you can engage and convert a more qualified audience.
You need to be vocal about each message while keeping it appealing and engaging. If your video isn't engaging, then what's the point of making an animated video?
Your animated video should highlight these three aspects:
The hook – This is the start of the video, which will determine if the user wants to continue watching or not. Ensure the first 8-10 seconds of your video are engaging enough to make the viewer stay.
The patty – Once a viewer sticks through the hook and decides to watch the remaining video, the next is the main "body" of your animated video. However, you need to make sure the patty delivers exactly what the hook intended; in fact, if possible does better. Most animated videos create hype with the hook but destroy the patty, resulting in the video losing its purpose.
The CTA – Every animated video is created for a reason, especially if it's a marketing video. Suppose your viewer has made it through the hook and the patty, then congratulations because the last part of the video is fairly simple.
You will use the last part of the video to encourage the viewer to make a purchase. Once the viewer buys something, the purpose of your video has been achieved. Good job!
These tips will help you create a compelling video that will knock out your competitors in one blow (or video!).
Step #2: Design Your Storyboard For The Animation Video
Before you start creating a video, designing a storyboard using the script is a wiser choice. A storyboard is usually created in black and white and used to explain the purpose of the video and what it would look like.
If you're a beginner, I would strongly recommend creating a storyboard to understand if the concept of your animated video makes sense. In this step, you can make any changes to the script or the story to make the best animation.
A storyboard looks like a comic strip, and even as a beginner, you can find numerous online tools to make your own.
Here's what a storyboard looks like: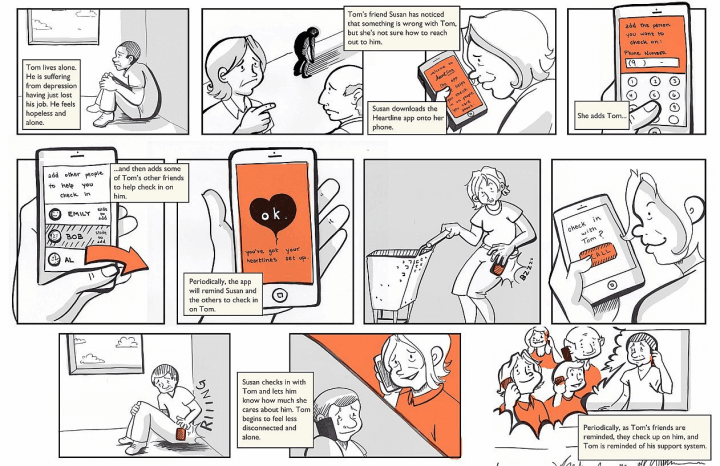 Use An Online Storyboard Tool
Don't try to open MS Word or Paint on your PC to create a storyboard from scratch because that's a time-consuming task; instead, look for an online tool. A tool will offer you a comprehensive interface that allows you to drag and drop the elements and make a storyboard within hours.
Most online tools also offer tools to convert the storyboard into an animation.
Step #3: Pick Your Favorite Animation Style
Now, this is the most fun part of creating an animation video – picking an animation style for your video. While this may be fun, it's not that simple either because there are numerous options to pick from.
Every animation style comes with unique features, pros, and cons, and you need to choose one that sits well with the script and core message of your overall video.
2D Animation
2D animation is the most popular type of animation for videos and has been in use for several years. The animation is created by adding images in a sequence and applying life-like motions to it.
It doesn't matter if you're in a B2B or B2C business; 2D animation is received well in both kinds of markets and is accepted by the audience. Do you know why 2D animations work? It's because most of your audience (or maybe all of it) grew up watching cartoons in their free time, and so most people enjoy 2D animation.
Combine 2D animation with a strong script, and you got yourself a great animated video.
3D Animation
3D animation is widely popular with animated movies and TV shows; however, that doesn't mean you can't create videos with it. In 3D animation, an animator gives "more character" to a 2D character by adding bones, structure, and skin weight to make it look more life-like.
There are various types of 3D animation styles you can go through before producing your video. But remember, if you're going to invest in 3D animation, take out your heaviest wallet because 3D animation does not come cheap. Alternatively, I would advise starting small.
Whiteboard Animation
Whiteboard animation videos are pretty common in the online business sector because they're believed to be more sophisticated, which I guess they are.
At this point, you know the core message of your animated video, and you know what it's about. If it's a product or service explainer video, I would highly recommend whiteboard animation with a great script and a compelling CTA.
Whiteboard animation is done on a white background, where a hand draws all the animation while narrating what's happening in the video.
Moreover, if your video is about promoting your educational app, then you can definitely use whiteboard animation to attract children to the video.
Infographic Animation
Infographic animation videos are all about adding a twist to your boring data; because focusing on numbers on a board during a presentation can be a bit boring.
Infographic videos present large amounts of data, graphs, and pie charts in a more colorful and appealing way that makes the viewer want to watch the video.
If your animated video is about presenting a quarterly report to your superiors, then try putting an animated spin on it with one or two characters. They're bound to sit through the entire video.
Typography Animation
The word "typography" here means typing down words to get a message across, and that's exactly what typography animations do. The technique is the absence of animated characters because it revolves around typed-out words, and the viewers have to focus on reading them.
Now, reading can be boring, which is why in typography animated videos, animators add some sort of trendy motions to the word. Sometimes you will see the words appear out of nowhere; other times, you'll see the letters jumbling up "in the air" and jumping around to form proper words. Such motions entice the viewer to sit through the video while enjoying it.
These are common types of videos, and you can pick the animation style according to what the video is about. You can also mix and match two animation styles to form something different.
Step #4: Start Animating The Video
Here are some of the options you can explore to start animating your video.
Hire An Animator Team
Of course, the first option is hiring a team to do the animation for you. This will prove to be a good option if you're going to use the team to get a series of animated videos because hiring for just one video seems a bit extreme.
The next thing you have to consider is the cost. Hiring an entire team won't come cheap because you'll need a scriptwriter, a storyboard artist, and an animator, at the very least.
Let's assume you hired a team you can afford. The only way to be sure that you made a good decision is if the team can perform well because a lot can go wrong. What if the animator doesn't have experience with different animation styles? What if the storyboard artist is slow? What if the scriptwriter lacks writing experience? If you're going to hire a team, make sure it's a good team.
Outsource Video Animation
The next best option is to hand over your project to a video animation agency like BuzzFlick. Hiring an agency will eliminate the process of hiring your own team and being skeptical if you hired the right resources.
The team at BuzzFlick is a complete video animation team that will take any idea and turn it into your favorite animation-style video. After hiring an animation studio, you can just sit back and relax and let the agency do its job.
Do It By Yourself
Now, if the budget doesn't allow you to hire or outsource the video animation, your last option is to do it by yourself.
I know I said animating on your own is tedious, and trust me, it is; however, I never said it was impossible. To get started on the animation, you don't need to go through online instructions or watch tutorials – all you need is reliable software that is easy to use.
Grab your PC, download an online software or get an animation app with great reviews, and start animating your video. It's going to be difficult, but once you invest enough time, it can prove fruitful.
Step #5: Add The Right Background Music
The background music is the cherry on top of the animation video.
Imagine watching a movie with no background music. That would be a dull nightmare! And that's why the next step is picking the right kind of music. Here are some tips on how to add music to make the video more appealing.
Align It With The Emotion
Your music needs to be according to the tone of your animated video. For example, if it's about a baby playing with toys, the background music should be a mixture of jingles and rhymes to appeal to the audience instead of rock music.
The music you choose will set the entire tone and evoke the right emotions in your viewers. It can be the aspect of your video that makes the viewer decide if they want to continue watching the video or not.
Know Your Buyers
Because there is a variety of music out there, it evidently means every person has a different taste in music. However, the easiest decision is to pick the right tone according to the age of your buyers.
If you're selling toys, you should add happy and jolly music; however, if it's a video about new sneakers, then you can go a little punk and rock.
If you're not selling anything and presenting an infographic video to your investors, then go for mellow and soothing music.
Don't Get Sued
Before you pick and add the music to your animated video, make sure the music is from royalty-free sites. This is a very important step because you don't want to get sued for adding music without taking permission from the actual creator.
Alternatively, you can purchase music from third-party websites as well, which means you won't have to ask anyone's permission or get sued.
Don't Limit Your Music
There are two ways to go about adding music to your animated videos. The first way is adding a single track to your video, and the second is mixing a bunch of tracks and then adding them to the video.
I would suggest picking a few options and then testing each track. The trial and error will help you pick the most suitable background music that sets the entire mood for your animated video.
Step #6: Narrate The Animated Video
The last and final step of creating an animation is narrating the video. Your animated video is now complete, the characters are moving about, the music is amazing, and the hook, patty, and CTA are all perfect.
The next step is thinking about a narrator, and you need a good one.
Like the background music, it's important to pick a narrator who knows how to entertain people just by using their voice. You can just add lines of text, but I'd recommend narration because that will affect viewers more than text.
Here are two options to consider from:
Hire Someone
The most evident option is hiring someone to narrate for you, of course. There are numerous narrators out there, with great references and portfolios.
You can find them easily on social media websites and pick from the available, affordable options.
DIY
The second option is recording your own voice. Now, I know it seems like a tedious task (trust me, I know because I hate my recorded voice) but the whole experience can be enduring and thrilling!
Start by getting the right equipment for the job and let your voice do the magic. Later on, you can change a few things on your animation software to make it perfect.
In Conclusion
Phew!
Glad that's done.
If you've made it this far on the blog, then it's safe to say that I've managed to explain everything well.
Creating an animated video might seem like a hassle, but the six steps I've mentioned will definitely give you the head start you need. Trust me, and once you create your first video, you'll want to do more. Good luck with animating your video!
Related Articles: