Discover the best of the best video production services. Check out their portfolios, clients, and best works. Learn how to pick the best video production service.
Choosing a video production service for your video marketing needs should be easy-peasy.
Just type in the phrase 'video production service' on Google.
And, there you go!
You will have hundreds of results from companies working in the video production space.
But, wait!
Are these really the best? Can you rely completely on Google's search to fetch the best results?
Like it or not, toppling down anyone in Google's rankings can be a cakewalk. No wonder how big the brand is.
And, most people mistake this research to be a cakewalk. When actually, it's not.
Some might be really smart with SEO. And, can end up outperforming even the best video makers on Google.
The result:
You get to handpick from the pack of mediocre ones if you're not guided.
So, to help you discover the best of the best, we've compiled a list of the top 15 video production services.
Reading on you'll discover;
Top 15 names in professional video production
Top clients they've worked for (Just to help you get an idea of quality)
Price points and the size of their team
And, most importantly, their specialty
So, let's get started.
How to pick the best video production service?
Before we dive into the list, here are four key assessment parameters to help you pick the best video production team. These would really help if you've no prior experience working with a video service.
Communication
The first thing you want to evaluate a production company for is communication. You want to work with a team that is eager to follow up with you throughout the entire video making process.
Arrange a meeting with them and pay close attention to their availability and response time. That will help you understand how they'll handle future interactions.
Expertise
Next are quality and expertise. You want to know if the team you're working with has quality skills and some fine experience to nail your job to perfection.
You need to operate as a detective for this one. Go through their social channels and portfolio work. Invite them to share some of the finest jobs they've completed.
Customization
Video services that offer customization are gems. You can't go with template-based videos at least if you've got a long-term strategy for your content.
So, eye for customization. Ask the team what degree of customization they can offer for your project. It can be a combination of motion graphics or 3D or sound-mixing, or anything. Ask them what they can do to make you standout.
Feedback
Last, but not least, you must evaluate that video studio on the feedback they got from clients.
Now you can surf on review platforms and hunt testimonials the agency got. Or, you can even ask them directly to share some testimonials.
If you want more to convince yourself, feel free to ask for permission to tap their clients and interview them.
Top 15 Video Production Services
Now that you've some idea of evaluating the best video production service for your business, it's time to take a look at some of the finest in the industry. We've enclosed a short 'Animation Review' section.
In it, we'll pick some of the finest works of each video making service and review them. We've paid special focus to the animation, script, and how the overall theme appeals to the viewer and impacts brand messaging.
So, without further ado, let's jump right in!
1. BuzzFlick
Founded: 2016
Team size: 40+ people
Pricing: $8000+
Clients: Findify, EarthLink, and Avia
Specialty: Commercial video production services
BuzzFlick is a US-based video production service. We specialize in marketing video production.
However, you can expect us to do anything from 2D, 3D, or motion graphics and even video editing. We tell stories to excite, engage and inspire the viewer.
The reason we are top on this list is that we've bagged some of the top clients in the industry in no time. We are scaling at an incredible pace. And, we're just getting started.
We're a full-service video agency. Feel free to reach out.
Animation Review: Christian Connection
It's a 2D explainer video that uses a simple color palette, which makes it easier to grasp the theme of the video.
Pop-up transitions are smooth and everything moves with amazing fluidity. Messaging is clear. With no fluff and a few sequences of characters interacting, it's effective and perhaps, easy to recall.
2. Sandwich Video
Founded: 2009
Team size: 10-50 people
Pricing: $50,000+ (big projects)
Clients: Aven, ExtraHop, Shopify, and Slack
Specialty: Modern Explainers and TV Spots
Sandwich Video is a prime-time player in creating modern explainers. Nothing beats their creativity and how they unleash that to paint beautiful scenes.
Videos not just hook you till the end, but can leave a mesmerizing touch too. Yes, they've mastered engaging the viewer better than anyone.
Started off with explainers, but now they're doing TV spots. So, they've moved into the ad space.
Animation Review: Descript
Let's watch this cool TV Spot they created for Descript, an all-in-one video editing tool.
The video uses vibrant room colors to appeal to the young creator audience. You can find the characters interacting with the narrator, which keeps you hooked till the end.
Ideation is unique and compelling. Product reveal is simple, yet ridiculously easy to recall. Some neat work with motion graphics and a witty script makes the message crystal clear.
You can't ask for more for a TV spot. It's lively, addresses the pain points of creators, and unveils a fascinating solution for all their video editing hassle. It's a fine job for a Tv spot!
3. Yum Yum Videos
Founded: 2010
Team size: 10-20 people
Pricing: $8000
Clients: Walmart, RedBull, American Express, & Vodafone
Specialty: Explainer videos
Yum Yum videos have a solid team of creatives eager to experiment and charm your brand promos with attractive and engaging explainers.
Having worked across a range of diverse industries, the team is well-equipped with experience and can nail any job to perfection.
Animation Review: Accelerant
We'll review the explainer they created for Accelerant, an insurance provider in the B2B space.
It's a 2D explainer. And, I must say that animations roll out perfectly to bring ideas to life. Transitions can't be any smoother. Graphics are high-end. Overall, it's a job nailed to perfection.
However, I believe that script can be difficult to follow in the middle of the video. But, again, since it's targeted at a B2B audience, I hope that animations unveiling a lot of detail (in a short time) are easier to grasp for the viewer.
4. BX Films
Founded: 2010
Team size: 2-10 employees
Pricing: $25,000+
Clients: Allegiant Air, IBM, WhirlPool, and Toyota
Specialty: Creative commercials
BX Films is known for creating rad videos for agencies, products, and brands. They have aced business video production services.
You can find anything from corporate videos to creatives, and from explainers to the product reveal as well as brand promos on their site.
Animation Review: Alpine
Let's look at this company branding video they made for Alpine.
The concept is original and gives you an inside-out view of how life at work is at Alpine. It captures team emotion, and growth aspiration by interviewing employees from the company.
It's a sneak peek into how's life is at Alpine. In my opinion, it's a master corporate branding video. It captures the emotion behind the drive to compete, advance skills, and hunt for growth.
5. Antimatter
Founded: 2016
Team size: 1-10 employees
Pricing: –
Clients: UEFA.com, Cartoon Network, and Bundesliga
Specialty: Short cartoon animations
Antimatter is an Italy-based, motion graphics studio. Known for creating cartoon animations, they also work on motion graphics. And, have created some unique concepts that are pleasing to the eye.
With character-filled animations, they're creating amazing short-form content to evoke warm emotions and engage them with a heart-touching story.
Animation Review:
Let's check out the video they did for Beam Wallet, a digital payment solution for customers. It has vibrant colors to spread positivity. And, the use of motion graphics adds a futuristic appeal to the video.
The concept is clear as water and the script is kept simple. I must say there is no fluff.
Plus, you are introduced to the concept of voluntary data sharing and swift online payment with a lot of ease. No jargon. Just short and simple messaging. Creative and original, yet effective at the same time.
6. Demo Duck
Founded: 2011
Team size: 20-30 employees
Pricing: $25000+
Clients: Canon, Geico, Discovery Education, and Netflix
Specialty: Full-service video production studio
DemoDuck is another big name on this list. They're a full-blown video agency. Not just limited to some specific niche.
In fact, you can expect them to work on anything from 2D or 3D to social media videos as well as educational and corporate stories and testimonials. And, you can see a handful of amazing jobs they've done in motion graphics.
Animation Review: American Cancer Society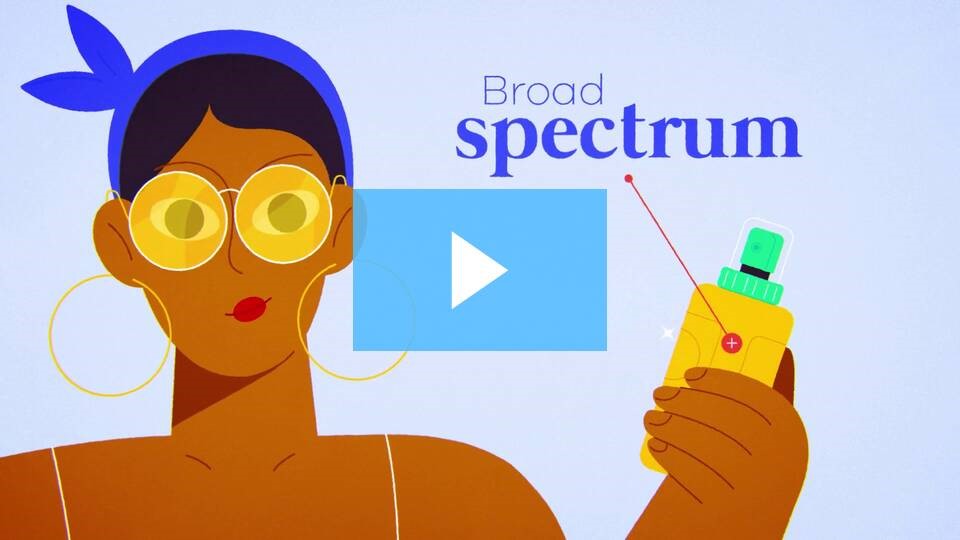 American Cancer Society – Demo Duck
It's a 2D animation explainer video. It uses bright colors which is ideal for a sunny scene. The message for skin protection is clear.
To enhance the visual aid, they've used a full spectrum of skin tones. All in all, the video unfolds a strong message for skin protection in the sun.
And, busts a lot of myths related to waterproofing and lasting time for sunscreens in a fun and playful way.
In addition, it clearly targets sun lovers and advises them to take extra care when choosing to stay in the sun. Though the topic is sensitive, the 2D explainer makes the messaging effective and creatively engaging.
7. Early Light Media
Founded: 2012
Team size: 2-9 employees
Pricing: –
Clients: PayActiv, Callaway, GKV
Specialty: Commercials and Explainers
Early Light Media (ELM) is a full-service creative video agency. The creatives at ELM love to tell stories. They believe that whatever the concept, it must be compelling enough to take the viewer on an emotional journey.
Whether you want a video or an animation, they love to evoke curiosity with visuals and leave the viewer with a heartwarming experience to cherish the message.
Animation Review: XPO Access
It's a product video that features sound and motion transitions to hook the viewer. There aren't many visuals in the video, but the delivery is precise and effective.
Anyone can easily digest the message. However, I believe some animations or motion graphics could have been added to show how the solution caters to the problems of event access.
8. MhF Creative
Founded: 2013
Team size: 2-9 employees
Pricing: $10,000+
Clients: Xpedia, Hyve Group, and Nubreed Events
Specialty: Business video production services
MhF Creatives claims to have aced their game in corporate videos. They're a London-based studio and have honed their skill in corporate videos for years.
Though you can have them do a lot of other stuff (animations and explainers), corporate videos that have a unique and engaging human touch are their game and continue to underpin their growth.
Animation Review: Yodel Mobile Promotion
The video is a brand promo for an app marketing company, Yodel.
It tells an original brand story. The video shows achievements and accolades and depicts how the brand solves the problem of its customers (without any voiceover). It's perfect for a promo.
With a touch of motion graphics and a series of appealing visuals, it highlights the brand proposition with ease.
The music in the background makes the experience only more exciting, while the order of visuals seems coherent and convincing for a 1-minute promo.
9. Epipheo
Founded: 2009
Team size: 10-50 employees
Pricing: $15,000+
Clients: Deloitte, SAP, and Dupont
Specialty: Explainers and Educational videos
Epipheo is another big name on this list. They propose creating A-ha moments for you and your audience with video content.
3D and explainers are their specialty. However, you can ask them to do anything as they're a full-blown video service.
Animation Review: Travelers
It's a motion graphic explainer made for business video production. It features motion graphics to tell a story. The messaging is clear and the color palette (red, and black) is ideal for a video themed around Employment Liability.
With stats popping up in the middle and shapes to create scenarios paired up with background music, the creators make the viewer more poised.
Transitions are smooth while the illustrations with motion graphics can't be more perfect.
The call to action is also simple and impactful.
10. Yans Media
Founded: 2015
Team size: 10-49 employees
Pricing: –
Clients: Barclays, Hive and Stacks City
Specialty: Motion Graphics & 2D
Yans Media is an Armenia-based and one of the best video production service companies. They offer a range of professional video production services for business including motion graphics, 2D and 3D animation.
Creatives at Yans Media have a keen eye for quality. They want to tell stories that inspire audiences and nurture a relationship with the brand.
Creatives want to unleash the power of video content to explain complex concepts with art and animation, making learning engaging, and the message more compellingly persuasive.
Animation Review: Buglab
It's a 3D explainer video made for Buglab, a cybersecurity testing solution that uses blockchain.
The theme and color palette used for visual is perfect while the 3D animations make it engaging (for anyone) to understand the concept of security. The sound in the background as well as the transitions sync really well.
For a technical audience, the explainer does really well to understand how exactly the solution works. Again, it would have been much more difficult to explain the concept without using animation and motion graphics.
11. Faze
Founded: 2013
Team size: 1-10 employees
Pricing: $50,000
Clients: VAMA Cosmetics, AMEX India, Nutribrakes
Specialty: Promos
Faze is a full-service digital agency that hones its game in professional video production. You can expect them to do animations, and illustrations as well as SEO.
Animation Review: American Express Promo
It's a 2.5D promo that combines motion graphics to tell a story in just 6 seconds. The script is to the point and catchy, perfect for brand recall.
12. Skalawag Productions
Founded: 2009
Team size: 2-9 employees
Pricing: $5000+
Clients: Kraft, Vera Bradly, and Fair Trade Certified
Specialty: Customized video production
Skalawg Productions is a full-service Chicago-based video production service. They offer motion graphics, animation, sound mixing, and video editing. You can even ask for customization. That's what differentiates them from most studios.
Animation Review: Serenity Kids
It's a promo for Serenity Kids, a dairy-free baby food brand. The idea is simple and easy to catch the eyes of the viewer. Text-on-screen does enough to tell the viewer where exactly the product differentiates from competitor ones.
13. Webdew
Founded: 2016
Team size: 2-9 employees
Pricing: $5000+
Clients: Microsoft, Uber, and T-Mobile
Specialty: 2D animation explainers
WebDew is a creative video production studio.
They're offering a range of services including infographics, animation, kinetic typography, and much more. Creatives at Webdew lay great emphasis on communication to nail your job to perfection.
Animation Review: DecksGo
The 2D explainer hooks you in the start with the character. The product reveal is simple, yet done in a compelling fashion.
Crosses out pain points of customers. So, messaging is clear and impactful. The illustration also shows the product solves the problem of customers, which is perfect!
14. Feel Right Inc.
Founded: 2016
Team size: 2-9 employees
Pricing: $5000+
Clients: Aiper, Arzopa, Tribit
Specialty: Creative ads
Feel Right is one of the top professional video production companies. Creatives at Feel Right are with the view that a video experience should be less intuitive. They're a top business video production service company.
Perhaps, it would differentiate from what competitors are creating and make the content delightful to the eyes of the viewer.
Animation Review: ARZOPA
It's an ad that has sequences of people watching videos everywhere. The message is clear and cuts through the noise effortlessly.
Users can easily resonate with the characters in the video and how a portable monitor will help them on the go.
15. Indigo Productions
Founded: 1991
Team size: 2-9 employees
Pricing: $5000+
Clients: SalesForce, Sony Pictures, AM New York
Specialty: Corporate Videos
They've been in the market for a long time now. Indigo specializes in business videos. They continue to please clients with more attractive and persuasive messaging for corporates and commercials.
Animation Review: UNice
It's a brand story that includes women of color in the video. It captures a sequence of them breaking the stereotypes that have been associated with beauty for a long. Messaging is bold and will certainly move the viewers.
16. Fog Coast Productions
Founded: 2017
Team size: 2-9 employees
Pricing: $5000+
Clients: Lever, Tencent, Instacart
Specialty: Business Videos
Fog Coast is a San Francisco-based video production service that hones its games into producing high-quality videos for businesses. Whatever the size of the business, they come with a collaborative spirit for each project.
Animation Review: FLYR
It's a corporate story made of Flyr. It captures the voice of the Head of analytics.
What should you do next?
Now that you've finally gone through the list of top video services, your job as a marketer has just started. You may wonder what now?
Well, frankly, there are a few things you need to get done before you reach out to any video agency. So, I guess this is what you call doing your homework.
Plan your content brief
The first thing you need to do before you tap any of the best video production companies is to plan your content brief. A similar and more popular used term is 'creative brief'.
In it, you'll highlight your audience, brand, and the message you want to deliver. This brief documents what your audience wants and what you choose to achieve in great depth. It helps you sketch out where the paths of you and your audience intersect.
Need help with your creative brief?
Preparing a creative brief could be hectic let alone choosing between Video Production Services. Why not get some help?
We at BuzzFlick can help you prepare your creative brief with a lot more ease. Our creative heads and artists will get in touch to you help you figure out your audience in no time.
Not only will we help you to nurture your messaging, but also will go one step further in highlighting what kind of video content you need. That will surely make your job a lot easier. Needless to say, you don't have to do all the hard work when there are dedicated video services out there for you.
Prepare your budget and questions
Most clients make the mistake of reaching out to marketing video production services without having a precise budget for production. It's a problem.
You don't want to go about the job aimlessly. So, it's best to have a budget or some idea of it before you start.
Next, you want to have a list of questions that you'll be asking the production team. These can be related to timelines, project management, and testimonials.
Peek over the creative
Having prepared a creative brief, you can handpick a few agencies you want to reach out to.
You can ask them to share some of the finest works they've done. Make sure to ask for relevant examples.
Let's say you want a video explainer, ask for the same. You can even ask for a sneak peek into the explainer video production process. That would help you to make up your mind.
What's important here, is that you need to look beyond the creative.
Don't just get excited with the visuals in the creative. Eye for metrics. You can ask for engagement or shares, or figure out if the creative did the job the brand wanted it to.
Ask for a proposal and quote
The last step is asking for a proposal. After going through a list of companies, you need to ask for a proposal. In it, ask them to share the timeline and how the project would be taken up.
Next, you want a quote. Invite a quote.
Want a quote?
Reach out to us and get a quote for high-quality video production, today.
Wrap up
Let's wrap this one up. Above we discussed the top 15 video production services. We gave you an overview of the agencies and their respective clients.
Plus, we also highlighted their specialty in the video. Lastly, we also did an animation review for one of the finest works for each of the agencies on this list.
Then to help you make up your mind, we have also shared a comprehensive guide on what should you do next.
You can prepare a creative brief, define a budget and ask for a proposal and quote. Interview the team, and get the best one onboard. That's it.
Hope you got a nugget or two!
Related Articles: