YouTube channel description plays a significant role in the success of your channel. Learn with us how to write perfect YouTube channel descriptions.
Among the most popular search engines in the world, YouTube stands in second place.
YouTube is a must-have for gaining exposure for your company because it has more than 1 billion active users.
Your video's description on YouTube can make or break its success. It's more than spelling errors and grammatical mistakes. It's also about SEO, tags, and keywords.
Today in this blog, I'll tell you all the secrets, tips, and tricks to writing perfect YouTube descriptions and how to optimize the SEO of your YouTube channel to stand out in the competitive digital industry.
So, let's get started!
What Are YouTube Channel Descriptions?
Well, to put it simply, any text you add on the channel 'About' page or below the video to help your viewers understand what your brand is all about.
But, YouTube descriptions are of two types:
YouTube Channel Description

In the channel 'About' section YouTube channel descriptions are added. As a means of providing information about you to others. Unfortunately, it doesn't receive the care and love it deserves from viewers. How sad!
YouTube Video Descriptions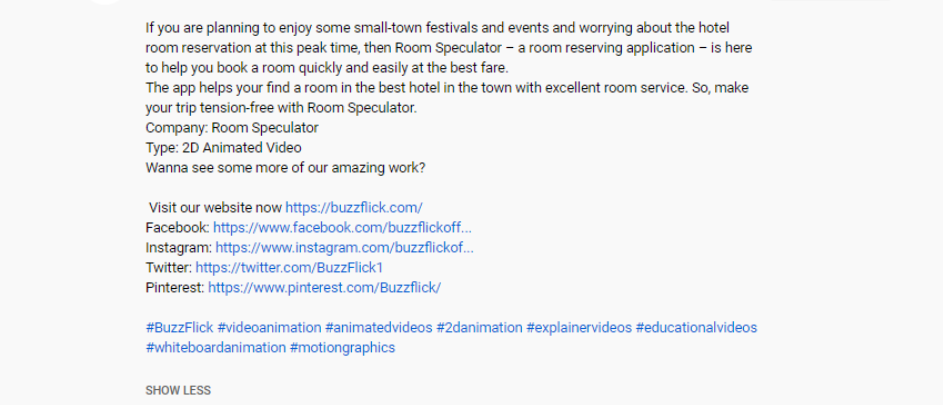 Each of your YouTube videos has a description that appears below it. These snippets of information assist people in discovering and determining whether they should watch your video content or not.
Also, when if you shower it with a little compassion and love, these small descriptions can boost the watch time, view counts, subscriptions, and the SEO of your channel
Isn't that great how such a small thing can make a huge difference?
So here comes the billion-dollar question,
"How do you write the description for your YouTube videos?"
Is there a specific pattern or practice you follow? Or do you just write some random words that describe your video content?
Well, if you are following the second practice, then my friend, you need to wake up and get to work.
Don't worry! This won't be an overwhelming task. Below we'll explore some of the helpful tips to get on the right track.
Shall we begin?
YouTube Text Formatting
This might be a new terminology for many of you, but this is a helpful practice if you want your descriptions to stand out.
If you upload plenty of videos on a daily basis, you must create a 'description format' for them. Creating one makes it quite easy to roll out effective, SEO-optimized video descriptions without missing out on a single important detail.
You must include the following things:
Write up a short description for the video. Keep it to three lines or less to display above the fold and include relevant keywords.
Make sure to include links to any resources that were referenced within the video.
Ask your viewers to subscribe to your channel.
Add 'chapters' to your video if it's long or covers a lot of different topics.
Include a link to your website and any of your social media accounts.
You might be a little surprised to learn all of this! But hold on to your horses because there's more.
YouTube Description Template
Additionally, you can configure a default description that includes settings, categories, titles, and basic information that is automatically included in each video's description.
This will save you time by cutting and copying repetitive information such as your social links; nevertheless, make each video description (particularly the first three words) original and fresh to get the best possible results.
That was all about how to write a good YouTube channel and video description. Now it's time to learn how to add video descriptions on your YouTube channel
How To Add YouTube Channel Description
Well, it's quite easy! Just follow the steps mentioned below, and you're good to go:
Go to the website, YouTube.com
Sign in to your account
The top right corner of the website has an image of your thumb that you can click to access your profile.
To access the Creator Studio, click the corresponding button.
Now click on 'view channel'.
Go to your YouTube channel's 'About' section.
Simply click on the "Add Channel Description" option.
Describe your channel's and tell viewers everything they should know about your channel
Select "Done."
Select ' view as public' to see how it appears to other YouTube viewers.'
And that's it.
Now let's learn how to incorporate the right keywords in your descriptions.
The Right YouTube Keywords
As we are familiar with the fact that keywords play a significant role in improving the SEO of a website.
Similarly, if you want your viewers to find your channels and videos on YouTube, you need to use the right keywords in your channel and video descriptions.
Remember, the keywords on your About page matter a lot to YouTube's algorithm. So, choose wisely!
How to choose the right keywords for your YouTube
Select the specific ones
Select a few keywords that best represent your content to get visitors to your video. Increase your video's visibility in search engine results by including these keywords in the description (the first two lines) and title.
Secret tip: Are you unsure about which keywords are perfect for you? Try Google Trends and Google Ads Keyword Planner to get the ball rolling.
Choose and reuse
Your video's relevancy to a certain phrase is demonstrated on YouTube by repeating your keywords. But make sure to avoid keyword stuffing by using the keyword no more than three times in your content.
Copy your contenders
Well, you might be surprised to read this heading because copying someone's content is highly discouraged in the digital world. However, when it comes to keywords, it's highly recommended!
Metadata, undoubtedly, is a powerful tool to enter into YouTube's "suggested video" algorithm. This algorithm is built by looking at the videos that users are most likely to watch next.
While you're writing, look at famous videos on the same subject to get some ideas for "related keywords" to put in your own descriptions.
What else should I include in the description of my YouTube channel besides relevant and killer keywords?
Well, I am glad this question popped into your mind.
This is the section of your channel where you want to show off your own style. 5000 characters is the maximum number of characters you can use, but pay close attention to the first 125 characters (those referred to as "above the fold") of your description.
Secret Tips And Tricks To Write Catchy YouTube channel Descriptions
Get to know your target audience and use their lingo to make it easier for them to understand what you and your videos are all about.
Describe what they can anticipate from you. It's time to say no to clickbait! Your search engine rankings (and your reputation!) will suffer if your content doesn't match your description.
Avoid keyword stuffing. Incorporate the right keywords in a harmonious style.
Words below the fold also matter. Add your metadata live and links hoping that your viewers will click on 'show more'.
Be genuine. You want clickable descriptions that allow users to learn something new or offer a benefit because over 90% of individuals claim they learn about new businesses or goods through YouTube.
Include CTAs. Ask your audience to like and comment on your video and subscribe to your channel.
Stellar YouTube Channel Descriptions To Seek Inspiration
We believe in always showing what we talk about. Here are some top-rated YouTube channel descriptions examples:
Yoga With Adriene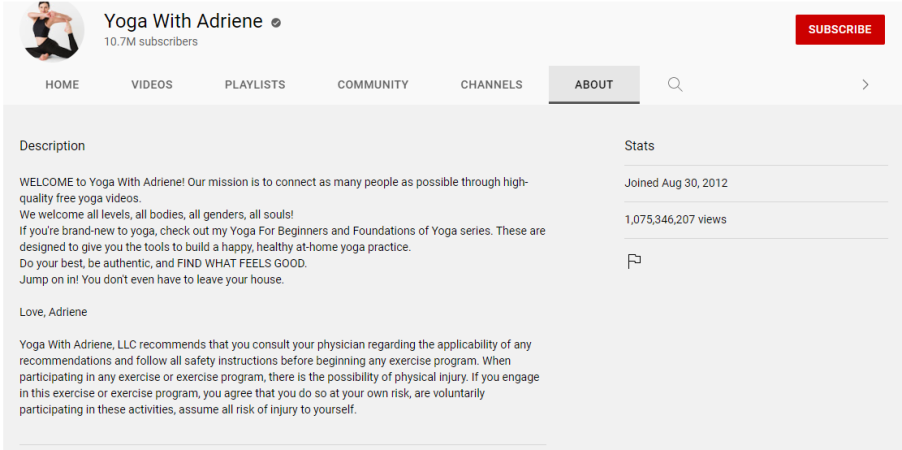 Tips With Trena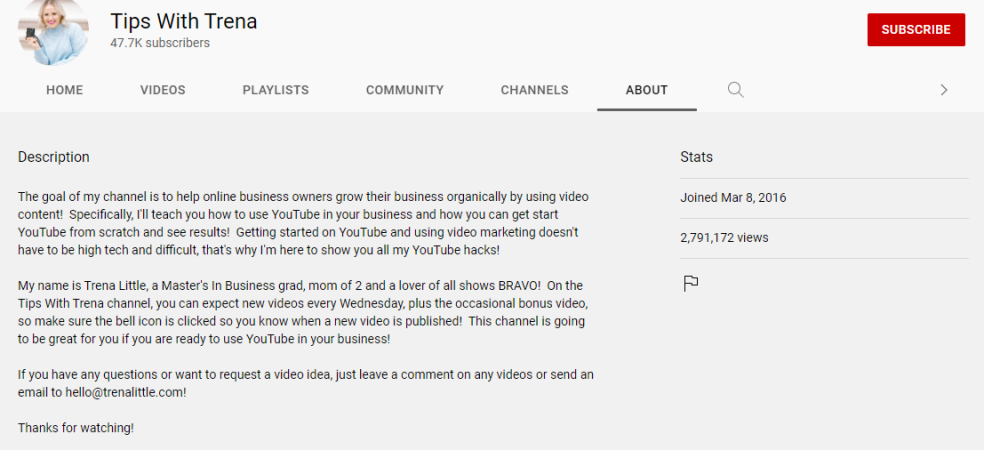 Unbox Therapy

If you're looking for some video ideas for your YouTube channel, then do give a read to top YouTube video ideas for content creators.
Hashtags For YouTube
Hashtags are a great and useful way to help the right viewers find your video content. But don't overuse them!
There are three distinct ways to incorporate hashtags on YouTube:
In the description of the video. The maximum number of hashtags that you can use on YouTube is 15.
Just above the title. The first three hashtags you put in the description appear in the video's title and description.
In the video title. This way will make sure no extra hashtags are displayed above the headline.
Useful YouTube tag tips
Relevance is key, so include things like your company name, related themes, and the location where you shot the video.
YouTube will overlook hashtags longer than 15 characters. So, make sure to adhere to this rule.
You can search for trending hashtags using 'tag explorer'.
Apart from YouTube video descriptions, many other elements matter when it comes to the success of your YouTube channel. Your channel's banner can also help you to stand out among your competitors.
To learn more about YouTube banners, do give a read to our comprehensive guide on YouTube banner size and dimensions.
Are You Ready To Write Your YouTube Description?
Now that we have reached the end of this blog, you must now understand why descriptions matter and how you can write the best YouTube video descriptions.
Well, this is all the help we can offer you when it comes to writing descriptions. But if you need help with the editing part, talk to us. BuzzFlick is among the top video editing companies offering youtube video editing services at affordable prices.
If you need any help with editing, feel free to contact us!
Further Read: