Looking for paid or free 3D animation software? Here is a list of the top 10 paid and free 3D animation software you can use.
Ever since the advent of the animated film "Fantasmagorie" in 1908, animated storytelling has forever changed people's imaginations. From legendary cartoons like Tom & Jerry and Looney Tunes to Japanese animations like Graves of the Fireflies and Spirited Away, animated videos have become a significant part of our pop culture.
With a wide range of paid and free 3D animation software available today, allowing absolutely anyone with a basic knowledge of 3D animation programs to make visually stunning animations, the world of marketing stands revolutionized.
These software can help you with stop-motion animation, motion graphics, CGI, typography, and a whole lot more.
Video animation plays a key role in business development. According to (Tubular Insights), 64% of social media users make a purchase after watching a branded social video. Therefore, it's imperative for marketers and video makers alike to make use of the best 3D animation software to bring life and engagement to their videos.
So, we've put together a list of the top five free and five paid 3D animation software that would surely contribute to your professional endeavors.
Part1: Best Free 3D Animation Software (Total 5)
Part2: Best Paid 3D Animation Software (Total 5)
Part 1: Best Free 3D Animation Software (Total 5)
1) K-3D
2) Blender
3) Daz 3D
4) Wings 3D
5) Clara
#1) K-3D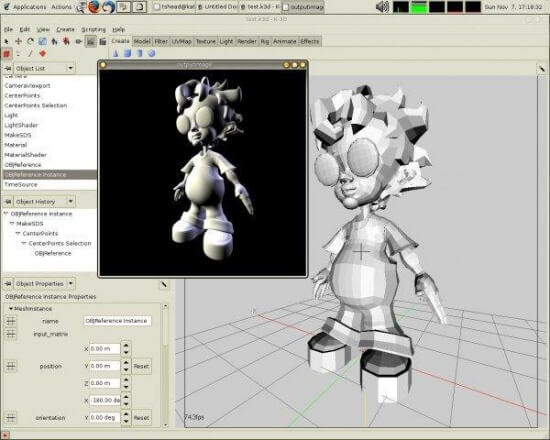 Features
Packed with node-visualization pipeline.
Flexible and highly adaptive.
Procedural workflows.
Top-notch 3D animation tools.
Pros
Easy-to-use and highly intuitive interface.
Free of cost.
Offers both 2D and 3D animation programs.
Dynamic undo and redo options.
Cons
No start-up guide for beginners.
Description
K-3D is a dynamic 3D animation software for video makers and artists alike. It comes with a sleek combination of plugins ranging from the node visualization pipeline to parametric workflows. If you already know about animation processes, then it will be a breeze for you to incorporate K-3D into your work.
This offers tremendous possibilities to animators compared to any other conventional modifier stacks. It's highly customizable and has a user-friendly interface.
#2) Blender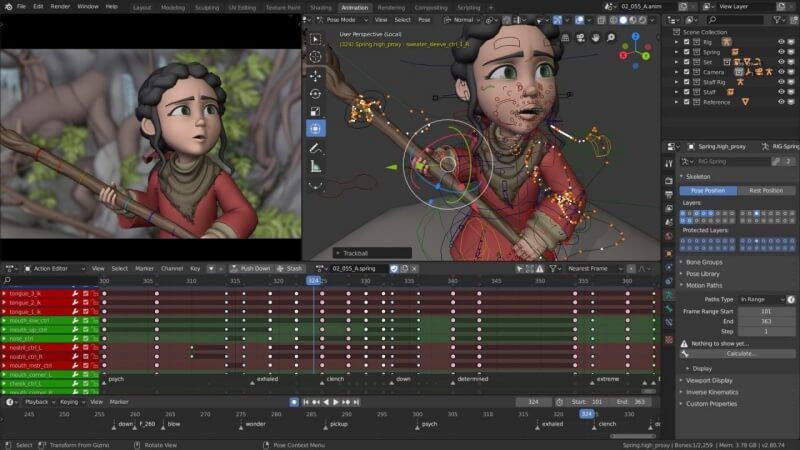 Features
Compatible with VR, GPU, and CPU.
Built-in video editor.
Top-notch production path tracers to create renders.
Compatible with video game creation.
Pros
Seamless integration with camera movement.
Available for Windows, macOS, and Linux.
Delivers high-end 3D animation and rigging.
Cons
Description
Blender is another incredible open-source 3D animation studio. It features a plethora of 3D animation, including texturing, video editing, body sculpting and simulation, 3D modeling, skinning, rigging, compositing, and more. It's also compatible with hosting applications 3D architecture designing, visual effects, 3D animated films, among others.
#3) Daz 3D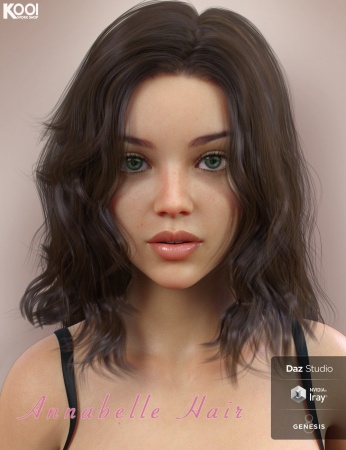 Features
Seamless visualization and editing.
Highly interactive user interface.
Dedicated marketplace.
Easy-to-use animation tools.
Pros
Animate models automatically.
1000+ 3D content.
Quick and efficient 3D animation.
Cons
Steep learning curve.
Limited updates.
Description
Daz 3D is a specialized 3D animation software that can be used by both freelancers and professionals. You can buy custom 3D models and templates on its marketplace or you can modify the already available preset models.
Moreover, this software also features a diverse range of tools to make changes and modifications to your animation, making it perfect for creating explainer videos. Not only that, but you can also make your own model with various configurations and allow the software to animate automatically.
#4) Wings 3D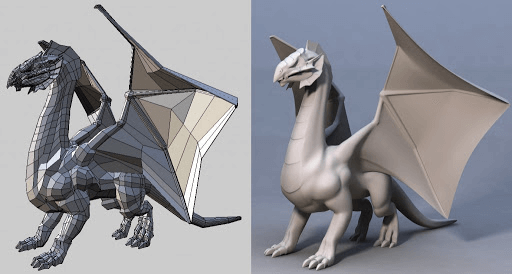 Features
Integrated AutoUV mapping.
Highly adaptive user interface.
Compatible with light and materials.
Pros
A community forum for 3D animation enthusiasts.
Free of cost.
Diversified tools to generate 3D effects.
Cons
It's not as intuitive as other 3D animation programs.
Description
Wings 3D is one of the best free 3d animation software for beginners that allows you to make all types of animation easily. It can be used for a wide range of tasks of varying complexities. If you don't have a big budget but want to do 3D animation, then this is one of the best software you can opt for. It has a diverse range of features that can come in handy in making some really cool 3D animations. However, the interface might be a bit clunky, as compared to other software on the list.
#5) Clara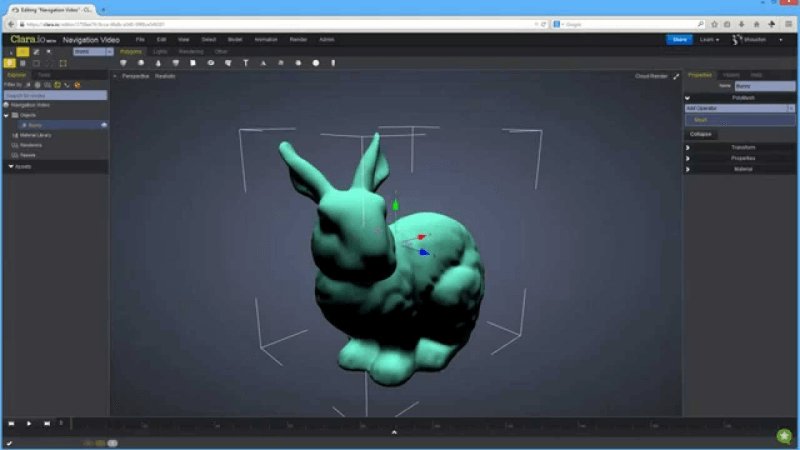 Features
Key frame animation.
Web browser-based software suite.
Supports 30+ 3D file formats.
Customizable user-interface.
Pros
Cloud-based and free of cost.
Ideal for basic modeling techniques.
No need to animate everything manually.
Cons
Inadequate and unresponsive user interface.
Description
Clara is a cloud-based free 3D animation software that is ideal for handling complex animation projects. It's run on a web browser but it's capable of doubling up as a 3D animation movie maker.
The software doesn't require you to animate every frame manually. By using interpolation, you'd be able to fill the frames between the keyframes. Moreover, you can also embed your 3D animation into websites.
Part 2: Best Paid 3D Animation Software (Total 5)
1) Maya
2) Houdini
3) Cinema 4D
4) Motionbuilder
5) Modo
#1) Maya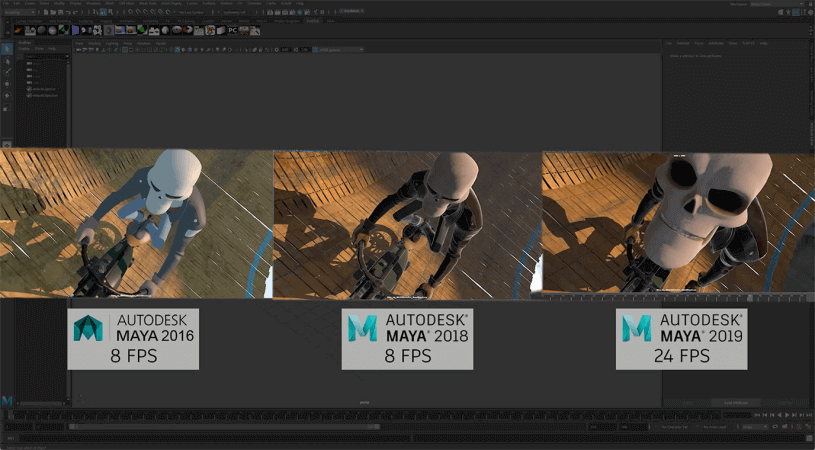 Features
Auto-rigging tool.
Free trial for 30 days.
Hollywood-worthy visual effects.
Academy award-winning software.
Pros
User-friendly interface.
High-end rendering 3D animation software.
Seamless cloth and explosion simulation.
Cons
Description
Maya is an award-winning 3D animation software that excels in the customizable user interface. The software has been used for numerous feature films and TV shows, including Harry Potter and Lord of the Rings, Spider-Man along with South Park, and Game of Thrones.
Recently it helped First Man The Movie to win the "Best Award for Visual Effects". One of the prominent features of Maya is that it allows you to accomplish complex tweaks seamlessly. Moreover, it also offers an auto-rigging tool that automatically works on winged and four-legged 3D models.
#2) Houdini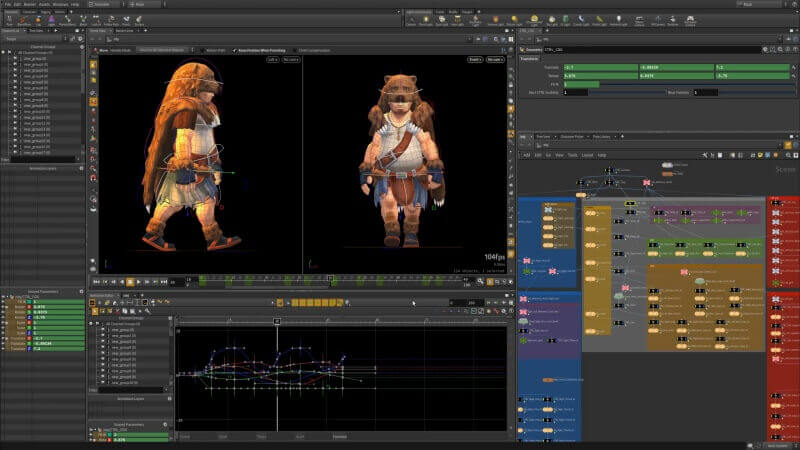 Features
Auto-rigging tool.
Built-in simulation tools.
Ideal for 3D animation and game development.
Pros
Save the animators' time and effort.
Auto-simulates anthropologic and quadrupeds characters.
Cons
Not flexible with character animation.
Description
Houdini is a node-based 3D animation software that makes the life of a 3D animator so much easier. Since its procedural nature, it automatically makes minor adjustments and saves the animators time and effort. Whether it may be terrain maps or hallways of a mansion, you can animate almost anything with the procedural modeling approach.
It also features an auto-rigging tool that also prevents the hassle of manually animating anthropologic and four-legged 3D characters.
#3) Cinema 4D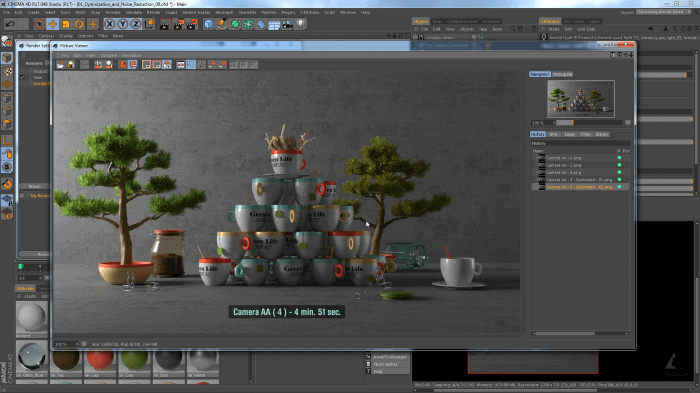 Features
Built-in supported documentation.
Intuitive character animation tools.
Scene reconstruction.
Pros
Easy user-interface.
Seamless to integrate live footage.
High-end camera tracker.
Cons
Limited native content.
Limited functionality of modeling tools.
Description
Cinema 4D is known for its usability and reliability. The learning curve isn't steep as compared to other 3D animation software. The software features a Body paint tool that allows you to make changes and view the textures simultaneously.
Moreover, it also features the LOD tools for object simplification as per their camera distance and various other aspects – resulting in enhancing the overall rendering speed. The software is packed with a wide range of intuitive tools to animate characters splendidly.
#4) Motionbuilder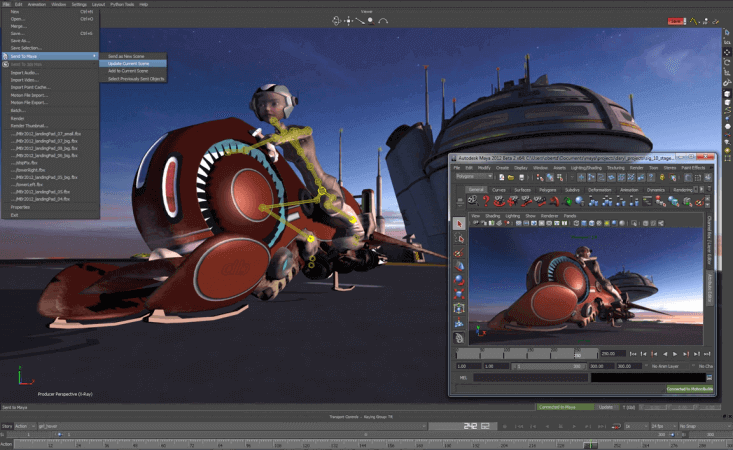 Features
Supports major software tools.
Huge library of animation files.
Editing motion capture.
Pros
Export any project.
Thousands of animated characters.
Cons
Description
If you're looking for the fast and smoothest key frame animation software, then Motion builder is the most optimal option. It expedites the process of the key framing of biped and humanoid characters. With a tool called Human inverse kinematics, it immediately rigs humanoid characters. Not only that, rigged 3D models supports almost all the major 3D animation software tools.
#5) Modo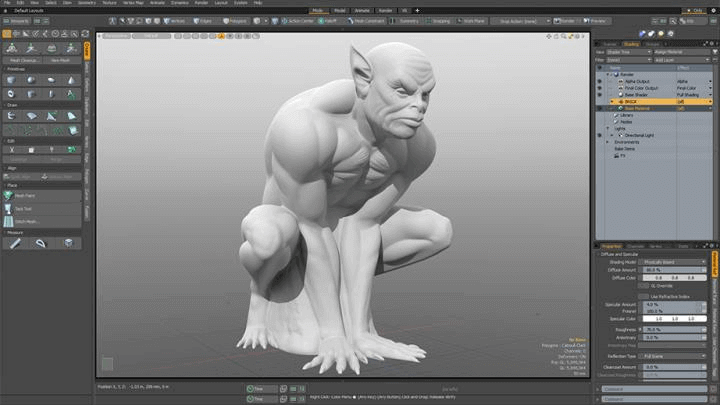 Features
Subdivision surface and polygon modeling.
Dynamic UV workflows, animation, and rigging.
Camera projection tools.
Pros
Easy navigation and user interface.
A diverse range of function tools.
Helpful tutorials.
Cons
Limited user community.
Lack of updating sculpting tool.
Description
Modo is one powerful 3D animation software for professionals to fully explore and incubate ideas without the need to follow an extended procedure.
It has one of the most interactive navigation, toggling hotkeys, and modeling that enhances the overall user experience. The software offers fast and efficient rendering.
Final Words
There are loads of 3D animation software available, and every company has a different nature of business. Therefore, it's imperative to choose the right software that completely fulfills your requirements. For example, if you have a highly professional requirement then go for the premium ones, otherwise, free 3D animation programs would suffice.
Related Articles: