Product teaser videos is a short video which aims to engage viewers and increase excitement about what to come next? Here are the best video teaser examples!
Are you in search of some of the best and most inspirational video teasers? Your search ends here because today, BuzzFlick will be talking about product teasers that organization's over the years have used as an effective marketing tool.
What Is A Teaser Video?
So, what exactly is a product teaser? Well, to spark an interest and create a buzz in the market today, you need to provoke your audience via teaser videos.
As the name suggests, teaser videos are videos that intrigue your customers to learn more about your brand. They entice your audience by creating excitement about the product that you are about to launch.
Video teasers are aimed to deliver minimum insights into the product – just enough to get your audience engaged. This approach builds tension and leaves your audience wondering and anxiously waiting to hear more from your side.
Some of the best product launch videos were basically teasers launched to create anticipation. This blog is all about some teaser ad examples that managed to get their audience engaged (big time!).
Some brands created their product teaser videos by themselves; others opted for a to help them with their teaser video.
Got a new product? Want to create the best product introduction videos? Read our comprehensive list of video teaser examples and get inspiration for your own. But first, let us tell you some best practices that might come in handy when creating your own product video.
Best Practice For Your Product Teaser Video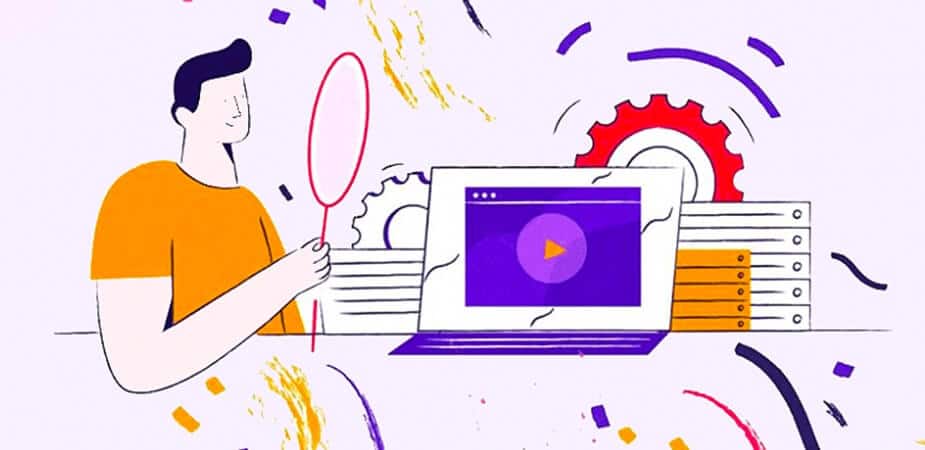 Incorporate the persuasive factor in your videos. Keep in mind that the best product introduction videos are those that spark curiosity in your audience.
Research some of the best animated product videos. See how other brands are delivering their messages.
Use the right music for your videos because nothing conveys emotion better than music.
Promote your marketing teaser on multiple channels.
See different marketing teasers available on the internet today and try to adapt whatever you think will make your video more engaging.
Include a compelling message at the end of your video. A strong message like the most common one, "coming soon," will keep your audience engaged.
With the best practices out of the way, let's explore the top twenty teasing campaign examples starting with…
20 Top Teaser Video Examples
1) Slack
2) Google Calendar
3) G-Shock
4) Square Reader
5) OnePlus 6
6) Google Home
7) Fit Bit Versa
8) Oculus
9) Ring (Home Security)
10) Acorns
11) Magic Leap
12) Asus Rog
13) Logitech Crayon
14) TP-Link Smart Bulbs
15) iZettle Product Teaser Video
16) Zendesk Product Teaser Video
17) Osmo iPhone Base
18) Lenovo ThinkPad X1
19) Carlsberg Product Teaser Video
20) Nightingale Product Teaser Video
#1) Slack Product Teaser Video
Slack is a SaaS application and it enables you to work closely with your co-workers. It is the perfect place for an office team to come together for a collaboration.
Wondering why this teaser campaign example made it onto this list? Well, that's because of the innovation that Slack bought into the video teasers genre. Slack combines live actions along with animation to explain its product engagingly.
Moreover, the ongoing vibrant changes, backdrop, and persuasive narration explain everything about Slack. The background explaining the problems combined with the narration connects with the everyday problems that Slack can solve.
So, suppose your brand is all about providing SaaS solutions to organizations. In this case, this is one of the great teaser ad examples that you can use to create your very own marketing teaser video.
#2) Google Calendar
Google has earned a reputation for digitalizing our daily life, and for the new generation, Google introduced "Google Calendar."
What can you do with Google Calendar? Well, you can manage your appointments, take notes, mark dates, keep track of events, and set reminders of important meetings – all in one place.
Moreover, you can also share your calendar with your connections. So, how do we know this much about Google Calendar? – We just saw the video (yeah, that's all we did).
The video clearly explains the motive behind the creation of Google Calendar. The teaser video comprises amazing live-action sequences, motion graphics, and covers different daily life aspects to deliver the message.
This video is a great example of teaser adverts with a great concept, an easy-to-understand script, and extremely engaging colors and presentation.
#3) G-Shock
What happens when you blend in 3D animation along with your stunning product? That's right, Innovation happens!
G-Shock, a sub-brand of Casio, displayed the toughness, water resistance, and durability of its watch through a teaser video. With background music that creates excitement to captivating visuals, this teaser campaign example has it all.
#4) Square Reader
Is your product a fast, reliable, and portable card processor? If yes, then this is the perfect teaser example for you. Square is a card processor that is fast and portable, unlike other card processing devices.
Square accepts all major cards, and you can get your financial deals in line pretty easily. With vibrant colors, motion graphics, live-action style, and amazing narration, the video becomes extremely engaging.
The key to creating a perfect video teaser is to make the teaser concise, clear, and effective, and Square does all of that. We all know that finance is a pretty boring subject. So, the way Square explained it was inspirational.
#5) OnePlus 6
Energetic, attractive, and super-engaging is the OnePlus6's video teaser. The video easily stands out as one of the best teaser campaigns launched by tech brands.
With accelerating music to showcasing all the product angles, this video is a perfect teaser example for you to get inspiration from.
Although the OnePlus series is already immensely famous, this video just adds more to its popularity. With a beautiful display of its features, specs, internal hardware, and looks that intrigue the viewer – the video becomes memorable in the audience's minds.
#6) Google Home Product Teaser Video
Another tech product explained in moments by Google!
Google home is a powerful speaker and voice assistance that listens to the user's commands, i.e., make calls, play music, send a message, and much more.
The product itself is intriguing to explain it engagingly – Google launched its product teaser video. The video takes the spectator through the journey of exploring the product in a pretty concise manner.
With 3D animation and precise/straightforward content, the video becomes a great product video example for tech-related brands.
#7) Fit Bit Versa
Fit-bit Versa is a health and fitness-oriented product from Fitbit. It is a smartwatch basically and has 4+ hours of battery life, some standout features, amazing customization options, a music player, heart rate sensor, and much more.
So, what makes the teaser video of Fit-bit Versa included in this list? Well, it's an amazing product video, of course. From exciting music to 3D animation to stunning visuals – this product advert has everything literally.
The highly persuasive, energetic product teaser video manages to spark curiosity in the audience. And this makes it a noteworthy mention in our inspirational product teaser video example list.
#8) Oculus Product Teaser Video
It's a fact that people are already interested in revolutionary augmented and virtual reality technology. Understanding this opportunity Oculus introduced its all-in-one gaming system that has no PC, monitor, sensors, or what-so-ever.
The virtual reality, combined with Oculus's stunning graphics and visuals, provide gamer an outstanding gaming experience. However, to get the audience familiar with its product, Oculus created a product teaser.
See how the video above manages to deliver a compelling message to the audience persuading them to take their gaming experience to the next level.
This video is a perfect teaser campaign example for a brand that is all about leveraging the latest technology for entertainment.
#9) Ring (Home Security)
Say hello to the futuristic Wi-Fi-enabled doorbell "Ring" that instantly shares live audio and video of the visitor to the homeowner, once he/she rings the bell. You can view the video of the person ringing the doorbell on the ring app.
The product teaser video of Ring starts with the narrator explaining the burglaries that are going on nowadays. What's amazing is that this message is delivered to the audience humorously and engagingly.
Furthermore, the narrator tells the benefits of the product after explaining what it does. The video ends convincingly after 30 seconds.
#10) Acorns Spend
Does your product have more than one feature? Is it finance-related? Are you looking to explain your product as precisely as possible? Well, look no further because the Acorns Spend has got you covered here.
An account checking and debit card – the Acorn Spend not only enables you to pay for your stuff easily but also invests, saves, and helps your earn money.
Explaining the product's USPs and the organization's core values would've been a tough job, so a product teaser video was launched. This video covered all the aspects of the product in a simple, soothing, and relaxing manner.
The active narration explains the product perfectly. Moreover, the colors and usage of the ending line of the video feel comforting.
#11) Magic Leap
This video features a stunning virtual reality glass that creates and places 3D-generated images on real-life objects. It has got to be one of the best product introduction videos you've ever seen.
The product teaser especially targets the audience who wants to be a part of this mystical experience. With live-action, 3D animation, animated characters, and striking visuals, the video becomes amazingly engaging. It boosts the element of interest in the audience.
#12) Asus Rog
What are 24 seconds long? Thrilling? And extremely engaging? The Rog Claymore product teaser video of course!
We have to acknowledge that most of the stuff that comes from Asus is out of this world and innovative, and this time they planned to launch their gaming keyboard, which is the first of its kind. The keyboard has a detachable numeric keypad. It helps you customize the placements to ensure maximum experience while gaming.
The same specs and features of Rog are told in the product launch video of Rog in which striking visuals and energetic visuals explain the product in a flamboyant way.
#13) Logitech Crayon
A portable, natural-looking, and innovative iPad 6th generation supporting pencil created by Logitech. The product could be used in various ways. So, to explain it easily and quickly, the company launched a marketing teaser.
This teaser campaign example explains the different ways the students/customers can use this pencil. The video also has some real-life examples to show how the user can leverage from Logitech Crayon.
With a perfect combination of real-time examples along with live-action, compelling music, and animation – the video teaser stands out.
#14) TP-Link Smart Bulbs
Smart Plugs, Smart Switches, and now Smart Bulbs! The world is getting futuristic as we speak. Smart bulbs are a great innovation in the world of IoT. Smart bulbs enable users to control a home's lighting, change colors, and set the bulbs on the power-saving mode through an app.
TP-Link Bulbs' product teaser comprises comforting music, live-action sequences, and showcases how intelligent lights can be customized to suit the user's mood.
Moreover, the lights' features are mentioned within the video in a precise way, which makes it easier for the audience to understand and remember what these intelligent lights are all about.
#15) iZettle Product Teaser Video
A 20-second teaser video that showcases iZettle's innovative financial technology that is making it easier for customers to pay online.
Earlier, we mentioned that finance is a pretty boring subject. So what iZettle did with their marketing teaser is that they used precise and to-the-point messages to explain their product.
The video comprises moving images, a live-action sequence, and a modern tone to reflect innovation.
#16) Zendesk Product Teaser Video
A highly professional and useful product for businesses, Zendesk is a CRM (Customer Relation Management Software) that enables businesses to manage all of their work in one place.
Let it be messaging, emailing, social media account management, or anything else – Zendesk enables you to manage all of your business processes under one roof.
So, how does Zendesk explains its product through its teaser video? Zendesk uses illustrations, short but effective script, and vibrant colors to captivate its viewers.
Moreover, the video also entails using Zendesk in your organization by integrating a refreshing feel to it. Also, while the script is short, the narration explains everything pretty clearly to the audience.
#17) Osmo iPhone Base
Osmo is a gaming system that utilizes AI to bring the gaming experience to life. The users can utilize their hands to interact with the game. The Osmo base can easily hold the iPhone, and you can start playing the game pretty innovative, right.
This teaser ad example showcases how entertaining the product can be. With a white background, a compelling soundtrack, and educating the audience about the learning advantages it provides to children – this video creates anticipation and engagement.
#18) Lenovo ThinkPad X1
Lenovo, a tech giant introduced us to the ThinkPad X1 laptop. This laptop is highly durable, built for professionals, has top-notch features, and has an adaptive keyboard.
The video perfectly displays the product leveraging animation and motion so that the viewer can explore the product from different angles. The video shows the anti-glare screen, slim design, and high-grade carbon fiber used in manufacturing the product.
#19) Carlsberg Product Teaser Video
One of the leading brewery brands globally, Carlsberg product advert, one of the best teaser campaigns ever launched. The large portfolio of drinks that Carlsberg offers needed to be conveyed in the most precise manner. They created a product teaser that explained how their product is made.
The famous beer brand's video starts with liquid filling what seems to be alphabets. As the narration exceeds, the liquid keeps filling up, eventually forming the Carlsberg group's logo. The product advert gives the audience an overview of its core beliefs and values, and aim.
#20) Nightingale Product Teaser Video
The first-ever smart home sleeping system is designed to eliminate all indoor and outdoor noises to help you get better sleep. The product is designed by experts to minimize the sounds by customizing the bedroom, filling it with ambient sounds called a blanket. Moreover, this video is also an example of the best startup videos.
For more videos, check out:
Nightingale's product teaser beautifully explains how this device eliminates the noise and where they can be placed to ensure maximum experience. The video entails animation, images, and content that runs beside the product to explain its features.
Conclusion
These are the product teaser video examples that, in our perspective, are the best to get inspired from. They're timeless. They are showcasing the product perfectly in a precise and effective manner. They're utilizing the animations and other effects to spark an interest in their audience.
You can easily take away some of the most exciting feats about these videos and incorporate them into your product teaser to make your video stand out and engage the audience. Moreover, a wise strategy here would be to collect the user feedback and make changes to your marketing teaser.
An innovative and unique representation of your product may just do the trick. Here at BuzzFlick, we are all about creating marketing teasers for brands that attract the audience and keep them engaged and linked to your product.
Related Article: