Looking for the best video marketing tips? Read our blog to learn more about video marketing techniques
Video marketing trends have been changing rapidly. There was a time when brands used to advertise their offerings through TV commercials. Nowadays, they prefer to use digital marketing tools to enrich their communication with customers.
We have been reading different video stats like users watch one billion videos every day on YouTube, 84% of marketers revealed video assists them in generating potential leads, and video content is 1200% more helpful than other types of content. It means that video has become a significant marketing tool.
Here in this blog, we will reveal the best video marketing tips that will help you in creating a successful marketing strategy.
Emphasize on Storytelling, not Sales
When social media was not popular, people advertise through mediums such as print or TV. Brands now can use videos on social media to connect with the target audience easily.
If you want to influence your customers, the video should cover content that provides value to the viewer. Usually, people ignore salesy videos.
Successful video content includes stories that appeal to the audience. The better you present your brand's story, the more likely your audience understand your offerings and corporate values.
Let's look at Budweiser's video, which is a great example of storytelling:
Caray works for the Cubs till 1998. Budweiser's agency, VaynerMedia, created the video, it includes Caray's voice-over recording of the winning moment of the Cubs' and their celebrations.
They beautifully tell their story by blending nostalgia, brand equity, and history. Budweiser through this video inspired the sports fans globally and the winning moment of the Cubs' victory.
Impress the Audience in the first few seconds
The attention spans of online users are short, the average attention span is 8.5 seconds. From the marketing perspective, you need to explain your points quickly and grab the audience's interest. Clearly explain the key elements of the video in the initial part of your video. Give your viewers the confidence that the video is worth watching.
Create a hook
Marketers create a hook at the start of the video to attract attention. It will help in providing the idea about a video.
Gary Vaynerchuk beautifully follows this strategy for his #AskGaryV videos:
Use a Catchy Thumbnail
YouTube and Facebook allow users to upload a thumbnail for videos. It has become a viral social media video marketing trend. Brands use thumbnails to attract viewers attention.
Thumbnails play a vital role in building their interest in a video and it creates a significant first impression.
Choosing the right thumbnail for your email marketing and social media can help in improving your video views.
Thumbnail should be high-quality, avoid a motion-filled, blurry shot. Thumbnails give an idea to the viewers that what a video is about.
For, instance the below thumbnail of Red Bull shows the sense of adventure and energy. They use some beautiful high-quality images with bold fonts.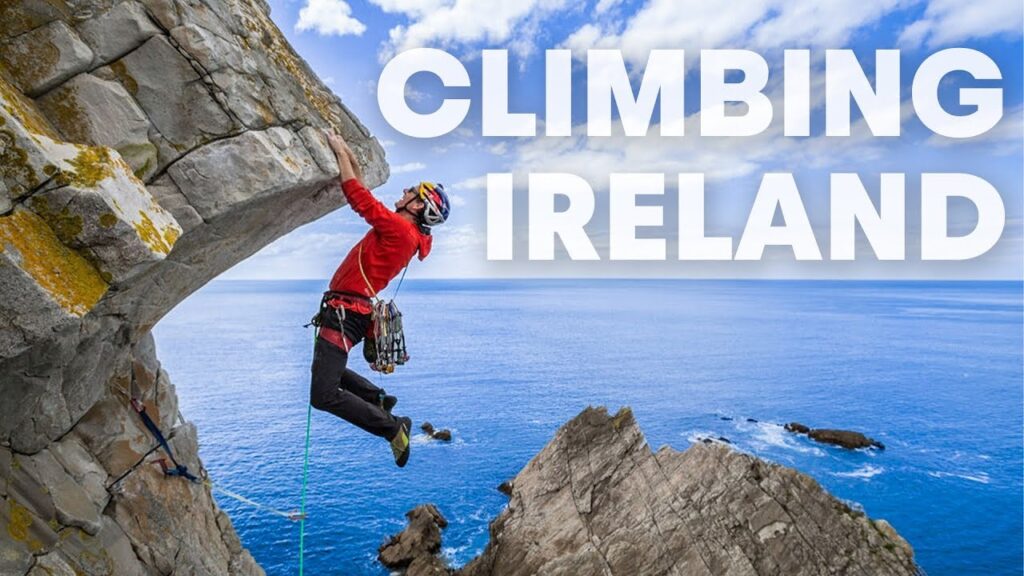 Use Facebook to Target Different Market Segments
One of the best video marketing tips is to utilize the power of Facebook. It is an incredible and unique platform. Facebook is different from other marketing channels because its features allow users to target relevant audiences.
You might have run Facebook ad campaigns before, but did you know that users can promote their posts to show up in the newsfeed of a selected audience?
Using video content on Facebook is an ideal way to share your brand's message with the audience. Users can target their posts by creating segments through languages, locations, age, and gender.
Once you select the target audience, your post will appear on the news feed of specific users. For instance, if you choose the age group of 19-25, the people who come under this age bracket can only able to see the post on your page or in the news feed.
Users can choose their target audience by their interests to enrich the marketing strategy. You can select your audience by their interest but this feature allows you to choose a max of 16 per post.
Users who are not in your interest group can see your post on your page or in their news feed.
Gary Vaynerchuk explains brilliantly the benefits of video content in the below video:
Create a video that appeals to the audience with and without sounds
In a recent update, videos on Facebook autoplay with sound on (unless your phone is on silent mode). It is too early to predict how this update will affect viewing habits on Facebook.
Before the latest Facebook update, many publishers revealed around 85% of video views happen without sound.
Consider this element and ensure the video content should be interesting and engaging with or without sound. Marketers need to think innovatively and create content that wins the viewers heart without audio.
If viewers can understand your message without sound, it means your content is highly engaging.
Moreover, another critical element is video editing, it enhances the video quality and adds a finishing touch. If you don't have expertise in editing, you can consult any video agency that offers video editing services.
Check out this video of Wistia. The objective of this video was to influence the audience and due to this reason, they use enticing visuals. The video helped in increasing their blog traffic.
Wistia video contains colorful captions so viewers can watch it without any sound. However, if you watch it with sound on, you can hear a beautiful jingle.
Consider adding the below-listed things to enhance videos for silent playback:
Use subtitles in the video
Textual descriptions that explain the video
Creative and appealing visuals
For instance, Tech Insider uses textual descriptions and outstanding visuals to make their video appealing to silent viewers: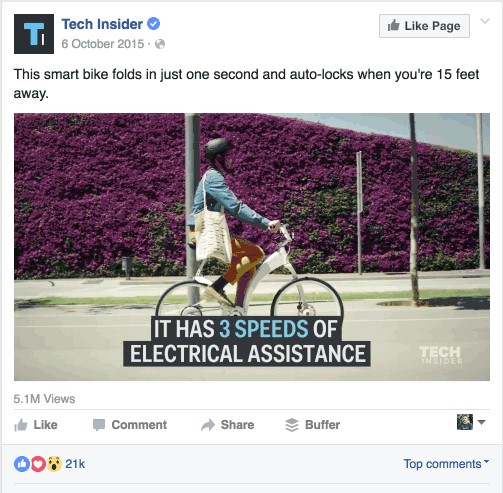 Gary Vaynerchuk in the below clip includes subtitles to convey the message to the audience who watch it without sound: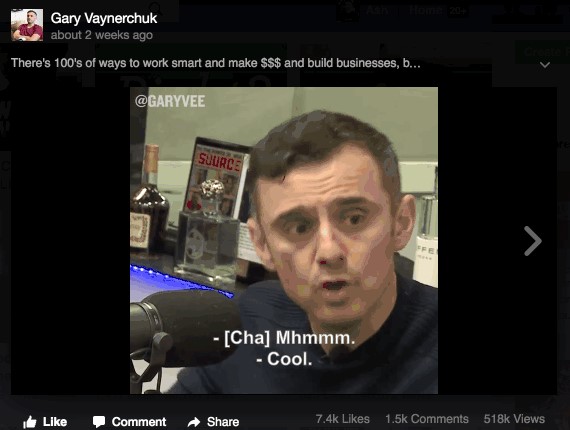 Add CTA's
Use call to action (CTA) in your videos to influence viewers to take the desired action. It is not essential to add CTA that leads to sign up or sale. You can add these below listed CTA's in your videos:
Like/Follow social media page
Subscribe to your channel
Share a video with your friends or on your social media profile
Visit your website
Share your views about the video
For instance, Gary Vaynerchuck uses CTA "Share" in Facebook videos: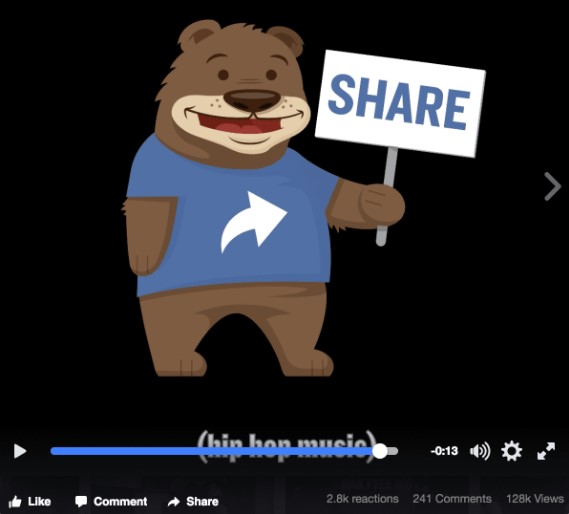 Where should you place a CTA in your videos?
You can use CTA at three positions in videos, let's learn about those duration points:
Pre-roll Calls to Action: It comes at the beginning of the video. It is used to influence the viewers from the start so that they click on it.
Mid-roll Calls to Action: You can use CTA wherever you wish between the start and end. People use this CTA to influence the audience to take the desired action when they are fully involved in the video.
Post-roll Calls to Action: This CTA comes at the ending part of the video to ensure the audience understands the message and most likely takes the desired action when CTA is being presented.
Add CTAs to your video content by following these two strategies
1. Place a card at the end of your video
One of the best and most widely used video marketing tips is to use a post-roll card in the video. It indicates what should be the next step for the viewer.
Here is an example of a video by Amy Schmittauer, in the video she incorporated an end card to influence the audience to check out her other video or subscribe: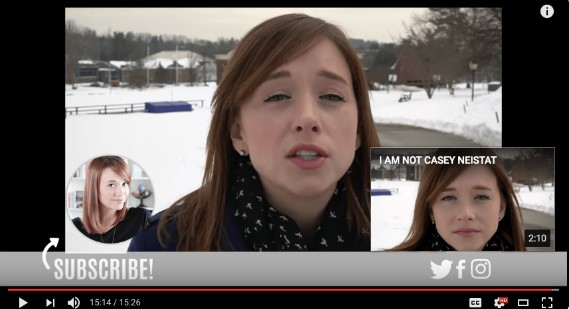 2. Add mid-roll cues
Marketers believe that mid-roll CTAs help in boosting conversion rates. You can use CTAs as overlays in between the video. Here's a beautiful example of Gary Vaynerchuk's CTA of 'share bear' which pops up in mid-roll: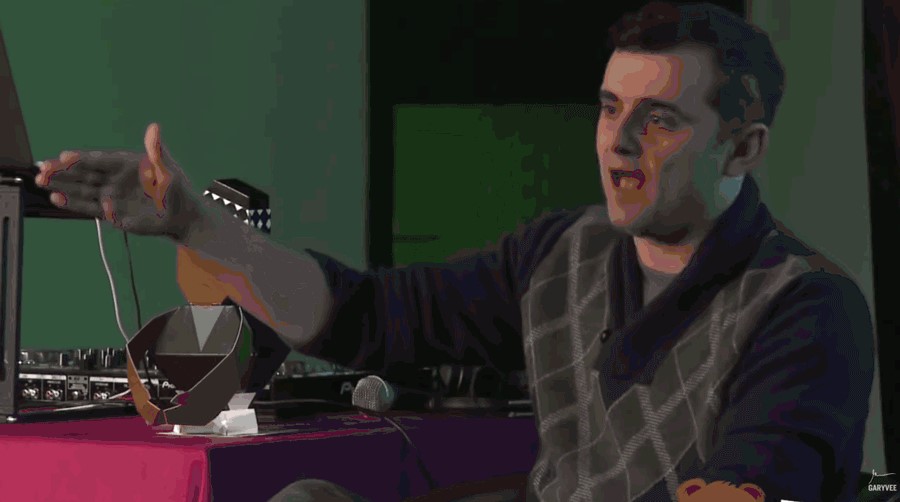 Related Article:
Optimize for Search
People performed over 3.5 billion searches every day on Google and more than 3 billion searches users made monthly on YouTube. Facebook searches have also increased, users search 2 billion queries per day on the network.
So, marketers need to optimize their video content to appear in searches. If you are not doing that, you are missing an opportunity to show your content to the masses.
You can improve your video searches by following these tips:
Add Keywords in your Title
You might follow SEO practices to improve the rankings and visibility of a website, or blog, this is no different. Use keywords in your video title to enhance rankings. Similarly, to the h1 tag or title of a website page, the video title is one of the critical factors that influence the ranking.
You need to use the main keyword in your title and write it within the 66 characters so that the complete text will appear in the results.
However, Facebook's search algorithm and video metrics are slightly different from other networks. Facebook organizes the search results by analyzing the 200 factors including your likes, and preferences, on the network, what previous searches you made, and according to your personal information.
Write a Catchy Description for your Video
Facebook and YouTube allow users to write a description for each video. It helps in increasing the visibility of videos in search results. So, add keywords in the description, but avoid keyword stuffing.
Write your description creatively that beautifully explains what value the video will provide the viewers.
See Also:
Use Animation in Videos
Animated videos are pretty famous these days. Brands prefer to use animation instead of using live-action videos for marketing. Using animation is one of the best video content tips.
The best thing about animation videos is that you can explain complicated concepts easily and engagingly.
It is cost-effective as compared to other marketing tools. That is why more and more companies are shifting their focus from live-action videos to animation videos.
Nowadays many animation companies are providing 2D animation services and 3D animation services that help businesses in conveying their message.
Add some Humor to your Video
Creating a video is not enough to win the hearts of the audience. You need to add a humor element to your video. It helps marketers in explaining their message to the audience quickly. Modern customers expect some humor in videos.
People are busy in their daily routines, they love to watch videos to relax their minds. Even if your organization belongs to a corporate background, you can use humor in your videos. It will give your organization a competitive edge.
In a Nutshell
After reading this article you will be able to learn the best tips that will help you in creating a video marketing strategy. We cannot deny the fact that video has become an essential marketing tool. Brands use videos to enrich their marketing activities and increase their communication with the audience.