TikTok has become the most effective marketing tool. This article discusses the best video editing tips to make your videos more engaging and creative.
If you have used TikTok, you might know that when we start scrolling on TikTok, we spend many hours watching videos. It is because brands and content creators are creating impressive TikTok videos. TikTok allows users to create engaging, creative, and viral video content using various editing tools.
If you want to make your content viral, you should know the techniques to create engaging, creative, and viral video content using a wide array of editing tools to achieve your desired results on the platform.
It will help you in getting benefits from TikTok trends, capture viewers' attention, and keep you stand out among other videos.
Here in this blog, we have compiled a list of the most impressive tips you can use to edit TikTok videos and make them more engaging.
How To Edit And Film Your TikTok videos
TikTok is mainly a social video platform where people upload short-form videos to keep them in the limelight. We will guide you with the best tips to edit and shoot your TikTok video content.
1. Use a Timer Feature To Record Hands-free
TikTok has a timer feature that allows users to create a video hands-free. You can press record and set the timer, and your recording will start after 3 to 10 seconds. Now you can make your dance video without using a tripod or asking for someone to film your video.
In addition, it allows users to set the timer, and the recording will automatically stop at the desired time. Most people use this feature to record multiple short clips, compile them, and edit them.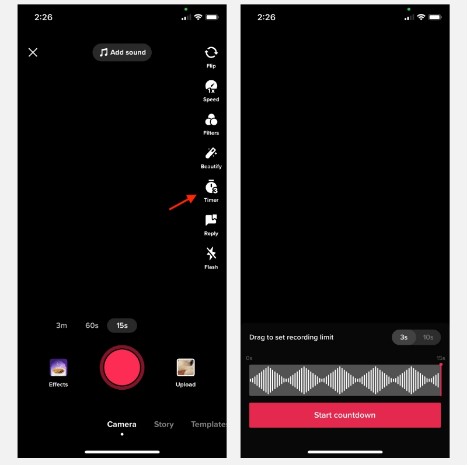 2. Edit, Record, And Adjust Clips Before Uploading
You can film your video in clips and edit them before posting. It enables users to use clips, set the duration, use effects to each clip, type captions, etc. Moreover, you can use this feature on the video clips saved on your mobile, and you can save your budget on video editing costs by using this feature of TikTok for free.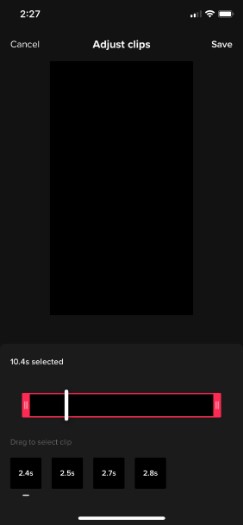 You can edit TikTok videos by filming multiple clips.
Take a look at the impressive video of Cinnamon Hotels; and they created this video by compiling short clips.
3. Set The Recording Speed
TikTok has a feature that allows users to adjust their speed. Users can access this option on the recording screen and regulate the speed before starting recording.
TikTok offers five features you can use in your video to set the average speed, slow down, or speed it up by selecting different speeds; 0.5x, 0.3x, 1x, 2x, and 3x.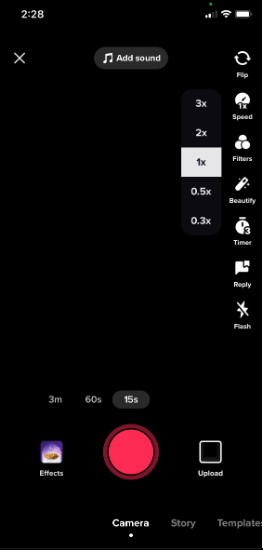 This feature helps create cinematic videos and time lapses and makes your video engaging and concise. Look at SHEIN's "life hack" video, created by compiling multiple sped-up clips to showcase their products.
It allows users to edit TikTok videos even after recording them, with the following features:
Go to the edit screen, open effects, select time, then choose Slow-mo to slow down the speed of the chosen part of your video. However, you cannot increase the speed of your video.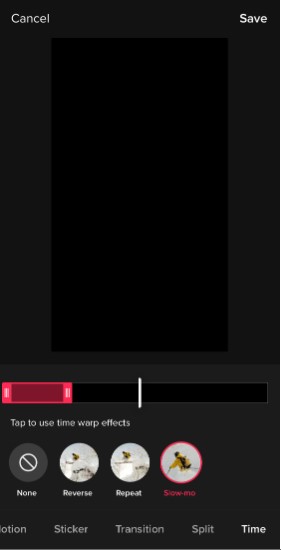 You can post an already recorded video from your mobile phone or record a new video and upload it. Select the adjust clip option and open the timer to set the speed. If you want to create engaging TikTok videos, select your suitable option from the abovementioned options.
4. Incorporate Filters To Make Your Video Engaging
TikTok allows its users to use a wide range of filters to make their videos more appealing. Following are some famous filters:
Beautify: you can use this tool for changing facial features, like tweaking nose shape, mouth, eye brightness, whitening teeth, adjusting makeup, and other things.
Color filters: you can change the theme of your video by changing the saturation, hue, and temperature and modifying the colors.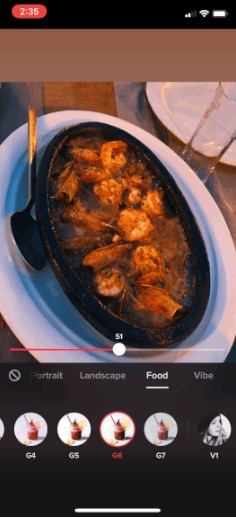 Enhance: You can set the brightness, colors, and exposure of videos using the preset setting feature. You can use these filter options to enrich the quality of your videos.
5. Use A Creative Library To Add Video Effects
TikTok has gained immense popularity because of its AR visual and interactive effects, which made it one of the most famous platforms.
You can use the two popular effects on TikTok:
Editing screen effects: You can use these effects in your pre-recorded videos, and this option is entirely dissimilar from the recording screen effects. Users can access this option by opening effects from the editing screen. This feature allows you to use effects such as Rain, Rainbow Strobe, Zoom, Flash, and Glitch. It includes motion effects, transitions, stickers, time effects, and split.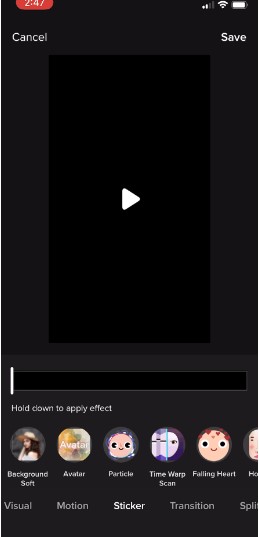 Watch the videos in TikTok trends to know more about the hot trends. You need to follow the TikTok editing trends to make your videos more engaging. It inspires you to choose the best effects and use them uniquely.
Recording screen effects: You can access these options from the recording screen and use them to record your video from the TikTok app. It allows users to choose their favorite effects from hundreds of effects such as ambiance effects, trending effects, beauty filters, AR filters, green-screen effects, quizzers, and many more.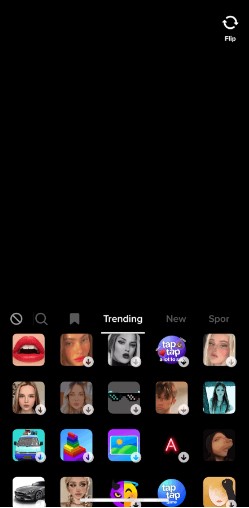 6. Use Stickers To Increase Audience Engagement
The stickers feature of TikTok is similar to the option available in Instagram stories. Users can use it to create polls, mention, ask a question, hashtag, and add other engaging techniques to communicate with users. You can use animated stickers to make your message and videos more engaging and capture the audience's attention.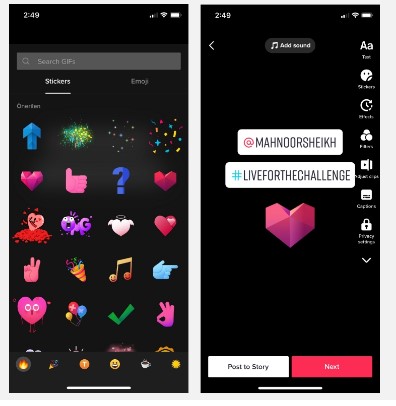 It enables users to use stickers in recorded videos from editing screens. Users can open the search bar and pick the relevant stickers. TikTok also offers localized or regional stickers according to your location and the country.
7. Create Transitions Among Clips
One of the most beneficial features of TikTok is transitions; you can use it to make your videos visually appealing. It is an ideal way to give your videos a more cinematic look.
For instance, users can avoid cuts in video clips by adding a switch on, switch off, shooting frame, zoom in, and other transitions.
8. Upload Video Clips On TikTok From The Camera Roll
TikTok allows its users to use your camera roll and upload videos in the best quality of maximum 1080p resolution. However, you can also edit your videos on your laptop with the help of video editing software and then upload them on TikTok.
Businesses can create their brand image using this option and create professional videos on TikTok. Moreover, you can plan your videos and re-use your bite-sized TikTok videos.
Add Audio & Sound Effects In Videos
Choose suitable sound effects and music if you want to make your video content more engaging. We will discuss the best tips to use audio in your videos to enhance communication with the audience.
1. Use Trending Music and Sounds To Make Your Videos Viral
Using the beautiful music in your videos can make your content viral on TikTok. Marketers can use famous sounds in their videos to increase audience engagement, and algorithms give weightage to these videos because of trending sounds.
When recording a video, you can select the trending music from the option of adding a sound to your recording or editing screen. You can find the specific sounds from the library with the help of a search bar.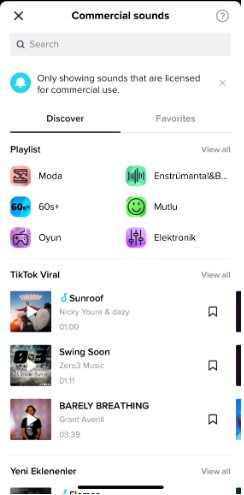 Moreover, users can find the viral sounds from other videos and re-use them in their videos. This way, you can search the trending music and incorporate it into your videos.
Marketers can capture their audience's attention and deliver their brand's message to the masses. You can connect with your audience by using tending music. Users search for videos by using dance challenges and a specific sound.
2. Use Sound Sync Feature To Make Your Videos Engaging
You can sync your videos with the sound and make them more engaging. Users can use the feature of sound sync and add sound in multiple clips.
You can upload video clips from your mobile phone, and it will take you to the page of sound sync. Users can select a sound from the TikTok suggestions or the sound library, watch the synced video and customize it. TikTok users can use this feature for existing and pre-recorded videos in their camera roll.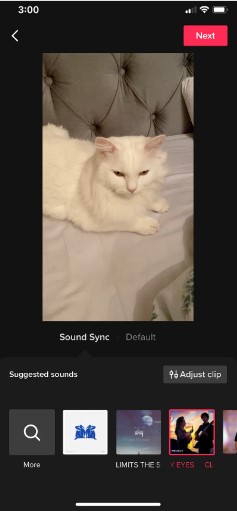 3. Create Original Audio To Make Your Video Viral
You can use trending audio in your videos to increase your audience engagement or create a unique and your own audio to achieve your objective. TikTok allows its users to re-use the audio in the video if it includes the original voiceover.
Not only musical artists but marketers, creators, and companies use this feature to make their content viral by creating original, appealing audio and voiceover.
Marketers and users also inspire people to use your audio. You can view who used your audio by tapping the disc icon at the bottom-right corner of your published video.
4. Narrate Your Videos With Voice Over
If you want to do storytelling, you can use a voiceover once you record your video by tapping the voiceover option from the editing screen. This feature is ideal for creating behind-the-scenes reaction videos or combining sounds with music.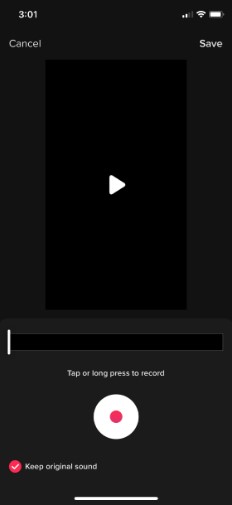 5. Use Different Voice Effects
We are giving you the best tips for editing your TikTok videos. You can use original sound or voice-over and add voice effects to capture the audience's attention. It allows users to choose the voice effects from a wide array of effects such as Robot, Chipmunk, Megaphone, and others.
6. Use Text-to-speech To Narrate Caption
You can use TikTok's text-to-speech feature to create your text captions. This feature allows you to add audio to videos without using your voice.
For instance, if you are not comfortable using your voice or are conscious of your accent, you can use this feature.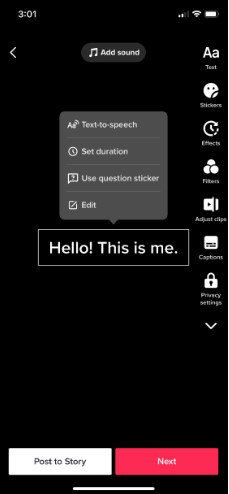 Select the text caption of your choice using the text-to-speech feature from the options. Select the voice that you like from the available options.
Best 3 Video Editing Apps For TikTok
You can edit TikTok videos with built-in tools, and the second option is that you can use various mobile apps to enhance the quality and uniqueness of your videos. We recommend using these video editing tools to create top-notch videos.
1. Funimate
Users can edit TikTok videos and stories by using this beautiful app Funimate. This app is famous for its intros, outros, text effects, masks, and AI effects. It allows users to use many other creative tools to make their videos unique and appealing. You can use this app, as it is free, but it shows some ads. If you want to stop ads, you need to purchase the Pro version.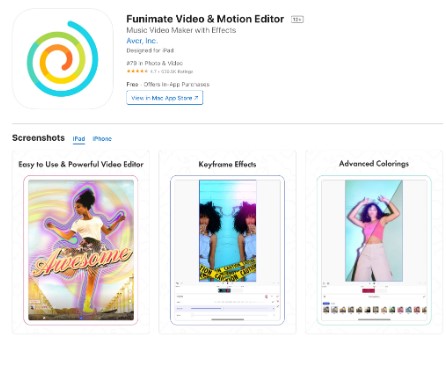 2. CapCut
CapCut is one of the most favorite apps of users, and Tiktok developed it. It enables users to edit TikTok videos using sounds and video editing tools such as trimming, splitting, speed adjustment, and creative filters.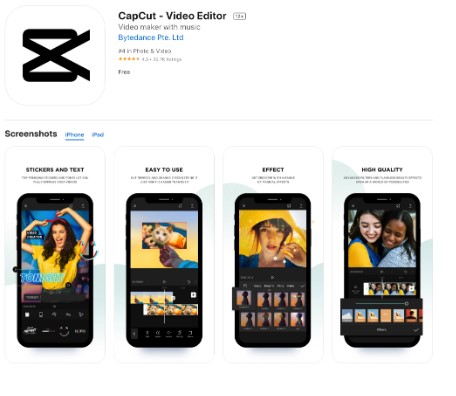 3. InShot
Inshot app is famous among TikTok users. It has a simple user interface that gives you access to some amazing features. It allows users to add stickers and effects, people can blur the background and cinematic filters, trim/cut clips, use voiceovers and music, and more.
You can use this app for free, but if you want to remove the watermark, you need to purchase a premium version. Moreover, iOS and Android users can install and use this app.
The best thing is that this app is simple and free to use. It has more than 250 million downloads on Android and iOS.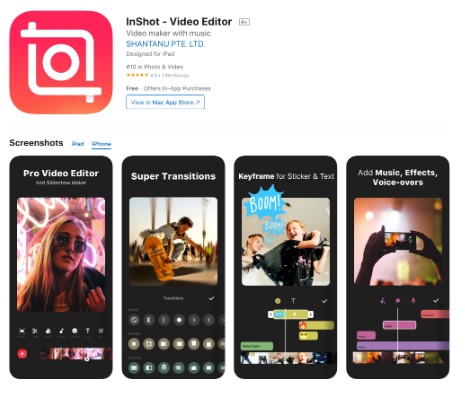 Suggestive Readings:
Hire An Animation Agency For TikTok Video Content
Animated videos have become one of the most effective TikTok trends. Marketers use animated videos on TikTok to make their videos more engaging and effectively explain complex concepts. These videos trigger emotions with animated characters and storytelling techniques. The best thing about animated videos is that viewers can memorize the message easily.
You can search for the best corporate video production companies and outsource your projects to the best company for more effective results. Some people wrongly perceive that an animated video is an expensive tool. You might wonder about the animated video cost. Generally, animation agencies' prices vary between $10,000 to $15,000 for an animated video.
Closing Remarks
TikTok has become one of the most famous social platforms. It has surpassed the figure of 1 billion monthly active users on it. In recent years we have seen a significant increase in TikTok video marketing. Marketers and businesses use various TikTok trends to increase their audience engagement.
Users prefer to watch original and high-quality content on TikTok. It is a platform where users can share bite-sized videos. However, there is a huge competition on TikTok, and marketers and creators need to learn how to edit TikTok to create unique and engaging videos.
We have discussed the best tips to help you edit on TikTok. Incorporate these tips to enhance your TikTok marketing strategy. You can capture the audience's attention and increase engagement by following these tips.
Tips To Edit Your TikTok Videos – FAQs
How to edit TikTok videos?
At the bottom of the TikTok app, there is an option to tap plus button, open it and record or upload your videos, then select next. Go to the editing screen, hit text and add the text, and tap done.
How to adjust clips on TikTok 2022?
Tap on the "+" icon to record your video. When your recording is completed, go to the bottom of the screen and tap the red check button. "Adjust clips" option; will appear on the screen; select it.
How to edit videos for TikTok?
Upload your desired video on TikTok, Add filters, music, text, subtitles, and video effects and use many more options. When your editing completes, select download, and it will start rendering on TikTok.