The clash between Instagram vs. TikTok, began after the release of Insta Reels. Let's find out which marketing platform is better, Instagram Reels or TikTok.
Incredibly, 89% of marketers want to raise (or maintain) their spending on short-form video in 2022.
This is due to the fact that short videos are the ideal medium for building brand recognition and educating clients without losing their attention.
However, the content on Instagram Reels and TikTok is vastly distinct from that of other social networking platforms. If you don't quite "get it," we can help!
In this article, we will analyze the similarities, contrasts, and best practices for these two main short-form social networks, including TikTok and Instagram. At the end of this article, we'll provide our final verdict on which short-form video platform is better and more competent when it comes to social media video marketing.
So, without any further delays, let's dive in.
What is TikTok?
TikTok is thriving as the hub for short-form video on social media, with over 1 billion monthly active users. TikTok's trademark? Shared looping videos that are extremely loud.
This social media platform is well-known for its irreverent, impromptu video content. On TikTok, unlike other social networks where videos can be precisely edited, content that is unpolished and organic tends to do the best.
Here is a summary of the most popular sorts of videos on TikTok:
Explainer video
Memes and short skits
Hashtag challenges
Product recommendations, reviews, and showcases
Tutorials and how-to videos
(Note: If you're interested in an explainer video, read our listicle guide on the best-animated explainer video companies.)
Coming back to the topic, although TikTok's reputation is anything but professional, the site is drawing corporate attention for a good reason. The site is dominated by postings and recommendations focused on products.
This is a massive potential for marketers and advertisers. In fact, 84% of marketers are boosting their TikTok spending.
The glad tidings? All of the aforementioned content kinds are fair game for companies. TikTok's emphasis on community and sharing enables marketers to engage with customers and demonstrate their products in action.
For instance, companies such as Skincare have developed a natural and paid presence on TikTok that focuses on skincare suggestions, product demonstrations, and explanation videos describing beauty product components.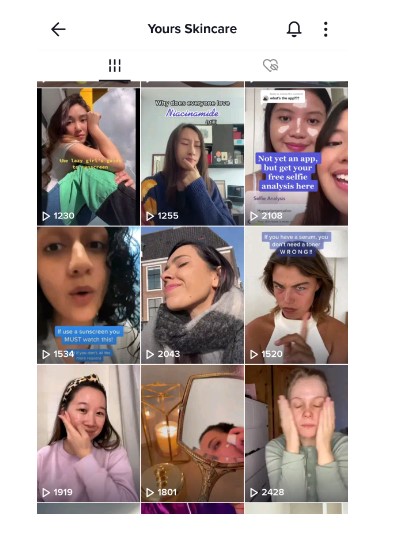 Incorporating rapid cuts, voice-overs, and in-app music, these videos combine instruction with enjoyment in a seamless manner. This not only enables firms to showcase their products but also allows their brand voice to shine.
What are Instagram's Reels?
Back in 2020, during the pandemic, Instagram came up with a ground-breaking feature that boosted its usage massively, and that was Instagram Reels – short-form videos.
This is about where the "Reels vs. TikTok" story originated. Reels and TikTok offer many similar features and functionalities, which is why the two platforms are frequently considered interchangeable when it comes to video production.
Recent Instagram statistics indicate that Reels are among the most popular platform features. In conjunction with Stories, carousels, and even longer-form videos, Reels enables Instagram marketers to cover all bases in terms of visual content.
Videos on Reels tend to mimic "conventional" video content that has been styled to match the vertical format, as opposed to TikTok's reliance on trends.
In the early days of Reels, several businesses just reposted material from TikTok. When Instagram declared that its algorithm would deprioritize posts with the TikTok watermark, this immediately changed. This has not only led to a decrease in direct cross-posting, but it has also inspired marketers to reinvent what they should do with Reels in general.
Reels, which are popular among eCommerce brands, are often used to:
Showcase their offerings in action
Feature collaborators and influencers
Promotional announcements
Observe the blend of "organic"-appearing content with typical videos with stylized text and backgrounds. In terms of images and music, the videos are comparable to what you can find on TikTok, albeit they are undoubtedly more professional.
Reels are an extension of your existing Instagram presence, allowing your brand to be discovered outside of your feed using Instagram's native search or the Reels tab on any profile.
This is where TikTok varies, as the majority of content discovery occurs on your "For You" tab (FYP).
Check out also:
Instagram Reels vs. TikTok: The Difference in Characteristics and Features
Given that both networks promote short-form video content, Reels vs. TikTok appears to be a contest of equal strength.
Nevertheless, they are not the same.
Let's analyze the similarities and differences between the two social media platforms in further detail.
Reels vs. TikTok: The similarities
There is no disputing the platforms' similarities. Ultimately, Reels was a direct outcome of the increasing popularity of TikTok.
Consequently, you will frequently observe the same content across branded accounts with little variations in terms of creatives, captions, and hashtags. Below is the content of the hair care brand Arctic Fox Hair Color: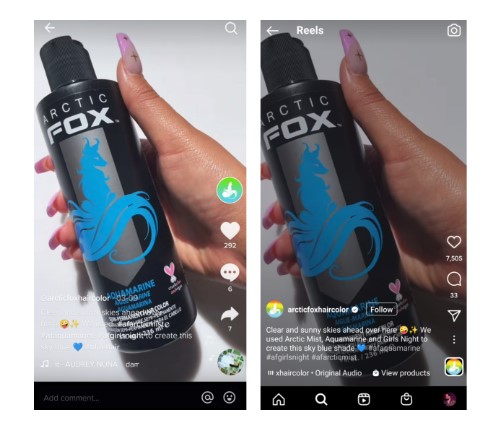 In addition to what we've just explored, the following are further similarities between Reels and TikTok:
Both services emphasize short-form video content: Again, both Reels and TikTok are ideal locations for entertaining, spontaneous videos. There is certainly no greater venue for businesses to showcase their inventiveness. Product endorsements and suggestions are permitted, provided that the content is entertaining.
Access to a collection of sounds: Both systems enable users to effortlessly add sound effects, music, and audio clips to any material. Access to sound resources enables marketers to create "loud" videos, using everything from memes and original sounds to radio content and beyond.
Visual filters and effects: Brands must prioritize aesthetics on social media. Visual effects and filters make your videos "pop" and permit you to brand whatever you publish.
Ads: Short-form video is becoming an increasingly popular medium for advertisements. Although TikTok advertisements are still in their infancy, they are quickly becoming a mainstay of influencer marketing efforts as producers display their most recent purchases.
Possibilities for account interaction: Through Reels' "Collab" feature and TikTok's "Duet," accounts can collaborate and produce brand-new content side-by-side.
TikTok vs. Reels: The differences
We will reiterate it: TikTok and Reels are not the same! Here are the important distinctions that marketers must understand:
Video duration/length: Since their inception, both TikTok and Reels have increased the duration of their videos. TikTok initially only supported 15, 30, and 60-second video uploads but now supports 10-minute videos. Instagram Reels also provides videos of 15, 30, and 60 seconds in length. Even with these additional possibilities, statistics indicate that short-form videos are optimal for both platforms.
Sound and music selections: TikTok users have access to a greater variety of audio assets, but Instagram business accounts cannot utilize copyrighted music. Consequently, recent Reels upgrades will contain additional text-to-speech and voice effect capabilities.
Audience: While both platforms are popular with younger audiences, social media demographics indicate that TikTok is more popular with Generation Z and adolescents.
Availability: If you already have an Instagram account, you have access to Reels (which are available to access in 50 countries). On the other hand, TikTok is prohibited in many places owing to censorship regulations and has been scrutinized due to privacy concerns.
Analytics: TikTok statistics measure both the overall profile and the success of individual videos. This covers characteristics such as total playtime, average viewing time, and geolocation. While Instagram users were equally reliant on generic Instagram metrics, the site provided specialized Reels-specific data in order to gain unique information. This includes plays, interactions, reach, "likes," comments, and saves.
Advertising possibilities: Appropriately, both platforms are introducing new advertising options. However, TikTok prioritizes creator-based advertisements and campaigns considerably more than Instagram's more typical shoppable ads via Reels.
Can't Choose Between Reels vs. TikTok? Why Not Go for Both?
Both the quick expansion of TikTok and the popularity of Reels indicate the future significance of short-form video. In areas such as fashion and beauty, where competition is severe, there are several options for short-form branded videos.
Whether you choose one platform or both, you must consider how to connect your social video marketing to genuine business objectives. If you haven't already, be sure to read our article on how to create an effective social media video marketing strategy.
Need Help to Make Your Videos Perfect for the Audience? Take Experts Opinion
In this debate on TikTok vs. Instagram, we summed up that both platforms are good in their own ways. What matters is the quality of the video and content. If you're using these platforms for showcasing your business and its offerings, then my friends, your video should be top-notch.
From conception to final edits, everything should be done with utmost perfection. You play with various styles and techniques to make your video content engaging. Some are now uploading animated video content to stand out in the saturated market of social media.
You must be thinking getting animated videos is challenging. Well, not anymore. You can hire any video animation agency that offers video animation services.
TikTok vs Instagram Reels: FAQs
Are Instagram reels better than TikTok videos?
When it comes to Instagram reels vs. TikTok, TikTok has an edge on short-form video because of the unique shareability feature of the platform. For longer videos, Instagram is a much more suitable option.
On which platform is it easier to go viral, TikTok or Instagram?
As per the facts, users are spending more time on TikTok than on Instagram. So, if you do the math, the chances of going viral on TikTok are much more than on Instagram.
How much will it cost to create animated videos for TikTok and Instagram?
If you're interested in opting for this new video style, then it's a great idea. Generally, a 60-second price of an animated video can be around $390 to $5000. But it can vary from project to project.