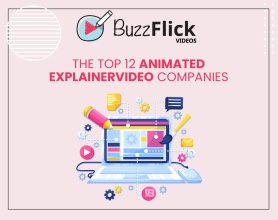 The Top 12 Animated Explainer Video Companies
A company manufactures the best product or provides an excellent service but does not have enough customers, investors, or clients. What is the problem? Poor marketing.
Brands, products, or services need marketing; in the world of digitalized life, everything is on the internet. So, day by day, the marketing strategy is shaping according to the digital world's demand.
Social media networks are the new platform of marketing. The companies who engage more get more sales. But how to engage? Simple and Easy – Animate your videos. Will just animating be enough? Make Explainer Videos.
Explainer Videos gives new life to marketing and shoot your sales up high. The animated explainer video is the best way to introduce your brand or service to the audience in a more innovative and effective manner.
What is an Animated Explainer Video?
Animated explainer videos are 1 to 2 minutes short animated video clips that illustrate the complex subject in more easy, understandable, and engaging ways. An explainer video can help your company to increase conversion and decrease the bounce-back ratio on your webpage.
The explainer video is the best way of engaging the audience and investor. An animated explainer video is a total game-changer for any business and can be used for educational purposes, awareness, brand marketing, promotion, campaign, ads, commercials, or illustration.
Animated explainer videos help businesses in the form of product demo, short ads, application intro, campaign hype, and more – these videos attract the investors and increase the audience traffic on the web pages.
Are you looking for the best and leading animated explainer video company to make an impressive advertising video or brand video? Then you are on the right blog. We have mentioned 12 top animated explainer video companies for your business. We will help you to find an explainer video company.
Before you jump down towards the list of top-notch Explainer video companies here we will provide you that with what criteria you can choose a video animation company for your business.
How to Choose an Explainer Video Production Studio?
It is necessary to know about the best explainer video companies, but it is way more essential to know what criteria to consider before choosing one.
Portfolio: this section speaks for the work company has been doing. To evaluate the quality, one must look at videos. If it matches your imagination and suits your video goal, then it might be the one.
Style and Customization: the design and style must need to match the spirit of your marketing goal. The explainer video is not just helpful in marketing but also portrays the company's image – choose styles and designs wisely.
Communication: many video companies are good at work but poor in communication. Look for the company that shows interest in your interest. The explainer video company must be welcoming to flexibility in projects and politely respond to you.
Review: must contact the customer to know the reviews about the work of the explainer video company.
Price: most important, don't settle for a low price and low animation. Pay high but get the best quality of work done.
List Of 12 Best Explainer Video Companies
Look at the list below of the top 12 animated explainer video companies and select the best for your project with the above criteria in mind.
#1) BuzzFlick – Animated Explainer Video Production Company
BuzzFlick is an animated explainer video and animation company located in New York and Houston. The studio has a team of excellent animators who put their best in the production of animated explainer video, 2D & 3D animation, whiteboard animation, storyboard, motion graphic, product demo videos, animated educational videos, and video editing.
BuzzFlick is an award-winning video animation company and one of the top explainer video companies. The studio has made numerous explainer videos for many known brands, and their client has given positive reviews about their style of work and unique videos.
If you are looking for a studio to make an explainer video for your business, then BuzzFlick is the right choice to make. For more information, you can see their portfolio and get quotes about their services.

#2) Demo Duck – Explainer Video Animation Studio
Demo Duck is an explainer video production company located in Chicago, Illinois. The studio has been working in the market for years and has made its name famous among its competitors.
The team of Demo Duck has been producing outstanding videos for many of its renowned clients like Netflix, Crazy Egg, Dropbox, and others.
Demo Duck creates impressive animated videos that deliver information but are also very amusing to watch. The studio is an expert in animated explainer videos, commercial videos, 2D & 3D animation, and testimonial videos. As a result, Demo Duck is the most popular explainer video production company in the business.

#3) Wyzowl
Wyzowl has been an explainer video production company located in the United Kingdom since 2009. The studio is known for its uniqueness and creativity in animated explainer video production and has worked with well-known brands like Dell, Amazon, LG, Oracle, Capital One, TNT, Deloitte, Crucial, Kodak, and more.
They have experience of working with 40 countries, but most clients are from the United States of America. Wyzowl is the leading explainer video company, which creates mind-blowing animated commercials and explainer videos.
The studio has participated in global competitions and has received many awards in 2020. Wyzol has claimed to produce 2500 videos by their competitive team who work with fun, experience, and passion.

#4) Studio Pigeon
Studio Pigeon is one of the leading animated explainer video companies in Krakow, Poland, and Riyadh, KSA. The studio has a team of animators who are experts in 2D & 3D animation, animated explainer video, infographics, advertising, marketing, motion graphics, and post-production.
Since 2013 the Studio Pigeon has been producing innovative and remarkable animated videos. The studio has been working with almost 50 countries. Studio Pigeon is famous for creating a video that portrays complex business ideas in a very simple way. This studio may be the right choice for your explainer video.

#5) Epipheo – Explainer Video Company
Ephipheo is a USA-based explainer video company since 2009. The studio creates animated explainer videos, academic lectures, social ads, trade shows, brand videos, and more.
Ephiheo has clients in cybersecurity, financial sectors, pharmaceutical, medical, and IT firms. Their animation style has ranked them in the top explainer video companies around the globe.
The studio has a team of animators who create powerful creative videos that help your brand to engage more audiences and attract more investors. They aim to deliver the vision of the client to its targeted audience and make communication easier through their animated videos. The studio is an expert in 2D & 3D animation, explainer videos, and motion graphics.

#6) Switch Video
Switch video is an animated explainer video production company located in Canada. They have an expert team in 2D animation, motion graphics, whiteboard, and explainer videos.
The studio provides its services to all sorts of businesses, companies, and organizations. Switch videos believe in encouraging the growing business and helping them establish their name in competitors. With more than 1200 videos and clients from 15 countries, they have made their unique place among the audience.
Switch studio has worked with big enterprises like Abbott, HP, IBM, Amazon, CISCO, and more. The team of animators produces the video, which is the result of their hard work, passion, and creativity. You can find the best animation style and team here for your project.

#7) Idearocket – Explainer Video Studio
Idearocket is a USA-based video animation company that is an ideal choice for an IT firm to promote its product with detailed specifications in an understandable way through animated videos.
The studio has made its place in best-animated explainer video production companies through their expertise in explainer video, 2D & 3D animated video, live-action video for businesses, healthcare sectors, institutions, and organizations.
Idearocket provides scriptwriting, designing, animation, sound, video strategy, video translation, and subtitling services. The studio is a complete package for video development. Idearocket aims to deliver difficult business goals to the audience in an animated and effective way. They make sure that the audience catches the concept of the client's product/service.

#8) Common Craft – Explainer Video Company
Since 2007, Common Craft has been making explainer videos in Seattle, Washington DC. The studio creates 2D & 3D animation videos and has downloadable templates to create explainer videos for your business. With customization, they also have some ready-to-use videos for companies to introduce their objective to the audiences in 3 minutes.
The studio has video and templates for business firms as well as academic organizations. Common Craft has a lecture-making template, which helps the teacher create amazing, fun, and creative hand-sketched lecture videos to explain the complex concept in an enjoyable way that makes learning time more interesting.
Universities and schools prefer Common Craft animations to design their curriculum videos. This studio is the best explainer video animation company, and if it fits your requirement, you must take quotes about their services.

#9 Yum Yum Videos
Talking about top animated explainer video production companies and not mentioning Yum Yum Videos' name will be unfair. Yum Yum Videos is a video production company. It received many awards through its expertise in animated explainer videos, whiteboard videos, motion graphics, animated video series, educational videos, commercial ads, and internal videos.
Yum Yum Videos was established in 2010; since then, they have been working with mega projects and businesses like Walmart, DocuSign, Fox, McKesson, and Red Bull.
The studio customizes the videos for start-ups, institutions, organizations, and other sectors. In addition, the team of artists and animators creates unique and straightforward videos that can distinguish Yum Yum's work from other animation companies.

#10) Thinkmojo – Animated Explainer Video Company
The list of best-animated explainer video production companies is incomplete without Thinkmojo studio. The studio was established in 2011 in San Francisco and from then its has been providing amazing services around the globe. Google, Twitter, Slack, ZenDesk, and Mixpanel are the companies that put their trust in Thinkmojo for creating informative and attractive animation for them.
The studio follows the approach of portraying the ideas in animated style, which clarifies tangling subjects.
The studio is known for creating explainer videos, commercials, educational ads, and brand videos. They welcomed from start-up to the established business and personalized the video according to the need of the companies. Thinkmojo is an award-wining video animation company and will be the right choice for video projects.

#11) Kasra – Animated Explainer Video
Since 2011, Kasra Design has been producing more than 700 videos for different businesses and brands. The studio is in Malaysia, with headquarters in Kuala Lumpur and California.
The studio has the best team in animation, which creates explainer videos, short animated films, typography, and motion graphic.
The studio creates explainer videos for corporates to boost sales and highlight their products, services, and brands. Kasra Design is an award-winning company and famous on the list of top animated explainer video production companies. This studio will help you to promote your goals in style.

#12) Explainify – Explainer Video Company
Last but not least, Explainify completes the list of best-animated explainer video production companies. The studio has created more than 1000 videos. In addition, there are hundreds of clients all around the globe who trusted Explainify to create goal-oriented videos.
The team of skilled animators creates explainer videos, brand videos, landing page videos, PR videos, and sales videos for all-scale businesses.
Explainify has worked with Shell, Bosch, Mojo Power, and Pfizer. If it suits your marketing imagination, you must take a quote about the services.

Conclusion
The market is full of animation companies and all of them claim to be the best in business, but we have brought 12 animated explainer video production companies that are best in every possible way for your video projects.
Must check twice before choosing or investing in the studio. Keep the requirements in your mind and then hunt for the best explainer video company, look at the portfolio, check reviews, evaluate the designs, contact the studio, and take a quote around your budget. Do match your specification with their services.
And you can always contact us – BuzzFlick, for queries and business. We would love to respond to your issues.
We hope you must have found the perfect match for your requirements but still looking for the best video animation companies, you can check our other blogs:
The Best Animation Studios In California
10 Best Animation Studios In Seattle Washington
Recent Blogs