Observing and replicating the actions of others who have already achieved success is the quickest approach to improving your own abilities. Hours have been spent selecting the most informative videos from LinkedIn for your perusal.
This analysis was challenging because of the abundance of low-quality videos and advertisements on LinkedIn. There is obviously a lack of information necessary to make this correctly.
High levels of engagement and clickthrough rate were used to choose the videos. So, without any further ado, let's check the most prominent LinkedIn video ad examples.
Best LinkedIn Video Ad Examples – 2022
For some, this might come as a surprise, but this is not something new. Now big brands are using video ads on LinkedIn as well to keep their audience engaged. In this list, we have included some of the industry giants to see how cleverly they have used this strategy to gain nothing but success.
LinkedIn video ad example 1: Slack
It's no secret that Slack's video advertisements on LinkedIn are destroying the competition. This ad is meant to raise awareness of the brand. They're working to increase Slack's visibility and get more people to start using it.
An enticing headline reads, "Try Slack for free." A user's attention might be captured by the use of color, logo, and music before they continue scrolling. Similarly, the advertisement is brief and to the point. Advertisement does a fantastic job of spreading the word about the company.
LinkedIn video ad example 2: Microsoft
This Microsoft ad does a nice job of focusing on conversions. The logo's placement in the upper right corner is a nice touch. The use of action verbs was also quite apt. The worth is made very evident in both the images and the headline.
LinkedIn video ad example 3: Apple
Apple. In terms of spreading the word about their brand, they can't be matched by many other businesses. There's a lot happening in this clip. Nice variety of hues, easy-to-understand pitch, and a short length of time devoted to the video.
The rapid scene transitions also serve to keep viewers engaged. First and foremost, I like that they are not employing the standard horizontal video format common among business-to-business organizations.
LinkedIn video ad example 4: PayPal
I really like how PayPal acknowledges its target market in this video. You can't miss it because of how big it is. You won't find any value in this if you aren't a business owner. The video then moves on to inquire as to the difficulties encountered by business owners and the ways in which PayPal may help.
They, like Apple, were early adopters of Square's video advertising format and are now reaping the benefits. Excellent commercial for raising brand recognition.
LinkedIn video ad example 5: Amazon
Amazon takes things to a more intimate level by documenting the lives of one of its employees. Their mission is to increase its company's visibility in the hopes of snagging top-tier employees. They reveal the problems, ambitions, and aspirations of an employee in the actual world.
The rapid pace and frequent scene changes in the video are also effective in keeping viewers engaged. Take note of the emphasis placed on certain words or phrases in bold.
LinkedIn video ad example 6: Refinitiv
Since LinkedIn is aimed at professionals, it is a natural fit for graphs in video ads. Refinitiv has a brilliant plan to attract bankers and investors. I like the inclusion of statistics and mentions of reputable businesses like HSBC.
Take note of the increasing specificity of the benefits provided to members. In sum, a high-quality example of a video commercial designed to generate leads.
LinkedIn video ad example 7: Grab
The year 2020 has been a bad one for many people. From lengthy periods of quarantine to the loss of employment, the repercussions can be devastating. With this touching commercial, Grab captures the essence of these difficulties and the strength required to overcome them.
The publicity for Grab's brand should increase as a result of the company's compassionate actions.
LinkedIn video ad example 8: Gong.io
Excellent graphics and colors that really pop against the blue and white of LinkedIn profiles. In this brief scene change video, Gong features client testimonials rather than the usual products like whitepapers, eBooks, and webinars.
Furthermore, the canine component is a refreshing twist. This stands out since very few businesses would actually accomplish something like that.
LinkedIn video ad example 9: Square
This video does a terrific job of summarizing Square's value proposition. I enjoy how the commercial swiftly transitions between scenes and how important information is presented upfront.
Including a call-to-action (CTR) link in the introduction itself is a smart tactic for improving CTR. Advertisement does a fantastic job of spreading the word about the company.
LinkedIn video ad example 10: Facebook for Business
Facebook's videos for brand promotion are top-notch. This video's primary goals are instructional and demonstrative in nature. Very well-paced and written. In light of the fact that so few people are likely to stick around to the end of such a lengthy advertisement, I would recommend moving the most important information up to the first 5-10 seconds.
LinkedIn video ad example 11: Google
Brilliant video ads concept from Google. Look at how they just use one scenario to demonstrate the main point your potential customers need to know. The CTA includes some animation in a GIF-like manner. Due to its incredibly short length, this advertisement plays in a never-ending loop.
Google's copy also does a great job of identifying and appealing to its target demographic. The importance of experimenting with various video file sizes is yet another takeaway.
LinkedIn video ad example 12: Anatomage Inc.
Sorry if the brain image bothers you, but hear me out. The goal of this ad, placed by a firm dedicated to medical training, is to be clicked on. We hope this provides some helpful background information. Let's begin with what we're offering and why it's valuable.
They demonstrate that there is a more effective method of medical education, therefore challenging the status quo. The video's short length is also a plus in my book. In my opinion, the duration of the video might be cut down to between five and ten seconds.
LinkedIn video ad example 13: CentralDBC
You can think of this as an advertisement built entirely off customer praise. Case studies are highly effective in achieving goals related to traffic and sales. It is presumed that the target audience is already aware of the brand's offering and that displaying a testimonial from a reputable organization and people would increase their level of confidence in the brand.
The video features the client discussing the difficulty they were having and how CentralDBS was able to assist them in fixing the issue.
Brilliant! I appreciate the closing captioning as well. The phrase "Free for three days" serves as a powerful call to action as well.
LinkedIn video ad example 14: Whirlpool Corporation
They are extending a special incentive to current and former Disney staff members. The audience reference is direct and spot-on. This is a fantastic case of a social media video commercial.
LinkedIn video ad example 15: Eclipse Holsters
I really appreciate the use of emoticons in this video. Ads on LinkedIn? They're not boring at all! Adding some levity is possible. This isn't your standard business-to-business ad. It features a do-it-yourself product and hardware alongside an instructional video. Ideal for drawing attention and encouraging engagement.
Certainly, differentiates itself from the monotony of most company advertisements. After all, grabbing people's attention is the name of the game in marketing.
LinkedIn video ad example 16: Content Cucumber
These sound like old Harmon Brother commercials. I think this commercial is brilliant because it uses humor to its full potential. This video uses a meme format to convey a compelling offer and thought. Definitely not your stuffy, boring, run-of-the-mill advertisement. Read the headline too. A "Free Blog" is explicitly advertised.
LinkedIn video ad example 17: Chorus.ai
It's crucial to provide value immediately rather than try to upsell. That is the quickest route to gaining a person's confidence and financial support. ChorusAI does an excellent job producing this video content. They are committed to providing their customers with the information they need.
A direct and obvious call to action so potential customers understand they must sign up for a newsletter to receive updates.
LinkedIn video ad example 18: PredictiveHire
In this context, the image is quite striking. Humans aren't always necessary to bring out the best in others. Too corporate and artificial.
Discrimination in the workplace is another sensitive area that this discussion talks on. Short and to the point, the video gets right to the point. Their video's message is mostly conveyed through the employment of huge fonts. If they include a Download message at the end, I think it would be a great improvement to this advertisement. Or at least give some indication of what is available for download.
LinkedIn video ad example 19: SAP
SAP's offering here is quite apparent, and it absolutely smashed the competition. Clear call to action that gets right to the point. I really like how SAP puts its logo in the upper right of the video.
If I had one reservation about this commercial, it would be that it wouldn't be effective as a brand awareness campaign. Those who are unfamiliar with SAP Enable Now are unlikely to participate in the online demonstration. If they don't see an issue, there's no reason to address it.
LinkedIn ad example 20: Google
Google's video ad for brand recognition is excellent. The video might be lengthy, but it was well worth the time since it gave a fascinating look at how people throughout the world looked for information in 2017.
To increase your brand's visibility and market share, you should do what Google has done and make your private information public. If the content of your video is fascinating, viewers won't mind watching for a longer period of time.
Pro tip: If you want to stand out among your competitors, you can go for animated LinkedIn video ads. At BuzzFlick, we offer different video animation services like 2D animation services, 3D animation services, cel-animation, whiteboard animation, etc.
How to Retarget Using LinkedIn Video Views & Ads
Now, here's the issue about business-to-business sales. It takes a long time, and the path to purchase isn't a straight line.
This indicates that the prospects' interest in your products will wax and wane.
According to Gartner, this is how most business-to-business transactions go down. Converting someone is more difficult and requires more than just offering them a free eBook or webinar.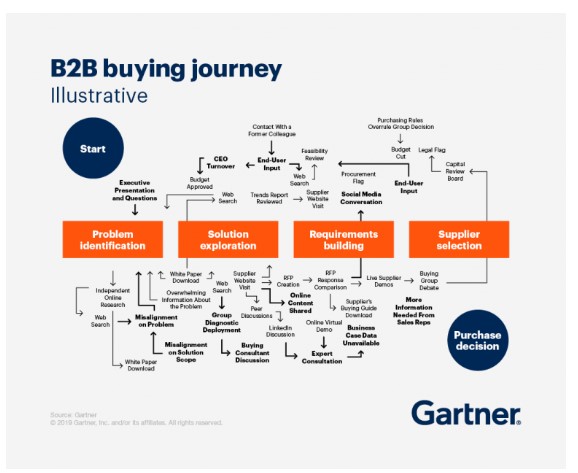 Source: Gartner
Retargeting is very important in this context. If someone has recognized an issue and begun looking for a solution, you need to be at the forefront of their thoughts at all times.
Competition may easily steal customers from you at any stage of the protracted purchase process.
Think about how frustrating it would be to put in the time and effort to educate a lead only to have to retarget them when they are ready to buy. They might forget about you, sending business elsewhere.
The same holds true if an organization puts all of its efforts into pushing sales and providing demonstrations. Lower-funnel marketing material, such as recommendations for which vendors to work with, won't pique the interest of your target audience.
Prior to pushing them toward a demo, you should aid them in comprehending the issue and the place of your remedies in resolving it.
So how can LinkedIn's remarketing of video views aid in the protracted purchasing process?
LinkedIn users can be retargeted at the 25%, 50%, 75%, and 97% points of your video ad's playback.
In addition, you can also choose the time frame during which people were most receptive to your adverts. You can retarget your most recent audience or members over a longer period of time if your sales cycle is lengthy.
30-day, 60-day, 90-day, 180-day, and 365-day options are all available on the table.
How can I retarget LinkedIn video views?
We've included some screenshots below so you can locate the remarketing for video views.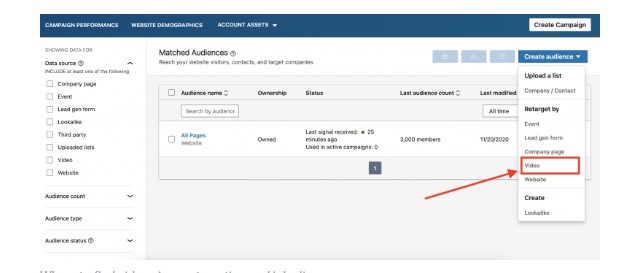 Video retargeting options expand when you click on them.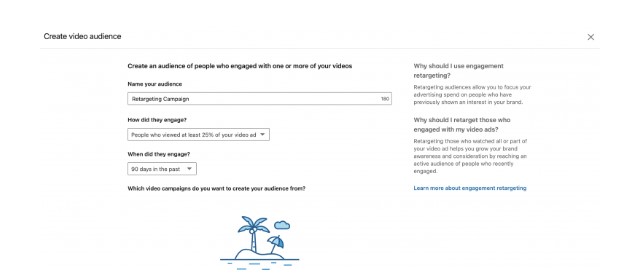 Words to the wise:
To maximize success with retargeting, it's best to limit videos to a minimum length. LinkedIn's video view retargeting takes into account how long a video has been played for. Since many people would not view a lengthy video, it will be difficult to retarget them. Shoot for videos between 5 and 10 seconds in length to reach a wider audience.
Ready to Create Your Own Video Ads? – Contact BuzzFlick
By going through the LinkedIn video ad examples, you must have realized how companies are effectively communicating with their audience through this new medium.
However, no matter what type of video style you choose, you need to remember that the video content should be engaging, creative, and unique.
You can use video software like Envato or Adobe to create your own video ads. However, they won't be able to entice your audience since you'll be using stock videos which are pretty much used everywhere.
If you're in search of something distinctive, special, and classy, then hiring a video production company for the job is an excellent alternative.
If you want to add oomph to your LinkedIn video ad, then hire a video animation production company like us. As one of the best animation studios in California, BuzzFlick offers quality video animation services.
We have been recognized by platforms like UpCity, Manifest, to name a few, as one of the best video animation studios. Some of our notable clients include NABU, WeFeel, Airacer, Food Nature Climate, and many more.
Our competent team of animators is highly-skilled and proficient. No matter with what ideas you come to us, we'll give life to them.
In a Nutshell
I hope you enjoy my selection of the best LinkedIn video ad examples. If you're planning to try this new marketing strategy, these examples will help you greatly.
LinkedIn Video Ad Examples – FAQs
Can you use videos as LinkedIn ads?
Video advertisements on LinkedIn can be shown in the form of Sponsored Content within the user's feed. These ads can either be sponsored posts featuring videos from a LinkedIn Page or new video advertisements created within the Campaign Manager, known as Direct Sponsored Content.
Why use video ads on LinkedIn?
LinkedIn's Video Ads have been shown to be an effective method to attract and involve target professional audiences. Additionally, video content is important for the brand and these changes enable LinkedIn's professional community to more easily benefit from the content being created.
What are good LinkedIn videos?
For videos aimed at increasing brand awareness or consideration, LinkedIn suggests keeping them under 30 seconds in length. Videos that are intended to achieve upper-funnel marketing objectives should be between 30-90 seconds. For videos that tell a brand or product story, it's better to use a longer format.
How long should be a LinkedIn video ad?
Short videos, under 30 seconds, are effective for increasing brand awareness and consideration, according to a study by LinkedIn which found that videos of this length had a 200% higher view completion rate.