Finding the best software to make your explainer video? Here is a list of the 15 best explainer video software with useful features for a video project.
These days, by not promoting your brand through animated explainer videos, you're losing out on a lot. To enhance a consumer's experience in today's world, you need to use appealing graphics and imagery! Animated commercials in particular can help your brand get elevated to new heights!
If you're a business owner, relying on an effective explainer video software is necessary as well. Now, what role does a video creation software play in creating mind-blowing videos for you? Well, a free animation maker can help broadcast your business's message in a clear-cut and engaging way – a must-have marketing tool!
Why Should You Make Explainer Videos?
It's a known fact that consumers have a short time span, and content is being consumed on the go nowadays. It's rare that someone will take time out and willingly watch a video, even if it's not commercialized. In this case, stats have shown that explainer videos are a better alternative. So as a marketer, you should focus on creating explainer videos;
they increase conversions.
are thought-provoking.
combine visual and audio stimuli.
So, without any further delay, let's take a look at the list of the best 2D Animation software and whiteboard animation software that can surely satisfy your marketing needs. How do I make an explainer video? By using any of the following software mentioned:
List of Best Explainer Video Software
#1) Animaker

Animaker is a DIY animation software that can be easily used by anyone. With thousands of templates to choose from, Animaker gives you a diverse range of options! Also, it's a trustworthy name. Reputed brands such as Amazon, Nokia, and Siemens, to mention a few – used Animaker during their marketing campaign.
Catering to more than 7 million users, Animaker has made a name for itself over the past 6 years. The DIY animation software also gives users 5 video styles and 120 animation models to select from, as well.
#2) GoAnimate (Now Vyond)

GoAnimate, now known as Vyond – works as a premium infographic video maker. Although, purchasing Vyond is definitely worth it. As a drag and drop animation software, and a basic video editor – the software works well!
Illustrate modern-day scenarios by using one of the thousands of characters that Vyond provides. For better storytelling, use Vyond. Security is a major concern for a lot of businesses, and this software noted that. Vyond is certified by multiple regulatory authorities and has built-in privacy features as well.
#3) Biteable

Biteable is a fun, minimalistic, and lightweight software that will meet your standards. Used by brands such as Virgin, Cisco, and even Microsoft – Biteable is a trusted name. For editing needs, they offer 800,000 real-life footage clips, dozens of animations, and templates.
For the most part, you can get away with high-quality videos for free. Although, if you need to download the "video", or remove the watermark – pay $99 USD/year and unlock all features!
#4) Animiz

Animiz is an animation video maker that can make both 2D and text-based animations for you. As you can see from the software's name, Animiz is designed to make animated commercials of all sorts.
For $299 USD/year – you gain access to 2000+ vectors, publishing options, music tracks, and a lot of other editing features. For an immense experience, invest in it. However, the free version is suitable for simple projects as well.
#5) RenderForest

RenderForest is an all-in-one software that includes more than "animation" features. So, utilize it! You can create logos, designs, websites, and obviously explainer videos. It's an all-around package.
Even for animated commercials, there's a ton of variety. Make 2D animation blogs, whiteboard explainer videos, or 3D Animated clips. Apparently, RenderForest has 7 million users, and has made 30 million projects for all of them! So install it right now.
#6) Toonly

Toonly is purely a modern-day doodle software that encompasses all animation tools. You can use Toonly for your next social media campaign! Create short videos, GIFs, product pages, and explainer videos – driving massive traffic for the brand in the long run.
With an annual subscription – Toonly includes all the "fundamental" features and even has special social media integrated features. Truly helping your brand grow organically.
#7) Videomakerfx
Similar to other tools, Videomakerfx helps your brand make creative videos and in hindsight, grow the brand's traffic. If you're in search of copyright-free videos and images, use Videomakerfx. With a one-time fee of $27, this explainer video software provides plenty of videos(no watermark).
Overall, Videomakerfx is specifically designed for marketers – ensuring that the "edited" video will do wonders for your audience.
#8) Explaindio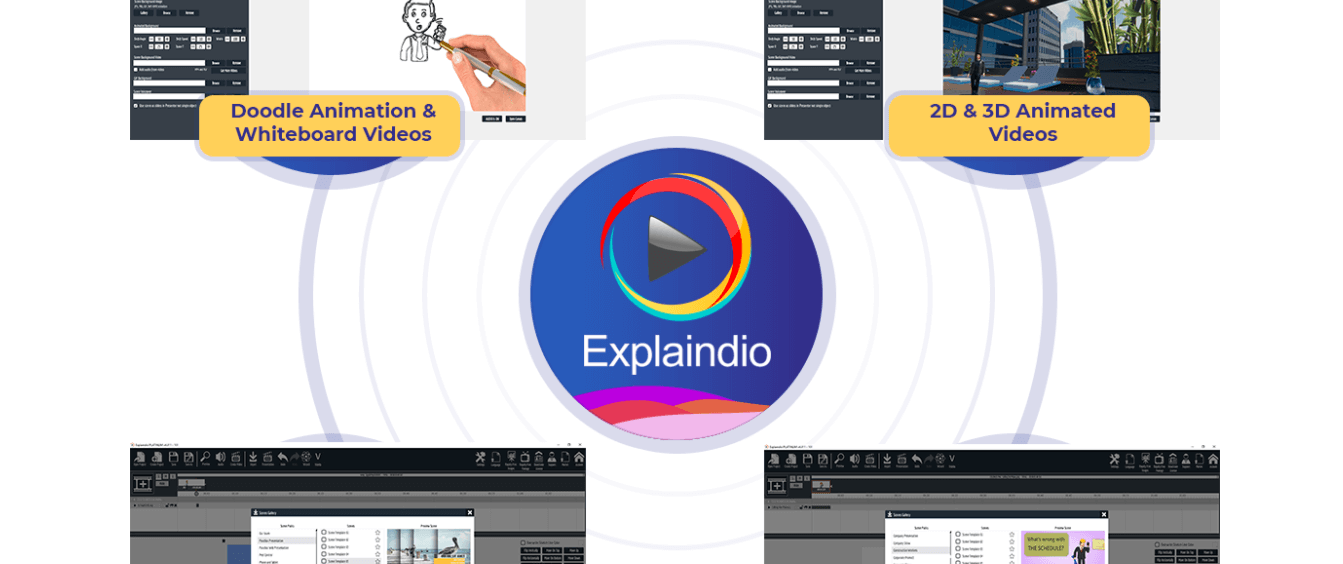 Explaindio is a premium explainer video software that you can purchase for $37 USD/month. Create 2D animations, doodle sketches, 3D videos, and even motion graphics instantly. Explaindio is known for its fast processing, and drag-and-drop tool. It is an easy-to-use tool.
Explaindio relies on three principles – create, customize, and publish. These "3" words have attracted sales and leads across for many brands. Your "brand" can be one of them. Install Explaindio and utilize it to the fullest!
#9) Wideo

Wideo has had reputable users over the years. A few being; Sprint, Staples, Discovery, and the University of Toronto. Such diverse companies prove that everyone needs an explainer video software, and so should you. Wideo is an ideal tool for you.
Create storyboards, animations for an Instagram story, a slideshow – to mention a few. While using it for free, users can expect 10 video templates and fewer options. Wideo offers different plans, and the "$79 USD/month" one is most recommended by us. It includes all major features such as plenty of audio tracks, video templates, and editing options.
#10) PowToon

It goes without saying that PowToon is one of the most powerful tools when it comes to creating animated commercials. Trusted by Fortune 500 companies; Adobe, Google, Unilever, and Verizon among many others – PowToon powers a lot of different brands. Also, PowToon offers different video templates; marketing, educational, and training.
In the end, the purpose is to engage your audience, and this tool edits videos accordingly to it. Their visual features are unlike any other software – creating high-quality animated commercials. Before deciding on a plan, utilize their free trial, and create your first video!
#11) RawShorts

Create DIY animation by using RawShorts! RawShorts specifically caters to whiteboard needs, a perfect explainer video creator. RawShorts gives absolute creative control to its users and outputs professional results.
Choose from thousands of whiteboard styles and characters for your story. If you don't know how to draw, a whiteboard video is a perfect alternative. Also, RawShorts is a reputable name trusted by dozens of companies; CapitalOne, CocaCola, and Sony.
#12) Moovly

Moovly is known for its customizable features, easily shift from one template to another according to your needs. Moovly lets you adjust music, text, graphics, images, basically anything. Create explainer videos, how-to tutorials, promos, and a whole lot more.
Moovly Studio is a powerful built-in interface that is easily understandable and creates high-quality videos. Also, this software lets users enter their personal audio clips and pictures as well. Effortlessly create explainer videos with a personal touch!
#13) MySimpleShow

MySimpleShow creates doodle-like imagery and other creative elements to craft the perfect "video" for you. Whether you want a professional, educational, or personal explainer video – MySimpleShow is there!
This software encourages users to tell their stories and then transforms their vision into an animated video. Creative interactive, fun, and amusing videos through MySimpleShow. To avoid copyright infringement, purchase the rights to your video. For $129 USD/month, get watermark-free videos and a lot more.
#14) Explee

Explee creates high-quality animation commercials and is made from a marketing point of view. So, it has had a lot of reputation over the years. Explee has provided whiteboard animations and motion graphics, and it has increased the traffic of brands along with it. For animated videos, you can add images/clips from your library as well.
Also, you may navigate through Explee's custom-made image bank which has 6,000 royalty-free images. Available on both desktop on mobile, use Explee simultaneously and easily multitask between devices.
Conclusion
Overall, all of these tools will help you in one way or another. If you're a marketer trying to craft the "perfect" explainer video, feel free to use any of the software we have mentioned. They've been thoroughly researched and used by us, so you won't be disappointed. Do you know any other software? Let us know!
Related Articles: