Here is a list of the best innovative animation studios in Montreal that can help you surpass your competition by leveraging aminations.
Over the years, animation studios have become the heart and soul of several industries. The results of leveraging animations for engaging the audience and conveying the message have made animations an integral part of the overall digital and physical corporate world.
Animations have proven time and time again that they're super-result nurturing; however, the animations that have generated amazing results in recent times were created by some of the most iconic names in the industry.
Here's a list of the most innovative and well-known brands that utilize animations to convey powerful meanings to their respective audience:
Ford
NHS
Coca-Cola
Red Bull
Google
United Airlines
American Express
Facebook
PayPal
Morton Salts
The above-mentioned brand has leveraged animations to tell stories to its audiences regarding its brand, services, or products, and the results were truly inspiring. In a nutshell, these brands leverage animation to the fullest, and that is what you should do for your brand too.
Wondering how to get started? Well, I believe that the team behind the animated videos of the above-mentioned brands was the one that made it all possible for them.
However, I know that hiring a super-expensive animation production team can cost you thousands of dollars. So, the best way to ensure the quality and effectiveness of your animation videos is by outsourcing your animated video production.
If you're an entrepreneur living in Montreal and you've got an amazing brand, and you're ready to leverage animations to convey the message to your audience – this article is going to unveil the top 10 animation studios in Montreal.
This article will also cover additional details that will help you along your journey of finding the best animation production studios in Montreal.
So, without any further ado – let's start.
Use an Animation Production Studio
Animations have pretty much changed over the years. There's a lot more effort that you have to put into your animation videos today to truly stand out and be the innovative one in your niche.
Where this aspect of being the "innovative one" has raised the competition bar, it has also provided several businesses with the opportunity to engage the audience by creating purpose-driven animations that are designed to boost customer experience.
Today, you need an exceptional Montreal animation studio by your side to create great animated videos.
Let it be for marketing, explaining a product, sparking interest in the audience, or any other purpose, you need to leverage the skills and expertise of a high-profile animation studio in Montreal to create animated videos for your brand.
Nowadays, there is an abundance of options available in the market when it comes to offering 2D animation services to businesses. Numerous animation studios in Montreal are offering similar services, and due to better marketing, they're getting business.
It all boils down to the fact that better marketing your business does give you more exposure and customer, but it doesn't mean that you're the best one in your niche.
To gain new customers while retaining existing ones, an animation studio in Montreal needs to be skilled, professional, visionary, innovative, and much more.
The list of animation studios in Montreal at the top of this blog is selected while keeping various quality measures insight, which is why we're fully confident that they won't fail to impress you.
Why Should You Hire an Animation Studio?
Creativity is a gift, that's for sure. Not everyone is creative, and neither does everyone have enough time to focus on creating astounding animation videos for his/her business, especially when it comes to entrepreneurs.
Making captivating animated videos take years of experience and expertise. It requires one to hone their skills to perfection by taking comprehensive classes and training.
Sure, we're living in the digital world, and we've got several opportunities to learn the animation creation process for free, but that's certainly not enough because you'll be creating an animation video for the first time after learning it online.
Whereas your competition has hired one of the best animation production companies in Montreal to create an animation video.
This is the main reason why I believe that hiring an animation production studio in Montreal is the best way to ensure digital success. Additionally, some perks and benefits of hiring the experts are mentioned below:
Leverage years of experience and expertise.
Get proficient storytelling skills at your disposal.
The videos are visually impeccable and entertaining.
The competitive professional touch.
Ensure the conveyance of the message to your audience.
Animation companies in Montreal are highly competitive, and they make sure that they hire the best talent to stand tall in the market.
Therefore, when you select an animation company, you literally get a plethora of talent working hard to create a great animation video for your brand.
How to Select the Best Animation Studio in Montreal?
After thoroughly researching what you want in your project, you can go ahead and start searching for the best animation studio in Montreal that is fully capable of delivering what you want.
However, if you're new to this and you're having a little difficulty in selecting the best production company in Montreal, here's what you should look for additionally for selecting the right company for your business:
Their Animation Style Expertise
We're living in a world where being the "jack of all trades, master of none" is not considered the best attribute anymore. However, being the jack of all trades, master of one" is logical and the best trait of all.
Lost in translation? Let's cut to the chase then. What I mean is that there are several video production companies in Montreal offering literally every service there is related to animations, and believe me, when I say this, offering quality-oriented services in all domains of animations is impossible.
There has to be a catch. Either the company is not good at delivering any of the mentioned services, or they truly shine when it comes to 2 or 3 services out of the 15 that they've mentioned on their website.
Look for the specialty of the company, and see what they're capable of when it comes to creating an animation video catered to a specific style, for example, 2D animation, Stop-motion, or Explainer video.
Determine the Uniqueness of Their Animations
Trust me, you don't want a pathetic rip-off of some old animated video released by a well-known brand just to be remake years later in your brand's image. And neither is getting a stock or templated-based animated video.
The digital world has no shortage of plagiarized content, and this is something that you should avoid under any circumstances. I say this because uploading a copied animated video could cause harm to your brand's image, drive negative reviews and even compromise your sales or conversions.
So choose a studio wisely and check if they have any plagiarized content in their portfolio. Go through it carefully and compare it with the portfolio of other animation studios in Montreal that you've researched.
Know that original concepts tend to stand out and bring in innovation. Also, you need to watch out for templated or stock illustrations. There are some companies that simply download a template or pre-designed animated video, tweak it a little and send them your way for approval.
Are Animation Companies Budget-Friendly?
This is perhaps the most asked question on the internet, and the only honest answer to this is "it depends." There are some studios that charge more for their services/animated videos, and then there are some that are just super-budget-friendly.
However, most of the time, animated videos cost a lot, and this is justifiable because it takes the creators/experts a considerable amount of time, workforce, and effort to create truly inspiring videos for businesses.
From paying attention to every last detail to ensuring the overall quality of the video, there's a lot that animation studios do while creating a video for their clients.
If an animation studio in Montreal doesn't follow the proper process of creating animated videos, it could result in rejection, revisions, poor results, and even money-back claims.
The point is that creating animated videos is quite challenging, and no matter how much experience an expert has in the field – it still feels difficult and time-consuming.
Therefore, if you want to get animated videos for your brand, you need to make up your mind that you'll be paying a lot of money.
Furthermore, speaking of the animation studios in Montreal that are on the cost-effective side, I recommend you check their portfolio, ask for samples and go through their digital presence (checking reviews and ratings) thoroughly before choosing them.
Nobody wants to compromise the quality of their animated videos in return for saving a few hundred dollars, right?
How Diverse is the Animation Studio's Portfolio?
As mentioned earlier, portfolios are the best thing that you can check before hiring an animation studio.
Just go through them in detail, ask for what you want in order to make the decision, take your time to review them, and get started with an animation studio with complete information about what they're capable of.
Also, look out for what kind/type of animated videos they've been delivering over the years. This approach helps you in identifying their USP, which would ultimately result in you getting to learn more about the selected animation studio in Montreal.
Keep in mind that the goal of an animated video is to provide your audience with something new, innovative, and compelling. You just don't want a regular everyday animated video to be out there doing nothing.
You want something energetic, compelling, and different so, just go for their portfolio and select the studio that you believe excels in creating the type of videos that you want for your brand.
The List Montreal Animation Studios
We leveraged our years of experience and expertise in the animation world to select to cherry-pick the best animation companies in Montreal, and here are our picks:
BuzzFlick
Presentation Matters
IND Films
Studio 109
Unite Treize
COPILOT Production
Spica Visual Effects
VFX Montreal
Squeeze Studio
ON Animation Studios
Being an animation company, we know how to evaluate and undermine the quality and skills of an animation company. The above-mentioned studios were selected after we did comprehensive research on their work, portfolio, and experience in the field.
They are, without a doubt, one of the best animation production companies in Montreal.
1. BuzzFlick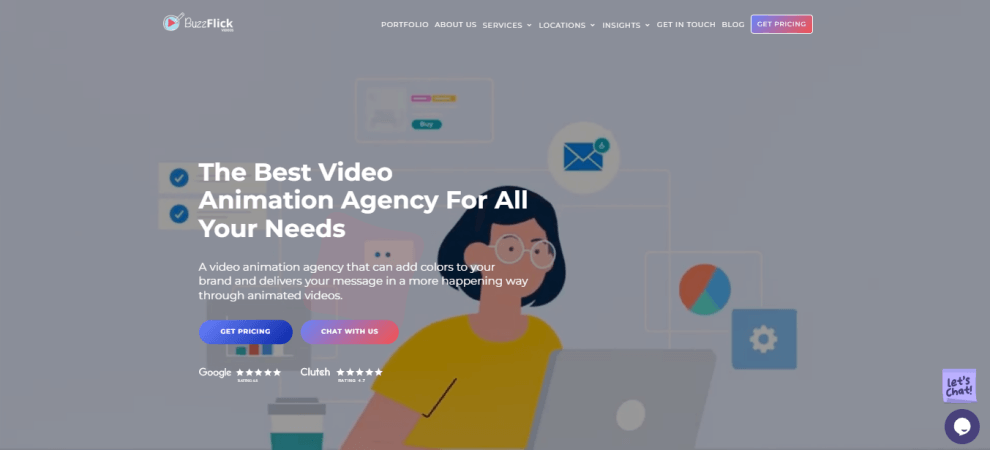 Company Overview:
Founded in – 2016
Pricing starts from – 3,500 CAD
BuzzFlick is a leading video animation production company based in Montreal. With years of experience in the industry, we've honed our craft to bring the best in creative video content to the table.
Our team of talented designers and animators is dedicated to delivering stunning and effective 2D animation videos that will help you leave a lasting impression on your audience.
Whether you're looking for explainer videos, corporate videos, or any other type of 2D animation content, we've got you covered.
Our passion for excellence and our commitment to delivering the best has earned us a reputation as one of the top animated explainer video companies.
We take pride in our ability to turn ordinary concepts into extraordinary visuals, and our goal is always to help our clients achieve their fullest potential.
Our video animation services are designed to empower brands and help them stand out from their competition.
So, if you're looking for a video animation company that can provide you with top-notch results and help you achieve your business goals, look no further than BuzzFlick.
With our commitment to excellence, you can rest assured that your project is in the best hands.
2. Presentation Matters
Company Overview:
Founded in – 1997
Pricing starts from – 1,500 CAD
Presentation Matters has adopted a unique business model that aims to break the traditional hourly billing cycle. The company believes in delivering quality work the first time around and ensuring that the client's expectations are exceeded.
This approach sets the company apart from other agencies, where the goal is often to deliver work as quickly as possible, rather than focusing on quality.
The company was established to support strategy consulting firms by providing support to their presentation production departments.
Presentation Matters has learned from the best, and before using their services, clients would hire temps, pay them hourly, and ask them to work as fast as they can.
This model has proven to be flawed, and Presentation Matters has set up strict internal processes and hired dedicated designers to provide a more efficient solution.
The fixed-price policy of Presentation Matters provides clients with visibility and stability, and it means that they are purchasing efficiently.
The company's designers are all Adobe Black Belts and strive to get it right the first time. With Presentation Matters, clients can do more with the same budget.
The company offers a wide range of marketing and communication deliverables, including banners, booth design, presentations, email design for blastings, landing pages, posters/roll-ups, flyers/brochures, video production, desktop publishing, motion design, and infographics.
3. IND Films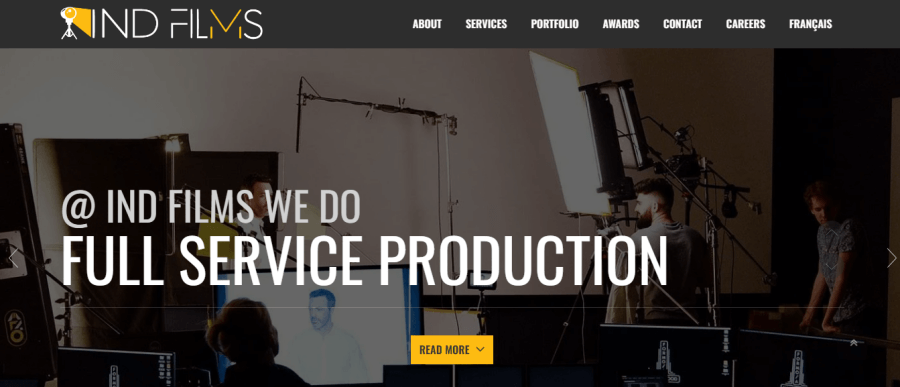 Company Overview:
Founded in – 2001
Pricing starts from – 4,300 CAD
IND Films is a full-service video production team specializing in commercial and corporate video production. They work in close collaboration with clients in Montreal, Toronto, and New York, providing exceptional services to meet their needs.
With over years of experience, IND Films' award-winning team of industry professionals has the expertise needed to help clients produce their next advertisement, promotional video, virtual event, or sales meeting.
Whether it's on-site or remotely, the team has the flexibility to adapt to any situation. For clients looking for 2D or 3D animation, multi-camera live or virtual coverage, training series, or product demo, IND Films has the capability to deliver.
The company offers a no-nonsense approach to projects, making them a great match for clients looking for expertise and flexibility. Contact IND Films for a free project assessment or to learn more about their exceptional services.
4. Studio 109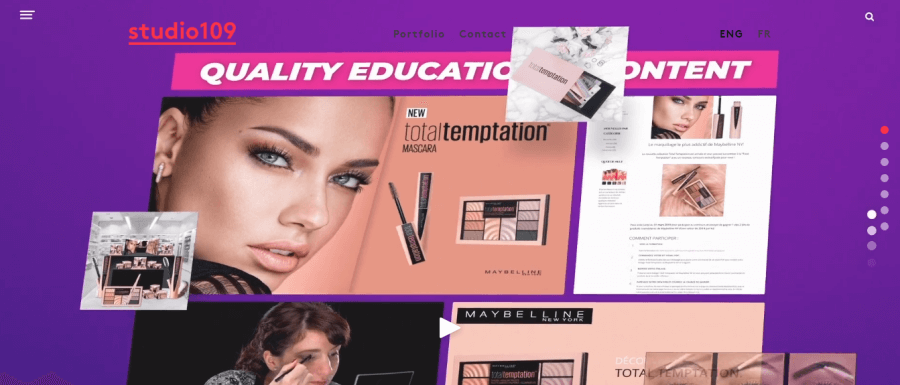 Company Overview:
Founded in – 2016
Pricing starts from – 4,300 CAD
As an animation studio in Montreal, Studio 109 is a brand-centric organization that recognizes the value of videos in bringing brands and their audiences together.
By combining their deep understanding of brands and marketing with their creative minds and passion for videos, Studio 109 delivers high-quality videos that not only meet the brand's objectives but also resonate with the target audience.
To ensure the best possible results, Studio 109 works closely with clients to understand their brand, target audience, and goals.
By taking these factors into consideration, the studio determines the best type of video for the brand and audience and brings it to life to the standards expected of the brand.
5. Unite Treize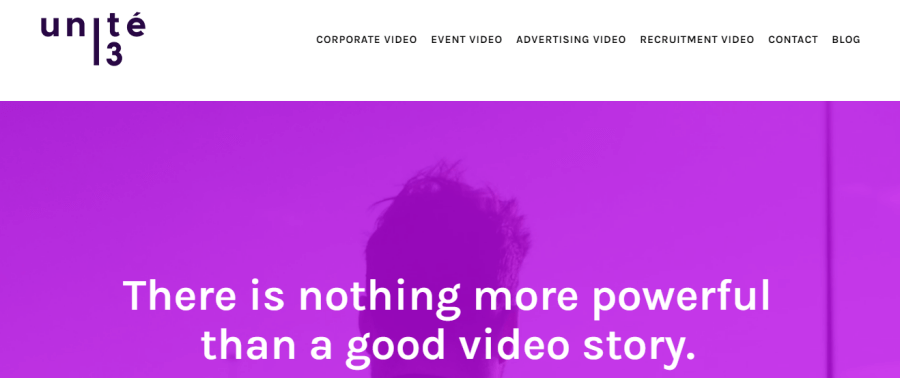 Company Overview:
Founded in – Unknown
Pricing starts from – 1,500 CAD
Unite Treize path, an animation studio based in Montreal started in the advertising world and has developed a unique production approach for all the communications they produce for clients.
They bring resourceful, unique, and engaging video design to your projects, starting from your ideas and delving into the heart of the project.
Their ultimate goal is to increase awareness and inspire your customers or employees to take action. They excel in storytelling, the art of marketing by creating a story that consumers can relate to.
With the goal of making every video resonate, Unite Treize path specializes in engaging customers around the essence of a brand, event, or offer, attracting human capital.
They understand the importance of choosing the right medium and creating the ideal story to get closer to their customers.
6. COPILOT Production
Company Overview:
Founded in – 1999
Pricing starts from – 1,500 CAD
Established in 1999, COPILOT is a leading production company in Canada with a focus on production servicing. Based in Montreal, Quebec, they are dedicated to providing transparent assistance to clients, all while respecting production calendars and budgets.
With over 315 successful projects under their belt, including TV commercials, television series, 2D and 3D IMAX documentaries, music videos, corporate and web films, EPKs, and photoshoots, they have worked with clients from across Canada, the USA, and world.
Their extensive experience as location managers, along with their vast database of film-friendly locations, makes them a valuable resource for finding the right location for your project. Their strong relationships with suppliers, crew, and union affiliations make the production process smoother and more cost-effective.
At COPILOT, they believe that people are the key to success, which is why they hand-pick key production personnel and crews to ensure the best results.
They also provide more production value at a lower cost than comparable shoots in Europe or the USA, making them a competitive option in the global market.
Moreover, their local knowledge of resources and Canadian work practices helps clients overcome cultural differences and navigate Canadian law. If you're looking for the best animation studios in Montreal, consider COPILOT. Spica Visual Effects.
7. Spica Visual Effects
Company Overview:
Founded in – 2006
Pricing starts from – 1,500 CAD
Founded in 2006 under the name Spica Visual Effects, Spica Technology has established itself as a leader in the field.
With years of experience in both R&D projects and local and international commercial and film productions, Spica has developed a strong expertise in visual effects supervision and project management, working with studios in Montreal, Rome, Los Angeles, and Taiwan.
The company is made up of a core team of highly talented individuals, and it partners with other professionals to bring a full range of skills to each project.
Spica is committed to delivering services that consistently meet or exceed its customers' expectations for quality.
8. VFX Montreal

Company Overview:
Founded in – 2011
Pricing starts from – 1,500 CAD
With nearly 40 world-class visual effects and animation companies, Montreal is one of the top post-production hubs globally. The city and its nearby Québec City are renowned for their highly skilled, talented, creative, and capable digital artists.
Guided by their creative energy, Montreal's animation studios work together to offer a unique blend of services and expertise, making even the most ambitious projects a reality.
Thanks to their strategic location and international focus, these local companies understand the needs of both North American and European clients alike.
Specializing in visual effects, companies in Quebec are highly respected for their creativity and innovation and have worked with big names such as Cirque du Soleil, Moment Factory, and Autodesk. Find your Ideal firm in Montreal.
9. Squeeze Studio
Company Overview:
Founded in – 2011
Pricing starts from – 1,500 CAD
Denis Doré and Patrick Beaulieu founded Squeeze in the tech-savvy neighborhood of St-Roch in Quebec City in December 2011, with Francois Houde joining as CFO in 2013 to drive the company's growth. Denis serves as the CEO, while Patrick functions as both Creative Producer and Director.
Comprised of a team of highly skilled artists and technical specialists, Squeeze is small enough to remain agile and yet large enough to deliver outstanding quality on even the most complex projects, including animated films, premium TV shows, video game cinematics, and theme park experiences.
Their common goal is to bring together the finest artists and create world-class animations that stand out and make a lasting impact. Being an animation company, they have a keen eye for evaluating and recognizing the quality and expertise of other animation studios.
Through extensive research of their portfolio, experience, and work, Squeeze has identified itself as one of the top animation production companies in Montreal and a good choice for those seeking a top-notch Montreal animation maker.
10. ON Animation Studios
Company Overview:
Founded in – 2015
Pricing starts from – 1,500 CAD
As one of the top 2D animation studios in Montreal, ON offers exceptional technical and creative talent, with offices in Montreal, Paris, and Los Angeles.
As a subsidiary of the leading European animation group ON Kids & Family, they specialize in the production of television series and feature films.
Since its establishment in Montreal in 2015, ON has produced numerous critically acclaimed projects such as Mune: Guardian of the Galaxy, The Little Prince, and Playmobil The Movie. The Little Prince remains the most successful French animated movie to date.
Presently, they are hard at work on the highly anticipated Ladybug & Cat Noir Awakening, and continuously expanding their portfolio of engaging and distinctive animated features.
If you're in search of a top-notch Montreal animation company, ON should definitely be on your list.
The above-mentioned studios were selected after we did comprehensive research on their work, portfolio, and experience in the field. They are, without a doubt, one of the best animation production companies in Montreal.
In Search of An Animation Studio in Montreal, CA?
Since you're searching for the best animation studios in Montreal, we thought why not eliminate the search for you?
Meet us; we're BuzzFlick, an animation video production company that leverages modern technology, tools, processes, and methodologies to create awe-inspiring animated videos for businesses.
From integrating a storytelling approach to creating the best explainer videos, product demo videos, and 2D animated videos, we know the alchemy of creating great animated videos for brands.
Additionally, our years of experience and expertise have led us to build a captivating portfolio that you can check out anytime to choose the type of video that you want for your business.
Let's start working together to create a story-driven animated video that connects with your audience on a personal level and brings amazing results.
Montreal Animation Studios – FAQs
Are there animation studios in Canada?
Chuck Gammage Animation is a highly-regarded, smaller-sized animation studio located in Toronto, Canada, known for its outstanding work in 2D animation. They specialize in creating one-of-a-kind characters for film and television production companies with the assistance of a team of world-class 2D designers and animators.
What is the best animation studio in Canada?
Big Bad Boo is an award-winning animation studio based in Canada, known for its exceptional 2D animation productions. Their programs have reached a global audience, airing in over 120 countries.
Over to You
Here's all you need to know about the best animation production companies in Montreal, along with comprehensive detail on how you can select the best animation studio for your business.
I know that finding an animation company in Montreal isn't an easy task – the city is increasingly becoming a business hub, and the chances of finding an amazing animation service provider are decreasing as we speak.
So, what you need to do is follow our guide on selecting the best animation studio, or you can just take our word for it and go for the Montreal animation studio list mentioned at the start of this blog.
Related Articles: