Are you're in search of striking video presentation ideas? Read our blog to explore the 17 best ideas to make a killer video presentation for your business.
So, you aspire to be the next Elon Musk or Barak Obama. Or maybe any orator who you may look up to. In order to avoid boring your audience to death with PowerPoint, you'll need to spice up your presentation ideas a bit.
Even if you're simply showing your uncle a trip video or a business presentation, we've put up some of the most effective techniques to make your audience excited about what you've got to say.
We at BuzzFlick also offer various video production and animation services, which have taught us a few things about how to make a good presentation video. Some of our best video presentation ideas and examples are included in this blog, as are some suggestions for the various sorts of presentations you might wish to explore.
Different Types of Video Presentations
Videos are the finest approach to keep your audience engaged during a presentation. A message is retained by 95% of viewers when it is shown in a video, but just 10% if it is a readout on the screen.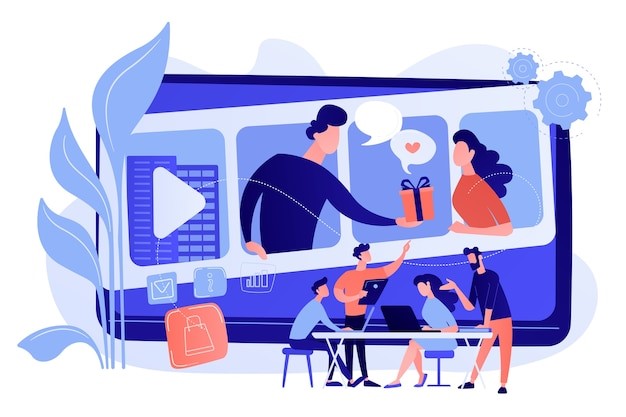 It's up to you whether you want to make your video the entire presentation or simply a portion of it. For example, did you know that a PowerPoint presentation can also have an embedded video? With different video templates, you can do either, and it's fun to switch things up every now and again.
Presentations can be classified into four broad categories:
Demonstrative
Informative
Inspirational
Persuasive
You can choose any of these. However, choosing the right video presentation type will ensure that your video presentation is nothing but success.
For instance, if you want to sell your newly launched products, you might go for a video template that's persuasive. Or, if you want to make a presentation for employee onboarding, you'll go for an informative one.
P.S: If you want to learn how to make a video presentation, do give a read to our extensive guide on how to make a video presentation.
Creative Video Presentation Ideas
Your choice of presentation style has been made. However, how can you make your video more original, more unique, and most importantly, more creative?
To begin, make sure your video is of the highest quality possible. Graphics and production quality are essential to ensuring that your message is heard and seen properly. Choose online video presentation software that is simple to use and produces excellent-looking videos.
Regardless of the subject matter of your presentation, your video format and design must be consistent with the overall tone and message.
Doing a climate change presentation at work? Upbeat, fast-paced music and a riotous template will feel out of place.
As you plan your presentation, think about how you want your audience to feel. Do you want them to be laughing so hard they'll cry? Weepy-eyed? Are you fired up and ready to go? Choosing the correct framework and creating the finest video are both made easier when you identify the emotions driving your presentation.
Related blog: Top 40 innovative video content ideas.
Cool and Inspiring Video Presentation Ideas
Having decided on the general kind of video presentation you want to create, the next step is to learn the specifics. Here are just a few examples of how you can make your message shine.
1. Begin with a strong statement
The interest of your audience may be immediately piqued by making a strong remark. If you're going to make a statement, it should be a little out of the ordinary. Think of something that will get people's attention and can make people sit up with jaws dropped.
Get it? Let's move to the next step.
2. Tell your compelling story
Telling a story is a great approach to engage your audience since it hits them straight in the feelings.
The appeal of a human narrative is in the ability of the audience to identify with it on an emotional level. Tell a tale about a human being that is relevant to your business or idea, and allow your audience to identify with the main protagonist. Love, desire, and overcoming hurdles are all things that we've all had to deal with at some time in our lives.
In other words, how will you structure your presentation such that your audience feels a sense of connection with your message?
As a salesperson, you may talk about a marathon-training customer. Anecdotes on how a seemingly innocuous statement affected you can be used to advocate for women's rights. Perhaps you might begin your presentation by recalling the choice that sparked your company's existence.
From one of the world's most well-known businesses comes an excellent example of storytelling:
3. Add some music and sound effects
Video presentations benefit greatly from the use of music, which has been shown to hold an audience's attention and help memory recall. Why not utilize music in a video presentation to evoke an emotional response from the audience?
Modern, fast-paced music will get people's attention at the correct time, while slow, minor-key sounds calm the brain, making it easier for content to be retained in long-term memory by allowing the brain to rest.
Useful Resource: Credible Royalty-Free Sound Effects Websites
4. Use visual metaphors
One of the most effective methods to get people interested in and remember information is to use a combination of images and text. If you can mix your message with something visual, you'll be able to maintain your audience's attention for longer and help them remember more of your presentation.
Invoking fear in the minds of a group of individuals is a terrifying prospect. It could be possible to use an image of someone scuba diving or bungee leaping. Making a case for the importance of next year's business retreat to your boss? A picture of cheerful, carefree folks with their feet on the sand will do the trick.
As far as clichés go, it doesn't have to be apparent and overt. It's unnecessary to describe the meanings of closed doors, broad open roadways, and lighting a candle. The ultimate cliche: the overused "water ripple" should be avoided at all costs. Finding high-quality, royalty-free music can be a challenge.
Music is one of the most important components of any presentation, but it is often disregarded.
5. Ask questions
To get the audience thinking, start a presentation with a series of open-ended questions. It allows people to think critically, which is ideal for when you deliver your powerful message.
A staggering 15 billion trees are felled each year, according to this fact. How much more fun would life be if you didn't have to worry about saving any money at all?
You can use the skill of asking questions in a presentation as a wonderful lead-in for your video. Once your audience has contemplated the problem, you may go into detail about your remedy with the help of some appropriate music.
6. Add some ice, spice, and humor
In order to win over an audience, all it takes is a good chuckle. There's no need to be too serious, and even if you're dealing with a heavy topic, lightening the mood can work wonders.
One thing is for sure: You can't go wrong with including comedy in your presentation, whether it's for a sales video, an event, or an interview.
7. Keep repeating
Powerful, effective, and simple.
One approach to employ repetition is by repeating a word or phrase numerous times in your presentation (the repetition is in the rhythm) or by repeating several one-word phrases together.
Steve Jobs famously finished his 2005 Stanford commencement address with the words, "Stay hungry. In other words, don't be an idiot. The power of repetition cannot be understated. It emphasizes your main point and bolsters your argument.
8. Leverage the power of motion graphics
Animated text is a significant component of motion graphics, which is a core part of our work at BuzzFlick.
Using moving visuals in a presentation is a certain way to get your audience's attention right away. Motion graphics like the one in this Meeting Tips sample will grab the attention of an audience that is just taking their seats or midway through your tale.
9. Use quotes to be authoritative
Using quotations in a presentation can help convey a point even if they seem cliched at times. If you want your audience to grasp a difficult concept, use these tips. An Einstein quotation should suffice. Then perhaps you'd want to express something lyrical and meaningful? There is wisdom to be found in a few words of Shakespeare.
10. Don't forget audio narrations
A compelling voice and sincere words in the narration can change the tone of your presentation. As a result, it will keep your audience engaged even if they begin to lose interest in the subject matter.
11. Use all the bright colors
If you want your video to stand out, you need to pay attention to the color. Be open to new experiences. You may use stark black-and-white contrasts to great effect, but you can also use carefully picked primary and secondary colors to great effect, as seen in our Motion Graphics template.
12. Take advantage of illustrations
When you've got a lot to say, illustrations are a terrific method to get your point across. Illustrations may capture attention and spice up your presentation, whether you're trying to show a crowd or a clever new device.
13. Incorporate infographics
Use infographics to convey plenty of facts and information to your audience without overwhelming them. Imagine a variety of pie charts as well as digital numbers and escalating animation graphs. These may be used to present facts in an entertaining way to your audience.
14. Make engaging transitions
A video's one benefit over a normal presentation is the ability to perform all kinds of wacky things with transitions, such as a whip pan transition, where the camera swiftly moves between scenes. Similar to a wipe, but considerably quicker.
15. Give it a cinematic look
It's easier to get your audience's attention when you incorporate components of a movie theatre experience since they'll automatically equate these features with a good time at the movies and eating popcorn.
16. Relive the '80s
Your presentation will be impossible to miss if it has a classic, stylish appearance to it. You may add a dash of sarcasm to your message by going vintage. You don't have to go as far back in time as the example below, but it's a certain way to give your project some more oomph.
17. Give a positive closure
If you don't wrap up your presentation well, no one will remember what you had to say.
If you want your audience to do anything specific, such as check out a website for additional information, consider an idea or new direction, or take action toward that objective, you need to make it clear what that action is.
Both a visually arresting image and a musical shift in speed, loudness, or pitch function effectively in this situation.
What is the main point to be made here? In order to ensure that your presentation is talked about and remembered, you must have a powerful CTA (call to action).
Do You Want a Video Presentation? – Talk to Our Video Experts
Well, we all have been making presentations since grade 5, and we're pretty much good at it. But today nobody likes to watch those boring presentations we used to make.
The trend has changed, and now people are using video presentations to grab the attention of their audience and retain it.
But making one call for a lot of time and effort. If you don't have either, you can simply hire a video production company to do the job for you. If you're in search of one to get your video presentation project done, hire BuzzFlick.
We are one of the best Seattle animation studios offering compelling video animation and production services. Our creative team of animation artists and video producers is highly talented and delivers high-quality results.
Be it a motion graphics video, explainer video, or medical video production services, we offer it all.
In a Nutshell
Video presentations are very useful in real life. They help in explaining your ideas and messages in an innovative, engaging, yet informative way.
If you've ever sat through a dreary presentation, you know that video is a welcome change of pace for your audience. No other media can match its ability to bring your message to life.
Video Presentation Ideas – FAQs
Which are best video presentation software?
Following are the best video presentation software:
Lumen5
PowerPoint
Visme
Animaker
Powtoon
Keynote
Biteable
What are some creative video presentation ideas?
Some useful creative ideas for video presentation are:
Narrate a story
Add striking visuals
Choose bright and attractive colors
Use audio and sound effects
Include beautiful animations
Related Article: