Boost your conversion with captivating video landing pages. Make your marketing campaign the best with some simple and easy tips & tricks!
As a company, it's everyone's ultimate goal to generate leads, boost conversion, or get customers, and most of them use the website to achieve these goals.
Landing pages are way more effective for marketing than websites or home pages. These are designed to provide information and for exploration, but landing pages are specially created to run marketing campaigns and redirect the visitors toward the desired actions (CTAs).
But a landing page with just text blocks won't be effective enough to capture or keep the visitor. Do you know what makes the landing page best for the business? The videos on it. It captures the viewers' attention and drives the conversion toward the business.
People and Google's search algorithm both love videos. Viewers prefer watching videos instead of reading long boring texts, and Google helps the website rank high in the search result with more video content than text.
A study has stated that videos drive 86% more conversion and are convincing enough to make visitors take certain actions.
Creating a landing page with videos on it ensures that the audience will get a clear idea of your business and create a solid chance of accelerating sales.
What is a Video Landing Page?
As the name says it all: a page that has video content on it. The landing pages are dedicated to marketing campaigns that convert the audience into potential customers.
A video landing page is also known as a static webpage, post-click page, lead generating page, and destination page.
It features the video and some textual content to convince the audience to buy, subscribe, or take action.
Ways to Use Videos on a Landing Page
As we know that video landing pages are dedicated to bringing conversion to the business and running marketing campaigns. Here are some tested methods that you can imply to videos of the landing page:
1. Hero Landing Page Video
Instead of using a standard hero or main image at the top of the landing page, feature the video instead above the textual fold.
2. Supporting Landing Page Video
You can use videos to support the textual content that you have posted on the landing page. For example, simply post the video below to the fold on the landing page as a secondary asset.
3. Background Landing Page Video
You can use animated video in the background of a landing page to drag visitors' attention to the headline, main text, CTA, form, or image.
P.S: Use BuzzFlick's 2D animation service to create an animated background landing page video.
4. Lightbox Landing Page Video
Videos can be used in multiple ways, but a lightbox popup video is the most engaging way for a landing page. You can set a timer on the popup, and after that, a popup appears in front of the audience, and the video is played once the viewers hit the play button.
Study your audience first to know what they prefer in the video playing mode; if your audience is into auto tours, set your video on auto-play mode, and if your audience prefers the self-exploration, then allow your audience to click on the thumbnail to play the video.
Why Should One Use Landing Page Videos?
After digitalization and technological evolution, businesses have moved toward digital marketing. Videos are the new face of digital marketing, and companies are incorporating them into their marketing strategies to scale their business, boost conversion, and escalate sales.
Here are some mind-blowing statistics that might help you to get convinced to use videos in your campaigns. Let's take a look:
90% of the customers prefer watching a product video before making a purchase.
64% of the customers have reported that watching videos makes them buy the product.
97% of the marketers have stated that video help the targeted audience understand the product or service better.
54% of the customers say their favorite brands to post videos instead of other content formats.
A study has stated that visitors spend 88% more time on a website that contains video content.
Websites with video content are 53% likely chance to get ranked high on the Google search result.
The video viewers have a 34% chance to convert into potential customers.
72% of people prefer to watch a video in order to learn about the product or service.
Long story short, the video effectively communicates ideas, educates the audience, drives conversion, raises awareness, and provides valuable information.
How to Create an Effective Landing Page?
If you have decided to design a landing page for your business, it's time for you to understand how to create a compelling landing page that promises 100% conversion and boosts engagement.
1. Understand the Objective of Your Landing Page
First of all, you need to determine your marketing goal related to the landing page. The aim you want to achieve through the landing page and its importance for your business are the points that you must consider while creating a landing page.
Once you have understood the need for landing page creation, the page design and content will get automatically easier for you.
You must keep your targeted audience in mind. It will help you to create content (video and text) that will convince your visitors to take action.
Every business requires a different approach to create a landing page to reach its targeted audience. For example, if an eCommerce store aims to sell a physical product, its approach will be totally different from a SaaS business.
Note: Make sure that your landing page revolves around a single motive. If you choose multiple goals, that will confuse the audience and the page developer.
2. Pick the Video Type You want to Use
After determining the landing page goal and content, the next step is to consider the video style. Choosing the right video style for your landing page video is very important. The video style should be able to resonate with the marketing objective and content.
There are various video styles that you can use to make videos for your website, portfolio, or marketing, but for the landing page, we need to cut down on our choices.
Here are the best video styles that you can use to create landing page videos:
· Explainer Video
If your product is complex, different from the rest, or offers something new, then creating an explainer video is the right choice for you.
Explainer videos help you explain complicated concepts in no time, and if animated, it automatically compels the audience to watch till the end.
You can address the audience's pain point and explain how your product, brand, or company can solve the problem(s).
· Promo Video
Promo videos are beneficial for landing pages that are designed to capture leads through content-based offers. These videos are relatively short and give the audience a glimpse of products that help them sign up for a purchase or subscription.
P.S: Take a look at the promotional video for website examples for landing page video ideas.
· Demo Video
If you have a product that requires a proper demonstration, then the demo video is the perfect fit for you. The demo video highlights the value of the product through a brief demonstration of it working.
· Testimonial Video
There are three types of visitors that you encounter, and require to create a video that helps them reach the decision stage:
The ones who do not know what they need until they see a need.
The ones who know what they need but are confused about making the decision.
The ones who have decided to buy but need validation before purchase.
Here you need a testimonial video. It showcases the customer journey with the company, helps the audience understand and relate to their needs, validates the authenticity of a company through the client's review, and simplifies the decision phase.
· Background Showreel Video
Background video is a format more than a video type. It helps add movement to your landing page instead of communicating the information. Background videos are only for entertainment and interaction.
You can play a showreel of your products, services, event, or the work you have done so far to build engagement and prolong the visitor's stay.
3. Choose a Landing Page Video Software
Many websites and page-developing software allow you to include videos on your landing page. If you are familiar with software and have designed a page before, you can use the same software to create your video landing page.
WordPress is the most popular website development software and offers various options to cater to the developer's needs. Still, there are so many other tools that you can use to create a landing page according to your marketing needs.
Following are the top landing page designing platforms preferred by professional website developers. Take a look at them and learn how efficiently you can use them to create an eye-catching page for your audience.
· How to Add a Video to a WordPress Landing Page
According to many developers, WordPress is the ideal choice for website designing and development as it offers various options and provides tips & tricks to the developer to optimize the website.
If you build a video landing page with WordPress, use a video block to embed the video onto your page.
· How to Embed Video to a HubSpot Landing Page
In order to optimize your HubSpot landing page, you need to learn how to embed a video or external file to the page using the tools and integrations that HubSpot offers.
It is a complete CMS platform for developers with tools that help them create captivating and highly functional landing pages. If you are new to HubSpot, there are so many guides and tutorials at the HubSpot Academy where you can learn about embedding external media files to optimize video landing pages.
· How to Embed Video to an Unbounce Landing Page
You need a third-party video player to add the videos to your Unbounce landing page. Unbounce provides various documentation that helps developers learn how to effectively embed a video or apply a background video on the landing page.
· How to Embed Video to a Squarespace Page
Squarespace provides fool-proof ways to its users that can help to optimize the video landing page to the maximum. It also uses blocks that help the users with the experience on Squarespace and make the development fun and easy.
Squarespace provides a user guide and documentation that help the user with video blocks, background videos, and video embedding on the video landing page.
· How to Embed Video to an Instapage
Instapage offers 500+ landing page layouts which is the best thing about Instapage. It also allows you to embed videos, add background videos, and embed videos to Instablocks. You can read Instapage documentation for better understanding and smooth implementation.
· How to Embed Video on a Wishpond Landing Page
If you are thinking of creating a compelling video landing page, you must consider Wishpond. It allows the users to add videos through the landing page editor option for better lead generation, sales, and more.
· How to Embed Video to a LeadPage Site
LeadPage Site offers amazing video-adding features to its users that help them embed the video effectively on the landing page. Its widget allows you to add the video to your landing pages and its pop-ups from various video hosting sites like Vimeo and YouTube.
After seeing all these video embedding options, whether you want to customize the landing page or use the plugins, video embedding has become a lot easier.
Various landing page tools even provide landing page templates to speed up the development process. These ready-to-use templates are also good for video embedding.
In short, you need to be wise while choosing a landing page software for your campaign. Make sure you pick the software that lets you embed the video from your favorite video-sharing platforms.
P.S: If you are looking for video-sharing platforms, check out our list of the best video websites like YouTube, where you can embed the video on your landing page.
4. Decide the Wireframe and Video Placement on Your Landing Page
After hearing the name Video Landing Page, people often think of some sort of landing page with a hero video(s) on it.
Although hero video is one of the popular video embedding options for landing pages, there are more options that you can choose to create a standard landing page framework and add your video in below-the-fold.
Once you are clear with the video placement, the next step is to create a wireframe of your complete landing page. This practice helps you decide where to place your video and tell what elements will be included and how they will work together.
5. Create Video for Your Landing Page
Along with the page development, you can simultaneously create a video for your landing page. There are a few points that you must make sure your video contains:
Provide valuable information to the targeted audience.
Appropriate to your landing page and the campaign.
Delivers a clear story, objective, or message.
It must be synced with the brand's values.
You need to begin with planning for your video. The message you want to communicate must resonate with the audience, the script should be on point, the voice-over must be appropriate, the video color theme should be according to the brand or the video story, and if you include the animation, then the animation style must justify the story.
Pick your actors if you are making a live-action video. During the video shoot, do multiple takes to get the best footage for your video.
If you go for animation, you have various options to include in your video. You can choose your animation style according to the story, apply graphical elements, or perform video editing.
6. CTA for Your Video Landing Page
A sales-engaging video must include CTAs because it helps in lead generation. You can use CTAs for various actions like redirecting them to service, form, subscription, contact, or pricing pages.
Your landing page video must be conversion-driving not only from the content but also from the CTAs. Most of the videos end with a black fade-out transition, but if you are creating the video for sales objectives, then your video must end at a CTA instead of a fade-out.
CTAs help your audience understand what you want them to do after watching the video. You can check out our article about CTA videos and learn how effectively you can add CTAs to your sales video to boost conversion, along with examples.
7. Add the Video to Your Landing Page
Video is the main element of your video landing page. You can embed the video on your landing from any video-sharing site or can even host your own video.
Note: The video-sharing site also affects the playback experience. So, choose your video-sharing site wisely.
YouTube and other free video-sharing platforms usually include ads that distract the audience from the goal of the video. So, for a video landing page, self-hosting videos are preferred.
The Best Practices for Video Landing Pages
Anyone can create videos for a landing page but for an effective and captivating video for your video landing page, you must follow some key practices.
1. Keep Your Video Short with a Clear Message
A landing page is a combination of both video and textual content. For a better user experience, keep your video concise and engaging so that the visitor also gets time to read the supporting content on the landing page.
People prefer short but informative video clips that provide the value they have been looking for. A study has stated that only starting 8 seconds is crucial to hook your audience to your video, meaning you must provide quality content at the start of your video.
Making a video of 30 to 90 seconds will help you implement the 8-seconds rule and ensure that the visitor must click the video and watch it till the end.
Keeping the best for the end is the practice that mainly every video maker follows, but most of the viewers left in the video in the middle if they don't find it interesting. So, put the important part at the very beginning of the video.
2. Pick an Appropriate Thumbnail for the Video
The visit of the landing page's visitor is usually short, and the only way to prolong it is by providing captivating elements on the page, and a thumbnail is one of them.
Like on YouTube, the viewer looks at the thumbnail before playing any video. You can make your audience curious with an attractive thumbnail that makes it irresistible for them to click on.
Try to create a thumbnail that talks to your audience and helps them relate to the objectives that have brought them here.
3. No Autoplay Videos on the Landing Page
Not keeping the video on autoplay is the best practice throughout the internet special when the video has sound.
You don't want to scare your visitor by throwing an auto-played video on their faces. It can turn off their mood and cause a landing page bounce.
The most important thing about autoplay is that it consumes more bandwidth than regular clickable video. An auto-play video takes longer to load a page and uses the visitor's bandwidth.
Here are two cautions that you can take to rule this out:
The autoplay will be appropriate if the video will be played in the background or does not have sound.
Autoplay is the best approach when you are redirecting the visitors from an ad that aims to drive them to the video player because the driven audience expects the video content.
If you still have decided to set your video on autoplay, then put a silent video on your landing page and allow the visitor to choose to watch the video with or without sound.
4. Present Your Video Along with Some Other Content
A video, a button, or a form should never be the only things on your landing page. Additional material is required to provide context and information to the visitors.
A study has stated that longer (detailed) landing pages with quality information can bring 220% more conversion than pages with above-the-fold CTAs.
While deciding the content of the landing page, make sure that it has a catchy title, body content, supporting ideas, and a call to action. Then, regardless of whether they click play or not, a visitor should be able to acquire all information they need to make a decision right on the page.
The reason for including a video on the landing page is to amplify the visitor's experience and keep the audience interested. Consider highlighting the video in your content because the video and text-based aspects of the website work well together.
5. The Load Times, A Point to Worry
The page load time is a point to worry about for those who have not calculated it. Estimating the page load time should always be your priority, as the success of the marketing campaign's objective is at stake.
Here are some percentages that you should know about the load time and bounce-back ratio:
8% of people have said they would give up watching the video for the faster load time.
Conversion can be decreased by 7% if there is even a 100-millisecond delay in the page load time.
The bounce rate can be increased by 103% if there is a 2-second delay in page load time is recorded.
If the page takes longer than 3 seconds to load, 53% of the mobile site surfer leave the page.
Websites have 70% longer average sessions that load in 5 seconds.
Huh! These statistics are scary!
But you can take care of all the above if you balance the page load time.
Make sure that any items you add, particularly the elements like video, should not affect the page load time. For example, compressing your video into a smaller file size or using a video platform that uses a CDN to deliver it (content delivery network).
6. SEO Optimization for Video and the Landing Page
You can take a few key measures to guarantee that your video is highly optimized for SEO, which will help your page rank higher in the Google search result.
Although the search engines cannot watch the video, so you must provide some written textual information to tell them the context of the video.
Here are the four vital components of the video SEO that you should optimize:
Meta Data: You can use metatags with your videos that help the search engines to crawl the video's contextual information and index it.
Transcripts: The video transcripts translate the video's audio into text and inform the search engine what the video is all about.
Captions: The video captions help the search engine to identify the video content.
XML Sitemaps: The XML files make the searching of the search engine fast and help find the indexed video content.
To give your video landing page the best chance of ranking, you also need to optimize other on-page features. Apply the content strategy and incorporate the main keywords into your written content, like the title, headings (H1, H2, …), image file names, title tags, and more. The speed of a page is also important, so one must pay attention to that. Finally, create shareable content and backlinks.
7. Give Everything a Test Run
The above-enlisted items are considered the best practices for video landing pages but are not applicable to all business genres.
Every business has its unique business objectives and target audience. Experiment with different features and techniques to find out what performs best for your landing pages.
On video landing pages, there are a few key aspects to test:
The duration of the video.
Thumbnails of videos.
Click to play vs. autoplay.
The position of the video on the page.
The style that has been used to create the video.
Important: Don't experiment much with the video styles because it is the most critical thing in a marketing campaign. A wrong move, and all the campaign will go to waste. Also, evaluate what your target audience enjoys and test your assumptions to improve your results.
Video Landing Page Examples that can Inspire You
This is the part you have been waiting for, the examples and ideas for the video landing page. We have searched and collected the five best video landing page examples that can inspire you. Let's take a look:
1. The Headlime Video Landing Page
Headlime features multiple videos on its video landing page to boost maximum engagement and a better user experience. Here is an example of Headlime's landing page where you can see the hero background video, and if you scroll down the landing page, you will find multiple instructional and explainer videos.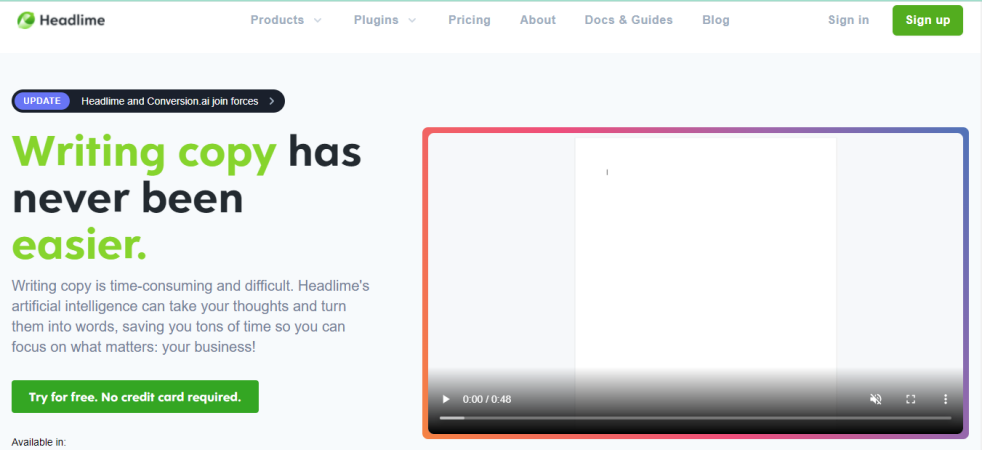 2. Tissot Watches Landing Page
Another best example of a video landing page is Tissot Watches' webpage, where you can see a background video that speaks for itself. This example can ensure a 100% conversion if incorporated into a landing page.
Tissot knows their targeted audience and has applied the perfect strategy on marketing the newest edition watches to them through an eye-catching background video.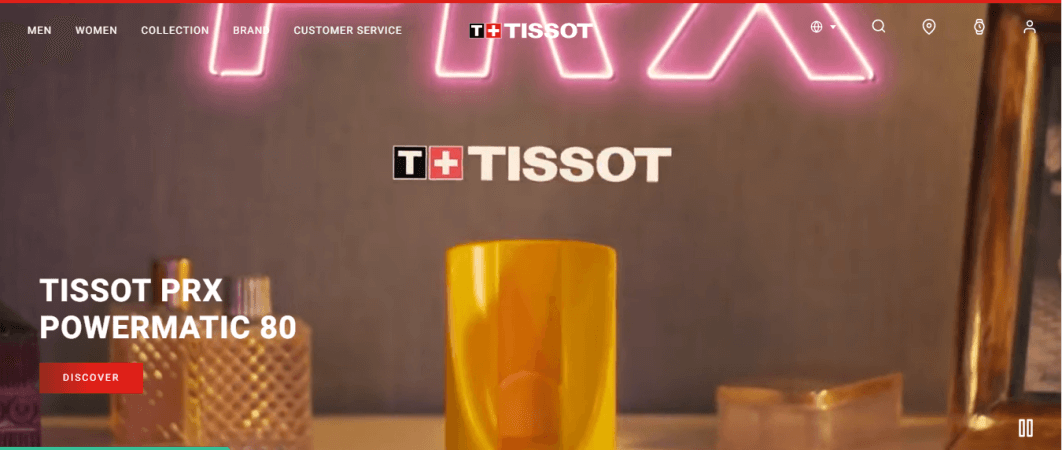 3. Ferrari Landing page
Ferrari is considered as the top sport vehicles manufacturing company, and their landing page video justifies that.
The landing page has mesmerizing background video that showcases all the sports cars' features that increase the visitor's interest more in the product.
This is what you call customer engagement!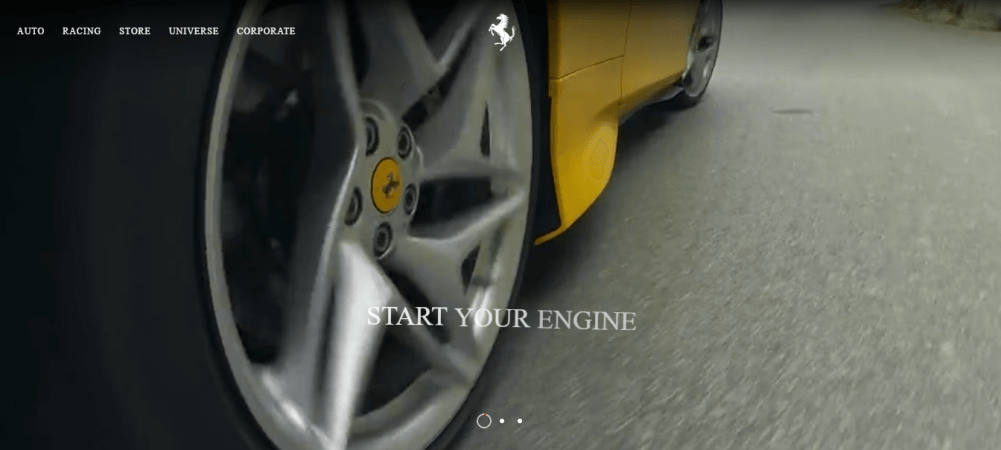 4. Hermes Landing Page
When we talk about clothing, Hermes is a fashion brand that always comes to mind. It is one of the world's most prestigious fashion houses known for its handbags, perfumes, and watches, but it also has a successful video landing page that increases conversions.
A brief video on the Hermes website showcases the men's summer 2022 collection and what they bring for you. The page has a call to action and provides all the valuable information that a visitor or potential customer needs.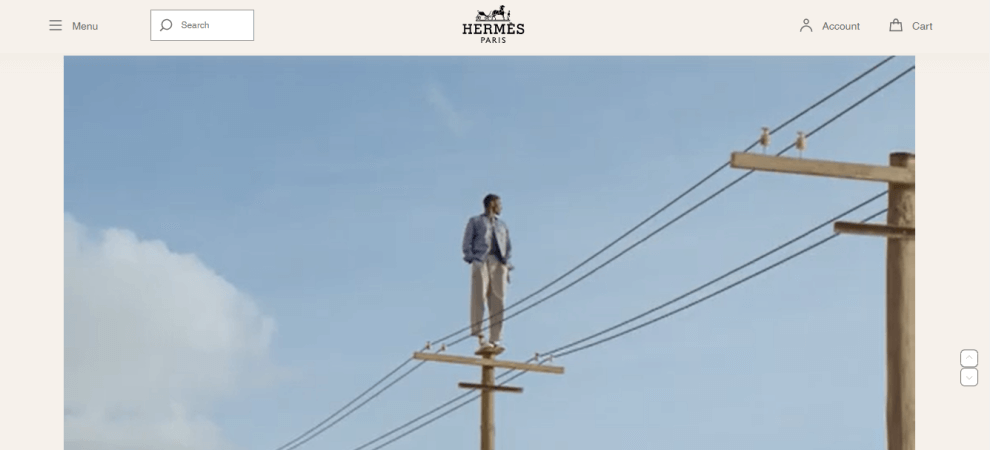 5. Bacardi Landing Page
The finest video landing page we have seen is by Bacardi Rum; it has everything. In addition, it includes a stunning and engaging background video that communicates the message out loud.
Bacardi's home page features many videos and a headline that says "Do What Moves You." It has no irrelevant content or captions outside the video.
The video has a significant amount of social proof. This keeps you entertained and involved the entire time. In addition, it's a brief looping video that repeats itself, so it doesn't take long to watch and doesn't distract the user.

The Conclusion
Hopefully, you have found all the above information quite enlightening, and if you are interested in video production, BuzzFlick is here to help you out!
BuzzFlick stands among the best video production companies in New York and is an expert in all video and animation styles.
The studio can also provide you with video editing and post-production facility to enhance the beauty of your video. You can trust team BuzzFlick with your project, money, and time. Our sales reps are available 24/7 to help you out with queries related to video or video animation!
Happy Animation!