Video usage is massively increasing in every industry for marketing. Read our blog to learn about the importance of video and why you should use it.
Video is undoubtedly the undisputed disruptive medium of communication in the world of digital marketing. As per the research, video content is 1200% more effective than any other type of content.
That's why apart from blogs, emails, infographics, podcasts, social media posts, industries are now deeply focusing on creating engaging video content.
By this, we don't mean to say the other types of content marketing solutions are wrong, but when you're pondering over what type of content you should create to keep your audience engaged, the video should be your top priority.
According to the survey, 85% of marketers believe video is a highly effective communication medium for attracting attention in the digital landscape.
And, this isn't just for marketers.
A video is the best tool to employ at different stages of any process. When it comes to marketing, sales training, and customer support teams' video is becoming increasingly important. It's a key marketing tool that can help businesses improve their online presence and boost their ROI.
Today in this blog, we will explore the importance of video should you use video as a medium of communication and what type of videos you can make for your businesses.
So, without any further ado, let's get started.
Importance Of Video: An Overview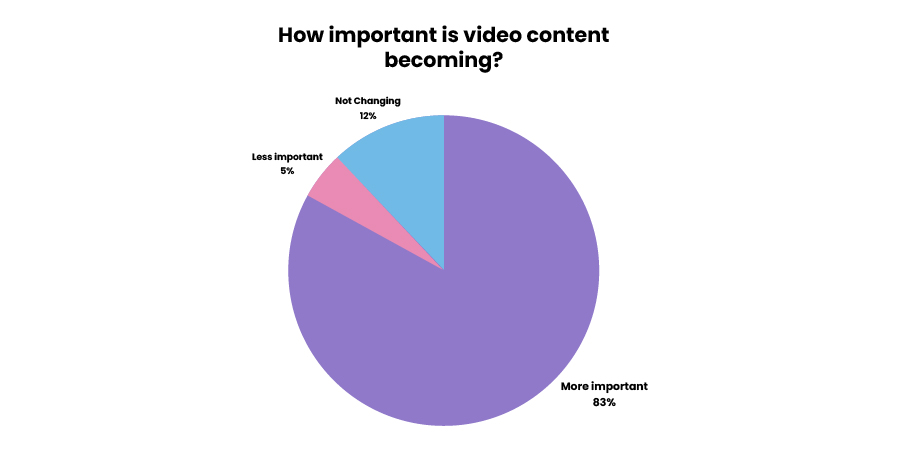 You might be surprised to hear this, but still, many business owners and brands are skeptical about video marketing because they think it's a pretty challenging task and there's a lot of hassle.
Well, if you're one of those who are still wondering if the video is worth all the hassle, we deeply hope you will get convinced when we will reach the end of this article.
First things first, video is a demand from customers. 55% of people claimed to watch videos regularly, while 78% report watching videos every week.
According to BuzzFlick, 8 out of 10 people purchase an app or software after watching a video from a brand.
If that is the case, it's highly essential to create valuable video content when a huge number of customers are in search of it.
BuzzFlick's research on video marketing reveals video is a much more desirable form of content than text-based blogs, presentations, eBooks, or user manuals when it comes to learning something new.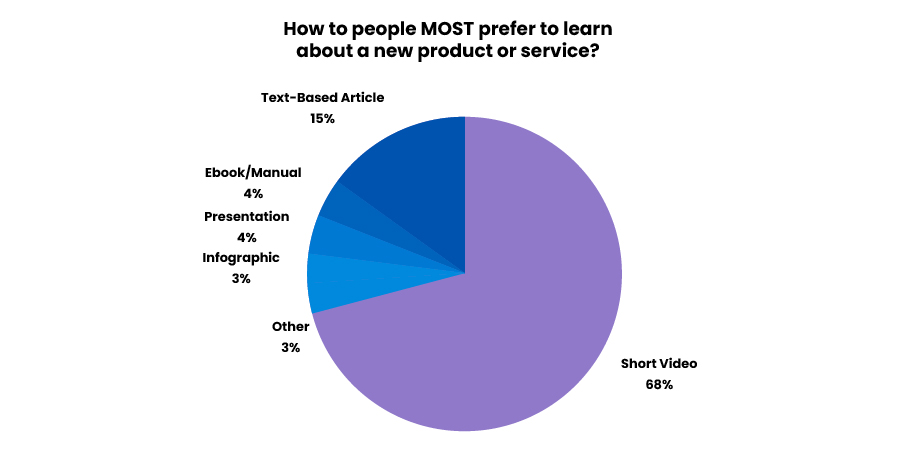 But, here comes the billion-dollar question,
Why is video becoming such a popular form of content compared to others? What's so special about it?
Well, if you want the right answer, look no further than the Four E's of video marketing:
The Four E's of video content marketing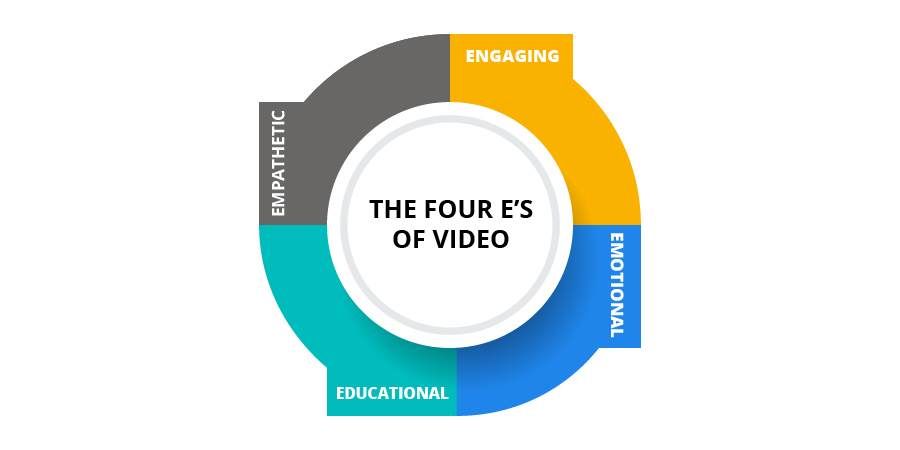 In a recent interview, Tyler Lessard, the Marketing VP of Vidyard threw some spotlight on the usage of video in the business landscape. He also justified why video is considered a more desirable and engaging form of content compared to the other forms.
While comparing video with other forms of content, Tyler mentioned that video encompasses four distinctive qualities, also known as the Four E's. These four qualities make the video stand out in the digital marketing landscape.
But not every video holds these four qualities, and it makes them ineffective. A powerful video is constructed over these four pillars, making them notable in the industry.
But what are these four E's? Don't worry, we are just getting to them.
Engaging
Our brains are hard-wired to participate in narrative storytelling. In addition, video is a terrific method to convey a narrative and get people excited about it. It's a distinctive form of content when compared to other forms.
We all will agree to the fact that the best communicators are often storytellers. But why so?
Because they have the competence to draw the audience's attention and tell stories more interestingly, if you're good at it, use it in your video content. The more engaging it is, the more attention your video will receive.
Emotional
Using video as a medium allows you to connect more emotionally with your customers and prospects. The written word cannot elicit the same range of emotions that seeing someone face-to-face on video can.
You can add a simple voice-over in your videos to give your message a more personal touch while also giving it authority.
If you employ video instead of another content form, you are far more likely to connect with your audience on an emotional level.
Educational
Visual information is processed more quickly than text by our brains. Text is stored in short-term memory and stored in long-term memory. Because of this, video is an excellent medium for teaching and can be more remembered.
To stay relevant in today's society, firms must focus on providing employees with educational videos.
According to a study, employees are 75% more likely to watch a video than read an email, document, or article on the internet. Video is a great way to get your message through to everyone in your company.
Empathetic
A new strategy is the capacity to elicit deeper empathy from our audience by showing a real human face. It is considered that having real people in a video helps to connect with the audience on another level.
Not only do you want to assist your audience with your video, but you also want to demonstrate that you genuinely care about the issue they are experiencing and how you can assist them in resolving it. The more genuine your interactions with your audience, the more likely they will regard you as a trusted adviser.
How Have Videos Become A Necessity From A Luxury?
Whether you are a part of a startup, a multi-national company, or an educational institution, you cannot afford to miss out on video.
It's no more a recommendation now; it has become a requirement if you want your brand to succeed in this cut-throat competitive industry.
But, it can be pretty daunting when you don't have a clue where to start from.
In such a situation, we highly recommend beginning your video marketing campaign with instructional videos.
These videos just show off your expertise to someone else. Whether you need to illustrate a technical procedure for a new product feature or educate your new employee on using her email, a video is a terrific method to communicate.
Over half of the most frequent forms of videos that marketers are spending on educational/information videos.
But that's not just one type of video you can use for marketing, and there are plenty of other video marketing types you can use to promote your business.
But not all of them will go well with your business. Before making a video, you need to first determine what type of video you should create, how it will influence your audience, and which video style will be useful for your business, such as animated, whiteboard, motion graphics, to name a few.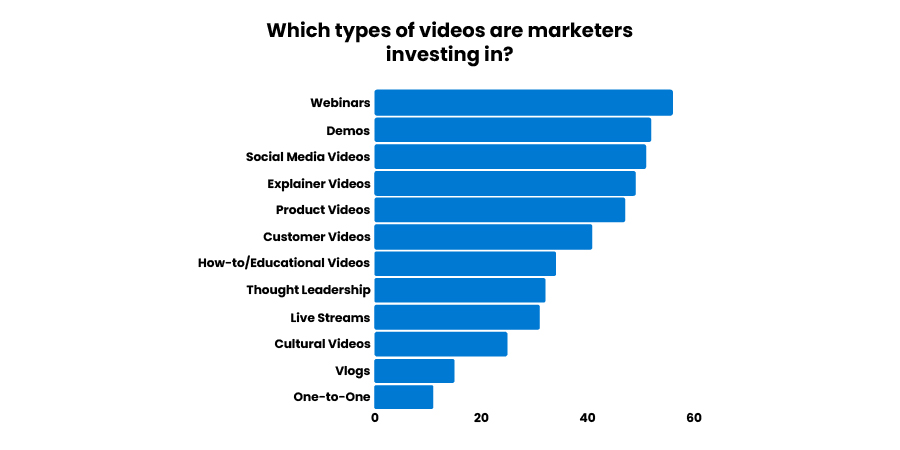 Here are the few helpful guides on different videos types we've put together to help you get started:
Instructional Videos
Explainer Videos
How-To Videos
All Set To Start Making Videos?
Now you must have got a clear idea of the importance of videos and how they can help your brand grow its online presence effectively.
According to the reports, 99% of marketers claim to employ video content ideas in their business approach in the future.
The video marketing statistics we have mentioned in this blog also signify the importance of video. If you're no longer skeptical about videos and ready to jump on the bandwagon, you'll be needing the help of experts.
As we have told you earlier, making videos isn't as easy as it sounds, which is why popular brands in the industry prefer outsourcing their video marketing from top corporate video production companies like BuzzFlick.
We are a video animation agency offering various animation and video production services at an affordable cost.
Now that we have reached the end, we hope this article will be persuasive enough to motivate you to make videos to promote your brand in the market effectively.
If you have any creative ideas for your video, feel free to share with us!
Importance Of Video: FAQs
Why is video important for social media?
Video helps you to be succinct and attract consumers' attention quickly. It's all about condensing material into bite-sized chunks of knowledge that are lengthy enough to hold viewers' interest but precise enough to leave them wanting more.
Where can you post video content?
There are many amazing video distribution channels to post your video content. The following are some of them:
Paid video distribution channels, for example, Adwords, AdSense, Outbrain, Reddit, StumbleUpon, to name a few.
Organic video distribution channels, for example, Facebook, Pinterest, Instagram, YouTube, LinkedIn, Twitter, to name a few.
Why do people love videos?
Video is processed by the brain nearly 60,000 times quicker than text. That's why we like video. This seems logical, given how important video has grown in recent years.