Looking for stop motion software? Check out these 10 Best Free and Paid Stop Motion Software For Mac & Windows That You Can Use In 2020.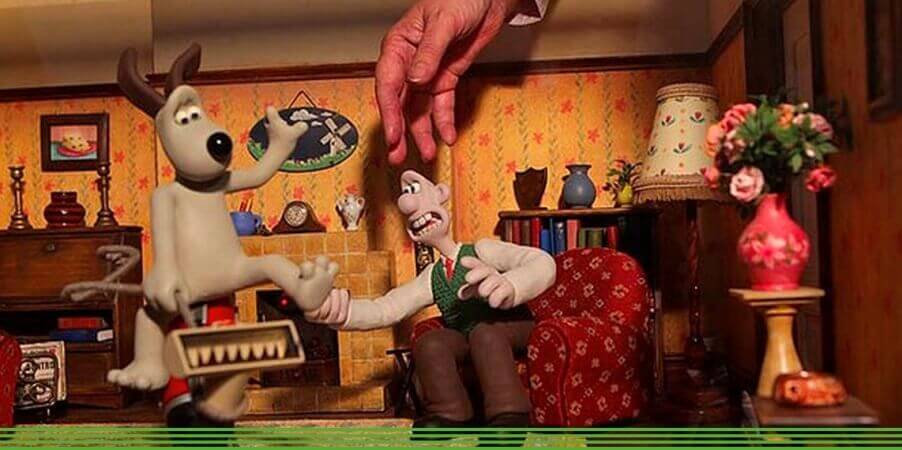 Image Source
From a personal perspective, who doesn't love to watch animation videos?
Animation videos are fun to watch. They make the topic easy to understand, and the overall animation or presentation keeps you engaged.
The same is the case with your prospects. They, too, want to see video content from their preferred brand.
According to HubSpot, 54% of consumers want to see videos from the business they support.
Another research by HubSpot tells us that, If a web page has video and text both, 72% of people will watch a video to learn about a product.
So, it is time to get your brand on track and start breathing life into the static objects on the screen by utilizing the stop motion technique.
Stop motion videos are appealing, and they hold the power of conveniently demonstrating your product/service to your audience.
In a nutshell, today we'll explore the following aspects of Stop motion animations:
What is stop motion animation?
The best stop motion software and its pros, cons, and prices.
Let's begin with what exactly is stop motion animation.
What Is Stop Motion Animation?
Generally, stop motion videos consist of manipulating a physical object to create an illusion of motion using stop motion animation software.
An easier definition of stop motion would be that it creates an illusion and helps you move objects in a static image. The movement of objects gives your stop motion video the feeling of animation.
Moreover, to create such videos, you need soft motion software.
You can use the internet to find numerous paid or free soft motion software but knowing their capabilities, features, and specs is essential.
Certain tools are not for beginners, and they require extensive knowledge of soft motion editing software to operate.
Knowing these tools and their usage is essential for you to start creating your own soft motion animation.
So today, in this blog, we're going to tell you about some of the best stop motion software, their features and specs, and their pros and cons.
Keep in mind that the list is not in any specific order; we have just randomly placed the top 10 tools here for your feasibility.
Let's begin…
1. Boinx iStop-Motion (Paid)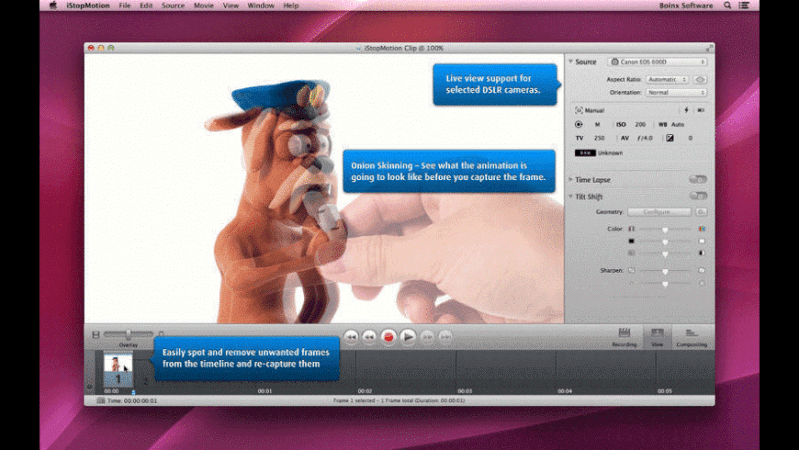 Image Source: MacUpdate
Boinx iStop-Motion is a powerful stop motion software that you can use to create your animation videos.
It is widely considered best for time-lapse movies and stops motion animation.
With features like Onion skinning, time-lapse, Chroma keying, and Rotoscope, iStop-Motion stands out in terms of performance and accessibility.
It runs smoothly on the Mac OS platform and delivers an excellent user experience.
The latest update of Boinx iStop-Motion enables the user to leverage DSLR cameras from well-known brands, i.e., Canon and Nikon.
iStop-Motion also gives the user the advantage to easily create stop motion animation using their iPhone and iPad.
Below is a stop motion video created by using iStop-Motion
Pros
iStop-Motion software has numerous versatile and agile features.
The interface is super user-friendly. Even children can use iStopMotion.
The "Onion skinning" feature in iStop-Motion enables the user to see a preview of the video he is creating.
The "Workflow" feature shortens and makes the video-making process highly effective.
Cons
iStop-Motion is costly; although there are some special offers for educators, it can still be quite expensive.
The less expensive versions of iStop-Motion have few features and specs.
iStop-Motion is a stop motion software for mac, which means you can only use it on Mac computers.
Pricing
You can buy this powerful stop motion software only for US$ 19.99.
2. Dragon Frame (Paid)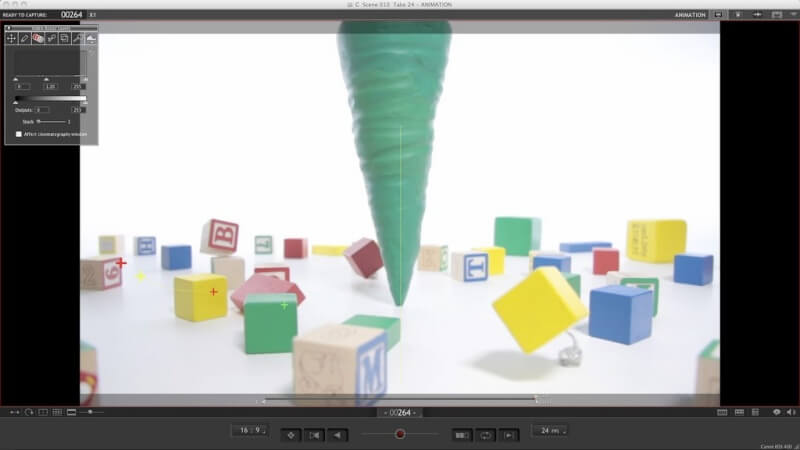 This is another powerful paid stop motion animation software that is designed for Mac OS.
Dragon Frame helps the user create stunning and powerful imagery with beautiful effects and advanced camera scanning tools; you can capture highly accurate movements.
Moreover, Dragon Frame controls enable you to compose shots, illuminate perfect images, and edit images/frames.
Masterpieces of Stop motion animation like Disney's Frankenweenie and Laika's Coraline were created using Dragon Frame.
Dragon Frame is the software you need if you are a professional and want to create Stop motion videos for big brands.
From high-quality videos to countless features and support – with Dragon Frame, you have every aspect of your Stop Motion animation covered.
With the video below, you'll have an idea of what Dragon Frame is capable of.
Pros
Dragon-Frame is integrated with the most powerful tools such as Onion skinning, auto-toggling, and drawing.
Dragon-Frame keypad enables you to focus on your animation instead of hunting around with your mouse.
With revolutionary technology like the Exposure-based DMX lighting board, you can take your lighting to the next level.
Cons
Some features and specs of Dragon-Frame are high-end and complexed and require extensive product knowledge to operate.
Dragon-Frame can be a bit costly, and the student/teacher version is only for personal use, which means you cannot use it to make money.
Pricing
You can buy the Dragon-Frame student/teacher version for US$ 100.
3. Filmora-Pro (Free)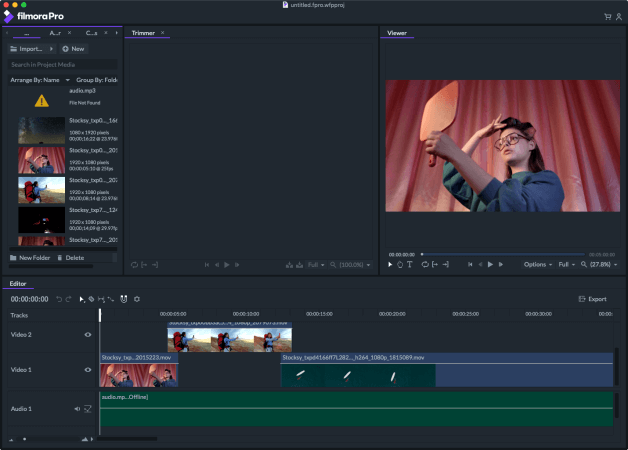 Image Source: DPreview
A feature-oriented best stop motion software for mac.
This stop motion program can run on both Mac and Windows.
Like any other software on this list, Filmora Pro also provides motion tracking animations.
It is integrated with a user-friendly experience and high-end features that you can leverage to take your video to the next level.
Filmora-Pro is a well-known option to stop motion professionals because it also supports other types of filmmaking.
With an easy to operate interface, you can design any type of animation you want.
The stand out feature of Filmora Pro is an option called "Keyframing."
Keyframing helps you create a lot smoother stop motion animation videos than videos created by other tools.
Want to know what you can produce with Filmora? Just play the video below!

Moreover, you can download Filmora from their
website
for free. However, the free version comes with a Filmora's watermark.
If you are not okay with the watermark, you can go for the lifetime or yearly package.
Pros
Highly cost-effective than other stop motion video software.
Has all the high-end feature and specs.
The software is available for download for free.
After figuring out all the nooks and crannies, you'll learn that the software is a delight among other stop motion programs.
Cons
Filmora Pro does not support Windows 32-bit version of below 10.10 versions of Mac.
You always need to login to export your videos.
Pricing
You can buy Filmora Pro from their website. They have different packages, i.e., monthly, yearly, and lifetime.
Monthly package: $6.99
Yearly package: $23.99
Lifetime Package: $47.99
4. Eclipse – Stop Motion Pro (Paid)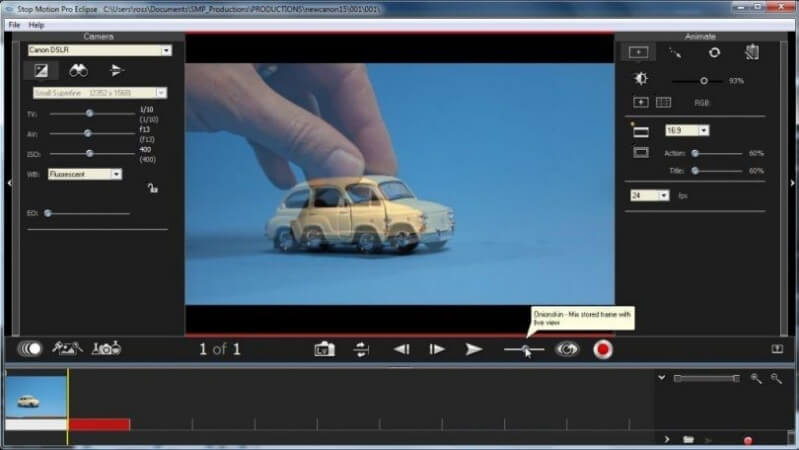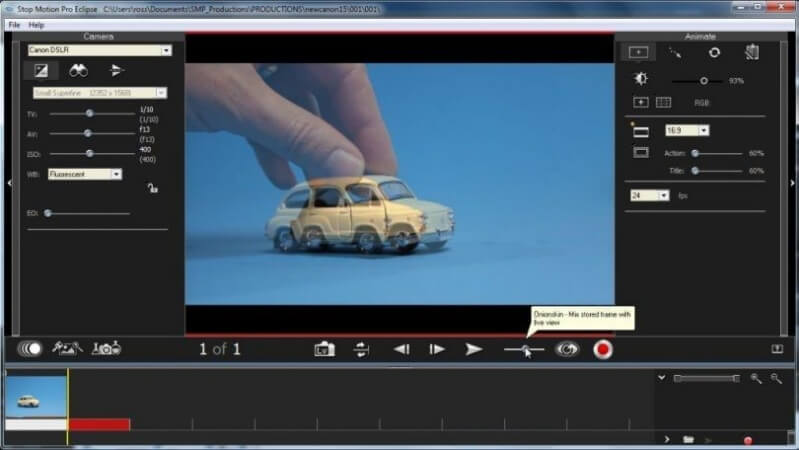 Image Source: StopMotionCentral
An easy to connect, unsophisticated, and user-friendly stop motion software for PC.
Eclipse – Stop Motion Pro doesn't have all the fancy-schmancy interfaces or modern build style like other stop motion animation programs have.
But by no means does this mean that Eclipse isn't powerful.
Eclipse Pro stands among the best stop motion animation software. You can use it to create animations and all types of films.
The layout of Eclipse delivers the feel of a traditional user interface, a large workspace is integrated within Eclipse, and there are few toolbars too.
The theme of this spectacular stop motion software is kept dark so that during long hours of work, the software won't get too harsh on your eyes.
Moreover, connecting Eclipse to your camera gives you additional functionalities like controlling angles, zooms, and much more.
With a lip-syncing and multi-track editing feature, you can easily add music or voices to your stop motion animation.
The stop motion animation below was created by Eclipse – Stop Motion Pro.

Pros
A user-friendly interface and easy-to-use tools enable you to create stop motion animations quickly and easily.
Automatic time-lapse capture makes your stop motion video smooth.
Cons
The software sometimes is unable to handle various file formats.
Stop Motion Pro Eclipse requires a high-end PC to run on.
Pricing
The price of Stop Motion Pro Eclipse starts at $185.
5. Heron Animation (Free)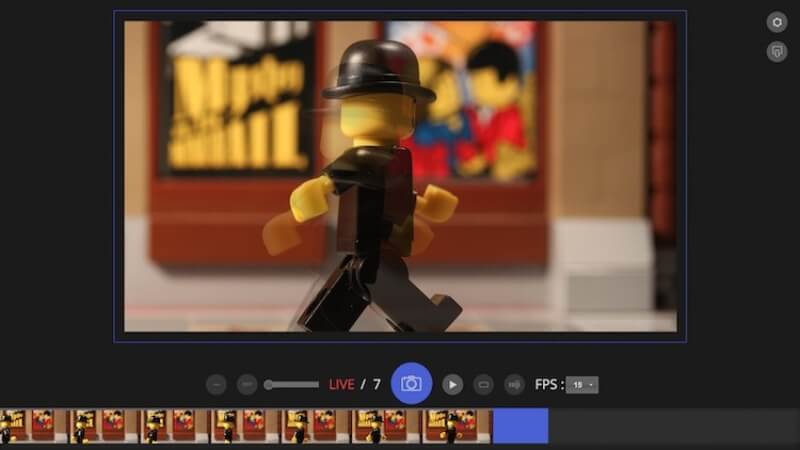 Heron Animation is a stop motion software free of cost.
It is fully compatible with every operating system, i.e., Windows, Mac, and Linux.
A program that solely focuses on user experience and feasibility helps you take pictures from a webcam and make stop motion animations.
The process is simple and convenient; however, the software is powerful and equipped with the best tools that make a stop motion video amazing.
Heron is perfect for beginners and skilled animators.
You can gather every shot in actual time. It has a clean and precise user-interface that enables you to operate it quickly and effectively.
Pros
Is has the option of Onion skinning.
Extremely user-friendly.
Best for beginners and professionals.
Cons
Does not have camera controls.
Lack of some professional tools that are available in other stop motion software.
The overall quality of the finalized video is a bit rough.
Pricing
The software is available on their website for free.
6. iKITMovie (Paid)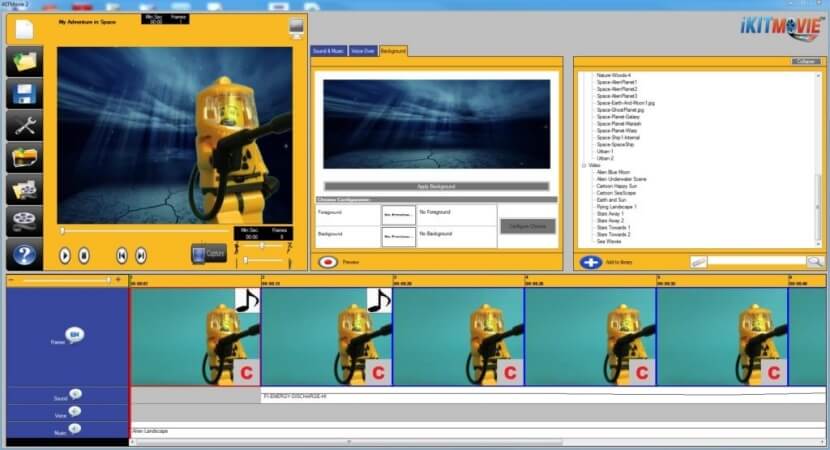 Image Source: StopMotionCentral
The iKITMovie is a popular choice in the LEGO animation industry and can also be used as a Claymation software.
The most intriguing aspect of the iKITMovie animation software is that it has more than 2,200 built-in sound effects, which you can utilize to create your stop motion films.
There is no need to crawl the internet to find sound effects – all you need is actually present in the software.
Also, there is a green screen feature for users that enables you to change the static of the background's moving images.
The software is easy to use and best for beginners.
Moreover, iKITMovie is not a free stop motion animation software. There is a free trial available, but that's only there to let the user experience the software in a limited way.
The video below was created using iKITMovie animation software.

Pros
The green screen feature is revolutionary, and you can control the background objects with this option.
iKITMovie is perfect for teachers or students, and it is best for beginners who are new to stop motion animation.
Cons
The software is known to crash sometimes due to a lack of stability and performance.
The free version has limited options.
Pricing
You can buy iKITMovie from their website for a starting price of $99.
7. Stop-Mojo (Free)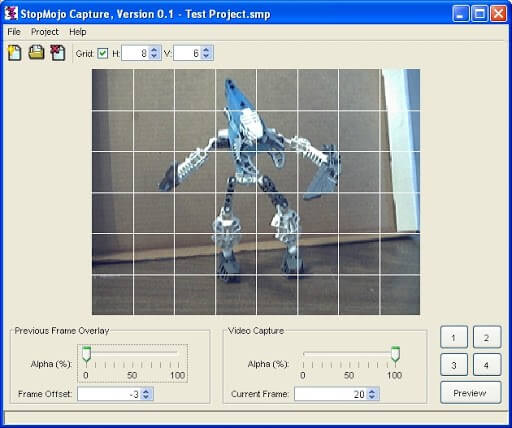 Image Source: Mondobeyondo
A cross-platform stop motion program designed to help animators to create animations.
The software gives you the facility of capturing videos and photos from different devices.
Also, the software is well equipped with some top-notch tools such as onion-skinning and time-lapse capturing.
From audio synchronization to some high-end editing options – the software is literally packed with the industry's leading tools and practices.
Moreover, Stop-Mojo supports all webcams, devices, cards, cameras, and much more. It also provides a quick preview of the captured frames.
Pros
Have all the features and tools available for you to use.
Supports devices across multiple platforms.
Have some standout features that help in creating a more effective and compelling animation.
Cons
Some essential/revolutionary features like Rotoscope and x-sheets are missing.
The advanced editing option is not there, which could improve the overall quality of the produced video.
Pricing
This specific stop motion animation software is available for free, and you can download it from their website.
8. Frames (Paid)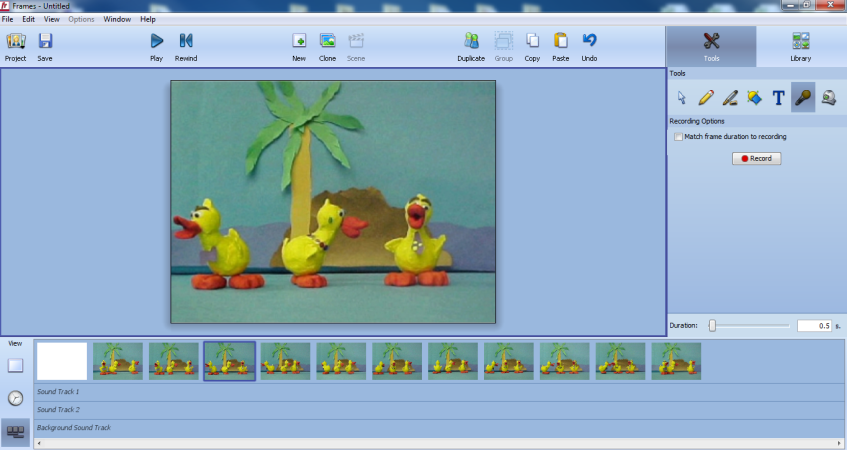 Image Source: EduGrains
An animation powerhouse when it comes to creating stop motion videos. Actually, the software is best for all types of animations.
From cartoons to explainer videos, you can leverage Frames to create different videos packed with smooth motions and engaging visuals.
The software also supports the creation of clay animation and digital stories for your business.
It has a really easy to use interface, and the navigation panel is also designed to be convenient.
The software itself has won numerous awards and is available in multiple languages.
The video below was created by utilizing Frames stop-motion software.

Pros
You can align frames using onion skinning.
The option of group framing is available.
Match several frames and audio durations easily.
Cons
Frame sometimes produces jerky animations that are not productive.
The final stop motion video may differ from the preview version of the video.
Pricing
The trial version of Frames is free, but it lacks several features. You can buy the full version of Frames from their website for $39.95.
9. Monkey-Jam (Free)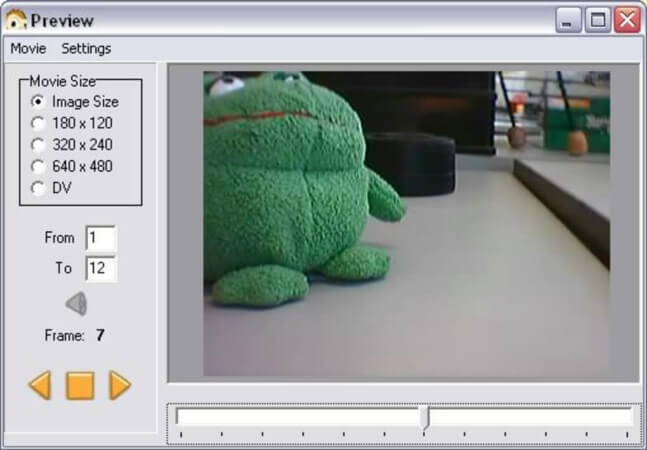 Image Source: MonkeyJam
Monkey Jam is free software, and those who are looking to try stop motion animation are allowed to try it anytime they want.
Monkey-Jam does not have as many features as others on this list, but it is a great option for beginners.
The software interface is easily navigated, the design is simple and user-friendly.
The software is highly responsive and quickly manages to put together all the pictures you have captured to create unique stop motion animations.
See the tutorial below to learn how to create a stop motion video using Monkey Jam.
Pros
Easy to use and highly recommended for those who have no experience in creating stop motion videos.
Capturing images, putting them together, and creating a video or downloading animations require no configuration.
Cons
Monkey-Jam developers are no longer supporting Monkey-Jam software, so there will be no updates or bug fixes in the future.
Animations play in continuous looping sequences even after being saved into a video file.
Pricing
The software is available for free, and you can download it from MonkeyJam.Org.
10. Adobe Premiere Pro (Paid)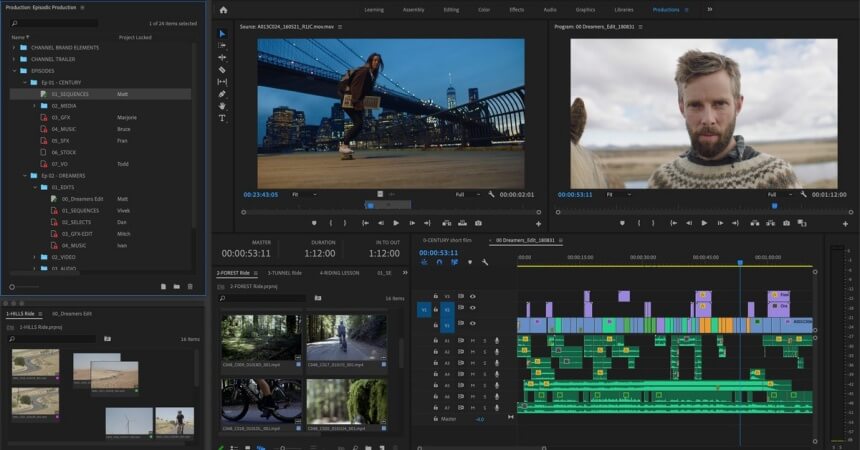 Image Source: TheVerge
Everyone knows Adobe and how it has revolutionized the editing industry. Adobe Premiere Pro stands among some of the most well-known products of Adobe.
The features are mesmerizing, and creating stop motion animations is as easy as pie.
Making your cartoons more dynamic with the help of some stand out features and keyframes by Adobe is always an amazing experience.
The editing process is easy, and motion graphics can also be created using the essential graphics panel tools.
With the constant improvement and updates coming from Adobe, the Adobe Premiere Pro has become even more powerful and effective.
Moreover, additional features of Adobe include color grading, trimming footage, and editing.
Concerned about the complexity of Adobe Premiere Pro? Here's a simple tutorial through which you can learn how to create a stop-motion video.
Pros
Gives you the ability to reinvent, merge, or create videos from scratch.
There are tons of features, editing options, and accessibilities that you can use to create a stunning stop-motion video.
Cons
Adobe Premiere Pro is certainly not for beginners, and its options require extensive knowledge to operate.
The workflow process is a bit noisy and cluttered, which often confuses several users.
Pricing
The Adobe Premiere Pro is a powerful paid software that you can download from their website for just $20.99.
Conclusion
Phew, glad that's over!
Now you know some of the best stop-motion animation software.
The software on this list is extremely helpful; however, you just need to find the perfect one for yourself.
Which one would you love to use from the list above? Let us know in the comment section below.