Animations are the new norm in the social media realm. Read our blog to find how animated posts can galvanize your social media marketing.
If branding is who you are, then marketing is how you build awareness. While branding should be an integral part of your strategy, marketing is how you're going to surpass your brand goals.
It's a fact, Social media channels have become an integral part of our lives. We literally can't imagine a life without these social networks. The same goes for brands as well. Brands can't deny the importance of having an impactful social presence.
Social media has become a place where brands can strategically represent themselves to their audience. These social channels help brands connect with their audience, showcase their company's goals/objectives, and explain the brand's very essence to the targeted audience.
Since social media is all about getting social and comfortable with each other, the same idea applies to brands. Believe it or not, social media is increasingly becoming a hub of emotional interactions between people and their preferred brands.
From day one, you can start reaching out to your prospects, building a loyal customer base, and exciting and impacting them on a global scale. However, to accomplish this – you need to get familiar with the best medium for conveying your brand's message.
Considering that the attention span has shrunk to eight seconds, you need something enticing, intriguing – something that could persuade the users to stop the moment they see your brand. Animated social media posts can be the answer here.
Generally, a part of a creative, strategic growth technique, animation marketing, or animated posts is flashy, eye-catching visuals that boost a brand's social presence.
Leveraging this powerful medium of conveying your messages can attract your audience's attention and help your brand stand out from the crowd.
Now that you have an overview of marketing animation, let me outline some of the most probable reasons why incorporating animated posts in your social media marketing strategy will bring goal crushing results.
Why Should You Use Animated Posts?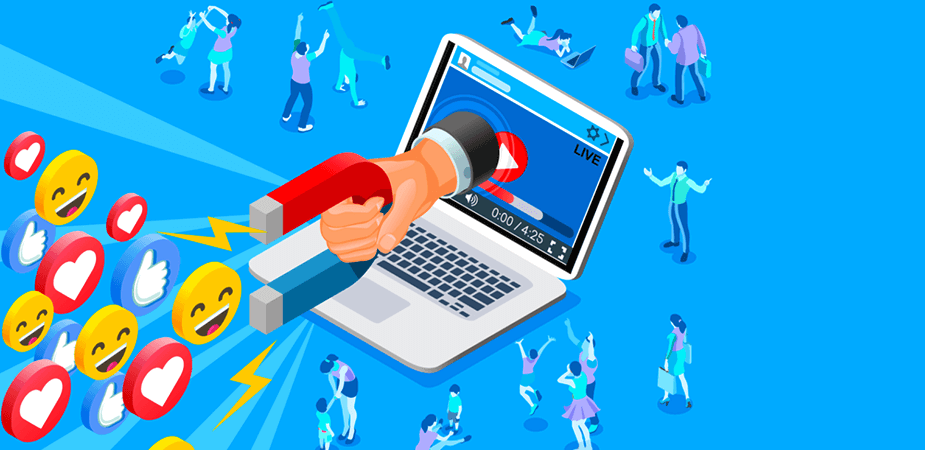 Animated posts are generally centered towards grabbing the attention of your viewers. Since it's getting increasingly difficult for companies to break the clutter – another stunning image or explainer video isn't enough. So, to stand out, you need to create/incorporate animated posts within your social media strategy to help you get more engagement.
According to research by HubSpot, nearly 78% of internet users watch online videos every week. So, it is pretty clear that you need marketing animation to attract and convert your audience.
Also, animations tend to deliver quality information to the audience, which influences their buying decision, eventually leading to more qualified sales in the future.
Although you'll be needing different kinds of videos for different purposes – the main concept of incorporating an introduction, hook, and a CTA will always remain the same.
Let's explore some of the reasons why social media animation is better than other types of visuals:
1. Animated Posts Keeps The Audience Engaged
As I mentioned earlier, the attention span is decreasing, and brands have to attract their audience in a very limited time. Since animations spark emotions and conflict among the audience, it is the best medium to convey powerful messages.
2. Difficult Topics Become Easier To Understand
Even the most complex products or services become easier to understand with animation. Although the animation process requires understanding the mechanism of a product or service, however, after learning it – representing it through animation becomes easier.
3. Marketing Animations Can Be About Anything
Let it be a product, explainer, or infographics videos – animations can suit all types of marketing campaigns literally. Even the most boring subjects like finance or insurance can be explained amazingly well by animated posts. The animation world has given rise to numerous types of animation that meet different requirements.
How Social Media Animation Influences Social Media Marketing
Animations entice the audience. Since every adult was once a cartoon lover during his/her childhood, animations tend to drive back old memories and form an emotional connection with the viewer.
Walt Disney once said, and I quote,
"Animations can explain whatever the mind of man can conceive. This facility makes it more versatile and explicit by means of communication yet devised by a quick mass appreciation".
The above quote of Walt Disney explains the importance of incorporating animations and how they tend to connect with the viewers.
Considering that most of Disney's success comes from their animation innovation, Walt Disney said it is extremely important for brands to understand.
Moreover, communication methods have changed over the years, and today, animations are considered an excellent marketing tool. Accomplishing feats such as higher engagement, more sales, and increased revenues have become relatively easier on social media with media animations.
Being a 2D animation company – we understand the aid animations give to marketing efforts. Some other forms of animation are 2D animation and 3D modeling, which are also viable for brands.
Through the types of animations mentioned above, the customer can understand the animation's message and quickly develop a clear impression of your brand. This is also the most probable reason for the popularity of animation posts.
Benefits Of Animation Posts In Your Social Media Marketing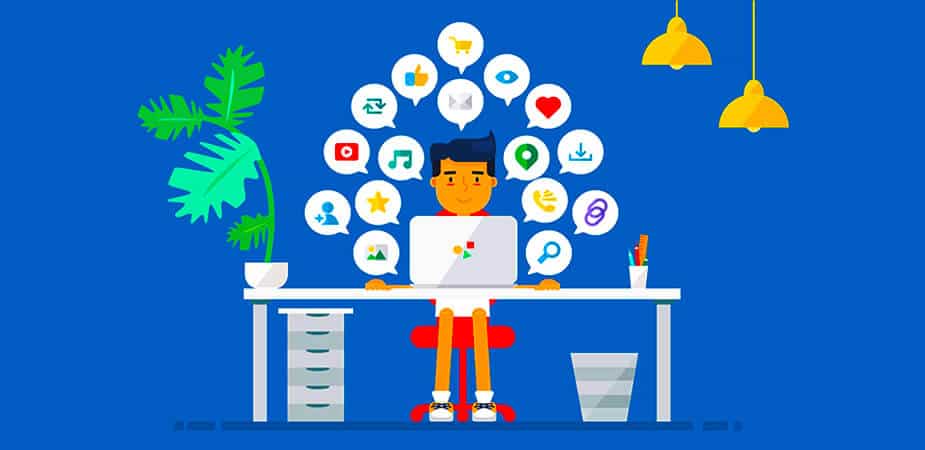 Animation Marketing Is Engagement Oriented
If you've ever scrolled through your Facebook news feed, you might've sometimes stopped when you saw a video. This is because videos are super engaging as compared to other types of visuals.
By incorporating animation in your social media efforts, you'll be ensuring higher engagement because animations tend to instantly grab the viewer's attention.
When you use animations to deliver your message, the overall marketing doesn't feel like marketing. It becomes more of a fun and engaging experience from the user's perspective to interact with the video and understand the brand's message.
It is also important to understand that most social media algorithms tend to boost animated posts that are performing well.
Social media animated gif is also a form of video content that completes the user and brand interaction within the shortest time.
All of these video-oriented approaches eventually drive more traffic and increase popularity and engagement.
Simplification Of The Most Complex Technicalities
All brands have their own fun sides that everyone wants to know about and the technical sides that nobody bothers to understand or even learn about.
The fun ideas are easy to deliver, but the technical methods can be complicated for most non-technical folks and may need additional explanations.
For example, you want to explain your new product launch or new services, or any other tech-related idea to your audience.
The goal here would be to represent the idea or methodology in an easy to understand and digestible way so that the overall information doesn't feel overwhelming.
To explain things in a precise, versatile, and concise manner, you need the help of media animations. Even the simplest animation posts can result in the most successful interactions with the audience.
It's been said that a single-minute video is worth 1.8 million words, so you pretty much know how much potential an animation video can unlock for your brand. Also, suppose your product is super-technical, and you want to explain its usability and features to the audience. The best way you can do this is by leveraging fun-oriented social media animation.
Marketing Animations Are Easy To Remember
What makes a social media animation memorable? Is it the content? The visuals? The representation? Honestly, it is a blend of all of the elements mentioned above.
Where marketing animations can deliver strong emotions, they can also become seemingly unforgettable if the approach is correct.
Suppose you manage to pull out one amazingly intriguing animation for your social media marketing campaigns. In that case, you will observe groundbreaking results in terms of traffic and conversions.
Moreover, animation posts' efficiency is also commendable purely because they're made for advertising and entertaining purposes. These videos are centered towards maximum audience engagement, which in return, multiplies your ROI.
Additionally, publishing social media animations continuously on your social media platforms creates a distinctive brand persona that becomes a cohesive voice.
Constantly revamping the marketing animation efforts, bringing something new to the table every now, and then creating a style that aligns itself with a brand.
This also contributes to setting a theme for a brand in the audience's mind that your brand pops up in their minds whenever they see something similar.
Pro-tip: Creating something original for your brand will prove beneficial in the long run; stick to the originality, and bring innovation. The goal is to create a masterpiece here and not an inspired animated post.
People always recognize something original. Suppose your animation presents a unique style and originality. In that case, it will stop a user, scrolling the news feed, to enjoy this motion design masterpiece.
Your Audience Becomes Your Brand Ambassador
Let's say you've done an amazing job, and you have created a super interactive and engaging marketing animation for your brand.
You've uploaded it on all your social media channels. The video is gaining attention and pulling more and more traffic.
Eventually, some of the viewers will share your social animation with their friends or on their profiles. This approach will give your animated posts a significant boost in terms of engagement and sales.
Plus, we all know that social media is all about engagement (even more than sales), so creating and distributing such a video will add value to your social media marketing efforts, strengthen your brand identity and boost your following dramatically.
However, the best approach here, in my perspective, would be to explain more complex concepts and ideas funnily and engagingly.
This strategy would get your brand appreciated because of the learning curve you'll be creating through your marketing animations.
Over To You
That's all, folks!
Honestly, animation posts are indeed an excellent way to tease, attract, or delight your audience. These videos not only display your creativity but also deliver the message of your brand quickly and effectively.
Although they do require deep research, hard-work but looking at the benefits mentioned above, I would say that they are worth a shot.
Since now we have a human-to-human interaction – let me tell you that animations also have a psychological relaxation effect integrated within them. This effect is what makes fun animations so effective.
In the modern world, literally, everyone is either frustrated because either they had a bad day at school or work or maybe the dinner was not prepared when they got home. This gap is the perfect opportunity for your animated posts to reach the user through your social media marketing efforts.
With a pun intended marketing animation, your brand video managed to make them smile, relieve them of their worries, and provide them with an added benefit of knowing something they didn't know.
If the scenario mentioned above was defined in a nutshell, it would be that "this was the true meaning of marketing in which the marketer formed a connection with the consumer."
With a blend of creativity, fun, and spices – your video literally became unforgettable. It helped your brand achieve much more than just goals.
Moreover, here at BuzzFlick – we know a thing or two about animations, and we would love to help you out with your animated posts.
Other Articles: