Know in this guide what is an interactive video and how to make an interactive video. Also, check out the top interactive video examples.
Interactive video is one of the newest types of media that has created an entirely new level of how far digital content can go to engage with audiences on a personal level and help a firm achieve its marketing goals.
The concept was made popular by the standalone movie "Bandersnatch" of the sci-fi anthology series Black Mirror on Netflix. Viewers were treated for the first time with a "Choose Your Own Adventure" video viewing style.
Users were presented with different choices on what the character could do and depending on what you chose, you could get up to five different endings.
Soon, a few marketers started to explore the potential of interactive videos for brands to set a new benchmark for entertaining and connecting with their prospects.
From before Netflix's release to today, interactive videos have proved how effective they can be. However, this style of video marketing is still new.
It requires an interactive video player to play the videos as more brilliant content coming in, as marketers increasingly realize this futuristic type of media's potential and invest in interactive video.
What Is An Interactive Video?
The simplest interactive video definition is that it's a video-producing technique that allows user interactions. An interactive video enables the users to interact with the video and provide their input either by clicking or tapping on the video screen.
Let's just simply say you are being given more control over a specific situation. Now, would you like that, and will it increase your level of engagement and connection with the story and the brand? That's exactly what interactive videos do.
You might be wondering what does interactive means within the context of a video. Interactive videos transform a linear story into layers and arcs by allowing the viewers to create their own adventure and make decisions that affect how the story unfolds and changes its direction.
With interactive videos, you give some control to the users on how they interact with the videos and offer potentially limitless combinations of the story you are telling.
By providing your viewers with quizzes, clickable menus, interactive storylines, control over their perspective, and gamified content, you enable them to create and enjoy a unique adventure with every choice they make.
As a marketer, you can use interactive video marketing to simply enable your viewers to select one of the options that customize the content according to their choice. Or, leverage the fantastic features of the technology and provide your audience with higher control over the entire storyline.
Why Should You Be Using Interactive Video?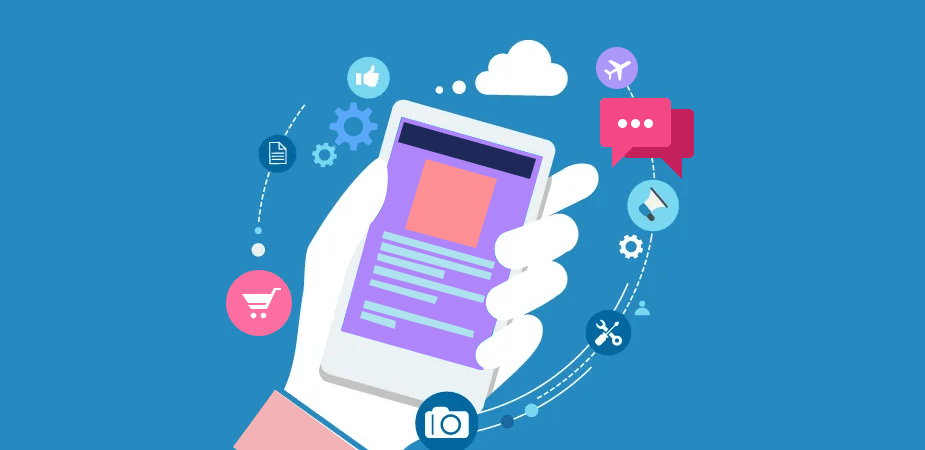 The interactive video space has opened up a lot of new opportunities and creative potential for marketers, brands, and the entertainment industry.
It enables you to wear your creative hat and tailor your video content for different audiences, engage prospects, and entertain viewers.
Interactive media outperforms linear videos on multiple metrics, including higher conversion, engagement, and longer dwell time.
According to a study, interactive videos have an 11% click-through rate, making it the only type of media with double digital CTR.
However, if you are still considering if the interactive video is the right tool for you, here are some reasons that may help you make the decision.
Analytics :
You can trace more than impressions, engagement, and conversions. With interactive videos, brands can determine clicks within the video, learn about viewers' behavior by analyzing branching paths they take, and collect data.
Popularity:
Brands are investing in interactive video content exponentially. Study shows that 36% of all video content produced represents interactive media and 70% of people think interactive video engage well or very well.
Engagement and entertainment:
Marketing needs to evolve beyond selling and promotion to make a real impact. Interactive media provides what people need today, entertainment, and engagement. With a game-like experience, interactive videos capture viewers' attention and result in a 591% rise in user activity.
Conversion:
The higher engagement, click-through rates, and viewers' investment into the story and brands lead to a higher return on investment.
Impact and impression:
When you invest in an ad or marketing content, you want it to be memorable and impactful. As interactive videos make viewers feel like they are part of the story, it leaves a solid impression on them. Study shows that the sheer option to interact within a video makes the ad 32% more memorable.
There are now a lot of interactive videos on YouTube as well. One of the most common examples of YouTube interactive videos is Philips electric razor.
Interactive Video Vs. Linear Video
Linear video or traditional video is the type of media that we most commonly see around us. When you watch a linear video, a few limited options have to be included to help play the content, pause, fast forward, rewind, and replay the video.
Aside from such a handful of options, your experience is very limited to what the story dictates. There isn't much space for you to interact with the video content.
On the contrary, a video interactif provides viewers with the ability to engage and interact with the content on a deeper level.
It offers you more customized, interactive options where viewers can click to choose between given choices and set their unique storylines.
They can drag, hover, scroll, and take part in other digital actions to engage with the video content, almost like how they interact with web content or a game.
According to research, the completion rate of your media increases by 36% with interactive video as compared to linear video, along with 3 to 4 times higher engagement and conversion rate.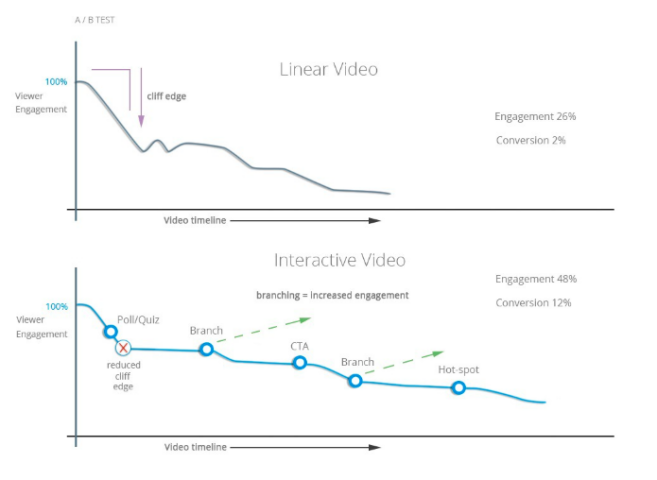 The following are a few of the functionalities that brands can include in their interactive videos, which won't be possible in a linear video.
Branches – They are the different possible paths the viewer can take or a storyline they can create to customize their experience.
Hotspots – They are the clickable areas in the video. Brands can use these to take viewers to a different webpage for additional information or to reveal more relevant content within the video, like prices for specific products.
360 views – This function allows viewers to drag the screen within the video to change their perspective or camera angle and enjoy the 360 view of the video.
Quizzes – Marketers can use branching options and hotspot buttons to gather viewers' information and provide an assessment, score, or share personalized results by the end of the video.
Data inputs – These are the traditional data fields that allow viewers to enter required information like age, height, and weight for an interactive video for fitness.
How To Create An Amazing Interactive Video?
The world's most amazing videos have one thing in common; they engage and interact with the audience they were created for.
As professionals around the world focus on interactive videos, we have come to realize the many qualities of interactive media that you can leverage to produce brilliant visual content.
If you are considering including interactive videos into your marketing mix and investing in this new style of interactive media, then you must consider these best practices to create amazing interactive videos
Gamify your content
Interactive videos allow marketers to increase their competitive edge by including gamification in the video experience.
This is a great interactive video technique, sometimes called branching or building multiple storylines or content pathways for your viewers and enabling them to choose their adventure and enjoy the unique experience.
Later in our list of interactive video inspirations, you will see that brands have used this technique in several different niches and genres.
You can use gamification with an entertaining short video series, onboarding training sessions, a music video, and more.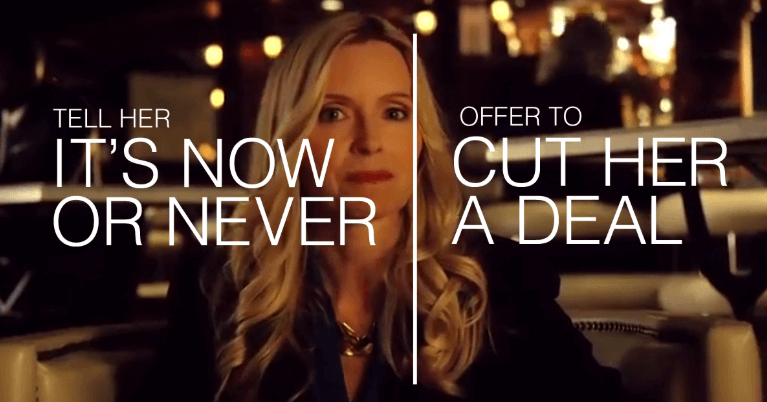 The promo video of Warner Bros. movie about a veteran con artist called Focus allows the viewer to give it a try to amateur con artistry.
The interactive video provides a choose-your-adventure experience to the viewers, where each option represents a new series of challenges and engages you in a game-like experience.
This is just an example of how gamification in the interactive video can engage viewers in a way that linear video can never.
Be thoughtful in your interaction
A tip to create successful interactive videos is always to keep your targeted audience in mind. Just like most of the best interactive websites strategically design the user interface to deliver an appealing experience, your interactive videos also need to be intentionally designed for the right audience.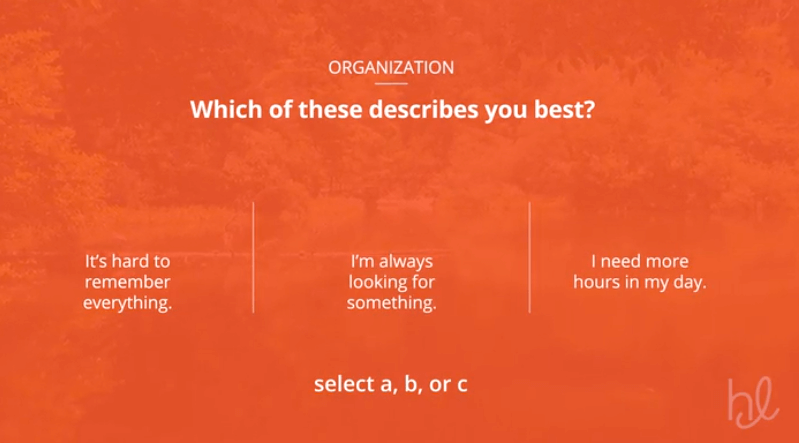 A great example of this aspect to create compelling interactive videos is the 'Lifestyle Guide for Type 2 Diabetes' by Healthline. As soon as you start the video, you can tell that the brand has thoughtfully designed this media.
When it comes to health, we all have different needs and experiences, which is why an interactive video is the right choice for this guide. Viewers are given options at various points to customize the information that's helpful to them.
Focus on engaging and entertaining
Any marketer will tell you that good marketing is about more than just selling. It needs to entertain, engage, and connect with audiences. As you check out our top ten list of the best interactive video, you will realize how important entertainment is in interactive media.
If you take a minute and think about any social media or traditional marketing campaign, you will most likely remember ones with some entertainment factor.
Luckily, interactive videos help you set a new benchmark of entertainment and provide a cinematic experience.
Let your viewers become part of the story
The ability to tell strong, visual stories is one of the most exceptional qualities of video. But, interactive videos take storytelling to entirely new heights.
It allows the viewers to have input in the storyline. For the first time, the viewers are also the storytellers as they make decisions on how the plot of the video unfolds.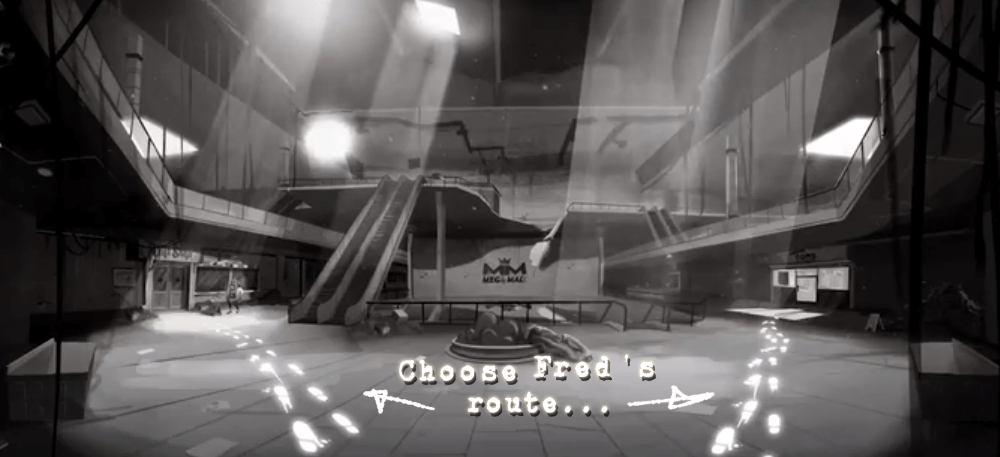 A great example of this is the interactive video by Aardman Animations and Rapt Media. Their interactive short film is set in the post-apocalyptic time, and it allows you to help a zombie, Fred, find his love, Barbara. With many branching options and storylines, you feel like you are part of the story.
10 Most Awe-Inspiring Interactive Videos
1) Deloitte
2) LaCantina Doors
3) Honda
4) Allianz Global Investors
5) Virtual Art Sessions
6) Nicky Case
7) Major Lazer
8) Bob Dylan
9) Eko – That Moment When
10) Coldplay – Ink
#1) Deloitte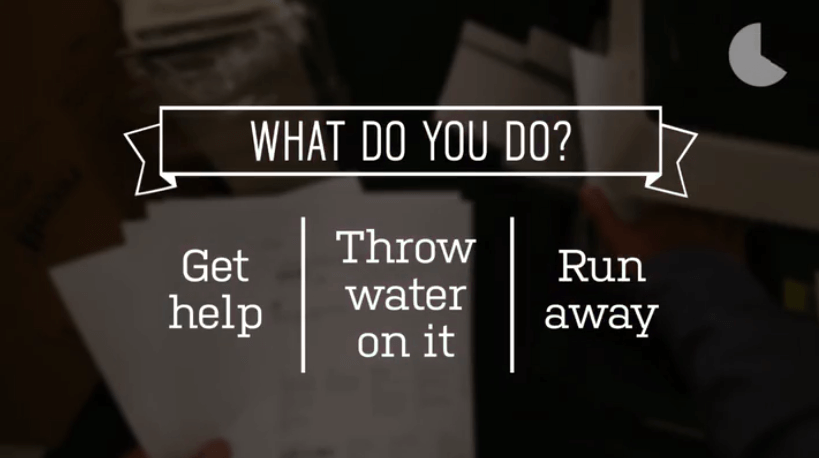 Experience the interactive video here.
A majority of big, multinational companies focus and invest in firstly creating a powerful company culture and secondly ensuring their recruitment process enables them to take like-minded professionals onboard.
However, it is not easy to define culture and decide whether someone can fit into your company culture or not.
The video, 'Will You Fit into Deloitte,' helps the company make more efficient decisions regarding who compliments its culture.
This interactive video takes viewers through different moral, cultural, and etiquette conundrums. And after a series of scenarios and making several choices, the video helps you understand whether you are the right choice for the company and which department you want to join.
The scenarios check different abilities of the viewers like decision making and attention-to-details.
For example, the video asks you to select the appropriate gift for a colleague you just met. Or, what do you do when the photocopy machine malfunctions while you were using it? Here is a hint, don't run away!
In case you choose the wrong option in any one of the scenarios, you are met with a thumbs down, and you get a chance to redeem yourself.
With this interactive video, Deloitte has decided to gamify its recruitment process and effectively help candidates understand the culture of the company.
#2) LaCantina Doors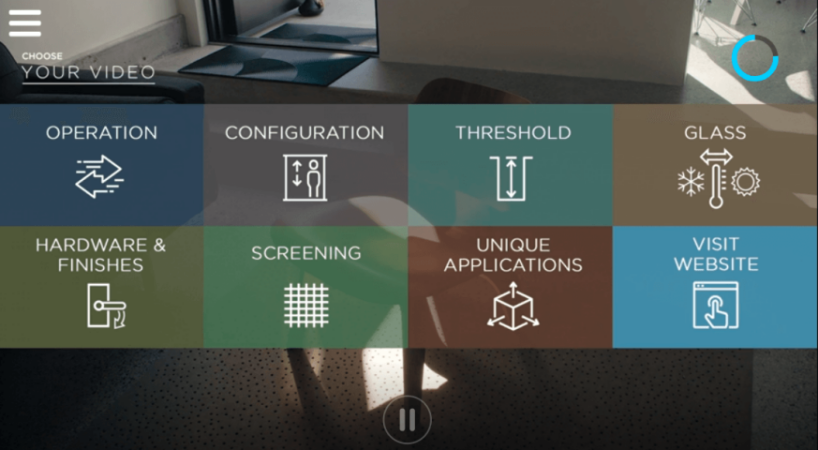 Experience the interactive video here.
LaCantina Doors is a company that designs and manufactures folding door systems. It is a high-end home product that considers large spaces and outdoors to create custom designs.
Besides, the complexity and high prices associated with the product and how vital outdoor spaces are for a lot of people, an interactive video is the ideal form of media to engage viewers with different queries and ideas for their space.
The interactive video starts with several different sections that all cater to different possible queries of the viewer. Because not all people are comfortable using new technology, the video begins with a short explanation of how interactive video works.
In this interactive video example, you have the option to 'Switch View' during the entire video, along with an interactive menu that allows viewers to find out more about specific parts of the product.
When you click on the 'Switch View' button, the angle of the camera or the entire scene changes, and you have a new perspective. Besides, the video has a very high-end feel to it, the scenes are shot attractively, and the clickable design options brilliant keep the viewer engaged with the video.
#3) Honda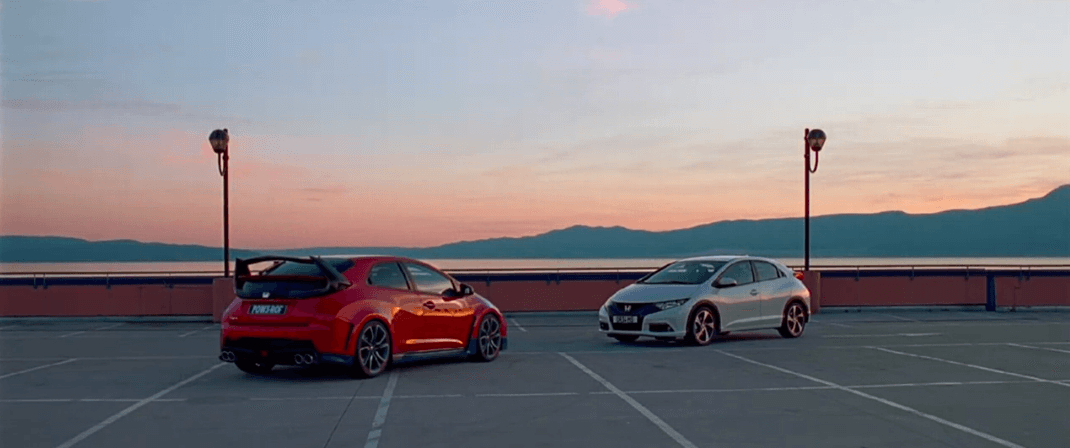 Experience the interactive video here.
As one of our best interactive videos, one delivers impact and reflects the brand persona the company wants to create without actually saying a word.
Ultimately, in a brilliant representation, this video tells its viewers that Honda Civic is the top-notch family car, along with being a fantastic getaway vehicle.
This interactive video titled 'The Other Side' very effectively brings you two very contradicting realities of one Honda driver.
Where, on one side, he is carpooling the dad picking up the kids from school, and with just one click, you come to the alternative reality where the dad is the getaway driver. The thieves replace the kids in the back seat, and just like that, the ride back from school turns into a car chase running away from the authorities after an art heist.
You enter the alternative reality every time you press the letter 'R'. Before the video starts, you see a pop-up on the screen telling you to press 'R' to see the other side.
The back and forth between carpool dad and getaway driver racing to escape keeps you on the edge of your seat throughout the video.
This interactive video surely doesn't offer a lot of storylines, but it hits the mark with the overall experience and impact.
#4) Allianz Global Investors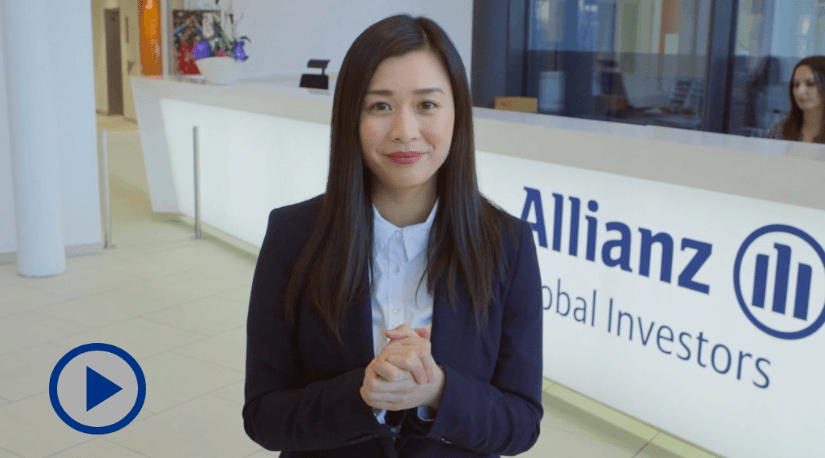 Experience the interactive video here.
Often the larger the company, the more challenging is its recruiting and onboarding process. With this video, the Allianz Global Investor has created an in-depth orientation interactive video.
This is an excellent example of an interactive training video, as you, a Portfolio Manager in this example, meet the onboarding buddy at the beginning and continue with your introductory session as you see fit.
Your onboarding buddy shows you around, walks you to your office, and introduces you to some typical job responsibilities like buying and selling stocks.
The video also prepares you for some emergencies you might have to deal with as a portfolio manager.
Through the video, you are asked to make different decisions, you have the option to consult your colleagues, and after the developments of the entire day, you get a score according to what choices you make.
This interactive video sets a brilliant example of who comprehensive these videos can be. This practical use of interactive videos surely brings lots of ideas to marketers and human resource professionals, and business development experts for automating tedious everyday office tasks.
#5) Virtual Art Sessions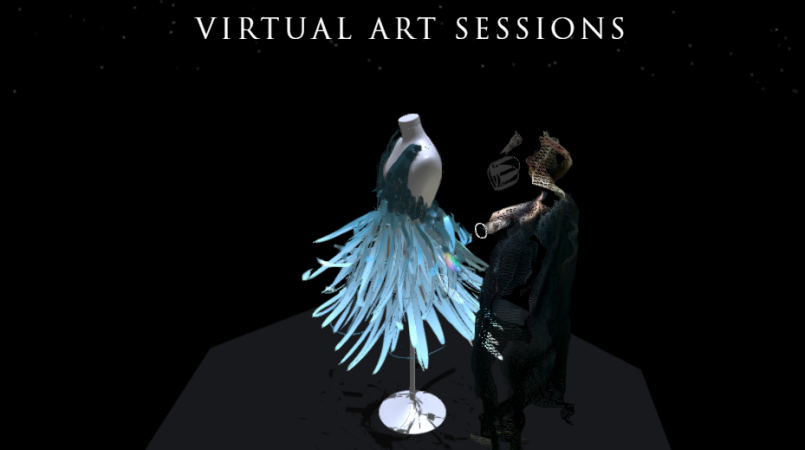 Experience the interactive video here.
The brand here uses an interactive video to introduce its 3D drawing app, Tilt Brush. You have six acclaimed artists representing their art by painting in real-time by using their virtual art software.
At the beginning of the video, you have the option to experience the video with a VR device or normally. You also choose the artist you want to start your virtual art sessions with, and you can also move to the next artist during the video, as well.
Every session starts with a blank canvas or blank space, and you watch the artist work their magic with every brush stroke. Viewers can alter their perspective or the angle of the camera as the artist is in action.
Even without a VR device, you get a three-dimensional experience with a 360-degree view. Suppose you are an artist or appreciate art. In that case, you are really going to enjoy these interactive videos as they allow you to explore the artistic process, which can be very addictive.
#6) Nicky Case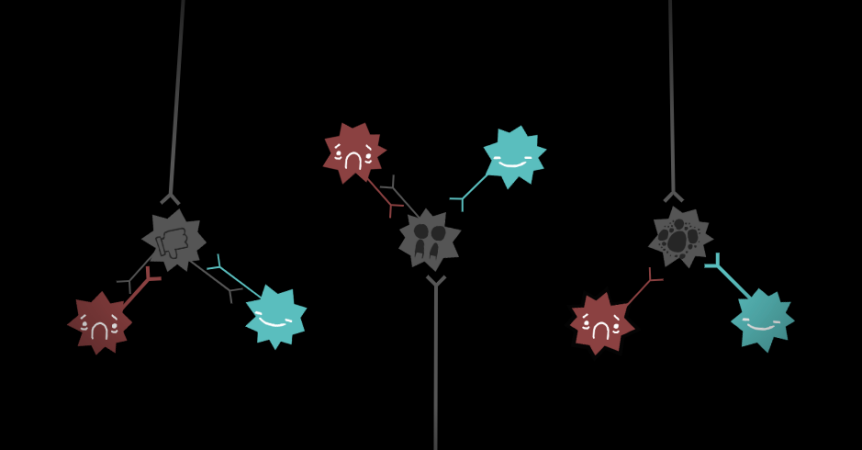 Experience the interactive video here.
In this interactive video application, we see an animated explainer video, which again tells you that there is all the more space for marketers to be creative.
This video explains and shows you how neurons connect certain elements with our happy brain or anxious brain. Throughout the video content, the narrator asks you to build and disconnect the connections you make, telling you how your mind has the power to do the same.
This example of interactive media is an explainer and education video, as the narrator goes on to explain to you the concept of Hebbian learning. Interactive examples and activities follow every piece of information, and unless you take part in them, the video doesn't progress.
These enjoyable yet straightforward gamified interactions help you learn how your brain works. Once you truly give in to the game, you see how fantastic it is.
If you have an idea to make your explainer or educational video interactive and are looking for an expert consultation, we can help you out.
#7) Major Lazer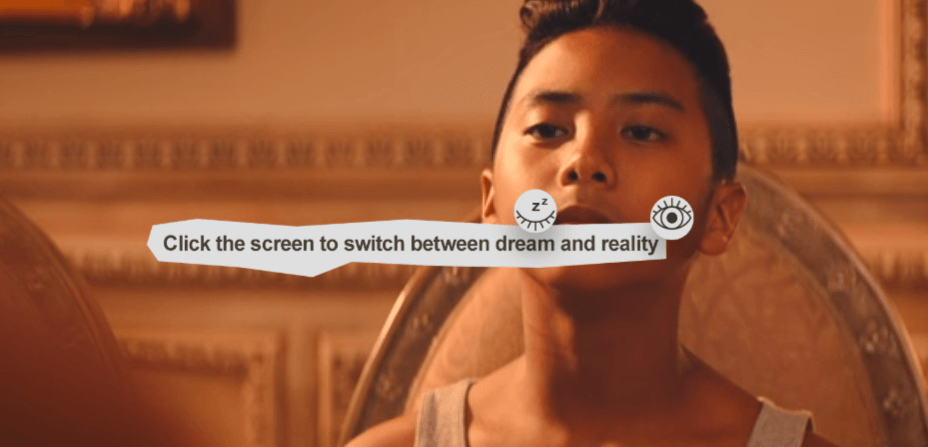 Experience the interactive video here.
Here is an excellent example of an interactive music video. We all have a dream that we fantasize about now and then, but more often than not, something is stopping us from pursuing this dream and making it our reality.
If you feel that way, the interactive music video by Major Lazer for their song called, 'Know No Better' is a must-watch to spark inspiration.
The concept of the video is simple, but it hits all the right spots. Throughout the video, you see a pop-up message saying to click on the screen to switch between dream and reality.
Walking throughout a young boy's entire day and watching the glimpses of the truth and the dream so close and far away at the same time.
This example once again proves that to create the best interactive videos, you don't need to come up with a sophisticated and high-tech idea. As long as you evoke the right emotions and deliver the message and impact with your story, it's a success.
However, the end leaves viewers happy and inspired as the boy gathers the courage to dance with his dream girl in reality.
#8) Bob Dylan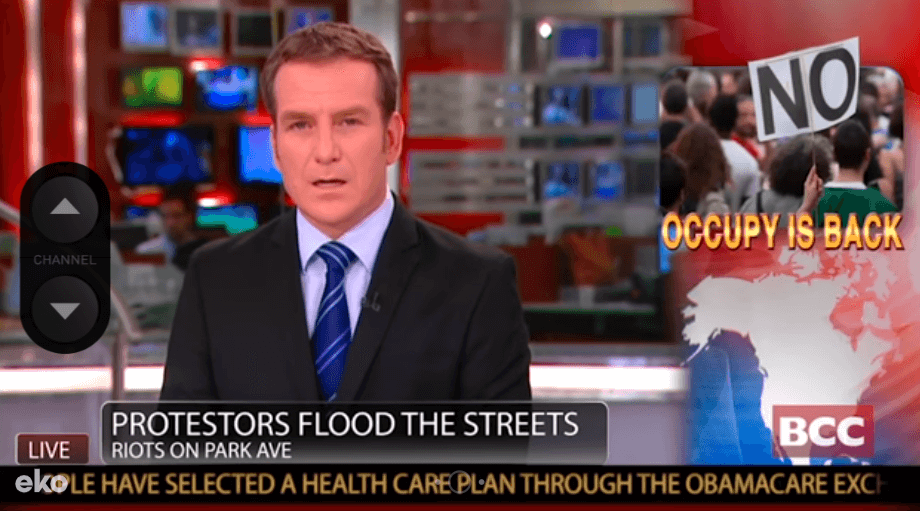 Experience the interactive video here.
Bob Dylan is an iconic artist with a great fan following. The video of Bob Dylan's classic song 'Like a Rolling Stone' lets the viewer flip through different channels as they watch News channel hosts and other people lip-syncing to the song.
This interactive video takes the idea of the video in a video to another level. This would be another interactive music video inspiration on our list.
If you are a Bob Dylan fan, this video is a dream come true for you. Artists creating interactive video content is like building a viral video that practically shares itself.
Besides, it is incredible to see that even though the interactive video has only become mainstream a few years back. Still, artists have been exploring the idea for almost a decade ago.
#9) Eko – That Moment When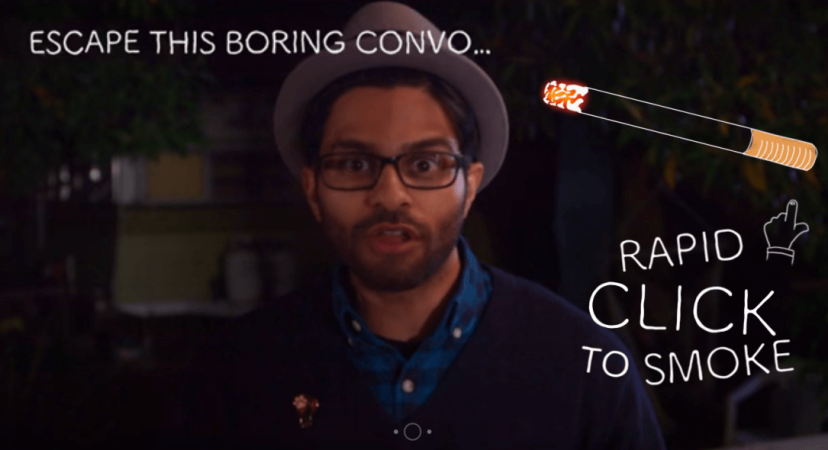 Experience the interactive video here.
Here is another example of interactive media. Your interactive media isn't limited to a music video, recruitment training session, and advertisement. You have the space to be as creative as you like, and this video by Eko is a great example of that.
A few brands are creating interactive video content, but Eko does it very well. They produced five interactive short shows, and one of their best is part of our list called 'That Moment When.'
This interactive video uses the gamified format and, throughout the video, asks you to make several choices to help a girl named Jill to get through an awkward encounter with an old friend whose name she can't remember.
Throughout the video, you make guesses, get hints, and earn points that reveal more letters of your friend's name. As you work up your score, there finally comes the big reveal of the name.
It's funny, entertaining, and very interactive. It is hard not to feel engaged or part of the scene as you continue helping Jill navigate the situation as she is trying to put together information and remember the friend's name. That Moment When is engaging, hilarious, and it's relatable.
#10) Coldplay – Ink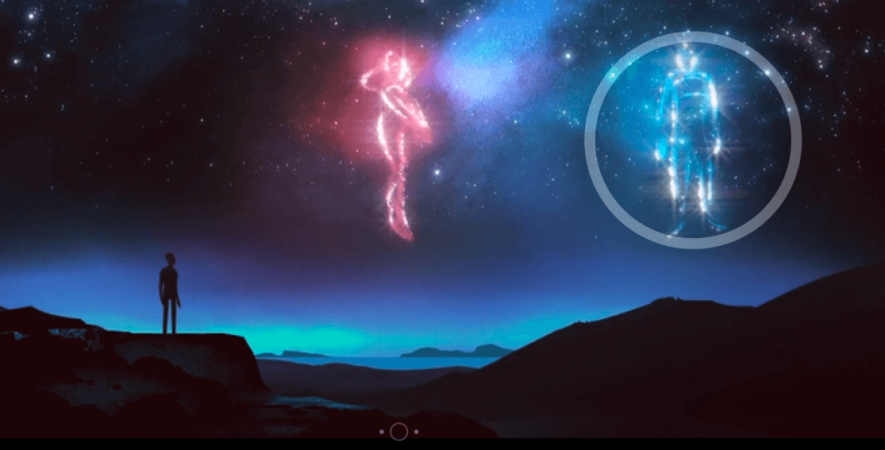 Experience the interactive video here.
Up till now, we have seen that interactive videos are generally more associated with entertaining content with some interaction promotion campaigns.
There are many films, music, and video production companies investing in interactive content. This 2D animation video by Coldplay is a part of our list of some of the best interactive video examples.
The interactive music video by Coldplay for the song called 'Ink' takes you on an adventure. You get on a journey with a man who is searching for the love of his life. You are there with him, making decisions for him at different points in the video, trying to help him find his girl.
On this quest to look for a man's better half, you walk through some beautiful backgrounds like a bustling city, the evergreen forest, a serene ocean, and so on. The animations, characters, environments, and colors keep the viewers engaged till the very end.
Besides, you are indeed on an adventure with this interactive video, and its over 300 possible storylines. However, you have to wait and find out for yourself if you help the man reunite with his love or watch him lose his love forever.
All we can say is that this animated interactive music video is a work of art.
Get Interactive With Your Video
Interactive video offers new opportunities and revolutionizes traditional marketing by giving more control to the viewers, which results in more entertainment for viewers, higher engagement, more behavioral and quantitative data, and better ROI.
Now you have learned what an interactive video is, how it is different from a linear video, and how to create brilliant interactive media.
We also experienced and analyzed some of the most inspiring interactive video content, and now it is time to understand how interactive media can benefit your business.
If you have any more queries regarding interactive video or if you want to discuss your video idea with our experts, feel free to reach out.
Other Article: