Looking for the best software for 3D animation and modeling? Read our blog to learn about the features and benefits of Cinema 4D and Maya.
When it comes to 3D software, it is evident that each tool is designed with various features that make them different and the right fit for different purposes.
Regarding specific features, the two software are pretty famous because of their unique functions. Cinema 4D and Maya are excellent animation 3D and modeling software. Professionals in different industries prefer to use both software.
Maya and Cinema 4D offer various helpful features that help users in 3D modeling and creating visual effects, so it might be challenging for you to pick the right software from these two choices.
So, are you excited to learn about the features and functionalities of Cinema 3D and Maya? Keep reading this blog. We will compare the features and strengths of both software.
Let's dig deeper and start the comparison of Cinema 4D vs Maya. It will help you learn about both software features and strengths.
Maya
Autodesk launched Maya, a 3D modeling, simulation, and animation software that has gained immense popularity in the video games and film industries. The software allows its users to use tools that help develop objects, animate them and use visual effects.
The software is popular because it offers a wide range of animation features that help in bringing characters to life.
Maya is ideal for character design. It assists users in modifying creations entirely and partially through MEL, its programming language. Professionals prefer to use Maya Embedded Language to create customized pipelines and tools that help in completing the projects.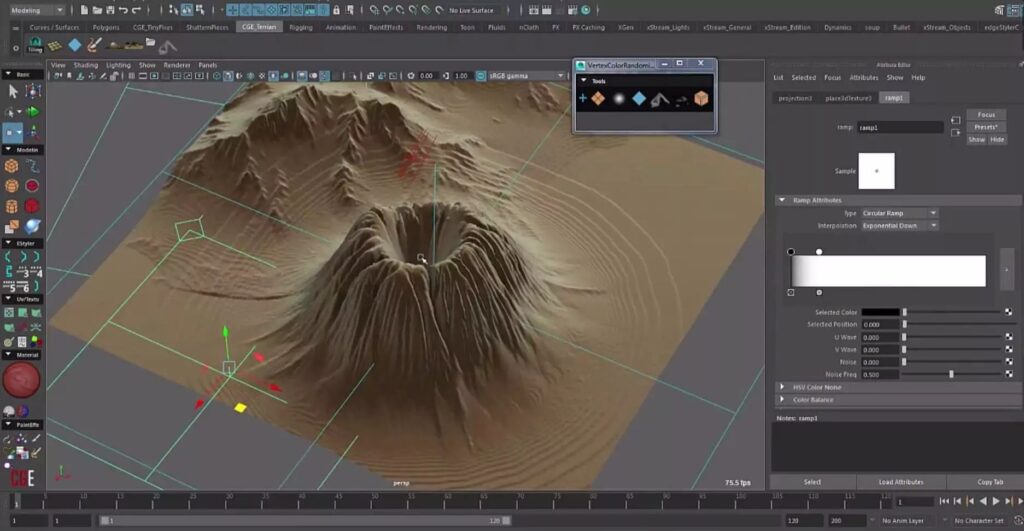 Credit: Pinterest, 80 Level
Useful Resources:
Cinema 4D
Maxon introduced Cinema 4D, one of the most popular 3D animation, modeling, and rendering software. Cinema 4d software allows users to use its feature and add visual effects or animate objects, and it is famous because of its motion graphics features.
People associated with TV commercial production and advertising have admired this feature. It is easy to use, making it suitable for other fields, like architecture visualization.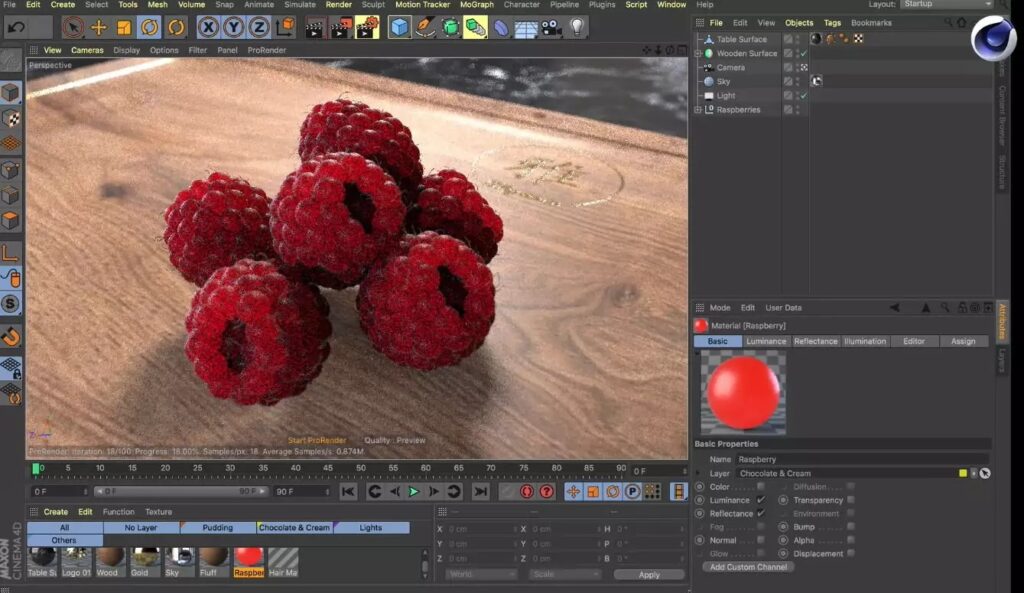 Credit: 3DVF
Cinema 4D vs Maya: The Comparison
When it comes to functionalities, Cinema 4D and Maya have a similar type of features. But when we explored their features, we learned that they provide distinctive conceptions of 3D animation, modeling, and visual effect.
Features and Interface
The user interface is a critical factor that encourages users to choose any software. Regarding the accessibility of both software, Cinema 4D is easy to use. On the contrary, it is challenging to understand Maya's interface.
If you are looking for software for modeling, choose the tool that assists you in managing your workflows in-depth. Maya is one of the first software that introduced the node systems, which made its feature and process more effective. This feature is called the Node Editor.
Cinema 4D has an easy and simple interface, which is why users prefer to use it for graphics, as it provides creations by using a few buttons. Cinema 4D provides various features for preset scenes and objects that help users understand concepts efficiently.
Cinema 4D is equipped with MOGRAPH, an incredible toolset that assists users with functionalities that help in motion graphics, speed up the process and save time.
Video editing is one of the critical elements of the post-production phase. It can polish your video and capture the audience attention. People wrongly perceive video editing is expensive and don't give importance to it.
If you don't focus on video editing, it can negatively impact the audience. However, many video production companies provide video editing services at reasonable prices.
You might be wondering about the video editing cost. You can get your video animated in the price range of $10,000 to $15,000 for a 90-second duration video.
Cinema 4D and Maya from the Learning Perspective
We have discussed the accessibility of Maya and Cinema 4D in the previous heading. Cinema 4D has an easy user interface, and even non-professionals can use it easily. The MOGRAPH and preset materials assist the users in getting good-looking concepts through its features.
That is why this software is considered as one of the best programs for architectural visualization projects. Cinema 4D has some complex features that users can understand after getting hands-on experience with the software.
Users can improve their expertise once they start using the software. At first, it isn't easy to use complex plugins and models for rendering purposes.
On the contrary, if you want to use Maya, it is essential to have some coding knowledge. Users need to improve their expertise in Python and Maya Embedded Language.
This learning will help users utilize its animation features and full customization.
Visual Effects and Animation
Regarding animation, Maya and Cinema 4D can provide similar benefits to users. However, video games and film industry people prefer to use Maya as it is ideal for animation, visual effects, and character rigging.
The mash tool of Maya helps users in creating excellent visual effects instantly. Cinema 4D also assists users in creating top-notch visual effects, which is why professionals prefer to use it.
Cinema 4D is famous because of its features of motion graphics effects that match a brand's personality and tone or products. That is why Cinema 4D is considered as one of the best software for creating advertisements and TV commercials.
Maya or Cinema 4D: Which one should I choose?
Before making up your mind to purchase the software, consider your knowledge and expertise in 3D software and the goal, you want to achieve with the software. Maya might not be suitable for you if you don't have prior experience in using any animation or modeling software.
You need to put in a lot of effort if you want to use it. Many schools educate their students to improve their skills with this software.
First, you need to identify your project requirements. It will help you in choosing the right software. As discussed, Maya is ideal for the video game and film industries. Whereas, Cinema4D is preferred for TV commercials and short-film creation.
Generally, big studios hire candidates who have expertise in using Maya. Although many people us it in the gaming industry, Cinema 4D has limitations in video game development.
Helpful guide:
In a Nutshell
Before choosing the 3D software for your work, you need to think about the knowledge you have about the software and the nature of the project you want to complete with this program. After reading this article, you can pick the best software to help you in 3D animation and modeling.
Usually, beginners prefer to use Cinema 4D as it has a user-friendly and simple interface that people can understand easily. On the contrary, Maya is ideal for users with prior experience using animation or modeling software.
You need to check the specifications of your computer. Cinema 4D and Maya require different GPU and RAM. Another option is to outsource your video projects, search for 3D animation production companies, check their portfolio, and choose a company with a proven track record of providing top-notch 3D animation services.
If you want to improve your video editing, you must give a read to the following recommended readings:
Cinema 4D vs Maya – FAQs
Which software is better Cinema 4D or Maya?
Maya vs cinema 4D debate is not new, and people are often confused in deciding the right software. For animation purposes, you can do similar tasks from both software.
Maya is mainly preferred in the gaming and film industry because of its best animation, visual effects, and character rigging features.
Is Cinema 4D beneficial for modeling?
Cinema 4D is one of the most effective 3D modeling software. Professionals prefer to use it because of its top-notch quality animation, motion graphics, and renders.
How much RAM is required for Cinema 4D?
The RAM requirement depends on your project. If you want to use Cinema 4D, it requires a minimum of 16 GB. In rare cases, you might need up to 32GB of RAM.