Boost your sales with these 40+ creative marketing ideas for any product or business. Learn from the best examples and tips.
An average person sees 4000 ads per day. That's a huge number! But do you ever wonder how many marketing ideas you get from most of those clever ads?
It can be hard to consciously analyze each one separately (unless Don Draper is your coach). So, we're going to make it easy for you. There's no need to put yourself in perspective.
We've already compiled a list of the 40 best creative marketing ideas. You see, 2023 is not the time to do something everyone's already doing.
Most advertisers promote the 7 times 7 rule for brand messaging. I'm sorry to break it to you, your prospects don't really have that much time.
Or let's just say, you've slim chances to get your ad in front of your buyer, even for the second time. Why would they watch your message seven times?
It may sound harsh, but all you've is one chance to cut through the noise in their heads, and leave them with a feeling of awe!
Now, the question ponders, how do you do that?
That's what this blog will tell you. In it, we'll share 40 best creative marketing strategies to not only hook your audience, but to take them by the hand and tell an amazing story. One that would surely inspire them.
Hooked?
Want to be a creative marketer?
Let's begin!
Marketing ideas for social media
One of the best ideas you've for marketing is to level up your brand game on social media. You can get the best out of your marketing budget given that you've a solid strategy for social media.
Though social media marketing is nothing new, most of the new marketers struggle to crack its code.
Part of the reason can be its saturated landscape. However, from my experience, it's a massive opportunity for anyone who knows what to do to standout and deliver value right from the get go.
Below we share five innovative marketing ideas for you to boost engagement on social media;
1. Invite customers to a referral program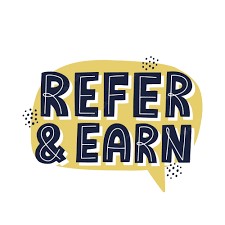 Undoubtedly, social media is a powerful tool in the marketing mix. You don't have to go bananas and try out and test all the unique marketing ideas.
Simply fetch the list of your existing customers and reach out to them.
You may ask them to join your referral program. Though conversion chances remain very slim at the start, it should not hold you back from trying it. If they bring in a handful of new customers, reciprocate them with a satisfying reward.
It can be a gift or an exciting discount.
2. Partner with influencers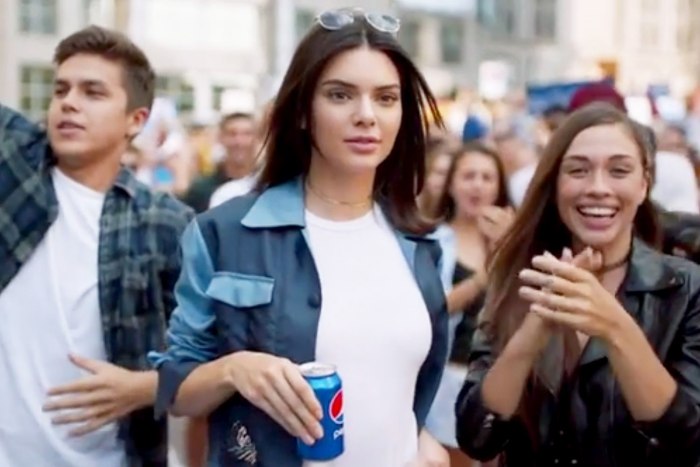 If you want to rise through social media ranks in no time, influencer collaboration is the way to go.
Influencer collaboration comes under the umbrella of creator marketing where you collab with influencers and content creators who hold great authority among their audience.
So, another impressive strategy would be collaborated with these creators or influencers.
Remember, you don't have to land a gig with a celebrity creator. There are thousands of micro influencers, who will be more than happy to help you.
So, there's no need to exhaust your budget.
Recommended Readings:
3. Do a giveaway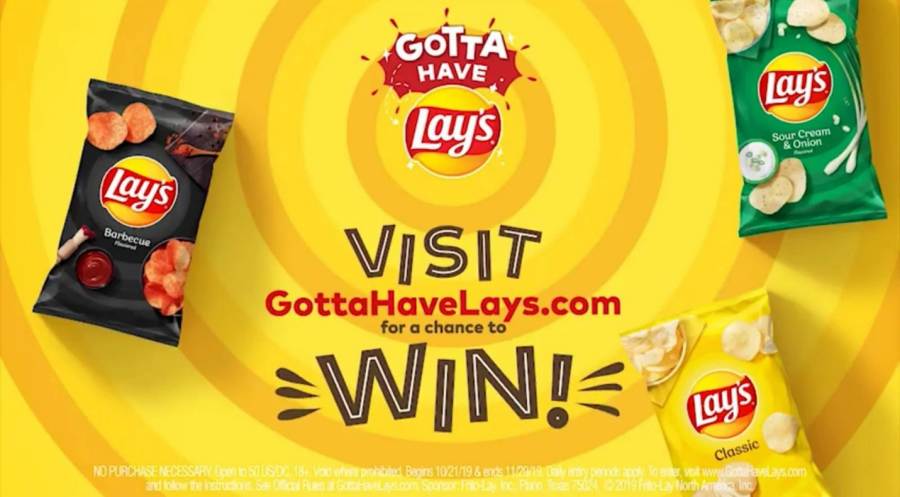 You can do a giveaway too. Giveaways make viewer excited. As a result, they flock back to your post and engage with you. To outrank each other, they start to compete in your comments section. Not only does the engagement go up, but the algorithm will surely push your post to a larger group of people. So now the reach can grow twofold too.
4. Collab with another brand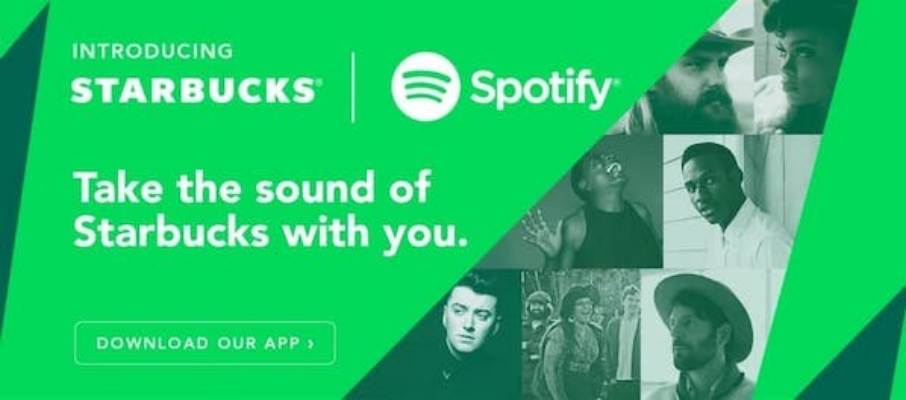 Another creative marketing idea is to collaborate with a brand. Working with a complementary brand also works just fine as you can attract customers of the partner brand to your feed. Know that this tactic is perfect if you've a product that is all set to launch.
5. Invest in video marketing
If you want to speak to your audience freely, make videos. In fact, we've some interesting video marketing statistics to back our idea. 91% of customers wish to see more online video content from brands.
And, impressively more than 90% of marketers say that they were able to get a higher ROI with video marketing.
Videos build trust and are easier to process. Also, most people learn by watching videos. So, it would be pay you more to create a handful of quality videos that introduce your brand with a bang!
Most brands have amazing videos, but lack the powerful toolset of marketing. As a result, they lag behind their competitors. So, if you're not sure how you're going to get more views and clicks on your video, we recommend you to invest in a video marketing service. Here is a list of the top marketing video production companies that generate conversions.
Recommended Readings:
Need a walkthrough of the best video marketing strategy, reach out to us. Here at BuzzFlick, we use the best video marketing tools to help you to not only create stunning videos, but more importantly, swoop in engagement with a surefire marketing strategy to launch and run the campaign, turning it into a big success.
6. Pin testimonials from happy customers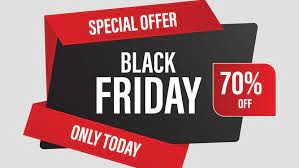 You can even pin testimonials of your satisfied customers because testimonials build trust and tell a story your future prospects would want to hear. See, testimonials are really interesting.
And, pinning them to your social feed increases their visibility. And you never know if that can land you a handful of good leads. What's really important here is to keep going and get the word out for your brand as much as possible.
Promo Marketing Ideas for a Successful Launch
You don't have to be boring. Brands today have campaigns that have a futuristic theme. So, there are lots of innovative promotional ideas up for your grasp. Whether you're promoting your product or business, you have every right to be creative.
If you love to do things unconventional fashion, you'll surely love these new marketing ideas we share below.
7. Be creative with your ads
People are always eyeing for something new. So, it's important to have fresh marketing content in the bank. In pursuit of something new, you can opt to be creative yet effective. You don't have to do something that goes completely out of the box.
So, pay close attention to what sells best.
One of the finest promo marketing ideas is to be creative with your ads. Like others don't just invest in static posts. So, if you really wish to stand out, try making a video.
In recent research by Bitable, it was found out that videos tend to get 500% more clicks than texts and links combined. People love watching videos. So, why not hook them up with something creative?
8. Prepare for a big launch
This has been at the heart of every successful marketing strategy. You want a big launch for a brand. Create noise on media and get people talking about it. You want to be on the buzz before you reach your launch day.
People would follow up on your social if you've kept them poised for your launch. A launch video can help you create all the hype you ever thought of.
9. Offer exclusive discounts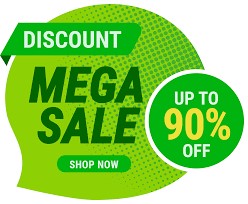 If you can't look for any creative ways to advertise, it's nice to have some discounts and incentives for your customers. You may even offer exclusive discounts to your existing buyers.
This can be really handy too especially if you're on a tight marketing budget and can only do a handful of static posts to engage your audience.
10. Do countdown posts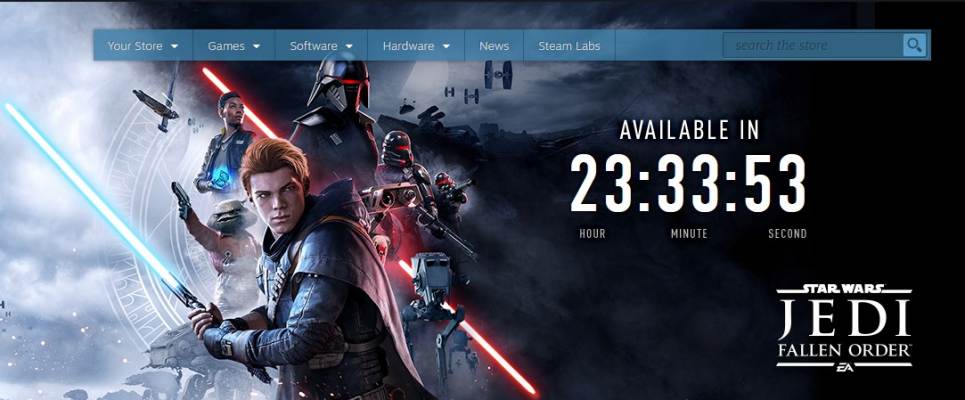 Countdown posts are also good to keep your viewers poised. Apart from your own launches, you can even do countdowns for events and festivals that appeal to your community.
Capitalize on the opportunity of such events and befriend as much customers as you can.
Fail-Proof Instagram Marketing Ideas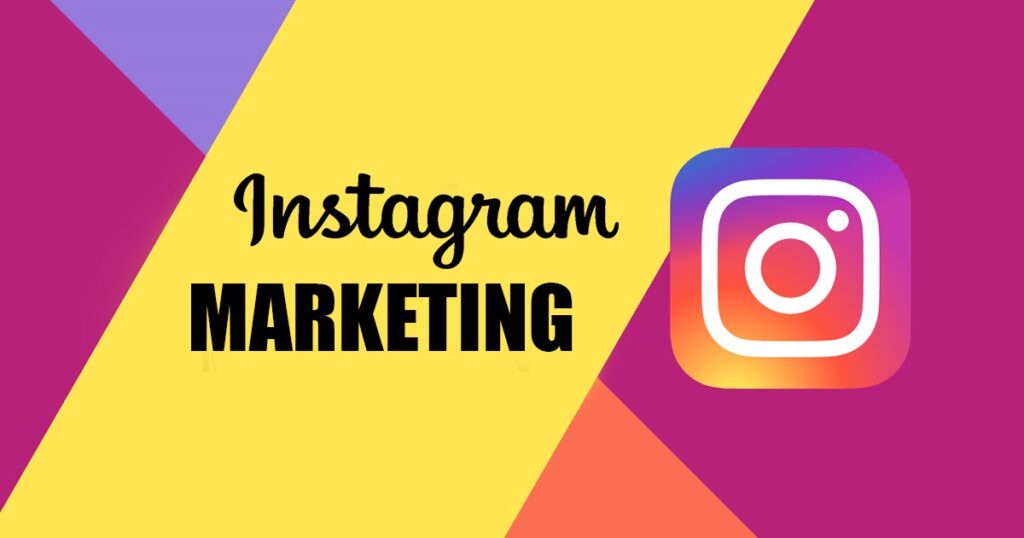 Instagram is a platform known for the presence of influencers. Whether it's lifestyle, education or even entertainment and beauty hacks, you can find everything. And, with so many influencers in one space, there's no point in staying back.
It's time you shall take the leap. So, below we've three fine Instagram marketing ideas for your brand.
11. Invest in creator partnership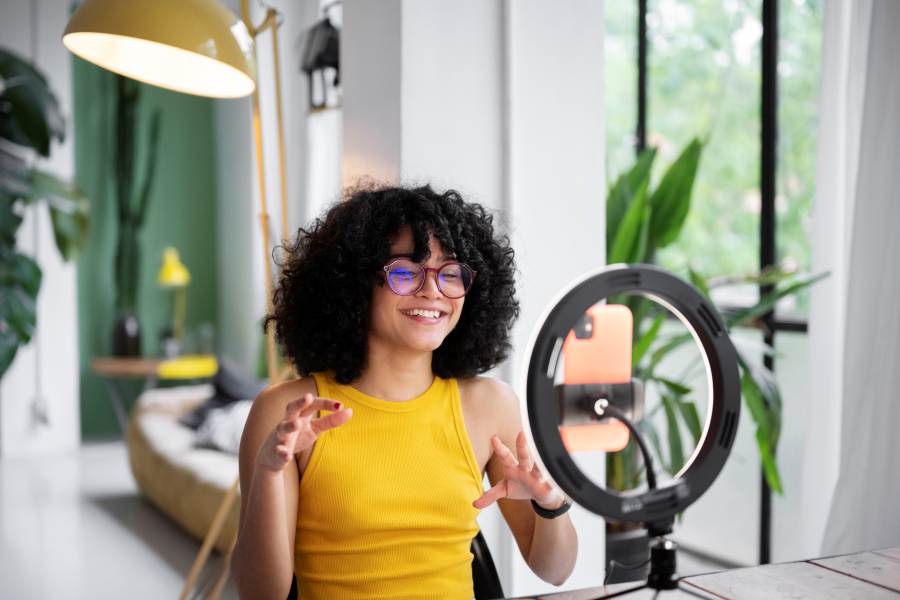 First thing you can do best on Instagram is work with Influencers. Look for creator partnership opportunities. You want influencers who can endorse your brand.
Don't just fall for likes and followers. These are vanity metrics. Pay close attention to the interaction the influencer does with their fans. Are these any meaningful? Would your buyers trust their word for a product or service?
Does the personality of the influencer align with your brand's persona?
12. Post interactive stories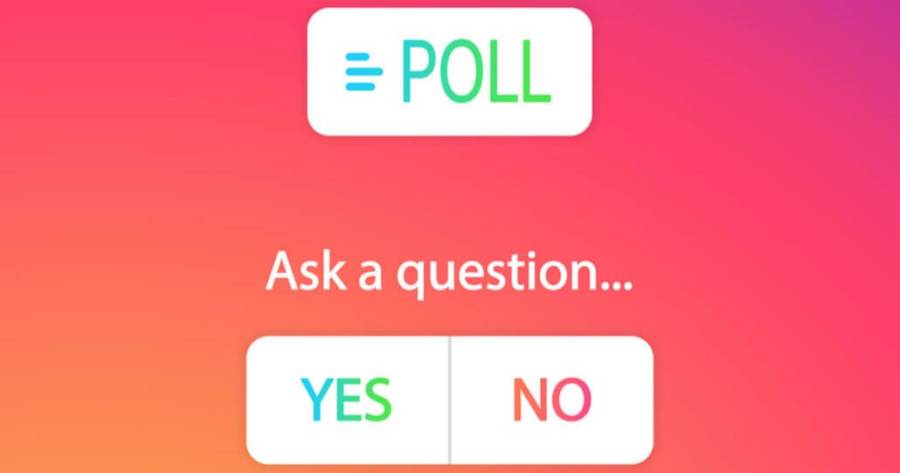 Instagram stories are gold for engagement. You can take polls and questions that are bugging your audience. Interactive stories invite responses from viewers. So, you stand a handsome chance to record their response and build a relationship with them overtime.
13. Go Live with your followers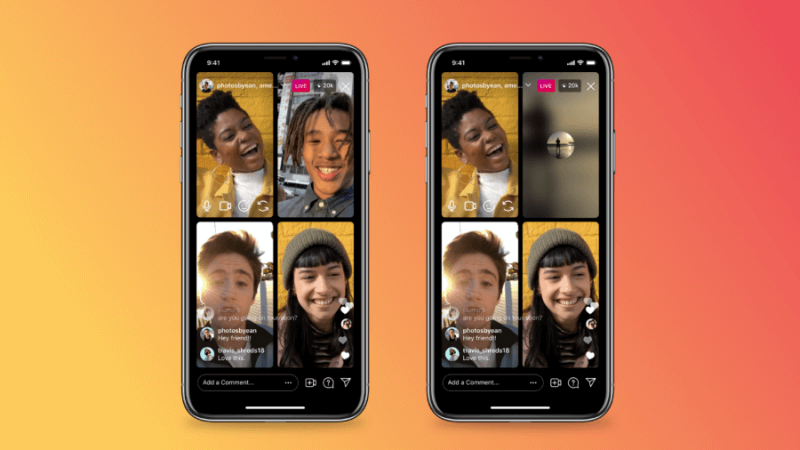 Another fun way is to go live with your followers. These can work just fine especially if you've some marketing partnerships that have already been set up with renowned influencers.
You can create branded hashtags for such creators.
And, they can conduct Live sessions to build the hype for your launch. Their followers would love to hop on to your page and see what you're up to.
And, if the content is exciting, they might stick on your page and return too.
Besides, influencers also share affiliate links to products when they're live. So, such collabs can always bear fruit for you.
Game-changing Facebook Marketing ideas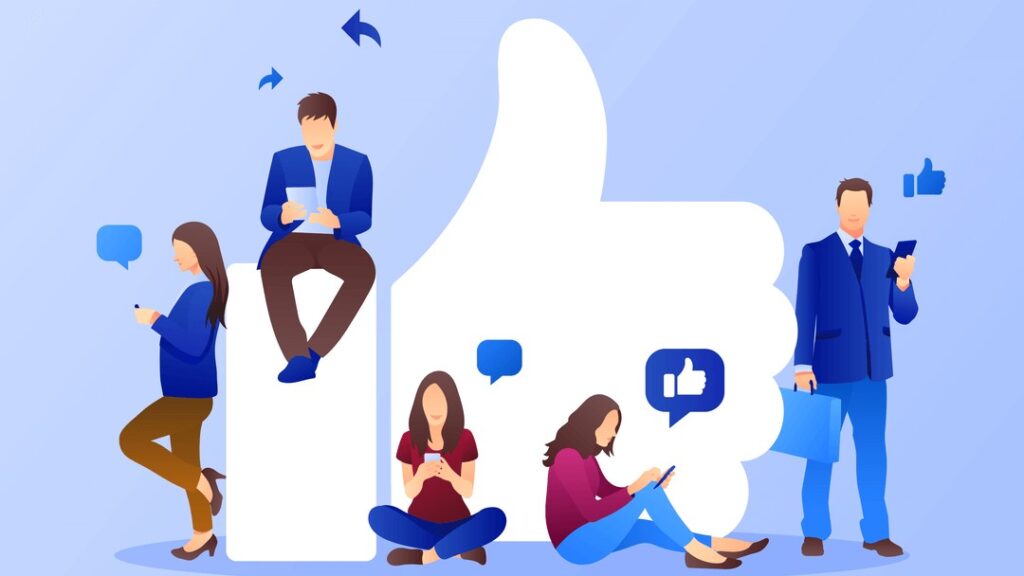 Facebook is the top platform for D2C advertising. More than a billion users mean that Facebook has enormous potential to help you capture your market. Here are three game-changing Facebook marketing ideas to win at your next campaign.
14. Post infographic videos
Infographic videos are seen as meaningful content. Facebook's algorithms will surely push it up, making it visible to a larger group of people. And, since infographics have immense value, they won't just be discarded as clutter pieces.
Or like one-off posts that had an intent to go viral around an event hashtag. Educational content can retain its value overtime. So, you'll have a good chance to swoop in more engagement as you most something new.
If you want to create amazing videos, here's a list of the best video tools that are being used by all top video creators in 2023.
15. Go Live
One way to take your viewers behind the scenes is to go Live and tell them what you're up to. If you're a brand, it's always best to introduce your followers to a friendly, real face.
People want to come in contact with real people. Nobody would give a thought to the robot who's sitting behind and posting all the cool stuff on your socials. So, consider humanizing your brand. You can even use live sessions to introduce your prospects to a new product or make an announcement.
16. Use Chatbots
We're living in the age of AI. Why not use it to springboard our marketing?
You can use chatbots to create posts that assist your followers in shopping. Or chatbots can even answer some common queries without disturbing you. You don't have to work 24/7. Neither do you need to carry the pain of having a delayed response for every query.
Chatbots in Messenger not only answer queries, but can also help prospects with considering your product. So, it has taken selling a step further. You don't have to look after everything. Just use these bots to assist your buyers.
Flawless Twitter Marketing Ideas
Twitter is an underdog when it comes to marketing. Most people underestimate its potential. With only 280 characters to work with, you may say it's not enough. Know that Twitter is not limited by the small size of tweets.
The reach can be massive when a small tweet goes viral. And, as tweets are so small, it can be a lot easier to recall them. And, interestingly, whatever we see on Facebook and Instagram especially news that have crazy buzz around it goes trending first on Twitter.
So, you've every reason to market yourself on Twitter. Here are three flawless Twitter marketing ideas.
17. Showcase your twitter moment
You can start off with showcasing your Twitter moment. Whether it's an influencer mention or a viral tweet or even if an article just mentioned your product, make it a star moment.
You can even share your own videos on Twitter. Again, people love watching videos. Though Tweets are small, videos hold their own value.
18. Invest in a branded emoji
One of the best Twitter marketing ideas is to have a branded emoji. Such tweets go viral easily. However, know that branded emojis are really expensive. You might not need one in the start. However, just for inspiration, here are some fine examples of brands who used branded emojis to make their campaigns a big success on Twitter;

The #Shareacoke hashtag is nothing new. But the branded emojis take this tweet to a whole new level! That will certainly help to grab attention of viewers. That's a rare thing as not many brands have their own emojis.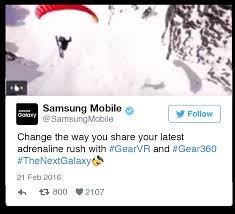 Check out the Samsung one. It got an amazing response!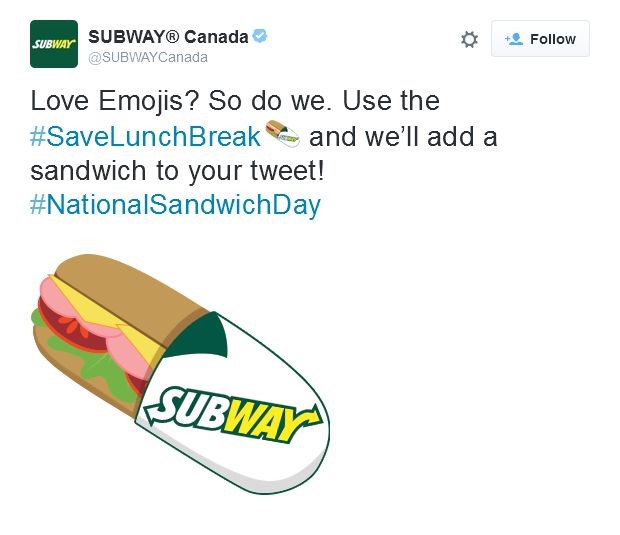 The Subway emoji is also really cool, especially for the context of the post. It capitalizes on the grand event of Sandwich Day.
19. Host a meeting on Twitter Space
You can even host a meeting of like-minded people on Twitter space. If you're still searching for creative campaign ideas that will work for you, this is one. Twitter space is home to all round table conferences.
You can choose to connect with industry experts. Network with them and invite them to your Twitter space. Host an audio webinar and invite insight from other speakers. Build your unique presence and make people know you with ease.
Superb TikTok Marketing Ideas
TikTok is the most popular social platform at the moment. Influencers grow in no time on TikTok. And, it's no wonder why so many brands that target Gen Z are already on the platform. They're eager to build a presence and make the most out of it.
With over a billion users, what should surprise you as much as it did to me is the fact that every day, over a billion videos are watched on TikTok. That's a massive number!
If you too want to dive into the pond, here are three TikTok marketing ideas to make the most of your TikTok presence.
20. Share life hacks
You can invite influencers to do a collaboration project with you. Life hacks are wildly popular on YouTube and TikTok. You can invite influencers to tell a story through a video where they are confronted with a problem and they figure out a solution.
GoodlyEarth is a top-notch creator on TikTok who shares motivating content on DIY home projects.
21. Throw challenges
Challenges go viral on TikTok and the videos even land on other socials. You can even advertise such challenges. If that sounds expensive, partner up with a TikTok sensation and it might just do wonders for you.
Trends pick up steam in no time. And talk about challenges, most of the users on the platform are eagerly looking to join one. So, you stand a handsome chance to grow your reach on the platform. Branded challenges might be perfect too.
22. Springboard your engagement with TikTok ads
TikTok ads is a unique and relatively new feature. The platform does not have too many ads. So that means your viewers won't mind watching a handful of cool ads that are entertaining.
Captivating YouTube marketing Ideas
YouTube is the second most popular website. Your prospects are already there? What are you waiting for? Yes, YouTube mostly has everything related to entertainment. But that should not stop you from posting brand content.
Here are some clever marketing ideas to boost your engagement on YouTube.
23. Create a humorous explainer video
If you're just starting off with your YouTube marketing campaign, you can do a humorous explainer video. Content that is monotonous and sounds dull won't make it. If you wish to go viral, you have to arouse emotion with your video.
Here's an example of one done by the Dollar Shave Club. The video has 27 million views already. And, it's only growing!
A humorous explainer can be a clever way to grab attention, and make people comeback to you. If you want to create 2D funny explainer videos for your brand, don't fret.
We've got you covered. Reach out to us.
Create a humorous explainer video.
24. Use YouTube shorts to teach
Shorts make up for one of the most creative marketing campaign ideas. You're struggle to have organic reach on videos. No problem. Jump into shorts. Sorry, YouTube shorts.
These are in high demand. Not only do these get thousands of views every day, but more importantly, they work as pointers to your long-form videos. You can use these shorts to educate an audience.
People love bite-sized content. And there should be no surprise why your viewers will prefer short-form content. One big reason for that is we've shorter attention spans.
We at BuzzFlick also noticed the same change in interest. So, we started creating shorts to educate our people. And, I must say shorts are perfect to get traction when you're not getting the desired level of response from your videos.
25. Invest in a trailer video
When we talk about creative digital marketing ideas, we can't get through this discussion without mentioning this one. When it comes to drawing engagement on YouTube, you don't have to invest in a series of videos.
Give your audience a quick teaser of what your channel offers. By watching this teaser, they should know what is in it for them. Communicate value with clarity. Or as we do at BuzzFlick we want to keep our viewers excited with amazing animations and bring out all the best stuff they want to see.
You can do the same. Think of this trailer video as a Mission Impossible trailer. It not only gets people talking, but also prepares them for what's about to come. Turning viewers into fans, in no time.
Content Marketing Ideas
Content is King! Yes, that's perfectly right! But, how do you know if your content is good enough. Or what if, you put in several hours of work to craft a blog piece or a video, but it fails to get any traction.
The harsh reality of content creation is we all need traction. A lot of it. And, zero to no engagement means your content is as good as thousands of cluttered pieces on the internet.
So, to keep you going, here are four powerful tips you can apply to educate your customer with the best content. In these tips, we'll specifically highlight how to promote your content for maximum reach.
So, let's dive right in!
26. Start with Guest-posting
Link-building partnerships or guest posting work just as perfect as anything. You can invite bloggers to do guest post on your site. The audience they've built up will help you attract readers interested in your business.
You can even do guest posts on their site with your brand name. However, it's best to post content under a real author name as people want to engage with real people. Remember, you can always endorse your brand in these posts.
27. Turn your listicle into a video
One of the best ways to get shares and likes on your content is by turning your blog piece into a full-blown video. Here's why you should do it;
Consuming videos account for 80% of all time spent on the web
Search engine ranks content pieces with videos higher
Videos have a better click-through-rate
Videos can leave the prospect with a feeling of awe
Here's an example of how Backlinko turned their blog into a full-blown video. It's not just the perfect way to update your content, but also one that caters to the changing needs of your audience.
We turned it into a video for anime lovers who don't like reading.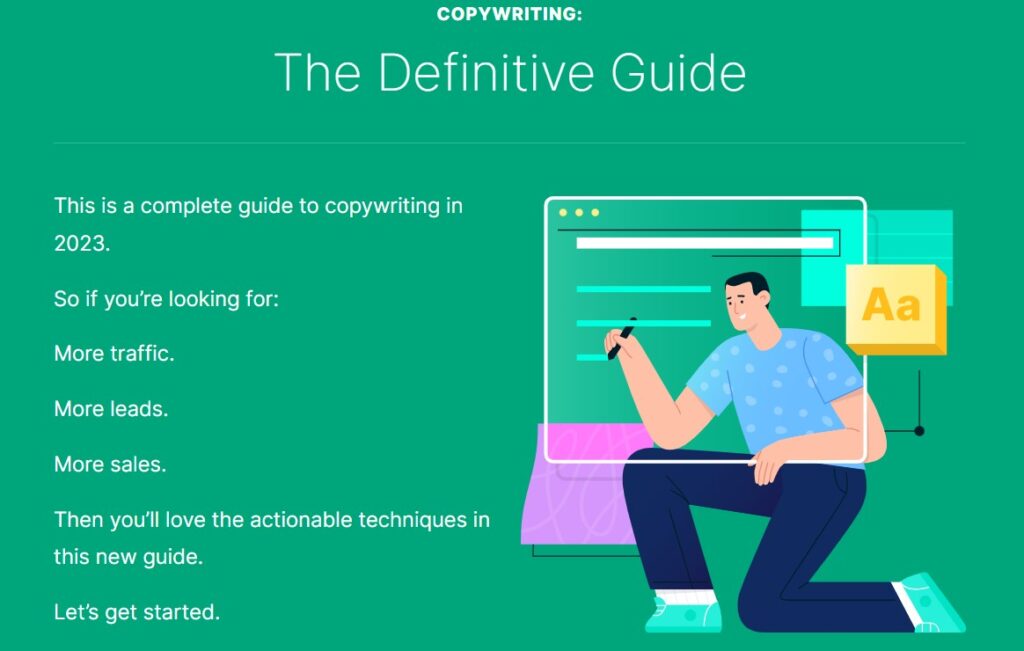 Source: Backlinko
They turned the above blog post into a video for aspiring copywriters who are more comfortable watching videos.
It's a fine marketing idea especially if you've an audience that is craving for something more. Something exciting enough to keep them hooked and stay on your content. Here's a proof how turning your listicle into a video can cause a surge in traffic.

Within just five days, we've seen an 11% surge in traffic. That shows the potential of videos.

28. Focus on thought leadership
Thought leadership fosters credibility. And to build that your goal should be to be as specific as possible with your content. Once people start to trust you as an authority in your niche, you'll soon be rewarded with clicks and engagement.
People will eventually connect with you and shoot their questions. You stand a handsome chance to attract qualified leads by posing yourself as a thought leader.
29. Draft a content calendar for inspiration
Having a content calendar not only keeps you ahead of your game, but also can be a lifesaver especially if you struggle to find your creative flow, every day.
A content calendar that covers special events, festivals and has been well crafted keeping in view the needs of your audience will go a long way in making content curation easier and efficient for your brand.
B2B Marketing Ideas
Business-to-business marketing is not the same as direct-to-customer. And, if you've been in the B2B space, you already know that hard sell won't get you anywhere as most of your prospects know the rules of the trade.
So, you've to be smart enough to provide value and compel them to engage with you.
30. Pose as a thought leader
You'll hear a lot of B2B marketing ideas but rarely will you come across this one. It is so since thought leadership is underrated and most people have yet to reap the full benefits of it.
As you delve into thought leadership, you'll start to discover niche audience for your brand. You won't be just educating them, but also help them navigate the perfect solution to their problem, which of course can be your own service.
If you wish to start out as a thought leader, Linkedln can be your go-to platform given the amazing level of organic reach you've there for B2B marketing.
Or if your industry is competitive or unique, try to tap those networks or socials where professionals from your industry interact with each other.
31. Invite Ask me anything (AMAs)
Another good way to gain attention of your prospects is to conduct an AMA session. Invite as much as questions as possible. Believe it or not, there are lots of questions that are bugging your prospects.
And the more you're confident and compassionate with educating them, the easier they'll find it to trust you and follow up by sharing their business problem. So, invite them to shoot questions.
You may create posts on Linkedln or on other social media networks inviting your audience to ask questions. Linkedln is best especially, if you're in the B2B marketing space.
32. Answer FAQs
Prospects in the B2B space do deep research, before they decide on joining hands with a brand of a similar capacity.
So, it's best to answer their queries and ensure that your messaging clearly navigates the answers to all the questions that must be bugging them.
FAQs not only show that you're speaking from experience, but also provide precise answers to specific queries from your prospects.
Here's a fine example of using FAQs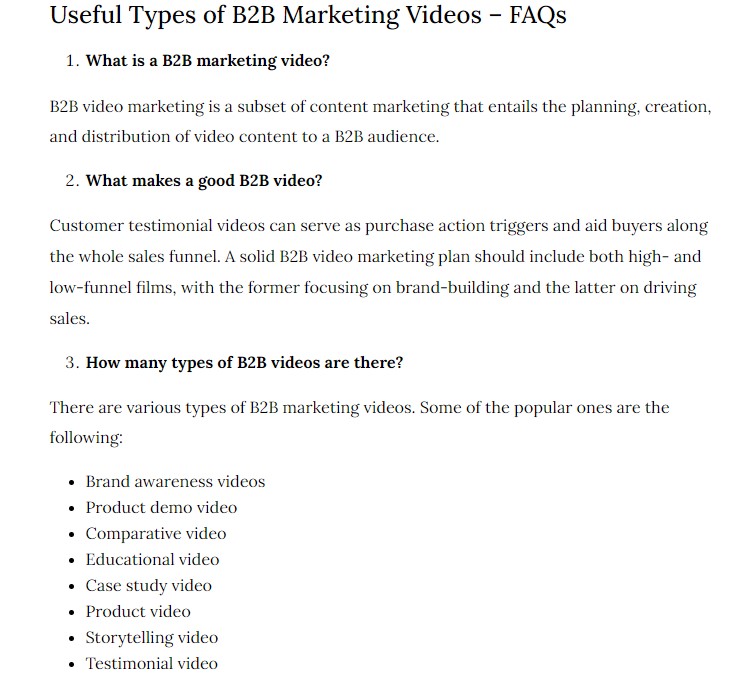 We wrote a blog on the best B2B marketing videos and also included a short FAQ section at the end. We paid close attention to the 'People also ask' section of google for our selected keyword.
And, shared precise answers to most searched queries around B2B marketing videos.
Not only is it helpful for our prospects, but also shows that we are more interested in educating our customers than aggressively selling to them, which obviously sets off any buyer in the first place let alone the corporate ones.
33. Reach out to your current customers
Another solid marketing idea is to reach out to your existing customers. Business experts will always tell you that it costs much less to retain a loyal customer than to bring in a new one. It is so since customer acquisition is a long process. Not just time-consuming but also a costly one.
So, marketing to your loyal customers gives you a better chance to convert them again. And these loyal customers can share positive word of mouth, which in turn will improve brand perception among your target audience.
34. Rock on Linkedln
A marketing idea that has proven to be seriously creative is posting on Linkedln. Linkedln has a lot to offer especially, if you're in the B2B space.
High level of organic reach

Quality engagement with professionals

Network building and ease of hiring

Hiring for one-off projects and much more
So, if you're struggling to make a mark on other socials, jump onto Linkedln. You can easily quintuple your engagement on Linkedln with consistent posting. And as you never know, you may even end up grabbing a handful of quality leads.

That's how much we improved in search appearances in a week by just posting consistently on Linkedln. As I mentioned earlier, you never know what awaits you on the other side. So, it's best to keep going and get the word out for your brand.
Event Marketing Ideas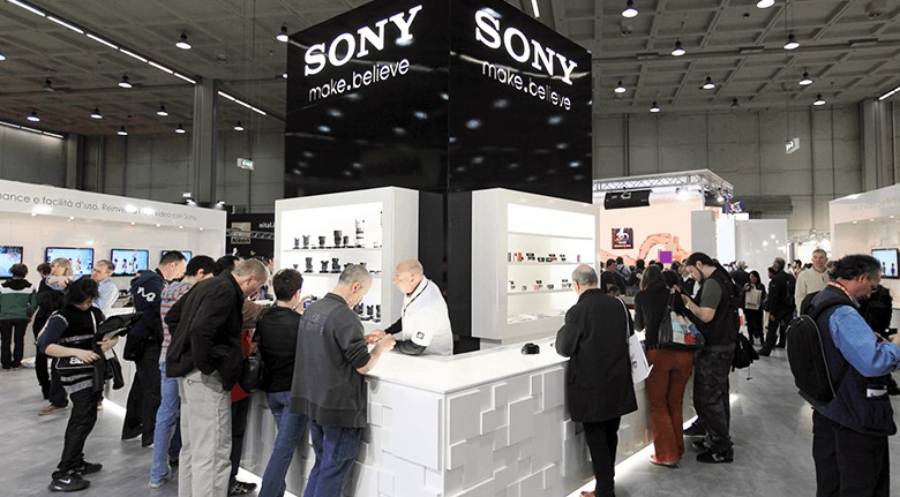 Marketing becomes unique and memorable when done at an event. You don't necessarily need to promote your product or service. But what you can do is come out in a natural way to educate your prospects.
People don't like being sold. But they love building connections and learning something new from like-minded individuals. Or some might even adore the idea of following up with a brand that has a captivating presence on social media.
So, here are four amazing marketing ideas to charm your event marketing campaign.
35. Invite with a video
One of the coolest ways to reveal an event is through a video. If you wish to keep your audience poised around your brand, there's no better way to it than a promo video done for your next event. Make sure to include some music in the background to cheer up the viewers.
36. Providing a training workshop
Training workshops are amazing especially if you're in the corporate training niche. Also, this works really well when you've a SaaS product that has been hyped for a fantastic launch.
Workshops communicate value to people who are considering your solution. It paves a way for them to free their minds and get hands-on practice with a product or service. Workshops can be really good for you to have that lasting impression on your buyers.
37. Offer tutorials of your product
Another creative idea to leverage your event marketing is to offer a free tutorial of your product or service.
If it's a service, it would be best if you've a friendly demonstration of how people can actually navigate to your service.
You may give a demo of your site or tell them how to fill up forms or land a free discovery call. That works for most B2B companies.
Free discovery calls are fantastic to build rapport as prospects tend to realize that you as a business are there for them to know their problems better and navigate to the best possible solution in the market.
And, if you've a product, an online demonstration of how it works can just be as fine as a physical one. Make sure to take questions at the end of your presentation so that you can clear confusion easily.
38. Be a socially responsive brand
These types of efforts can particularly impact word-of-mouth marketing. Your customers would love to connect with you knowing that you're not just working for expanding your business, but more importantly are a brand that is equally concerned about other stakeholders.
You can do anything from a fund-raising event for a community cause to providing free-training to make quality learning easily accessible. These efforts may seem small. But they count big in the longer run.
Contest Marketing Ideas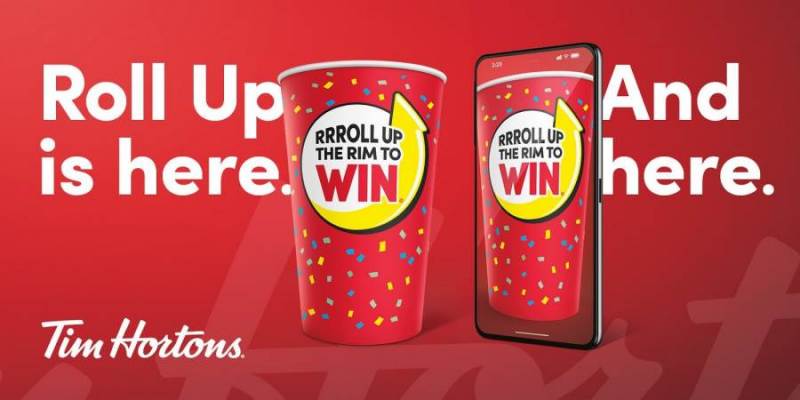 Another creative approach to marketing is contest marketing. People would love to engage with your brand, if they're reciprocated with something desirable. It can either be a prize or a small giveaway that attracts them towards your brand.
Here are four contest marketing ideas to boost engagement with your content right from the get-go.
39. Offer free giveaways
Reciprocity is the first principle of persuasion. You give people something for free and they'll have this compulsion to return your favor. Free giveaways work the same way. You invite your viewers to engage and share your content.
And, in turn they qualify for a free giveaway. You never know if the giveaway is realized to have immense value for the viewer, they'll certainly comeback to your content. And, might even land some work with you.
40. Offer a discovery call
It is one of the most creative ways to market your business on Linkedln. Invite a free consultation for an hour to help them understand your solution better. Customers won't mind signing up to know their problem better and find a practical solution to it right away.
41. Curate user-generated content
Creating user-generated content is another fantastic way to boost your campaign. Humans crave attention and your prospects are not any different. They want to be heard and understood. And, the idea of speaking to a community of like-minded individuals would always excite them.
So, invite them to create content for branded hashtags. They'll proudly be an advocate for your brand. What's even better, is that your customer's word of mouth is far more effective than paid ads where you only give a demonstration of your solution.
42. Increase number of giveaways
Another cool way to boost engagement is to increase the number of giveaways you've in a campaign. You can offer bi-monthly or monthly giveaways. Such announcements won't just hook your viewers, but will also ensure that they hop back to see the progress with the giveaways.
Guerilla Marketing Ideas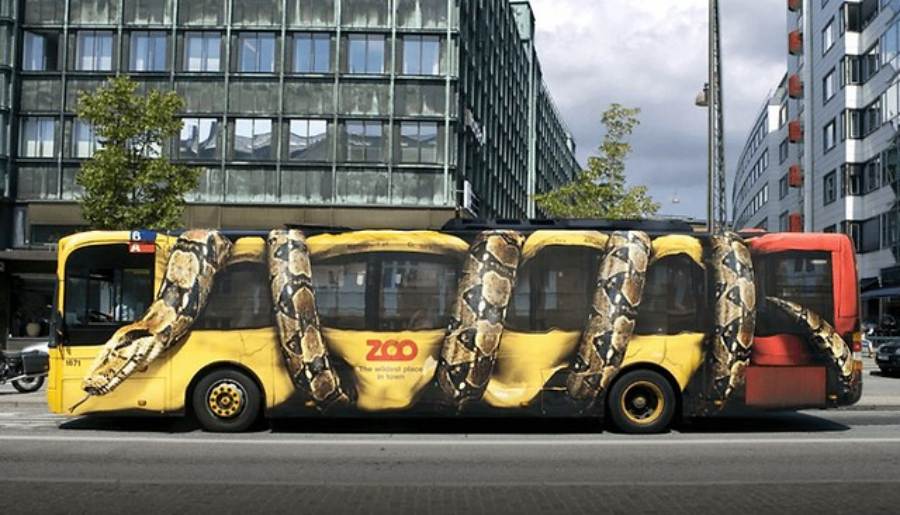 Marketers love creating a moment of awe. One where people are not just hooked, but emotionally excited. That's where they take a different route with their brand messaging. Most of the times, the execution is pretty unique, making it memorable for the fans.
Here are two of the finest guerilla marketing ideas for your inspiration.
43. Invest in street art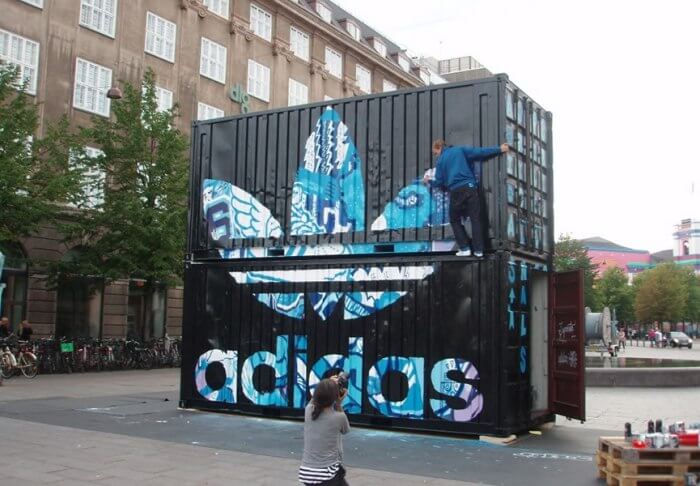 This type of guerilla marketing has been hyped for years. Unconventional messaging surely makes for a memorable experience for the onlookers on the streets.
And, street art can do that so seamlessly. It's cool, really catchy, and can be hard to forget for anyone who interacts with art on street.
44. Make a statement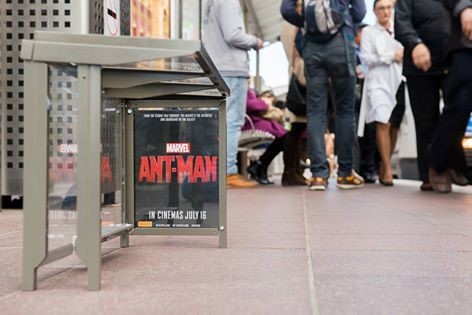 You can even make a statement in your next guerilla marketing campaign. You don't need a lot of money or too many props to build a gigantic moving structure that gets the message across.
You can simply do it with as little as nothing more than a balloon tied to sewers. Yes, the movie 'IT' did that prior its release and the photos of balloons being tied to sewers across the US went viral on social media.
You can also make a statement. Make sure to do one thing that you do best or something for which you're known among your audience. Make sure that you people find it easier to connect your brand with your guerilla depiction.
Wrapping it up
We literally covered everything on the great marketing ideas in 2023. I hope that you'll find inspiration from our blog post. Remember, you don't have to be put all the good stuff in your head instantly.
You can always hop back here to awaken your creative mind. So, the next time you're running out of marketing campaign ideas, don't fret. Just hop back on to the good stuff.
If you feel like there's anything you want me to cover in the next blog or in this one, feel free to reach out.
Hope you got a nugget or two from this one.
Wish to tell a heart-touching story?
Do you have an amazing story? Would you like to tell it with a captivating video? One that grabs the attention of your viewers, and makes them stick till the very end.
If so, you can always reach out to us at BuzzFlick. We've created hundreds of amazing videos for brands to stand out and build on the brand's image. We hone our animation game, and can use it to bring your vision to life and make it all happen so seamlessly.
FAQs
What are the four core principles or points of marketing?
Following are the four core principles of marketing;
Price, Product, Place & Promotion
What are the seven marketing essentials?
Take the four 4Ps from above and add: Positioning, People and Packaging
How can a brand make marketing fun?
Though there are lots of ways through which a brand can make its campaign fun for the viewers, these are some notable and the ones that are the most sought after;
Make sure to be helpful
Befriend your customers
Tell a story or play a game
Talk as if you're speaking to your friends
What is unique marketing?
Unique marketing is all about being different from your competition. However, it should come at the expense of customer value. You should create content, slogan and logo that are consistent and highly engaging.
What are the four ways to attract your customer?
Following are the some of the most time-tested tactics that have been used by marketing gurus to attract customers;
Offer discounts and incentives to buy
Network and ask for referrals
Collab with complimentary businesses
Enhance your site experience and offer lead magnets.